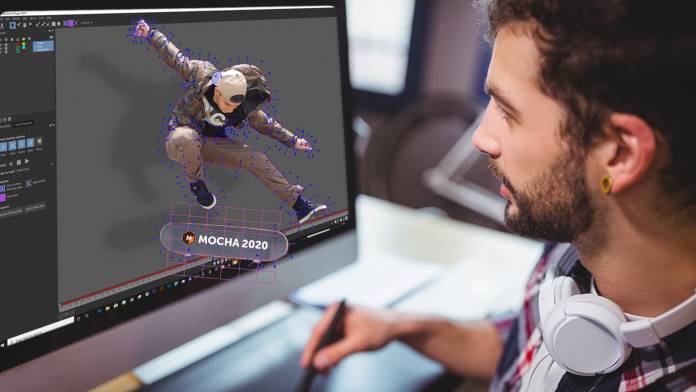 The 2020 iteration of Boris FX Mocha Pro is out and looking to save visual effects artists a lot of time. The new version will introduce new visual effects tools and clean-up tasks.
So what is new in Boris FX Mocha Pro 2020? Let's get into it:
Mega Plate
One of the new features you'll see in the software is the Mega Plate tool. Mega Plate extracts a larger-than-raster image from video to do advanced VFX tasks. Those kinds of tasks include set extensions, clean-ups, removing unwanted objects, and repositioning footage.
"The Mega Plate feature is an evolution of our planar tracking engine, now developed to generate a stitched panorama effects plate from a moving shot," says Ross Shain, Chief Product Officer, Boris FX. Shain believes this feature will allow for many new unique workflows. It will generate a larger-than-raster extended canvas, allowing for things like retouching, set extensions, matte painting, sky replacements, and object removal.
Area Brush
Another new feature being added to Boris FX Mocha Pro 2020 is the Area Brush with Quick Mask mode. According to Boris FX, it will bring "paint-like" functionality to Mocha. Users will be able to define large tracking search areas with a single stroke. Additionally, added and subtracted paint strokes convert to vector splines. Ultimately, that should speed up tracking and masking tasks.
'Editors and finishing artists working on tight deadlines will love the new Area Brush paint tool for its speed and ease of use," Shain says.
OpenColorIO support
Boris FX Mocha Pro 2020 now supports OpenColorIO (OCIO). This feature support should give Mocha users "consistent and predictable color displays across industry workflows," according to Boris FX. It's compatible with the Academy Color Encoding Specification (ACES) and should allow for improved color-managed workflows with high-end post-production and VFX applications.
Pricing
Boris FX Mocha Pro 2020 offers a number of licensing options. The base, single license price is $695. You can check all the prices here.