Aputure has announced the newest addition to their Light Storm range, the LS 1200D Pro. It's a 1200-watt COB LED fixture which the company claim is the brightest Bowens mount LED light on the market.
CRI & TLCI
The Aputure Light Storm 1200D Pro is daylight balanced at 5600K with a CRI of 96 and a TCLI of 98. The quoted levels of light output from the 1200D Pro are equally impressive. The light comes with three different Hyper Reflector attachments to give narrow (15o), medium (30o) and wide (55o) beams. Using the narrowest option, Aputure states an output of 83,100 lux at 3 meters.
With its Bowen's mount, the Aputure Light Storm 1200D Pro is compatible with existing softbox style modifiers such as Aputure's own Light Dome II and products from other manufacturers. However, during Aputure's launch presentation, there was no mention of a Fresnel modifier for the 1200D Pro. Even so, with the 15o Hyper Reflector, the 1200D Pro is nearly three times brighter than Aputure's 600D Pro with a 15o Fresnel. It also competes with and outperforms lights such as the Arri T5, Arri M18 and Joker2.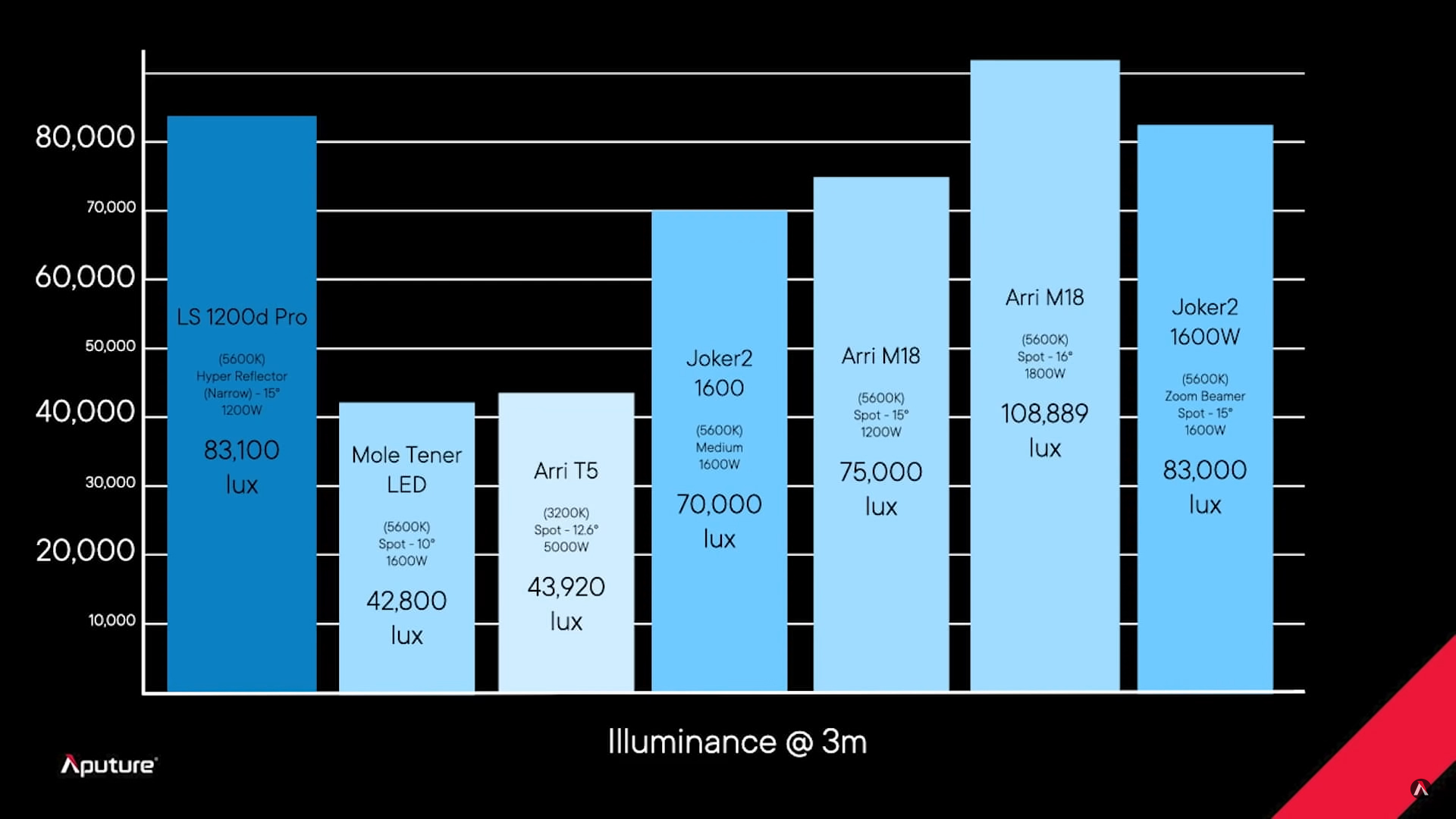 Lighting Effects
You can dim the Aputure Light Storm 1200D Pro from 0-100% in 0.1% increments with minimal color shift. It has eight lighting effects: paparazzi, fireworks, lightning, faulty build, TV, pulse, flash, and explosion. All these options are manageable from the light's control box or via the powerful Sidus Link app. The 1200D Pro also has professional control options such as 5-pin XLR DMX, LumenRadio CMRX and Art-net/sACN via EtherCON.
The 1200D Pro has a maximum power draw of 1440W. This means you can operate it from household outlets or small generators. It also has dual 48v/15A DC inputs, which allows it to be powered by suitable battery power stations and block batteries. However, it can run at half the power using only one of the DC inputs.
Weather Resistant
The Aputure Light Storm 1200D Pro can withstand all types of weather with built-in dust and water resistance. The 7.5m head cable is also weatherproof.
Q1 2022 release
Aputure hasn't given any indication of price for the 1200D Pro, but the company plans to release it in the first quarter of 2022.