Congratulations to Adobe for taking home Videomaker's Best Editing Software at NAB 2023. Adobe takes home the award thanks to its new, exciting update to Premiere Pro: Text-Based Editing.
At NAB, Adobe showed us why Premiere Pro is the go-to editing software for so many editors. While Text-Based Editing was the highlight for us, Adobe also unveiled an impressive range of new features across its Creative Cloud video programs.
Premiere Pro
Adobe showcased new features in Premiere Pro that will be shipping in May. These included Text-Based Editing along with an AI-based workflow powered by Adobe Sensei. This gives you options such as transcription of your footage in the background. Premiere Pro also now offers collaborative multi-user editing so you can work on projects with others worldwide. In addition, there is improved format support with GPU-accelerated performance for ARRIRAW and RED's R3D.
Text-Based Editing
Probably one of the most exciting features of Adobe's showcase is Text-Based Editing in Premiere Pro. This new tool is designed to revolutionize the way video editors work with dialogue in their projects. Text-Based Editing enables users to edit their video's spoken words in a text format, similar to editing a screenplay or script. This not only streamlines the editing process but also saves valuable time by reducing the need to scrub through the timeline constantly.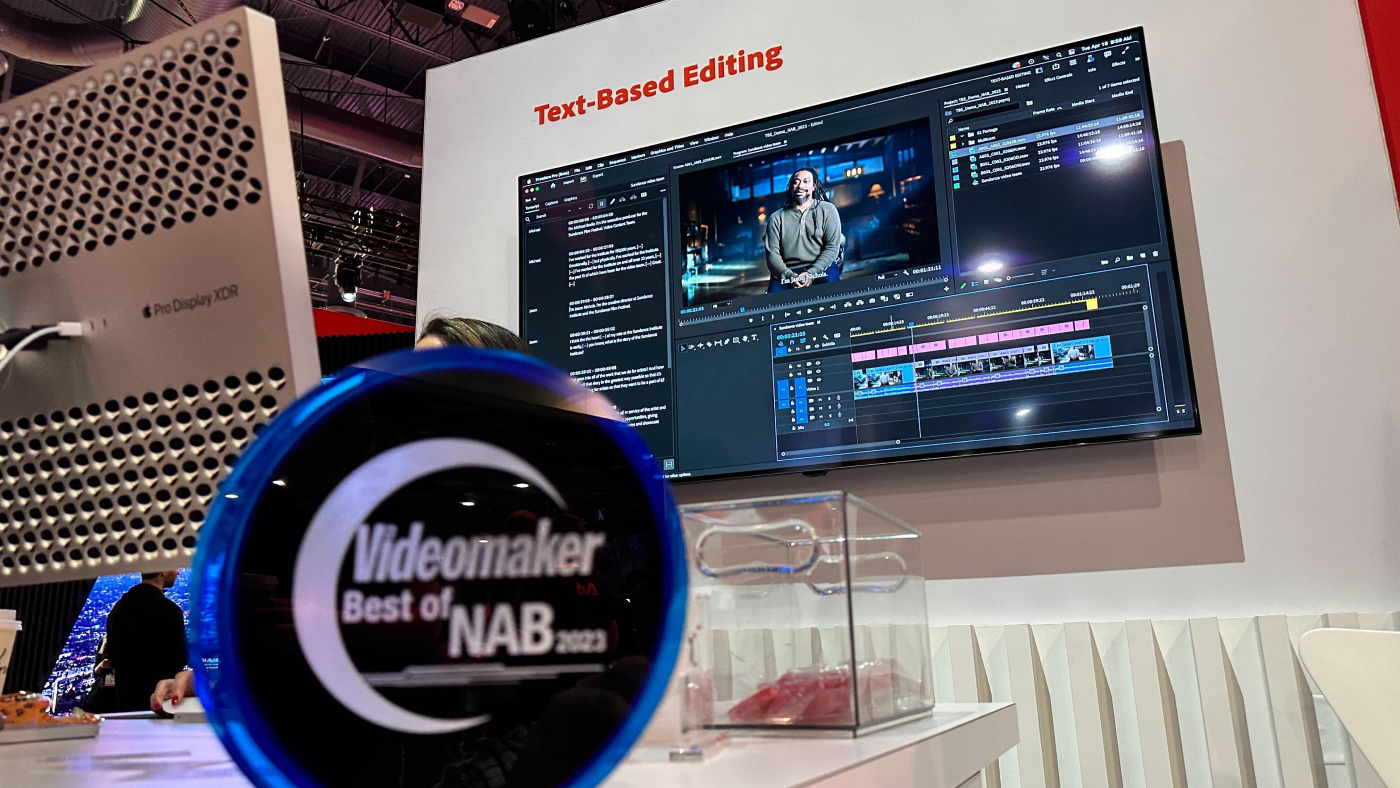 Automatic tone mapping
Adobe showcased its automatic tone mapping features, which were rolled out for Premiere Pro in February. Automatic tone mapping means you can mix and match different color spaces, such as LOG and HDR footage, on the same timeline. It's already compatible with iPhone Dolby Vision HDR, Sony S-Log, Panasonic V-Log and Canon C-Log. It also means you don't need to hunt for LUTs to apply, though you can still use a LUT-based workflow if you prefer.
Other new Premiere Pro features
Adobe also said this is the fastest and most stable version of Premiere Pro ever. In addition, other improvements include better Bezier mask tools, real-time MOGRT performance, GPU-accelerated transitions and AAF support on Apple Silicon. There are also ProRes render previews, simplified track targeting and alignment tools for titles and graphics, along with five new Speech to Text languages for transcription.
After Effects
Adobe showcased the After Effects Properties panel with its contextual controls. These give you instant access to the most important settings. After Effects also now incorporates OpenColorIO's color management system, making it simple to work in ultra-wide ACES colorspaces. It also means that you can maintain consistent colors when sharing assets with other apps in your visual effects workflow.
Other new After Effects features
Adobe has also added several of the tops requested features to After Effects. These include selectable track mattes, making it easier to reuse mattes on different layers. Timeline performance has also been improved with accelerated scrubbing and fluid selections. In addition, the Colorama effect now defaults to the After Effects color picker, and Adobe has added new diagnostic tools and an Effects Manager for plug-ins.
Frame.io
Frame.io is a cloud-based collaboration platform for video production. Adobe highlighted the security features to keep your projects safe. These include a Forensic Watermark Code that will survive transcoding, livestreams and even screen recording. There are also protections such as digital rights management, password protection and two-factor authentication.
Camera to cloud
Adobe released statistics regarding Frame.io's Camera to Cloud workflow. The system has had over 7,000 devices connected and has been used on over 8,000 productions. As part of these productions, over 600,000 clips have been uploaded, equating to over 1.5 million minutes of content. In addition, Adobe has now added features aimed at still photographers to Frame.io.
Firefly
Adobe also hinted at the future of Firefly, its AI-powered art generator. The company showed a set of images in which a summer scene had been made to look like winter, complete with snow. This appeared to have been done simply with the command "change scene to winter day." Adobe went on to say that it is working on natural language content creation. This would mean that all you had to do was describe the look you wanted, and Firefly would instantly change the colors and settings to match.
What we think
Adobe is still a market leader in the video world. For example, 61 percent of the official selections were edited with Premiere Pro at the Sundance Film Festival. In addition, 67 percent used Premiere Pro and Frame.io, and 74 percent used Creative Cloud programs. With the new features announced at NAB 2023, it is clear that Adobe is continuing to innovate and develop its programs for video makers. Adobe's Creative Cloud is certainly not inexpensive, but it is one of the most powerful suites of programs you can use to create your video content.