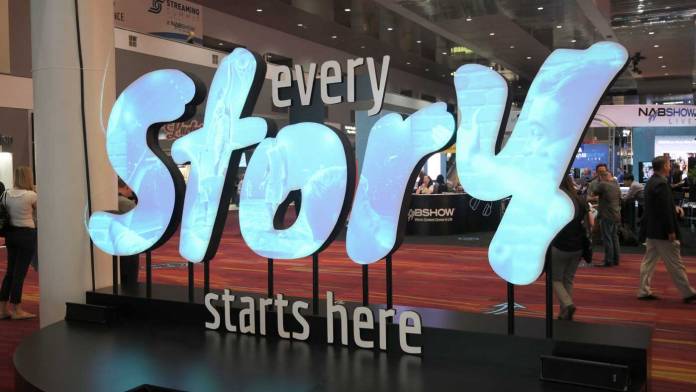 It's Spring and that means it's time for the new. Not flowers and leaves, but the new gear and upgrades on display at NAB 2019. Every year the industry gathers and fills the massive Las Vegas Convention Center with every imaginable piece of broadcast gear. You can check out the latest in cameras and lighting as well as radio towers and high-end servers. The show has a pretty broad reach — you'll find attendees representing 160 countries from filmmakers to podcasters.
This year on the show floor
This year's theme was "Every Story Starts Here," representing the NAB's emphasis on good reporting and visual storytelling. The official numbers indicate that attendance was down slightly from last year, but you couldn't tell that from the crowded show floor. There were consistently lots of people, especially in the big company booths like Sony, Canon and JVC. Company representatives on the last day were very positive and said this show was the best they've had in years.
One of the notable differences from previous shows was the lack of drones. In the past few years, they were everywhere. Even DJI was conspicuously absent. There were also very few 360 cameras on display. The only major new item was Insta360's EVO. It's a small black box with a 180 lens on each side that opens and locks to create a 180-degree stereoview camera. It's not necessarily a new form of camera, but new to them with some great accessories like clear plastic iPhone case that doubles as a holographic 3D monitor for the unit.
The biggest trend this year was upgrade.
The biggest trend this year was upgrade. Whether that's upgrades to 4K and 8K, upgrades to 5G coming to a cell system near you, or the upgrade ATSC 3.0 standard, everyone was talking about their latest product or innovation. Of course, the software companies were on hand to demonstrate upgrades like Adobe's hourly demos for their features like "free form" in Premier or Avid's upgrade featuring 16K video editing. But let's examine some of the new trends in the products we saw.
Get ready to multiply
At NAB the camera is king. We saw lots of upgrades to 4K and 8K. Sony is always a must-see and this year they were showing their new HDC 5500 8K camera. This is a high-end camera designed for the television industry's next leap. On the other end of the spectrum, Sony was showing the upgrade to their ultra-small RXO series camera. The Mark II generation of this action cam shoots in 4K and can be genlocked with up to 99 cameras. They will retail for $700. Sony also had on display their HXR-MC88. It's a palm-sized camcorder. This one shoots HD but with a 1" Exmor sensor and Carl Zeiss lens, you can expect great imaging. Reps also indicated the software was going to be upgraded to include a new "Eye Autofocus" that will follow a subject's eyes. It will retail for $1300.
At JVC there was a big emphasis on their "Connected Cam" system. They claim it is the "Most Resilient Video Transport Over the Internet." These news cameras can connect via WiFi, LAN or cellular network to work two-way. A video crew can do a live remote and receive video back from the studio with no bulky hardware. This includes their new GY-HC550 small pro camcorder. The camera shoots in 4K on a 1" sensor and retails for just under $5,000.
Canon is also a must see and this year they upgraded their XA series cameras. The were showing the XA40, XA45, XA50 and XA55. They all shoot 4K and have dual card slots, and they are each small in size but with big features. The 40s have 2/3-inch sensors and the 50s a 1-inch sensor. They all have a handle with two XLR inputs and the ability to mount a monitor. The new XA cameras range in price from $1,700 to $2,200 and will be available by summer.
Upgraded lighting
When it comes to lighting, LED is a huge upgrade. There were lots of LED panels on display from a variety of manufacturers. The one light that was a big surprise was the 10K LED from Mole-Richardson. You read that correctly, a 10K fresnel that looks like a fixture from Hollywood's Golden Age. The M-R rep told us that industry insiders said it couldn't be done, but there it was. When the light's back opens it revealed the secret, a massive core of LEDs wrapped in copper tubing and a dozen fans scattered around the housing. The light has two 110 plugs and can run on normal house current.
From ETC we saw LED mini spotlights that looked exactly like the Source Four spots that put them on the map. Their upgrade was to their EOS Consoles for theater or studio settings. The software connects to a mobile device with an AR-enabled app. This allows you to point your phone or tablet at a fixture and find out the specs or even control the light remotely.
… and sound
Shure was showing something new in lavalier and headset mics, the Twin:Plex. This is a tiny microphone head that has two omnidirectional pickups. It is not designed to be stereo or even a redundant system. The receiver processes the input signals together to give a fuller, richer sound. The cable is no bigger than a standard lav and Shure was promising that it is tougher than anything you have now.
Zoom has a long history of creating unique, compact and powerful audio recording equipment. They were showing an upgrade to their 4 input F4 Multitrack Field Recorder. The new F6 features six inputs and is designed to be mounted between your camera and tripod. They didn't have a lot of specs, but it looks like it's going to be great for video production.
Not just updates
With more than 1700 vendors on hand, of course, it wasn't just upgrades to existing products. There were some interesting innovations. The Miami Based MediaPro was showing an automated sportscasting system. It uses twin 4K cameras that are stitched together to output a single 1080 image. The software is preprogrammed for the movement and flow of a variety of sports like football, basketball and soccer. The computer follows the action with no camera operators or directors. There is even a feature coming for instant replay of the scoring action. The system can send images directly to the web or broadcast facility while simultaneously recording.
Do you need an extreme time-lapse? How about a 30, 60 or 80-day duration on a single micro SD? TimeLapseCameras was demonstrating their Afidus ATL-200. It shoots in HD and is weather resistant. Plus, it can be programmed to shoot 1 second to one day's worth of video over a long period of time. Your only limitation is storage, but swapping cards, the time-lapse could be unlimited.
Mobile Video Finds It's Place
Near the back of the Main Hall at NAB 2019 there was a group of companies together in what was being called the Mobile Video Pavilion. This was not an official designation, but organizers expect this trend to continue at the next NAB. The group represented gear and apps designed for video creation using your mobile phone or tablet.
Mobile accessories
Rhino was at one end featuring their motorized ARC II 4-Axis Camera Assistant. This is part slider and part motorized camera head that guarantees smooth moves and incredible times-lapses. Of course, they had a phone mount, but they also had on view a pretty slick app called LightLapse. It will control the ARC plus handle aperture settings for a great time-lapse.
Next was GnarBox, which just might replace your laptop. It's a ruggedized hard drive that's available in capacities up to 1TB. It has two USB ports, an SD slot and a microSD slot. The unit has a small screen and will ingest video in the most remote conditions. They too have an app that will allow you to manage the files and trim video clips even in 4K.
Innovative apps
FilmicPro was on had to show some upgrades to their award-winning camera app. The developers are confident that you can set aside your expensive camera and use your phone with total control. One new feature they have coming is a secondary audio recording mode that will pair with the camera app. In other words, you could use a second phone or tablet as an audio recorder and they both will start and stop from a single unit.
LumaTouch is becoming a new go-to editor. It's an editing app for iOS that gives you all the features you'd expect from your laptop. In fact, they had speakers in the booth who have totally ditched their old methods completely. The developers have been very good at introducing new features and their latest update is going to have more tracks of video and audio and new effects.
This group made you really believe that mobile video production is possible. Your cell phone may not replace the quality of the latest Sony or Red Cams, but you can certainly do so much more using the mobile device you already own.
Until next year
The tools for telling the story keep getting better, smaller and lower priced. There is no better place to see that on display than the NAB show. In 2020 the show will again be in Las Vegas, but organizers are planning to begin on Sunday to attract weekenders. So mark your calendars for April 19-22, 2020. You won't want to miss what's new and upgraded.