Author

Posts

August 25, 2007 at 5:29 AM

#37071

Well, I looked around at several designs, and they all seemed to be rather straightforward. However, there was alot of nonsense (IMO) about using these angles and 8 skateboard wheels. I came up with another way to do this, and it'll cost ya $40!

(Actually $37 with tax).

You need to get two poles (I got 2 poles for fences – 10 feet long at $9.50 each. Then, purchase a 2'X2′ piece of floor board. This can be found in the floor section of your local Lowe's or Home Depot. It will be a few boards put together with a corrugated-type sheet of plastic on the bottom. About $6 here. Next up, wheels. I already had these at home – but you'll need 4. They're the general office chair wheels, you know, the plastic ones that look like 2 discs with a space between them – they'll need a metal base on top so you can connect them to the dolly. These run from 4 to 5 dollars per pair. Finally, a couple 2x4s (I had these too).

What you do is take this all home, then flip the flooring board so the wood is facing up. Mark off areas to screw the 4 wheels on – you'll want a uniform length from the edges for all, so no torquing will occur. Screw in the screws, so that the wheels are attached. After you have the wheels in place, you've got your dolly platform ready!

Next, get those 2x4s. You'll want to measure the diameter of the 2 poles, then drill in 2 holes in both 2x4s, an equal distance between both holes (The same distance that the wheels are apart on your dolly platform.) After you have your holes drilled in the 2x4s, you can slide in the 2 poles, then you can place the dolly platform on top – you should be good to go!

It's a simple thing to build – maybe an hour if you're good with tools.

Some pics to show it:




And the first video:
http://www.youtube.com/watch?v=tB-7Fk0jX1k

As you can tell, silky smooth movement. It's best if you have one person pushing the platform(I found it works best when pushed with another small slab of wood) and one person to operate the tripod. As you might see, it's rather difficult to push and use the tripod.

However, this is a great project, easy to build, and it can be disassembled quickly for movement to your next scene!

ralck
Participant
That looks good for pretty cheap!
I just have a few questions:
With the office chair casters, how is the movement when you stop going in one direction and transition to the opposite direction? Are there any problems/heistation in that?
Did you choose metal pipes over something like PVC pipes for any specific reason?
And lastly, do you have any shots of the underside of the dolly?
Thanks!
To answer your questions:
With the casters, there is no hesitation when changing direction whatsoever.
As the wheel is "grooved" in a way,

they grip the tube, so that they cannot swivel – thus it has the effect of locked down wheels with no swivel and no hesitation.
I choose metal pipes, mainly because of length. As the dolly track is 10 feet long, there is much less bending because of camera weight, than if PVC was used. As the camera and the tripod add up to over 10 pounds, metal was the way to go. I'm sure it could be done with PVC if you were using a lightweight tripod and camera…another benefit of the metal is that it can be greased if the wheels don't work properly…It's all up to you!
And a shot of the underside! Thanks for your interest 😀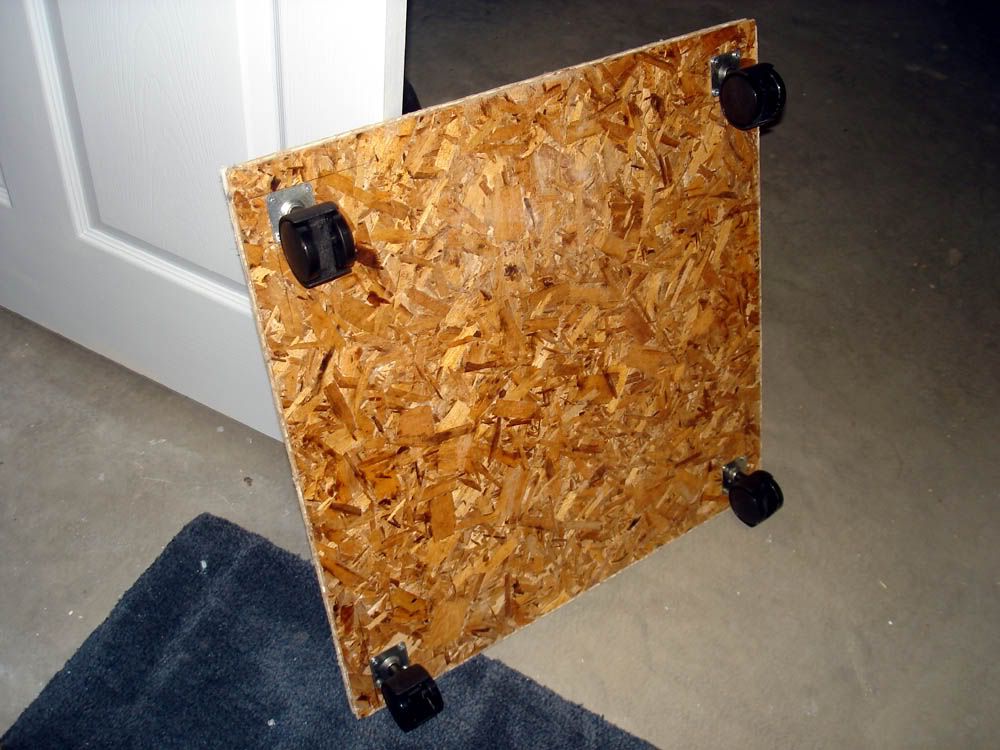 brandon0409
Participant
Cool I was looking for an easy one.
Yep. A little noise, but that's because I hadn't used any WD-40 on it yet. Plus side – the sound wasn't picked up when using a shotgun mic on a boom.