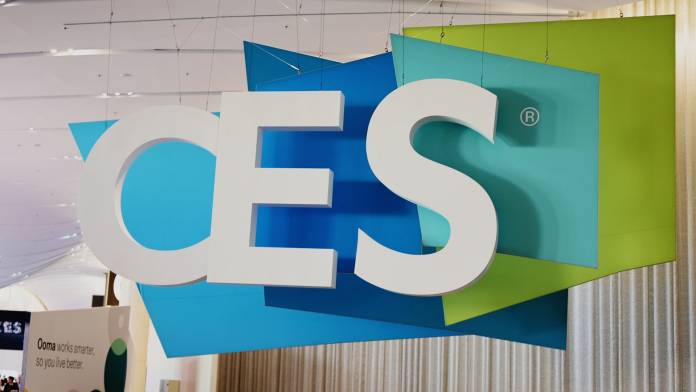 Among all the hoopla and high-res TVsat CES 2019, we found 12 products that deserve special recognition. Without further ado, here is the Best of CES 2019.
1. Best SSD: SanDisk Extreme Pro SSD 500GB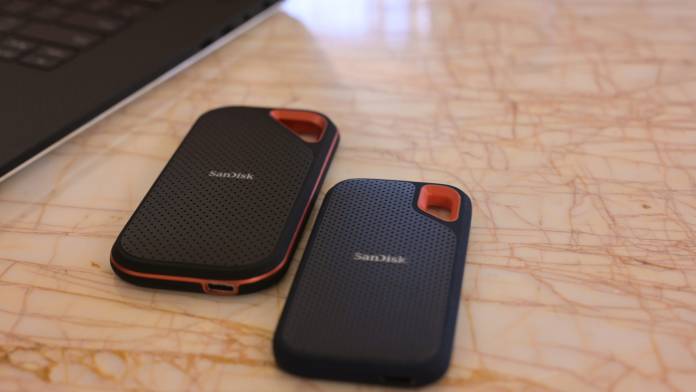 The SanDisk Extreme PRO Portable SSD offers 1GB/s transfer speeds and has IP55-rated durability. We are awarding the 500GB version of the device, but it will also be offered in 1TB and 2TB capacities when it is released this spring.
With speeds up to 1 GB/s and the ability to fully saturate the USB 3.1 Gen 2 interface, you should be able to edit high-quality footage directly from the drive. SanDisk claims the drive allows for full-frame editing while keeping PC internal storage clear.
The Extreme PRO SSD has a rugged design with a forged aluminum body to protect the SSD core and dissipate heat. Also, it's wrapped with a silicon rubber coating that should make it fairly impact resistant, so if you drop it, you won't have to worry about losing your precious footage.
Prices haven't been released as of this writing. However, we do know the Extreme PRO SSD will be available in 500GB, 1 TB and 2 TB capacities. They will be released this spring.
2. Best HDD: Lacie Mobile Drive 5TB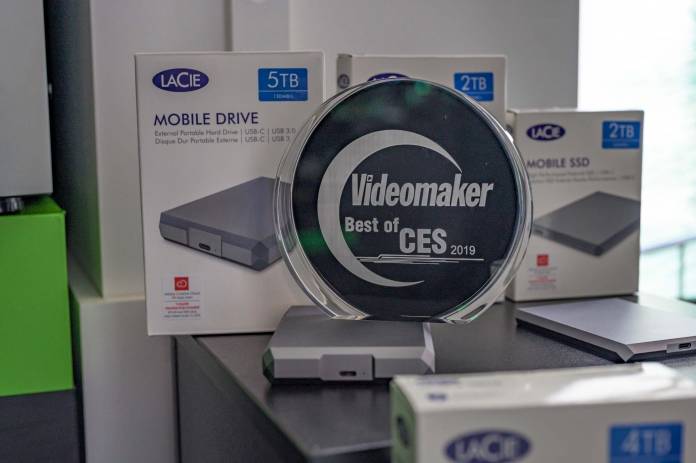 For the Mobile Drive, LaCie combines a unique diamond-cut design and sleek form factor with capacities up to 5TB. The drive connects via USB 3.1 Type-C and is compatible with both Mac and PC computer systems. In addition to a UBD Type-C cable, the Mobile Drive is also packaged with a USB 3.0 to USB-C cable so that it can be connected to older laptops and desktops.
Along with plug-and-play functionality on both MacOS and Windows machines, the drive also offers one-click and automatic backup. LaCie, in a press release, emphasizes the value of the capacity of the Mobile Drive, stating that "LaCie Mobile Drive is ideal for an ever-growing digital library with its capacity topping out at a massive 5TB."
Along with substantial storage capacity, the LaCie Mobile Drive also employs a carefully crafted diamond-cut design meant to pair well the Apple MacBook. To further appeal to creative professionals, the Mobile Drive also comes with a one-month subscription to the Adobe Creative Cloud All Apps plan.
The LaCie Mobile Drive is offered in 1, 2, 4 and 5TB capacities. Purchase also includes a 2-year limited warranty.
3. Best Raid: QNAP TR-004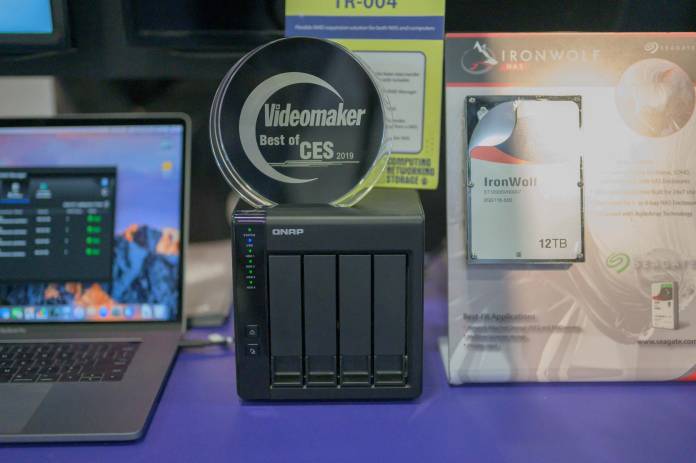 The QNAP TR-004 is a RAID expansion enclosure designed to increase storage capacity for your NAS or PC. It can also serve as direct attached storage when connected to a computer through the enclosures USB 3.0 connection.
The QNAP TR-004 supports up to four 3.5-inch SATA hard drives as well as 2.5-inch SSDs. It also supports a number of hardware and software RAID configurations, and USB 3.0 Type-C connectivity allows for fast data transfer.
QNAP envisions the TR-004 in a variety of setups, including as a NAS expansion enclosure or as direct attached storage for a NAS, desktop workstation or laptop. QNAP promises superior performance over more conventional NAS expansion enclosures since, as an external hardware RAID device, it can operate independently and rely less on the CPU power of the connected NAS.
As a direct attached storage solution for NAS or PC, the TR-004 can be used to back up data or move large data collections between devices.
The TR-004 can also be used to move files between various devices and file systems as a cross-platform file sharing solution. The system is compatible with Windows, Mac and Linux computers.
This flexibility extends to the available RAID configurations. These include Individual mode, JBOB, RAID 0, RAID 1/10 and RAID 5. The TR-004 even supports the partitioning of drives for multiple RAID configurations. The enclosure's Software Crtl mode allows RAID configuration to be controlled through a QNAP NAS or a computer with the QNAP External RAID Manager utility. This utility can also be used to monitor the health and status of the enclosure and installed drives.
The QNAP TR-004 is available now starting at $225 for the enclosure only.
4. Best NAS: QNAP TVS-472xT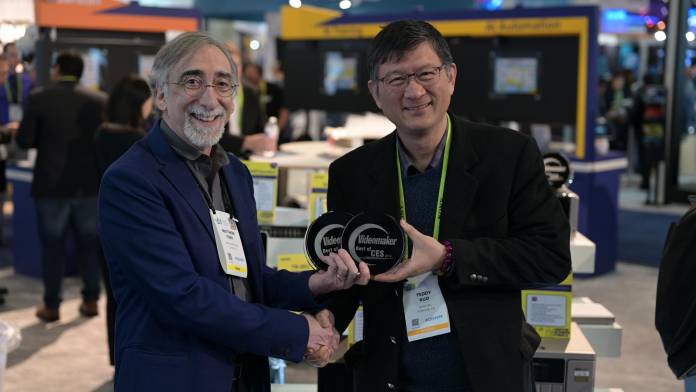 The QNAP TVS-472XT is a four-bay NAS solution designed for content creators and media production. It runs on an 8th generation Intel Pentium Gold dual-core 3.1GHz processor and 4GB DDR4 memory. Up to 32GB of RAM is available for more demanding workflows. This four-bay NAS supports SATA 6Gb/s drives and provides AES-NI data encryption to protect your files.
A big highlight of this NAS is that it offers both Thunderbolt 3 and 10GBASE-T connectivity, promising speedy file access for both Mac and PC users with transfer speeds of up to 1158 MB/s download. Thunderbolt 3 connectivity allows for two Thunderbolt-equipped Mac or PC computers to simultaneously access and process media files stored on the NAS without impacting performance. QNAP's Network & Virtual Switch app is designed so that users can easily manage network connections.
Two PCIe Gen 3 slots mean you can upgrade the 472XT with a discrete graphics card, a QM2 M.2 SSD for faster file access through caching or a 10GbE card for additional connectivity. Users can also use the available PCIe slots for a 10GbE/40GbE adapter for even faster file transfer, or add a wireless network card for another way to connect.
Built-in Qtier Technology allows the NAS to automatically organize data between M.2 SSDs, 2.5-inch SSDs and larger HDDs according to how frequently users access specific files. IO-awareness promises to further optimize performance by reserving space for burst I/O demands. Both features aim to increase workflow efficiency and maximize the advantages of using SSDs.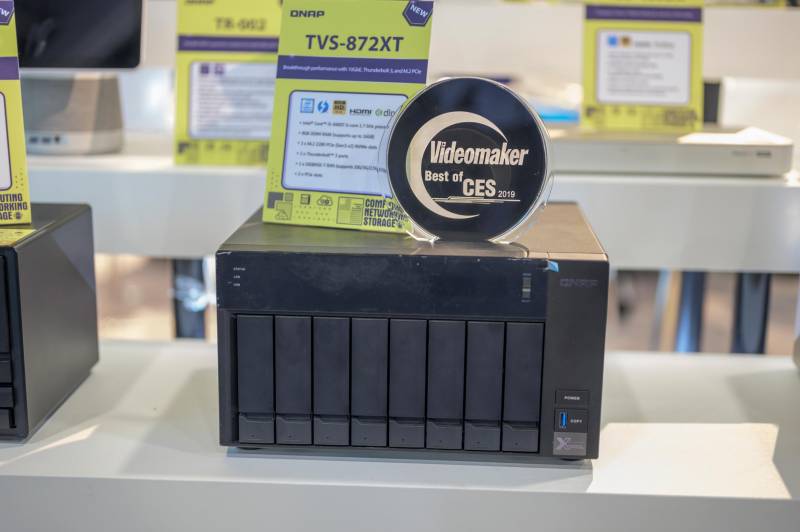 Also included is an HDMI 2.0 output so users can preview up to 4K video directly from the NAS. The TVS-272XT also supports 4K H.264 hardware decoding and real-time transcoding.
The QNAP TVS-472XT is available now starting at $1,149 for the enclosure only.
5. Best Mobile Workstation: MSI PS63 Modern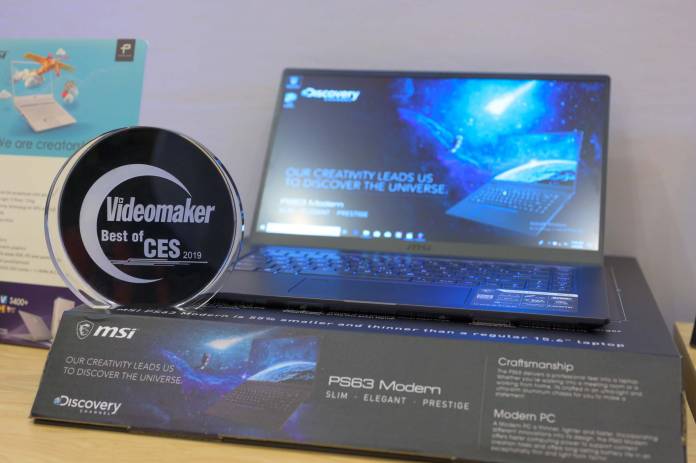 MSI is breaking into the mainstream market with its PS63 Modern creator-focused laptop at CES 2019. The PS63 is a 15.6-inch laptop that's just 0.6 inches thick and 3.6 pounds. That's pretty portable for a 15-inch laptop. While it's small, the PS63 doesn't seem to be lacking in the efficiency department.
Going inside of the PS63, it's powered by the current Intel Core i7 processor and a GeForce GTX 1050 Max-Q. It also offers up to 32 GB DDR4-300 RAM and up to two M.2 SSDs.
The laptop's screen is a 15.6-inches 1080p display. The screen should be able to accurately reproduce color for most video work. MSI claims it will cover almost 100% sRGB.
The laptop comes with a touchpad that said to be faster and more responsive, according to MSI. Here are some numbers for how much fasters and responsive it is: MSI claims the touchpad is 30 percent more responsive and 35 percent larger. Plus, it supports more than 10 gestures optimized with Windows 10.
For cooling, the PS63 features Cooler Boost 3 dual-fan cooling. There is support for both HDMI and microSD, in addition to USB-C and USB-A. However, there is no support for Thunderbolt 3.
Pricing for the MSI PS63 starts at $1,299.
6. Best Streaming Switcher: Roland VR-1HD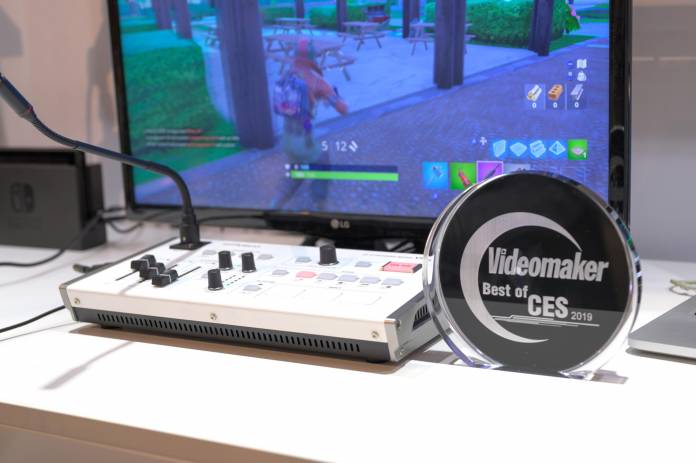 From what we saw at CES, this dynamic multi-camera mixer can connect, switch and stream cameras, presentations and gameplay, as well as smartphones and tablets with HDMI inputs. The device offers "amazing picture quality and sound that outperforms video live streamed from just a mobile phone or static webcam," according to Roland.
Each of the three inputs on the VR-1HD accepts HD and computer video resolutions, and it can also be used as an audio mixer with two studio-quality XLR microphone inputs and a line input.
The VR-1HD also allows users to go hands-free and headset-free while live streaming with a top-mounted mic input. This lets users use a gooseneck mic to operate the VR-1HD with dedicated controls. The mixer can switch cameras based on who is speaking into the microphone. If more than one person talks into a mic, or if everyone is silent, the VR-1HD can switch to a wide shot of the scene, capturing both speakers.
Additionally, the Scene Switching functionality allows users to instantly switch between scenes with transitions. The mixer can have five scenes preset.
Other functions include Auto Scan function, which gives users the ability to pre-set a specific time for switching between sources. Also, Beat Sync Switching listens to the tempo of a performance and automatically selects which camera inputs to switch between.
This mixer just needs to be plugged to a computer's USB port for a fully produced live cast or recording. Those who stream on Twitch, YouTube or Facebook can all find use out of the VR-1HD. The VR-1HD is open for preorder for $1,495. Check out proav.roland.com.
7. Best Microphone: Shure MV88+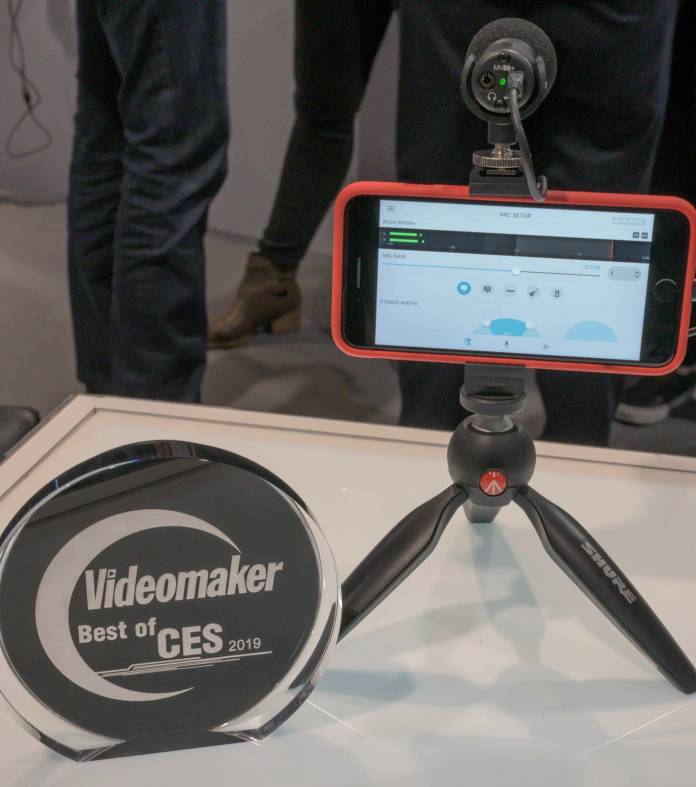 Shure at CES 2019 unveiled the MV88+ Video Kit, a kit the looks to give content creators everything they need to capture pro-level audio with a mobile device. The kit includes a digital stereo condenser microphone, a Manfrotto PIXI tripod, phone clamp, and iOS and USB-C cables for connectivity.
The updated MV88+ iOS Digital Stereo Condenser Microphone is the main star here. It's the latest digital mic in the Shure MOTIV line. According to Shure, the mic is tailored for videographers, podcasters and content creators because it can record "immersive, rich, high-quality audio wherever."
Compatible with iOS and other devices, the MV88+ Video Kit seems to offer variety and versatility. For instance, you can use the headphone jack to monitor the audio in real-time and you can use the phone clamp and tripod stand to record in numerous environments and situations.
Additionally, according to Shure, the kit allows users to easily thread devices into a mounted platform for quick transitions between setups. And you can use the kit without removing the phone from its case. The phone mount is also compatible with existing setups that use a 1/4″-20 connector.
The MV88+ Video Kit is open for pre-order right now for $249.
8. Best Headphones: Audio-Technica ATH-M50xBT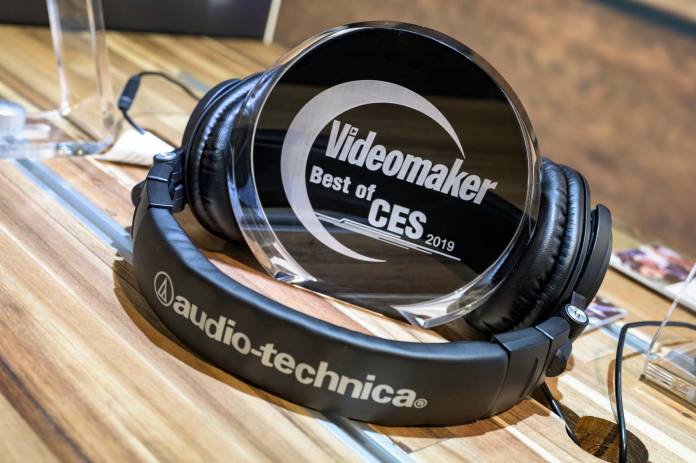 Audio-Technica has upgraded its acclaimed M50x headphones. The new ATH-M50xBT offer wireless connection over Bluetooth and promise up to 40 hours of battery life. They also have a detectable wired connection for times when fidelity is a priority.
Audio-Technica continues to cross over into the consumer market with the ATH-M50xBT to broaden their reach. While the company's M-Series models were made to be pro-headphones, Audio-Technica wants to appeal to consumers, not just the pros.
Coming off of a full charge, the ATH-M50xBT can last up to 40 hours. But you can choose to use the headphones with a USB wire if the battery starts to get low or if you just want to have a wired connection.
Audio-Technica retains the robust construction, fold-flat design with 90-degree swiveling earcups, and the "professional-grade" earpads and headband found on the ATH-M50x. Additionally, there are mounted controls on the left earcup for operating phone calls, music playback. Furthermore, the headphones are closed-back. Also, they deploy a 45 mm large-aperture driver. the driver has the capability of a 15 – 28,00 Hz wide frequency range.
You can get Audio-Technica ATH-M50xBT headphones right now for $199.
9. Best Gimbal: Zhiyun-tech WEEBILL LAB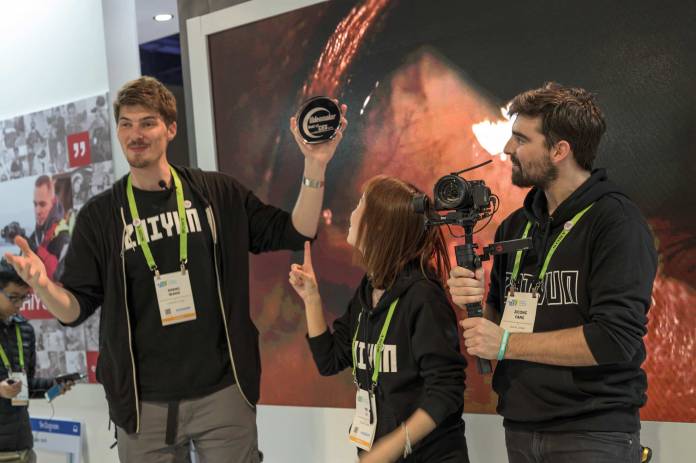 Zhiyun-tech showcased its WEEBILL LAB gimbal at CES 2019. This small gimbal is similar to phone stabilizers but instead balances mirrorless cameras.
Zhiyun-tech equipped the WEEBILL LAB with an external follow focus motor that should support "precise and smooth" focus control for all camera systems, according to the company. With the tactical wheel on the body, it should be easy to pull focus while shooting on the go. Additionally, the gimbal's PhoneGo mode should power it to its maximum follow speed and help with getting more precise shots.
The system is constructed with a latch on each of its axes; this should make balancing really easy. You can lock certain axes while balancing the other meaning you can save your current setup for another time.
The WEEBILL LAB is a very lightweight gimbal. It weighs about the same as the average phone stabilizer. However, it can handle payloads up to 3kg. That could confidently handle the current mirrorless camera and lens combos out today.
The gimbals' wireless image transmission supports real-time framing and parameter control over the camera. Smartphones, tablets and most digital devices can be used as a monitor, so you should be able to frame and take shots a lot more easily and quickly.
Also, the WEEBILL LAB's ViaTouch Control System allows users to make various gimbal movements on your smartphone. Plus, camera settings can be adjusted as well.
Zhiyun-tech also gave the WEEBILL LAB two Standard 18650 batteries that can last up to 10 hours on a single charge. That's definitely a plus for those working long shoots.
The WEEBILL LAB is out now for $599.
10. Best 360 Camera: Humaneyes Vuze XR-Dual VR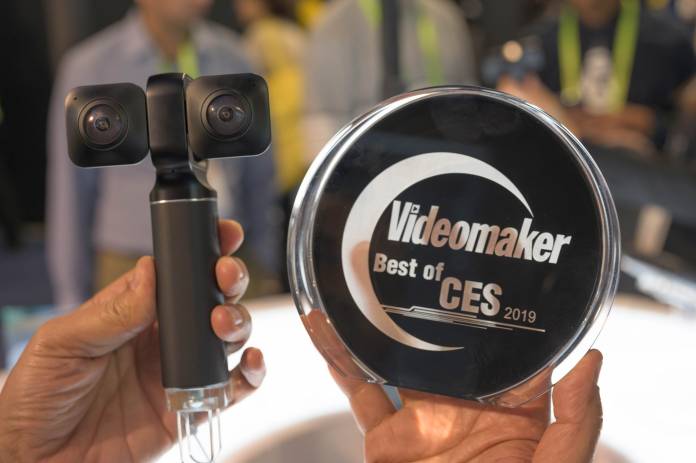 HumanEyes is showing off the new Vuze XR Dual VR Camera at CES 2019. This is the next 360 camera in the company's Vuze VR camera lineup, and we found it impressive enough to garner Videomaker's Best 360 Camera of CES 2019.
At the core of this project, HumanEyes wanted to make a camera that's versatile. This is apparent when looking at the Vuze XR's two shooting formats. Users have the option to shoot in either 2D 360-degree or stereoscopic 3D VR180. So you can either make your video spherical or more traditionally flat. Additionally, the camera features 5.7K 30 fps video capture, 18-megapixel photos, video stabilization, and in-camera stitching.
The mobile app can control the XR over Wi-Fi, for photo and video preview and editing. It can also upload to social media and live stream. There's also stabilization control, photo and video filters, virtual stickers, the ability to add text and color adjustments. Additionally, there's "Directors Cut" mode with Track, Follow object viewpoint adjustment, Little Planet like effects, and fly in/out effects.
The Vuze XR is available to order now for $439.
11. Best Lens: Nikon NIKKOR Z 14-30mm f/4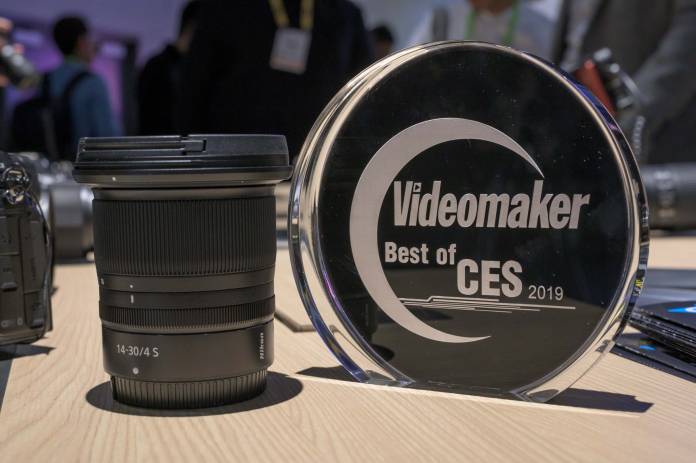 To kick off CES 2019, Nikon's made history by announcing the first filter-attachable ultra-wide-angle zoom lens covering 14 mm, the Nikkor Z 14-30mm F/4 S.
Using the capabilities of the next generation of Nikon's Z Mount, the lens sports a larger diameter and "delivers superior optical performance and maximizes the potential of high pixel-count digital cameras," claims Nikon. Also, the 14-30mm's focal length could prove to be popular among landscape, travel, event and architecture photographers.
Design-wise, the lens features a practically flat front lens element. This makes it the world's first filter-attachable ultra-wide-angle zoom lens covering a focal length from 14 mm. Creators will be able to attach various types of screw-on filters to the front of the lens. This opens up a lot of options for videographers and landscape and city photographers who want to use different filters.
The NIKKOR Z 14-30mm f/4 S also has a customizable control ring that can be assigned to manual focusing, exposure compensation or aperture control while maintaining different custom settings when in photo or video mode. The control ring has "speedy and near-silent" stepping motor tech and the lens reduces focus breathing, according to Nikon.
Additionally, the lens is fully compatible with the in-body 5-axis VR on the Nikon Z 6 and Z 7 and provides up to 5 stops of image stabilization without adding to the overall weight or size.
The NIKKOR Z 14-30mm f/4 S lens will be out this spring for $1,299.
12. Best Camera: Canon Vixia HF G50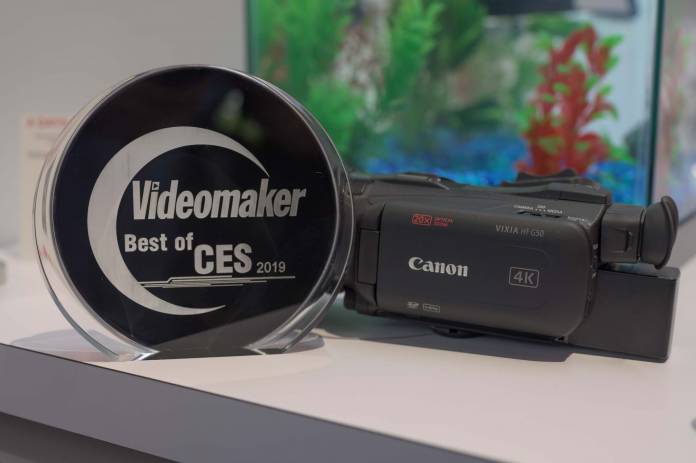 The Canon G50 is the first VIXIA G-series camcorder to have 4K 30P shooting. Lens-wise, it features a genuine wide-angle Canon 20x optical zoom lens. The ideal audience for this camcorder would fall into the advanced amateur filmmaker lane, but wedding videographers and student journalists could find the G50 useful as well.
"As filmmaking and videography continue to grow into a more ubiquitous medium of visual expression, it is imperative that creatives have products that help capture their unique vision," said Kazuto Ogawa, president and COO, Canon U.S.A., Inc. "Not only is Canon eager to view what our users create with the VIXIA HF G50, we are excited to be with them along the way as their skills and ideas further evolve into the future."
Canon's G50 records 4K UHD/30p (4:2:0 8 bit) and 1080p (4:2:2 10 bit via SDI/HDMI Output) video. It records in MP4 format to dual-card SD card slots with dual and relay recording. Also, it can record in slow and fast motion interval for 0.4x to 1200x.
With a 4K 1/2.3-inch sensor and Digic DV 6 image processor, the G50 can also use over sample HD processing for improved image quality. The camcorder's five-axis Intelligent Optical Image Stabilization system gives users image stabilization through Dynamic mode. Canon says the system will reduce image distortion while even walking.
The system features an 8-blade circular aperture, and Canon claims "it is possible to take pictures using natural beautiful bokeh." Additionally, it has a 3-inch LCD touch panel screen and tilting, high-resolution color Electronic View Finder (EVF).
The VIXIA HF G50 4K UHD camcorder will be released this April for $1,099.
13. Until next year
This year, like always, we saw plenty of flashy tech to delight and amaze, and there were tons of products not mentioned here worth getting excited about. We want to thank all of the brands who took the time to meet with us, and all of our readers who kept up with our coverage online. In the end, these 12 products stood out as especially useful to the video producer. Congratulations to the Best of CES 2019.