Even though most cameras these days come with their own monitor, external camera screens help you see what you're recording with more clarity. Professional videographers will always opt for an external camera monitor, and if you have the budget for one, so should you.
Let's take a look at what the best camera monitor there is currently on the market and also look at the best budget option. Let's also discuss what you should pay attention to when shopping for an external camera monitor.
---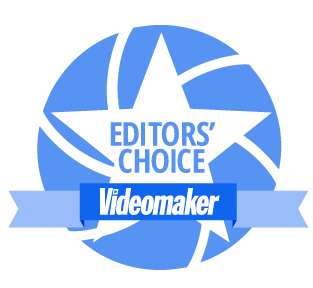 The Editors' Choice award recognizes exceptional video production equipment, software and services. These products must help videographers be more effective storytellers while being affordable, easy to use and dependable. The products must also deliver a superior user experience.
---
Best external camera monitor
Atomos Ninja V 5-inch Touchscreen Recording Monitor
The Atomos Ninja V 5″ Touchscreen Recording Monitor is our top choice for the current best external camera screen. This 5-inch monitor/recorder plays video back at up to DCI 4K and can record to mini-SSDs. Additionally, this monitor can record Apple ProRes RAW up to DCI 4K60. For its display, it features a 10-bit screen with a brightness of 1000 cd/m² AtomHDR technology. This allows for great, easy monitoring, even in bright locations.
It's also built to withstand travel. It features an aluminum chassis and comes with an L-series battery. The Atomos Ninja V 5″ Touchscreen Recording Monitor is a great choice for anyone needing an external camera screen.
---
Best budget external camera monitor
Lilliput A7S 7-inch Full HD Monitor
The Lilliput A7S 7-inch Full HD Monitor has a lot to offer for a fraction of the price of the more expensive options. For under $200, you get a monitor that supports UHD 4K video. Additionally, the monitor comes with a 16:10 aspect ratio and a 1000:1 contrast ratio. Plus, its LCD panel displays Full HD images.
It also comes with an HDMI loop-through function. This allows you to output using HDMI to other devices. The Lilliput A7S 7-inch Full HD Monitor is a great option for anyone looking for an external camera screen but has a tight budget.
---
What to look for when buying an external camera screen
When content creators are looking to take their careers to the next level, they usually start by upping the ante on their equipment. That's not to say the more you have, the better results you get, or if you're starting out, you should break the bank on state-of-the-art tech and tools straightaway. Every video creator has a budget, and so does every project.
However, when you do decide to upgrade, there are must-haves when it comes to producing higher-quality content — and having the best external camera screens in your gear is one of them. It is one of the first tools you should include in your endeavors to enhance your videos. But first, you have to know what to look for and budget for when buying an external screen monitor for your camera.
What are external camera screens?
An external camera screen — also called an external on-camera monitor— is an add-on accessory mounted to a camera that gives you a more detailed and better-quality display of the footage you're shooting. Whether you're filming or recording with a DSLR, cine camera, mirrorless camera, photography camera, etc., on-camera screens help you achieve various focus effects for sharper images and better composition. Like camera lenses and camera lights, external on-camera monitors come in a variety of sizes and features depending on your use, your budget and your needs. Screens can range in size from 5 inches to 7 inches or higher. In the prosumer market, external camera screens are essential when working under bright light conditions, such as shooting outdoors in strong sunlight. And the features give filmmakers more control and feedback, especially for the crew when they need to see what is on camera.
Why are external camera screens important?
Most cameras come with built-in LCD displays or viewfinders. Why do you need to spend a few hundred or even a few thousand dollars more for something like an external monitor? The reality is external camera screens allow you to record your content more professionally and clearly. They also give you more freedom when it comes to your camera choice, as if you have a great external monitor, the quality of your camera's LCD screen is less of a deal maker or breaker.
With an external monitor, you can adjust the camera for better angles and get a better view of everything in your shots. They also allow both budding and seasoned filmmakers to use various shooting styles during production. You can use external monitors with a variety of rigs to capture footage. They also come with a multitude of tools and features that assist filmmakers in their daily tasks, such as focus peaking zebras, peaking vectorscopes, false color waveforms, RGB parades, video input up to UHD 4K303D, LUT previews, horizon indicators, audio meters, touchscreens and 4K HDMI input and output. Most external camera screens even have a false color filter to assist you in setting the camera's exposure.
Content creators and directors can connect external camera screens to the video camera to give camera operators an enhanced feel for imagery in the shot. You would rarely have to test your shots or do several takes with everything external camera monitors have to offer.
Are external camera screens better than on-camera monitors?
Prosumers and professionals would probably answer "yes" to this question. Why? Many would tell you that external monitors are brighter than on-camera monitors and give you a better, sharper image to see on screen. High-end monitors help improve your camera's video capabilities and functions. An example of this is the Atomos Ninja V external recorder, which lets you shoot 12-bit RAW instead of 10-bit 4:2:2 with its internal recording.
Viewfinders and built-in display monitors that come with consumer video cameras don't give you this luxury regarding tech specs. External camera screens give you top-notch resolution and visualization. Also, they come packed with cool features that make filming your project easier. The view screens that come standard with most DSLR and mirrorless cameras limit your ability to see the details you need to see before editing your footage. They're simply too small. You have more features and advantages using external camera monitors. For example, you don't drain power from the camera as many viewfinders do.
What to look for when buying external camera screens?
The type of external camera screen you get depends on what type of camera you're using. Whether you're using an action cam, a DSLR or a mirrorless camera, you need to consider your project and your budget.
The moment you decide it's time to buy a quality external monitor for your camera, you need to know what features work best for you and why. Fortunately, most manufacturers and retailers give you a breakdown of external monitors and their specifications. For example, the Atomos Ninja V is the industry standard because of all its desirable features. It's the well-liked pick for budding and professional videographers and filmmakers because of its quality, calibrated 5-inch HDR display and power to support 4K 60p ProRes HQ, H.265, 4:2:2 ad DNxHR. Other features include pro-level monitor tools such as waveforms, false colors, HDR monitoring and LUT support. However, you need a basic guideline before coming to a final decision.
What to consider
Screen size
As we mentioned, most external camera screens are 5-to-7 inches. The larger the screen, the brighter the visualization and the reproduction of color. You get a clearer view of what is being recorded. If your budget allows it, you should consider the 7-inch screen. The larger screen makes it easier for clients and crew to observe footage from a distance and not crowded next to each other.
In addition, a larger external screen lets you know if you need to add more background elements to the shot or if someone or something is in the frame that doesn't belong. The only disadvantage of the larger monitors — and most external camera monitors — is weight. They can be heavy and offer you less mobility than external viewfinders or built-in display screens on video cameras. Use your best discretion when making your purchase. If you only plan on doing casual street scenes where you need more mobility or handheld shots, then an external camera screen may not be necessary. It also may be too big if you plan on mounting one to your action cam or DSLR.
Resolution
Many high-quality external monitors come with a full HD resolution, which is 1920 x 1080 pixels — or 1080p. Screen resolution makes a huge difference in seeing your video in fine detail. The more pixels, the sharper the image. You have to make sure the external camera screen has full HD resolution for focus and framing. Most modern external on-camera monitors come standard with 1080p resolution. Smaller monitors may only have a resolution of 720p. An added plus to these on-camera monitors is that you don't need a monitor with a 4K resolution to play back 4K footage.
HDMI input and output
External camera monitors can be linked to your camera through different cables. DSLR and mirrorless cameras use the more popular HDMI cable connection. Some monitors have a standard HDMI port, while others use a mini-HDMI port. With the more professional on-camera monitors, the standard is the SDI port. The serial digital interface (SDI) has a single-pin connection that transmits the unencrypted digital video signal. There are different ports you can use when it comes to your camera's connection selections. For example, most external monitors come with a USB upgrade port, an audio/video port, HDMI input and output ports and a 3.5 mm jack for your headphones.
You will need an HDMI cable connection if you're looking to combine the external monitor with the video camera. These cords help deliver crystal-clear video and audio to your monitor. The type of connection cable you need will depend on its compatibility with the port on your video camera, your display devices and your graphics card. Some monitors also feature an SD-card slot for loading LUTs (lookup tables). That way, you can test out different color grading as you shoot your footage. LUT support is a great option if you want to capture in log but preview certain looks. Since LUT is a tool that lets filmmakers, editors and colorists save specific color grades as a template, it can allow you to change a color space from a TV look to a cinematic look.
Improving your shots with an external camera screen
When it comes to external camera screens, there's no better tool out there to improve your shots. For cameramen using gimbals and Steadicams, it's a must. There are so many monitors to choose from for professionals to beginners that fit any budget. And there are cool features for both indoor and outdoor use. Once you see all of the advantages these helpful tools have to offer, there's nothing left for you to do except go out and pick one.