Content creation often starts with a blank canvas, which is liberating and, at times, intimidating. A sensible way through this is iterating and chipping away at a project one piece at a time. A good example of this mantra is sound quality and how even small changes bring tangible improvements. It is hardly debatable that built-in camera microphones offer passable audio quality at best. Here's where Bluetooth microphones enter the picture as a sensible and cost-effective alternative. Although Bluetooth microphones often times act as an imperfect solution, they do adhere to the "something is always better than nothing" mantra. These microphones are currently the best Bluetooth microphones for video on the market.
---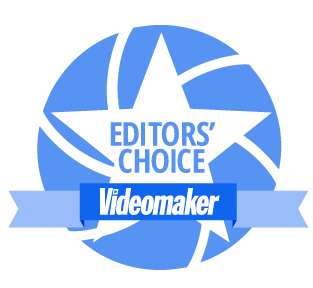 The Editors' Choice award recognizes exceptional video production equipment, software and services. These products must help videographers be more effective storytellers while being affordable, easy to use and dependable. The products must also deliver a superior user experience.
---
Best all-around Bluetooth microphone
Mackie OnyxGo
Strengths:
Single unit transmitter and receiver
Pair with a second unit for two-channel audio
Good battery life
Accessibly priced
Weaknesses:
No standalone functionality, companion app only
No aptX support
By and large, the OnyxGo is a great Bluetooth microphone that brings plenty of out-of-the-box functionality, compatibility and solid application. The single-piece unit makes it really easy to clip on and get going. The microphone is managed and operated through the Mackie OnyxGo application. The app handles everything from syncing audio and video, phone call recording, EQ and gain and firmware updates.
An additional OnyxGo unit can be paired to provide a second channel. The side-mounted button makes it easy to start and stop recordings. Connect a pair of headphones to the built-in headphone jack for real-time monitoring. The microphone itself is an omnidirectional condenser design.
In total, the Mackie OnyxGo offers about five to 6 hours of battery life and takes just two hours to charge via USB-C. There's also a 3.5 mm headphone jack for monitoring while you're recording — a must-have feature for those serious about capturing quality audio. It's quite portable as well, with measurements of 1.1 x 1.9 x 0.6 inches. Also, while Mackie has not specified an operating distance users should expect a serviceable range of at least 20 feet.

If you're looking for a Bluetooth microphone, the Mackie OnyxGo is your best bet.
---
Best Bluetooth microphone for smartphones
Sabinetek SmartMike+
Strengths:
Good battery life and fast charge time
Support for two channels by adding a second SmartMike+
The Sabinetek SmartMike+ is a single-unit omnidirectional Bluetooth microphone. Just clip on the microphone, connect to the app and start recording. It's got a particularly handy party trick; it can pair with a second unit and use the 3.5 mm jack as an input. Doing so enables the second unit to function as a transmitter for devices that are not equipped with Bluetooth ⁠— like a camera.
The SmartMike+ app handles everything from audio and video recording, microphone settings like gain and pads and firmware updates. All-in-one approaches like this are a great way of delivering functionality and letting users dive in. However, they can also be a double-edged sword. This requires a combination of solid development, testing, and good customer support that is quick to respond to issues. Sabinetek does make an effort to respond, but application stability must be mentioned.
As for battery life, the Sabinetek SmartMike+ lasts for up to five hours and charges in one hour. Its operating range maxes out at 49 feet and measures out to be 1.1 x 1.9 x 0.6 inches.
Sabinetek SmartMike+ is a nice option for smartphone users looking for a quality Bluetooth microphone. However, care should be taken when upgrading and possibly taking the "if it's not broken don't fix it" approach, especially considering how good some built-in smartphone mics have been lately. Read the software patch notes and check the reviews before taking the plunge.
---
Best Bluetooth microphone for Sony cameras
Sony ECM-W2BT
Strengths:
Works directly with the camera, no application is required
Qualcomm aptX support
Connects to the camera's power for extended battery life
Multi-channel support using a second microphone pack
Weaknesses:
Not compatible with all Sony cameras
Not cheap
The Sony ​​ECM-W2BT brings some impressive features to the table. Sony achieves this through a familiar blend of fewer compromises, their proprietary Multi Interface horseshoe mount, and Qualcomm's aptX Bluetooth technology. In order to get the best out of this, a compatible Sony camera with the digital MI horseshoe interface is a must.
Even with camera compatibility being a factor, users still have the option to connect any camera using the 3.5 mm jack and the included TTRS cable. While this isn't the primary use case especially given the price point, the standalone functionality is very much appreciated.
The inclusion of aptX delivers a significant improvement to Bluetooth audio quality. Direct camera integration boosts battery life and provides a wired connection between the camera and receiver. The optional Sony ECM-LV1 lavalier add-on is a nice touch and lends added flexibility.
The Sony ​​ECM-W2BT comes with a standalone battery and lasts for around three hours. When you have the mic connected through Sony's digital MI horseshoe mount, the battery life increase to up to nine hours. For operating range, the mic operates up to 650 feet. This is within the Bluetooth specification but should be taken with a grain of salt. As for the size, the microphone's side receiver is 1.3 x 1.1 x 2.1 inches while the clip-on microphone transmitter is 1.2 x 2.7 x 0.7 inches.
If you're a Sony user looking for a nice Bluetooth microphone, the Sony ​​ECM-W2BT is a great option.
---
Bluetooth Range Revisited
Factors like a good line of sight and low radio noise environments allow Bluetooth devices to consistently operate from anywhere between 20 to 50 feet. Bluetooth is a wireless technology, and there's an awful lot of competition across that part of the wireless spectrum — for example, 2.4 GHz wireless networks and other wireless devices like mice and keyboards. That's why not all spaces are equal in that regard.
It's not even uncommon for phones to struggle to stream audio to a Bluetooth speaker that's just seven feet away and in clear line of sight. This very well be due to the quality of the phone's Bluetooth radio. Remember, not all Bluetooth radios are equal or of the same quality. It pays to invest and shop around for a device with a good camera and robust Bluetooth functionality.
Using Bluetoo microphones as close to the sound source as possible is always better and will reduce the chance of dropouts or any unwanted sounds. This makes testing all that much more important, walking around the space to get a feel for any possible interference.
Microphone type
The vast majority of Bluetooth microphones use cardioid omnidirectional capsules which puts them on par with a lot of lavaliers. Omnidirectional patterns provide even sound pickup in all directions. This makes mounting and placement more user-friendly.
Bluetooth vs. UHF Wireless
A tale of two systems that have very little in common other than both being wireless microphone systems. The differences are primarily down to the signal type determining the range, transmission power and signal quality.
Bluetooth
Before going further, we do need to be clear that Bluetooth uses lossy compression. meaning that the captured audio signal is compressed by discarding some data. It's inevitable that some quality is lost.
Bluetooth is a low-power standard that utilizes UHF in the 2.4 GHz frequency band. Its low power characteristics apply both to transmission strength and power consumption. Transmitting too powerful a signal risks contaminating an already crowded frequency spectrum and will likely significantly impact battery life.
The next section goes into more detail on the specification and limitations of Bluetooth audio and, more importantly, the new technologies that are focused on enhancing its capabilities.
UHF Wireless
UHF stands for Ultra High Frequency and refers to the traditional and high power traditional wireless microphone systems.
Unlicensed, no radio permit required
The frequencies range used is 200 to 600 MHz
The majority of wireless systems from companies like RØDE and Shure fall into this category. Bluetooth also uses UHF, but in a much higher frequency band — hence why Bluetooth performs better at shorter distances. The higher the frequency the less power a radio has to travel through surfaces.
UHF systems are the de facto choice for wireless sound pickup and deliver performance on par with wired systems. While no wireless system is free from interference, many UHF systems are adjustable to escape noisy frequency bands.
However, all this capability does come at a cost. It requires you to buy into a larger ecosystem in the form of mixers, interfaces, receivers and microphones. While the initial buy-in is higher, the benefits of standardized connectors and standalone functionality are hard to ignore. That's not to mention the extended shelf life of such systems and the lower likelihood they need replacements.
This however is a Bluetooth microphone article and the above is overkill for the casual content producer. It's just that there haven't been many good quality wireless microphone alternatives until recently.
Compatibility
Bluetooth functionality is outlined in a specification and is supported by the majority of leading device manufacturers. The specification is managed by the Bluetooth Special Interests Group (SIG).
A2DP
A2DP is the standard Bluetooth profile for audio streams. In the end, the OnyxGo and SmartMike+ use A2DP to stream audio back to the phone. A2DP is capable of 512 kbps at 16 bits for stereo audio.
Qualcomm aptX HD vs. Apple H1
Introduced by Qualcomm in 2015, aptX increases Bluetooth's audio bit rates of 576 kbps and adds support for 24-bit audio. The downside is that aptX requires Qualcomm hardware. Support for aptX is available in some higher-end Android devices and peripherals like the above Sony Bluetooth microphone.
Devices without aptX support fallback to the A2DP profile.
Instead, Apple has opted for a proprietary approach using their W1 and H1 chips. The original W1 chip primarily focused on ease of pairing and worked using Bluetooth 4.2.
Fast forward to the current H1 chip and the biggest changes are Bluetooth 5.0, DSP and AAC codec optimization for better sound quality. All of this is great from a convenience perspective and fits with Apple's ease of use philosophy. It is worth noting that AAC has a maximum bitrate of 256 kbps.
In this case, aptX has the edge when it comes to sound quality and this space will only get more interesting next year when aptX Lossless devices hit the market.
What is right for you?
Bluetooth microphones aren't without their flaws. However, they are a great option for those who want a wireless mic and aren't ready to shell out the big bucks for a professional microphone yet. While Bluetooth microphones may not be at the top of the market, they can be useful tools in the right situations. If you are looking for a more ideal microphone for professional video capture, check out our buyer's guide for microphones for video production.