While shaky-cam films like "Cloverfield" have been incredibly successful at the box office, many recent "found footage" movies are now opening with shaky, handheld shots, which then transition into stabilized tripod footage. In fact, stabilized footage is expected in most projects like commercials, corporate videos, documentaries, and wedding videos. Think about it — would you really want the video of your sister's wedding to look like a sequel to "The Blair Witch Project"?
That said, with so many tripods on the market, you can narrow your choices based on tripod design, construction elements and your budget. However, before we get into the details, let's take a look at the best video tripods on the market today.
---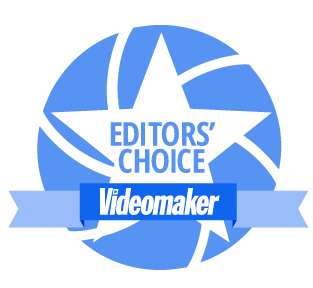 The Editors' Choice award recognizes exceptional video production equipment, software and services. These products must help videographers be more effective storytellers while being affordable, easy to use and dependable. The products must also deliver a superior user experience.
---
Best travel tripod
Manfrotto Befree Live Video Tripod Kit
This extra lightweight tripod is designed specifically to travel with you. The kit includes a fluid video tripod head with a 501PL plate, along with legs, a pan bar and a carry case. With a height range of 17 inches to 59.5 inches, the Manfrotto Befree can support payloads of up to 8.8 pounds. This and its manageable carry weight (of about five pounds) make it a good choice for vloggers and travel videographers using mirrorless and other lightweight cameras.
Though minimalist in design, the tripod still offers separate pan and tilt lock knobs for added control. 360-degree panning and a built-in bubble level should make it easier to get the shot you want on the go.
---
Best tripod head
Manfrotto 504X Fluid Video Head with Flat Base
The Manfrotto Fluid Video Head with Flat Base features a wide top surface and a long sliding plate, adding to the tripod head's overall stability and balance. Its flat base comes with a 3/8-inch-16 female mounting thread. This is compatible with a wide range of tripods, monopods, sliders, jibs and rigs.
In total, the Manfrotto Fluid Video Head with Flat Base supports up to 26.5 lb, which should support most current cinema cameras, DLSRs and mirrorless cameras. Its counterbalance system has four presets from 0 to 4.8 to 9.7 to 14.3 lb as well.
---
Best tripod system
Manfrotto 504X Fluid Video Head & 645 FAST Aluminum Tripod with Mid-Level Spreader
If you're looking to save some time and money, a tripod system can be a great option. This Manfrotto system contains the Manfrotto 504X Fluid Video Head & 645 FAST Aluminum Tripod with Mid-Level Spreader. The system's head features a 26.5 lb maximum load, a pan bar and a quick-release plate. Plus, its counterbalance system comes with four presets.
The Manfrotto 504X Fluid Video Head & 645 FAST Aluminum Tripod with Mid-Level Spreader twin-leg aluminum tripod offers a 55 lb maximum load and a 5/100 mm ball head mount. The system also comes with a 3/8-inch-16 female mounting thread and a carry bag.
---
Best tripod legs
Sachtler flowtech 75 MS
The lightweight Sachtler flowtech 75 MS tripod legs have an innovative design and a price tag that reflect their value. The flowtech 75 features a 75-millimeter bowl and two-stage, three-section carbon fiber legs, adjustable from 10.2 inches to 61.8 inches. That said, they support up to 44 pounds and come with removable rubber feet to cover their dual spiked feet. Plus, this set of sticks has independent leg movement and adjustment along with a magnetic transport lock.
This isn't your typical tripod, however. All of the leg length adjustments are controlled with three levers positioned at the top of the tripod. It has a mid-level spreader that can be quickly attached or removed so that the tripod can pancake almost all the way down to the ground.
The big question is why it has taken so long to make a tripod that is controlled at the top of the legs. Who knows why, but we are glad someone finally made one; it makes the tripod much more usable.
---
Best budget tripod
Magnus VT-4000
The Magnus VT-4000 is a super affordable tripod system that comes with everything you need in a tripod. While the Magnus VT-4000 is a cheaper option, it's built with stable aluminum, allowing it to support up to 8.8 lb. Plus, it has a ton of features you would find on more expensive tripods, like a two-way fluid head with a half-ball mount with a 65 mm diameter. It also comes with left and right pan bar mounts. That's nothing to scoff at for a tripod under $200.
Featuring a two-stage leg design, the tripod offers some height flexibility. You can adjust the leg's height from 27.6 inches to 59 inches. It also features separate pan and tilt locks and a bubble level. Plus, its head controls are positioned on the left side. This leaves your hand open for panning. In total, the VT-4000 weighs 7.9 lb, making for easy placement adjusting and transportation.
The Magnus VT-4000 Tripod System is a great tripod for those looking to save some bucks but not skimp out on camera stability.
---
Features we considered
On the most basic level, tripods consist of a head and a set of legs. Indeed, many economy tripods are just that. However, if you take a closer look, you'll be surprised by the differences.
Plates
It all begins here. Your camera mounts to a plate that sits on top of your tripod. Typically, on small or inexpensive tripods, this is a fixed plate with a screw mount that attaches directly to the bottom of your camera. More convenient quick-release plates allow you to quickly remove the camera from the tripod without removing the plate. Once you try it, you'll be hooked.
For shooters who own a single camera, a quick-release plate can be extremely important. This is especially true if you're rapidly alternating between handheld and tripod shooting. You can even leave your camera in its bag with the plate attached, which makes for a speedy setup.
For added convenience, try to use the same style quick-release on different camera supports; this allows you to go from tripod to monopod without having to change the camera plate. Quick-release plates and bases can often be bought separately from the camera support in order to match other models. When purchasing, make sure your quick-release system has a locking mechanism.
There are other types of plates based on your needs. Balance plates can offer a sliding range. This helps when balancing uneven payloads, such as a camera sporting a long lens or a matte box. Also, some plates are wider, which is great for DSLR shooters. The way the plate attaches to the tripod, such as a sideload, can also be important depending on the location of other gear attached to your tripod.
Heads for photography
With so many filmmakers shooting content with smaller, lighter cameras, perhaps you have wondered: "Why not use a photo tripod?" Photo tripods can be a great inexpensive solution if you are shooting a wide shot with little to no movement, like a speaker in a sit-down interview. However, that only works well for coverage with static shots. Let's take a quick look at the two main types of photographic tripod heads that you might encounter.
Pan-and-tilt head
A pan-and-tilt head allows you to adjust your tripod head one axis at a time by loosening and then retightening the positioning knob. This knob may have an arm attached. So, with this style of head, you can pan up and down or right to left.
Ball head
A ball head features a ball-and-socket style design. Attached to a base, the ball moves freely in its joint. A knob is used to tighten the ball and secure it in place. Movement is controlled with this knob, which often has an arm attached to it.
Heads for motion
The ability to shoot smooth, beautiful pans and tilts will be substantially affected by the materials and the design of your tripod head. For videography and cinematography, it's next to impossible to get smooth movement without using a fluid head.
The ability to shoot smooth, beautiful pans and tilts will be substantially affected by the materials and the design of your tripod head.
Fluid head
As the name suggests, fluid heads are sealed with lubricant fluid inside. This lubrication provides for the smooth movement of your head when panning or tilting. It's important to note that because these video heads use fluid, not all are suited for work in temperature extremes.
That said, the best tripod heads will pan 360 degrees and have a +/-90-degree tilt. The pressure on the fluid in the head can be fixed or it can have adjustments. These adjustments, called drag, provide greater control in your movements. Another desirable feature is a bubble level, preferably illuminated. Heads attach to tripod legs using either a ball or a flat mount.
On midsize to large fluid heads, the camera plate often has a slider adjustment. This lets the camera move either forward or backward on the head. This makes balancing the camera on the tripod much easier. Larger fluid heads have counterbalance adjustments. The counterbalance allows you to compensate for a heavy load toward the front or rear of the camera. This can be very useful when using large camera rigs, large lenses or control arms with focus and zoom controls.
Arms
Most film/video tripods have a control arm or handle for panning and tilting. Some tripods, however, have options on how and where the handle is mounted. Some models even offer the ability to use a second handle for greater control. This can also be a mounting point for separate focus and zoom controls. When using remotes, two-stage telescoping arms are very convenient.
Legs
Many tripods on the market today feature legs that are constructed from aluminum or carbon fiber. Aluminum tends to be cheaper, while carbon fiber is lighter and significantly stronger. The price between the two can be significant although the material for the legs really don't affect your tripods' functionality. Most manufacturers will list the weight of the tripods and/or legs. Ultimately, you'll have to decide if the weight difference is worth the expense.
Legs for video tripods are usually either single legged or double, tandem legs. Double legs offer greater support and stability and are often the only choice for support of heavy payloads. The number of telescoping sections that make up a leg is also something to consider. The more sections or stages a tripod has, the smaller its collapsible size. However, more leg sections can also lead to slightly longer setup times and a slightly heavier weight to haul.
Leg locks
Additionally, leg sections have locks on each individual leg stage so you can adjust your tripod to the proper angle needed. This is often necessary and quite common when shooting on uneven terrain. Leg lock designs and materials are not universal and can be an important feature. Tandem legs typically have locks that engage with a lever. Many single legs have locks that engage horizontally.
Horizontal locks unlatch unexpectedly and collapse when bumped, so beware. Many lighter-weight tripods have twist locks that aren't as durable and often cannot be easily replaced if broken. Consider the cost of the tripod; you'll definitely want to be able to replace locks on an expensive tripod. Some leg locks can be ordered from the manufacturer and easily replaced. This may be an area you want to explore before your purchase.
Spreader
A spreader is another good feature for your legs to have since this provides added stability. Spreaders near the bottom of the legs are designed with studio and indoor shooting in mind. Spreaders located higher up on your legs allow you to adjust your tripod for uneven, outdoor terrain while still providing extra support so your tripod does not collapse.
Feet
Tripod legs also have feet. Rubber feet are almost universal. Versatile tripods will feature spiked foot options for outdoor terrains. The form of this varies from wind-down spikes to retractable spikes to interchangeable feet.
Center columns, bowls and levelers
Larger fluid heads come with ball mounts that tend to range in size from 65 mm to 100 mm; this head will rest on top a bowl of a corresponding size that connects to your tripod legs. With a bowl mount, you can level the head independently from the legs.
A leveler allows you to level a flat mount fluid head on a tripod, often without adjusting the leg length. This can greatly decrease your setup time on uneven surfaces. Smaller fluid head tripods tend to level the head by individually adjusting the legs of the tripod to obtain the proper angle, although some do have levelers.
While center columns can increase the vertical reach of a tripod, they often lack stability with larger camera payloads. Don't rely on center columns for this purpose. Instead, check the height range of your tripod's legs and make sure it will work for your projects. Speaking of height range: some lighter sets of legs will allow you to shoot from very low minimum heights. This can make it easier to quickly get low-angle shots.
Payload
When considering the maximum payload your tripod can support, you'll need to think about more than just the weight of your camera. Lenses can be quite heavy. Thus, a longer lens not only weighs more, but that weight is not distributed evenly. Larger batteries and external recorders that mount on the rear of your camera are additional weights that can cause your tripod to have balance issues. Finally, you'll want to consider the added weight of anything you mount on your camera's hot shoe, such as lights or microphones.
Tripod heads have a rated weight capacity. It's very important not to exceed this as it can cause damage to the head. The fluid in the head creates a damping effect which stabilizes your shots. When you exceed weight limitations on the head, it affects its damping abilities. This makes smooth shots more challenging for your operator.
It's about more than your camera
When you look at a head's capacity, it's not just the weight of the camera that you need to support. You also need to factor in any accessory that will be mounted onto the tripod as well. For example, you might want to mount your whole shoulder rig to your tripod, including camera body, lens, matte box, rails, follow focus, recorder, monitor, light, battery and cables. It's easy to see how quickly the weight can add up. You may even want to use a slider or jib arm with your tripod. That would definitely require a higher weight capacity. For best results, you'll want to stay between the minimum and maximum payload weights while operating your tripod.
As you think about the payload your tripod needs to support, you should also think about your workflow. Do you do run-and-gun shoots? The ability to quickly go from handheld to a tripod can be seamless if you leave your camera on your rig and mount it directly onto your tripod. Maybe you only want to transport one set of sticks, so the ability to mount a slider or a jib arm to your tripod legs might also be a big plus.
Mixing and matching legs and heads
It's common for many shooters to mix and match heads and legs when purchasing tripods. You may decide you like the way one tripod folds or a specific leg lock design, but want to pair those legs with a different fluid head. If the head you want is really expensive, you may opt for cheaper legs from a different manufacturer.
When looking at tripod specifications for these parts, you'll often note that that there are different weight ratings for the heads and the legs. If you are mixing and matching heads and legs, remember that you need to include the weight of that head in addition to your camera and its accessories when calculating the total payload for your legs.
On a budget? No worries.
You're likely familiar with the saying, "you get what you pay for?" That's definitely the case when it comes to tripods. At first glance they may be similar, but many mid-range and higher-end tripods do have very specific features that are valuable for some camera operators and the work they are doing. On the other hand, economy tripods have their uses especially for those on a budget.
You'll notice the biggest variables among the tripods in various price ranges relate mostly to fluid adjustments for the head for pan, tilt and counterbalance. Typically, economy models have fixed fluid heads, while mid-range and high-end models may have multi-step adjustments, continuous adjustments, and/or multiple counterbalance settings.
Those on a budget shouldn't fret, however. You can still get great shots with an economy tripod; however, you just might have to work a little harder to get those shots.
Final thoughts
Remember, your tripod is holding precious cargo, so pay attention to your payloads. You really don't want the embarrassment of having your tripod crash to the floor in front of a new or important client because you only considered your camera's weight and not the entire payload. A tripod collapse that damages or destroys your camera and accessories would also be equally devastating.
In the end, when selecting a tripod, you may also want to consider not only the cameras and gear you currently own but also future purchases. If you have the opportunity to visit a store to look at models, this might make your purchase decision easier. However, carefully comparing and reviewing system specs will ultimately help you find the best tripod to fit your needs and your budget.
Contributors to this article include W. H. Bourne and the Videomaker Editorial Staff.