RØDE has a long history with camera mounted mic solutions. The RØDE VideoMic line currently stands at seven models. Each mic covers a different user and use case. There are the more affordable and small models, like the VideoMic Me and the VideoMic Go. There are three different stereo VideoMics: the Stereo VideoMic, Stereo Videomic Pro and Stereo VideoMic X. Lastly, with the addition of the Pro +, there now are three different versions of the original VideoMic; the VideoMic, the VideoMic Pro and the VideoMic Pro +. With the introduction of the Pro +, RØDE updated the standard with some super useful features.
The VideoMic Pro + is a camera-mounted shotgun mic. It has a 3.5 millimeter mini-jack output with a detachable cable that also supports dual mono output. Also featured is a 20Hz to 20kHz frequency response and a Rycote lyre shockmount. New to the VideoMic Pro + is the addition of a safety channel that records 10db lower to give you more headroom if your subject happens to get loud quick. It has a high-frequency boost and a selectable 150 hz or 75hz high-pass filter. Lastly, the included rechargeable Li-Ion battery can sustain over 100 hours of use before needing to be recharged.
Experience
We used the VideoMic Pro + on a few different cameras, including the Nikon D850, the Canon 5D Mark IV, and the Sony a7R III. From the get-go, we only have one gripe about this mic: the location of the detachable output cable. Go to use the EVF of your mirrorless camera and the jack is going to hit you in the forehead. That's it — pretty small complaint, but it can get annoying.
When shooting an external mic with a ILC, for the best results, you must set the input gain correctly. The mic preamp in ILCs are weak to say the least, so it's best to use as much of the gain from the mic as you can, rather than from the camera. Start by turning the input gain on the camera as low as you can. Then start to set your gain with the +20dB setting on the mic and gain up the camera as needed. If you cannot get the camera low enough, do the same process at 0dB. This will make sure you are using the camera's mic preamp as little as possible.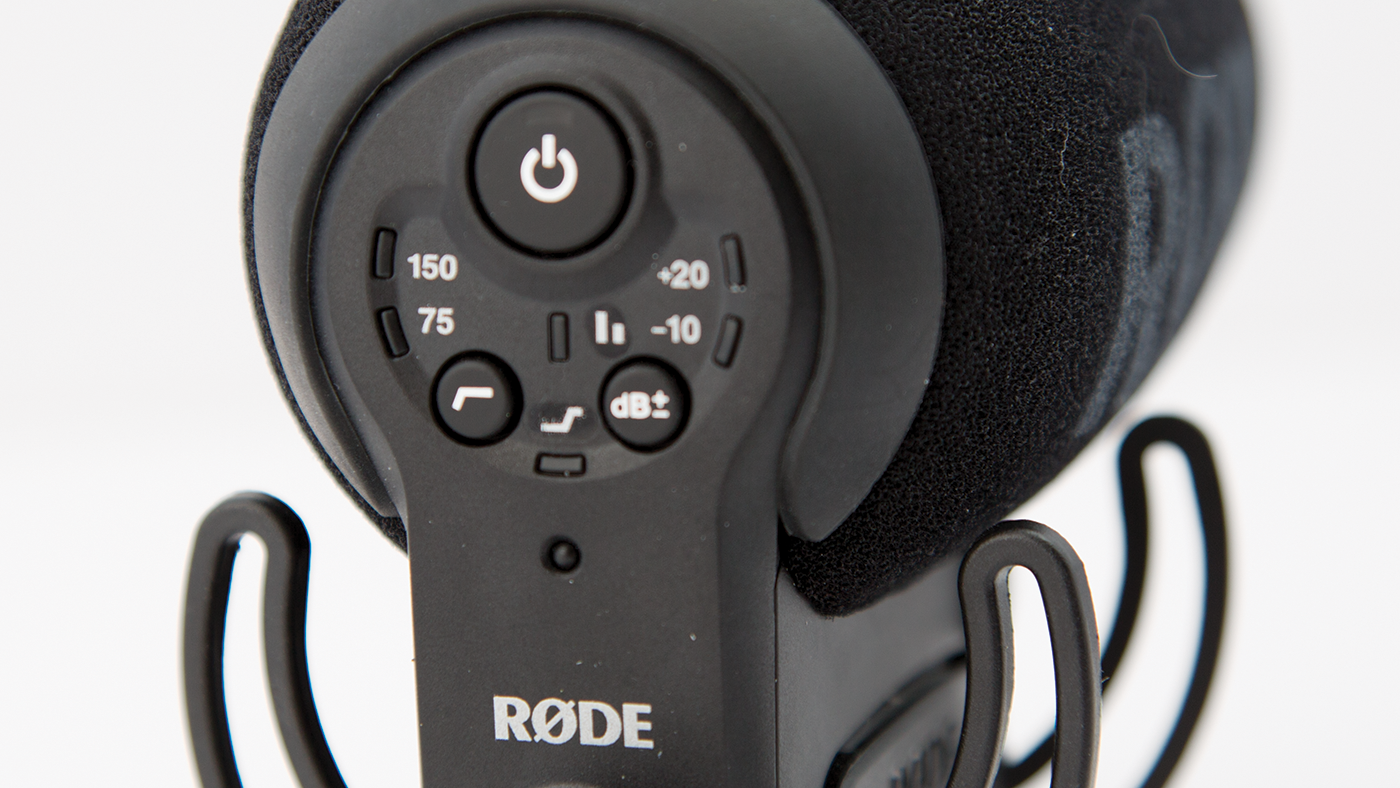 Once we got our gain set up properly, we're ready to record. The VideoMic Pro + has a nice feature on it called safety channel. The safety channel gives you the same mono input over a stereo channel. The safety channel records the same thing as the other channel, just -10dB lower. This gives you the ability to push the gain to where you need it to be and not worry if you randomly get a peek over your set gain input. In use, it's super helpful. If you are shooting run and gun style, it's not always possible to adjust to a random loud sound. With the -10db safety channel, you'll have one track that's likely to be clean even when the other is clipped.
You can do a high pass filter in post production, but having it as a simple switch, so you don't need to worry about it later, is a nice touch.
Last up are the 150 and 75 hz high pass filters. Say you have a hum from a refrigerator. Depending on the frequency it lives in, it's likely you can cut it out of your signal using one of the two high pass filters. You can do a high pass filter in post production, but having it as a simple switch, so you don't need to worry about it later, is a nice touch.
Marketplace
There are many mics in this category. We're going to look at three other camera-mounted shotgun mics that are around the same price and have similar features from Azden, Shure and Sennheiser.
First up is the most expensive: the Azden SMX-30 costs $250 dollars. However it offers both stereo and mono recording modes. It also offers the same level adjustment, though there is only one high pass filter at 120 kHz. The Azden comes with a foam windscreen and carrying pouch.
Next is the Shure VP83 LensHopper Camera-Mount Condenser Microphone at $230 dollars. It may have a long name, but that's for a reason: You can also get the VP83 with a built-in recorder. We are looking at the microphone only option. Shure says that the VP83 offers 130 hours of battery life. It also comes with a foam windscreen, switchable filters and gain adjustment.
Last up is the Sennheiser MKE 400 for $200 dollars. This is the most straightforward option: it has an input gain with a three position switch, and an on and off switch. It has an integrated shockmount and a ⅛-inch mini TRS connector. Lastlly, it's powered by one AAA battery.
Final Thoughts and Recommendations
RØDE did a great thing with the VideoMic Pro +; they improved their already standard product with some usable features. The long battery life coupled with the safety channel makes for a super update. We would have liked to see the eighth-inch output to be located somewhere else on the mic, but that's a small inconvenience. RØDE gives you lots of value with the VideoMic Pro +. The big question is if they'll be able to top themselves on the next version?
RØDE Microphones
www.Rode.com
PRICE: $300
STRENGTHS:
Safety channel
Long battery life
Rechargeable battery
WEAKNESSES:
Location of eighth-inch output
Larger than previous models
SUMMARY:
Rode took a swing at updating their standard camera mounted shotgun mic, the VideoMic Pro. The new VideoMic Pro + offers more than just a + added to the end of the model name. RØDE updated this mic with some really usable features.
RECOMMENDED USERS:
YouTubers
Indie, Home & Enthusiast filmmakers
Documentarians & Event Videographers
Commercial & Corporate filmmakers
Journalists & Travel videographers
Action sports enthusiasts
TECH SPECS:
Acoustic Principle: Line gradient
Directional Pattern: Supercardioid
Frequency Range: 20 Hz to approximately 20 kHz
High-Pass Filter: Selectable at 75 Hz, 150 Hz
Sensitivity: -33.6 dB re 1 V/Pa (21.2 mV at 94 dB SPL) ±2 dB at 1 kHz
Output Impedance: 200 Ohms
Equivalent Noise: 14.2 dBA SPL
Maximum Output: 7.72 dBu (at 1 kHz, 1% THD into 1 kOhm)
Dynamic Range: 118.8 dB
Maximum SPL: 133 dB SPL
Signal to Noise Ratio: 79.8 dB
Power Options: LB-1 RØDE custom lithium-ion rechargeable battery (~12 mA current draw), 2 x AA batteries (~17 mA current draw), or via micro-USB port
Battery Life: LB-1 – Over 100 hours
Battery Charger: Micro-USB cable (supplied)
Output Connection: Dual mono unbalanced on stereo 3.5 mm jack
Dimensions: 6.7 x 4.4 x 2.6" / 170.0 x 111.0 x 66.0 mm
Weight: 4.3 oz / 122 g
Chris Monlux's first recording was of a band in the 10th grade for a song called "Bob Saget." He is also Videomaker's Multimedia Editor.