With the release of the MOTIV product line, Shure jumps in head first to the mobile recording device market, offering mobile products that connect via a lightning connector for iPhones and iPads, via USB for use with a computer and via Tip ring ring sleeve 1/8 '' input in the case of the MVL. We got our hands on all five models in the MOTIV line: the MVi digital input device, the MVL lavalier mic, the MV88 digital stereo mic, the MV51 large-diaphragm condenser mic and lastly the MV5 digital condenser mic. All five products work with the MOTIV ShurePlus app, which allows for gain control, compression/limiting, and with the MV88, control over the degrees of pickup.
MVi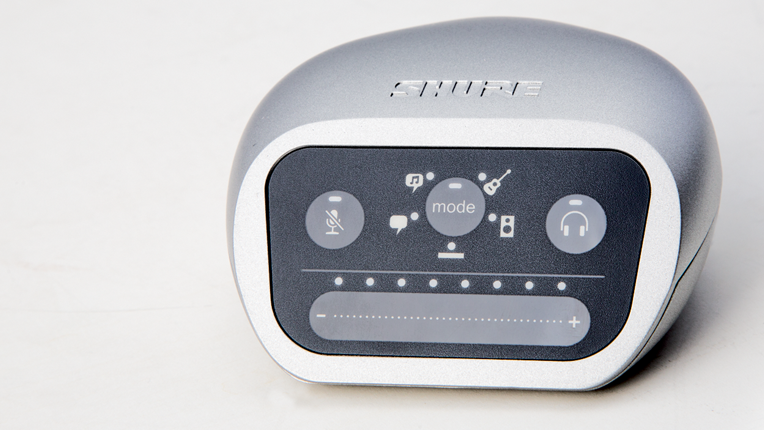 We tested the MVi with a Shure SM7a dynamic mic and a Røde NTG2 shotgun mic. With the help of the MOTIV app, adding a limiter or compression is easy. The different modes — speech, singing, acoustic, loud and flat — offer different EQ and compression settings tailored to fit different sound sources for best recording quality. The MVi offers quality recording with its Class A preamp at 24 bits and 48kHz. The input accepts both XLR and ¼-inch instrument inputs. The MVi costs just a bit under $130. While the MVi offers a great value, it isn't the most affordable option on the market. We'd recommend the MVi for those who are on the go but also have the need for an easy to use USB digital input device.
MVL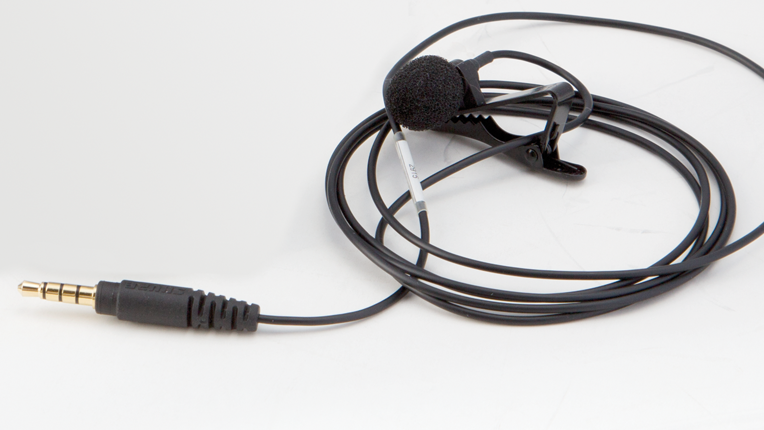 The MVL is the only MOTIV device to be banished to a ⅛-inch input. The Tip Ring Ring Sleeve, or TRRS, connection works by connecting to your IOS device's ⅛-inch headphone input. It's just a lavalier mic and cable, but just because it doesn't have a lightning connection doesn't mean it is not strengthened by the MOTIV ShurePlus app. The same options of EQ, compression and limiting are available.
Advertisement
We were quite impressed by the MVL; it sounds good and for a little under $70, you really can't go wrong. If you already have an iOS device, the MVL will give you a lav on the go without the big price tag. You'll need to sync the audio if you're shooting with a camera other than your iPhone, but that's a small task in exchange for a simple and affordable lavalier.
MV88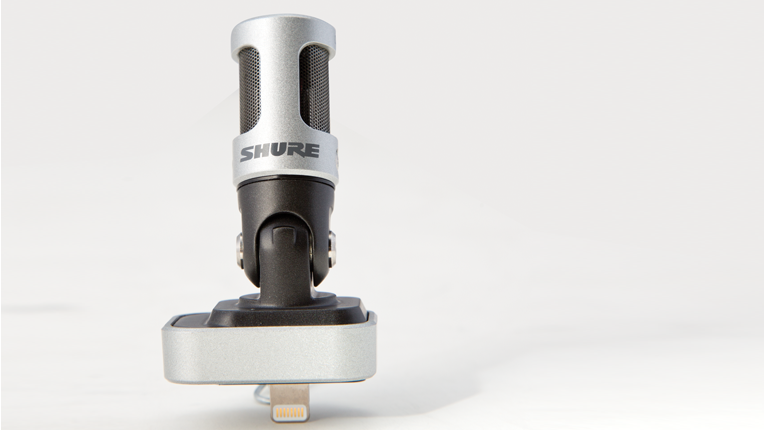 The MV88 — dubbed the documenter by Shure — is a digital stereo mic. Offering an adjustable pickup width through the ShurePlus app, you're able to expand the pick up area from 90 degrees all the way out to 130 degrees. When recording live events, this is very handy. With the simple change of the app, the width of the stereo field is expanded or contracted, depending on whether you want to include or exclude an area for pickup.
[video:18665]
We tested the MV88 in a live performance situation, picking up an acoustic rock group. The clarity was wonderful; the recording was clear and offered clarity for all the instruments being played. One large flaw that we encountered is that the lightning connection to the device, while convenient, didn't inspire confidence. Because of the imperfect connection, we did experience pops in the recording due to the connection point. This can be easily eliminated with some extra care placing and supporting the MV88. We would have liked to see something designed into the unit to do this for the user, because not all recording situations are ideal for perfect support.
This is great for the shooter who wants some expanded audio, but doesn't want to lug around an external recorder on top of the iOS device they might already carrying. The price is acceptable considering the iOS integration, but for $50 more (MSRP $200), the Zoom H4 does the same thing without iOS and is a standalone device with two more inputs.
MV51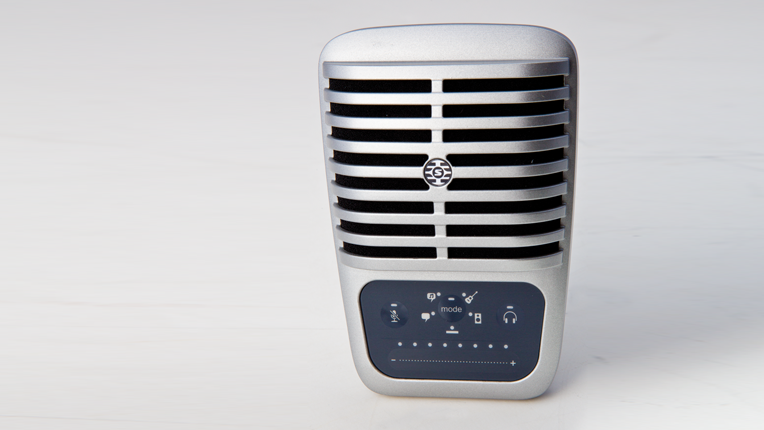 We are very impressed with the robustly built, good looking and good sounding MV51. This digital large-diaphragm condenser mic is a snazzy looker with a throwback retro design reminiscent of the 50's with a touch of the contemporary. The MV51 connects via a lightning connector or USB and offers the same strengths when used with the ShurePlus app — compression, EQ and limiting. It can be mounted to a mic stand or on a desktop using its kickstand. The sound quality was nice, as expected with most all Shure mics. The only flaw we experienced is that it's quite susceptible to pops from plosives. Is this any different from most mics? No, but being that these are mobile solutions, it would have been nice to not have to worry about bringing a pop screen along for best audio capture. Its price is good at $200, but would have been a big winner if it was a combo of the MV51 and the MVi and offered an input as well as the mic. It would then be everything you might need in one unit — but alas, you'll need to get both products to get the same flexibility. This is a simple solution if you need a mobile digital mic that sounds great.
MV5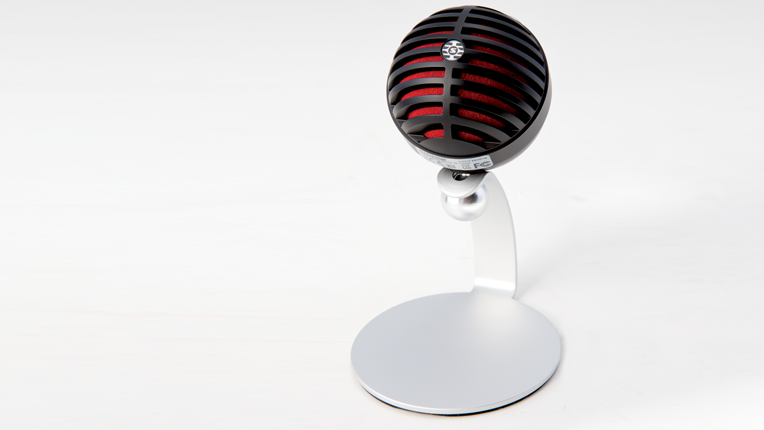 The last product in the MOTIV line is the MV5 Digital Condenser Microphone. It's a simple ball design is reminiscent of the Snowball from Blue microphones, but the MV5 is smaller and more robustly built than the Snowball. It's offered in two colors and comes with a little metal stand. Although it's nice that a quality stand is included, it's downfall is that it's very small and doesn't do much more than help direct the mic and keep it from rolling away. It sounded good — not as good as its big brother the MV51, but good nonetheless.
Priced in line with the Snowball at $100, just like the rest of the MOTIV line, it's a simple solution to the needs of the mobile recordist. Just like with its big brother, plosives are an issue. Its sensitivity requires off axis input, but if used with a pop filter, it's not a problem. That's just one more thing to lug around. Is it a good value? Yes, but it's not revolutionary or innovative. We like it, but unless a buyer's biggest selling point is the iOS connectivity, it's an easy product to overlook.
Let's sum it up.
Purchasing the entire MOTIV line would set you back $650, and you would have a few duplicates. Our recommendation would be to buy them one at a time and for specific purpose. For us, the stand out product for the money is the MVL; it's just too convenient, and is a good mic for the cost. The ShurePlus app gives more strength to simple products, and every product in the line is easily used and doesn't lack in build or sound quality. None of the products are revolutionary, but they do what they were designed for and do it well. If Shure is your brand, if iOS connectivity is big for you or if you're looking for a simple and easy recording solution, most definitely the MOTIV line from Shure is for you.
Shure
www.shure.com
PRICE:
MVi – $130
MVL – $70
MV88 – $150
MV51 – $200
MV5 – $100
Strengths
Simple, easy-to-use design
Good sound quality
iOS connectivity and helpful app
Weaknesses
MV51 is overpriced vs comparable solutions
Weak connection point on the MV88
TECH SPECS:
MVI
Mic Type: N/A
Polar Pattern: N/A
Frequency Response: N/A
Connection Type: Lightning & USB
Form Factor: Digital Input Device
Input: XLR or Instrument Cable
MVL
Mic Type: Condenser
Polar Pattern: Omnidirectional
Frequency Response: 45 Hz to 20,000 Hz
Connection Type: TRRS ⅛''
Form Factor: Lavalier
MV88
Mic Type: Bidirectional Condenser
Polar Pattern:
Adjustable width stereo
Mono bidirectional
Mono cardioid
Mid-side
Frequency Response: 20 Hz to 20 kHz
Connection Type: Lightning
Form Factor: Stereo Microphone
MV51
Mic Type: Large-Diaphragm Condenser
Polar Pattern: Cardioid
Frequency Response: 20 Hz to 20,000 Hz
Connection Type: Lightning & USB
Form Factor: Electret Condenser
MV5
Mic Type: Condenser
Polar Pattern: Cardioid
Frequency Response: 20 Hz to 20,000 Hz
Connection Type: Lightning & USB
Form Factor: Digital Microphone
Summary
The Shure MOTIV line of mics and input devices offers iOS connectivity through a lightning connector or can be connected to a computer via USB. The MOTIV line offers a wide array of solutions for any producer; their simple design and operation are met with good build quality and great sound.
Chris Monlux is the Multimedia Editor at Videomaker