DSLRs are famous for their excellent image quality and fabulously shallow depth of field and, at the same time, notorious for their poor audio quality. A common solution is to set up and record to a portable audio recorder, such as the Zoom H6. Record directly to the device mics or plug in your favorite shotgun microphone via XLR cable and you're good to go.
Another great option is the portable audio mixer. These devices come in many flavors, offering from 2 to 8 input channels with loads of onboard tweaks available to get your audio just right. The FMX-42u by Azden is a 4-channel mixer with not only two 3-pin XLR outputs but also a USB port, allowing you to record to a number of USB compatible devices.
Ready to Rumble
The FMX-42u is well built and ready to handle any situation. At 2.9 pounds without batteries, the all-metal case makes for a highly durable housing for the sensitive components inside. It comes with a ballistic nylon carrying case and neck strap for easy portability. Open sides allow easy access to the input and output ports and a clear vinyl front flap provides protection from the elements while allowing you to easily see the settings dials and VU meters.
Along one side of the mixer are four 3-pin XLR connectors for balanced input. We found that each input makes a solid connection with the cable end and the metal release tabs work smoothly for easy removal of the cable. Each input has its own Input Level switch with line, mic hi and mic lo positions, as well as its own phantom power on/off switch. Each of these switches slides easily without any excessive play and detents provide tactile feedback indicating the switch is located firmly in the chosen position.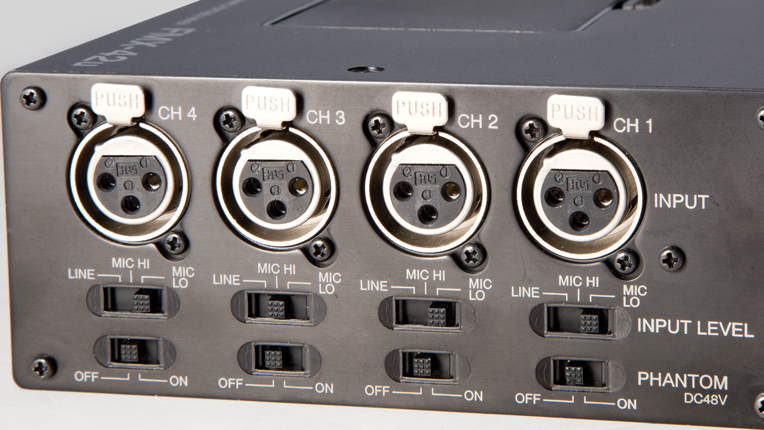 The opposite end of the mixer has a DC in connector for the power supply, recommended if you'll be doing a lot of studio work with the device. The power supply is optional, but at this price point, and given the desirability of having DC power, it would be nice to see it included. Portability is achieved using 6 AA batteries located under a plastic cover at the top of the unit. Below the DC connector are the on/off switches for both the main power for the device and to illuminate the dual front VU meters.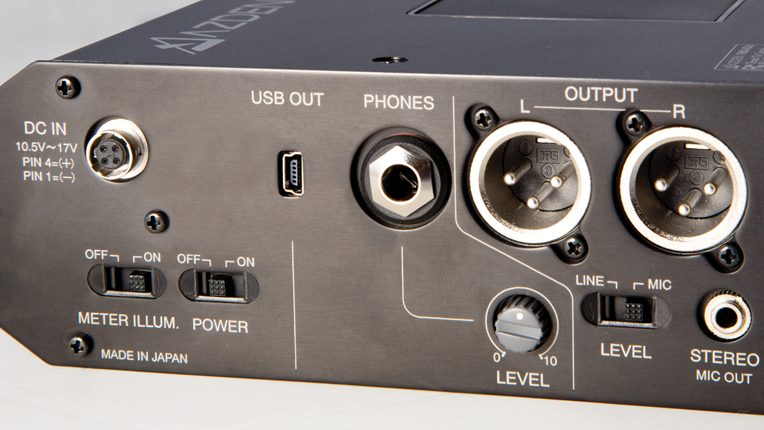 Outputs include USB out, a 1/4-inch headphone jack with volume level dial, dual 3-pin XLR outputs with line/mic switch and a 3.5mm stereo mic out port.
At the front of the unit are four rotary dials with white caps marked CH 1 through CH 4. While the entire unit displays excellent build quality throughout, these dials do exhibit some play along both the horizontal and vertical planes. They control the levels of each input source and each has an outer ring for controlling L/R pan. Beneath each dial is both a limiter switch to reduce distortion from very loud sounds and a high pass filter switch for filtering out low frequencies (<100 Hz) such as wind and A/C units. To the left of each dial, a pair of peak indicator lights monitor the signal both prior to and after the level control, allowing you make very precise levels adjustments.
A fifth dial provides master control for output levels. Beneath this dial are two buttons for turning on the slate mic and 1KHz tone. Finally, left and right channel VU meters, with sweep needles, occupy the right front of the mixer. The switch right around the corner lights them up when working in dark environments.
Knock Out Performance
With a highly intuitive layout we found the FMX-42u very easy to use. We plugged both a Sennheiser shotgun mic and an Azden wireless lav mic into the mixer's channel 1 and channel 2 inputs with CH 1 panned hard left and CH 2 panned hard right. We switched on the high pass filter to handle the HVAC noise in the room, and with an eye on both the peak indicators and the VU meters, we set the levels of each channel, then brought up the master to the desired level. Finally, we flipped on the limiter for added insurance. The result was very clear, hiss-free and precisely mixed audio recorded directly into our Nikon D750 DSLR via 3.5mm cable and also to our laptop using the USB out feature.
With a highly intuitive layout we found the FMX-42u very easy to use.
USB setup was quite easy. Once the USB cable was connected to both the mixer and the computer, we made sure the system was recording through the USB mic rather than the built-in. We then fired up Adobe Audition and hit record.
Having the ability to record directly to your video editing timeline or other application is a great feature, and where you were previously limited to USB mics, now you have the option of using your high-end professional XLR mics as well.
While you won't have all the same tweaking options as you would with a full featured studio mixer/EQ setup, you do have full portability and the ability to record very clean audio to your camera, laptop, tablet or smartphone using the appropriate, optional adapters.
Conclusion
Whether recording a single mic, mixing the house sound board, using a shotgun and a pair of lavs or doing voiceovers directly to your laptop, the Azden FMX-42u portable field mixer is worth a close look as a potentially smart addition to your DSLR workflow.
Azden
www.azden.com
FMX-42u Portable Mixer: $576
Strengths
Intuitive layout, easy to use
Solid construction
Easy to read meters
USB output
Weaknesses
Power supply is not included
Some unwanted play in rotary dials
Tech Specs
Frequency Response: Balanced or Unbalanced Output: 20 Hz – 30 kHz (+0/-1.5 dB); Monitor Output: 30 Hz – 30 kHz (+0/-2 dB)
Signal-to-Noise Balanced Output: -120 dBu (A weighted, input equivalent level)
Phantom Power Voltage: 48V (+/-1.5V)
Sample Tone Frequency: 1 kHz
Balanced Input: XLR 3-pin female x 4 (CH1, 2, 3, & 4)
Balanced Input Levels: Line – Standard: +4 dBu, Max: >+26 dBu, Impedance: 2k ohms; MIC HI – Standard: -38 dBu, Max: +4 dBu, Impedance: 2k ohms; MIC LO – Standard: -58 dBu, Max: -15 dBu, Impedance: 2k ohms
High Pass Filter: 100 Hz – 6 dB/oct
Balanced Output: XLR 3-pin male x 2 (Output L & R)
Unbalanced Output: 1/8" stereo mini-jack
USB Out: USB mini-B connector (female)
Monitor Output: 1/4" stereo headphone jack
Balanced Output Levels: Line – +4 dBu; MIC -36 dBu
Unbalanced Output Levels: Standard: -36 dBu, Max: -20 dBu, Impedance: 120 ohms
Monitor Output: +1 dBu (32 ohm load at 9V), 16-100 ohm load recommended
Meters: standard x 2 – output level: 0 VU (+4 dBu)
Battery Requirement: 6 Alkaline – "AA"
External Power: optional A/C adapter – 10.5 ~ 17V DC @ 200mA
Dimensions: 9" W x 6 1/2" D x 2 1/4" H (without protrusions)
Weight: 2.9 lbs (without batteries)
Includes: Nylon carrying case and manual
Contributing Editor Mark Holder is a video producer and trainer.