The Canon EOS M50 is Canon's first mirrorless 4K camera. However, it's far from a flawless piece of equipment.
Costing just 780 dollars, the M50 gives you 60 frames per second (fps) in HD and 24fps in UHD 4K. Although it has an APS-C sized sensor, it has a 2.56 times crop when shooting in 4K — that's significant. Additionally, it suffers from a lot of the rolling shutter effect. Can you say Jello city? It's not all bad news for the M50 though–in fact, it's mostly positive. The camera has a great image quality and has a fully articulating touch monitor. When shooting in HD it has the industry leading dual pixel autofocus (AF) and has a combination 5-axis image stabilization.
The M50 has a 24.1 megapixel APS-C CMOS sensor and a DIGIC 8 image processor. It features a 2.36m-Dot OLED electronic viewfinder (EVF) and a 3-inch 1.04m-dot vari-angle touch screen. Its lens mount is EF-M, which means you'll need a 200 dollar lens adapter to use any EF or EF-S lenses. It offers a microphone input, but no headphone jack.
User Profile
Canon leads the industry in this price range with the rebel T7i. However, the T7i rebel is a DSLR and offers the EF mount. Both the T7i and the M50 offer a fully articulating screen; however, the T7i lacks the ability to capture 4K. Additionally, the M50 has 5-axis image stabilization and shoots 4 more frames per second than the T7i in burst photography mode. The M50 is also a bit lighter, weighing 3 ounces less than the T7i. All that said, if you desire a larger grip and more buttons, the T7i should be considered.
As Tested
We tested the M50 with the EF-M 15-45mm f/3.5-6.3 IS STM, which costs 300 bucks. Or, if you get it in the kit, that will add 119 dollars to your purchase, putting the total cost of the kit at 899 dollars. This lens is okay, however its varying aperture isn't optimal for video shooters. Additionally, the lens is externally zooming, yet it doesn't fully collapse at any focal length, making it a bit awkward. Needing to use EF-M lenses is a big bummer for this camera. Yes, you can get an adapter for a little over 200 bucks, which allows you to use EF lenses, but it would be wonderful if it wasn't required since a big draw for Canon cameras is the breadth and quality of their lens selection.
The Elephant in the Room
Although the 4K footage looks great, it has a 2.56 times crop factor. To put that into context, let's look at a micro four thirds (MFT) sensor. MFT cameras offer a 2 times crop. Even the Panasonic GH4, with its MFT sensor, only increased the crop factor to 2.3 times when shooting in 4K. It's strange using the word only here, but compared to the 2.56 times crop of the M50, the 2.3 time crop of the GH4 feels more manageable.
The 15-45mm lens we used for this review, with the 4K crop factored in, is an effective focal length of 38-115mm. Even with Canon's widest EF-M lens, the 11-22mm, has an effective focal length of 28-56mm. Looking outside of Canon's offerings, Opteka offers a 6.5mm f/2 prime for 130 dollars. That would give you an effective focal length of 16.5mm. If you require a wide angle, look to off-brand primes.
Because of the huge crop factor for 4K, shooting a selfie with a wide angle of view might be difficult.
Because of the huge crop factor for 4K, shooting a selfie with a wide angle of view might be difficult. If you have a selfie tripod and long arms, you could capture a tight two-shot as long as the subjects are willing to be cheek to cheek. When shooting HD the crop factor is the same as any APS-C sensor: 1.6 times.
Overall, 4K is nice to have, but we'd expect most users of this camera to only shoot HD with the M50. In addition to the large crop factor, dual pixel AF is not available when shooting in 4K. The M50 is just a better video camera when shooting in HD.
In Use
The M50 is a small, lightweight camera with loads of features. From Bluetooth and Wi-Fi connectivity, a screen that flips completely out and dual pixel AF when shootin in HD, the M50 is a great choice for social media mavens. It takes beautiful pictures, is small enough to take with you and when video is needed, and it can shoot 60fps in HD or 24fps in 4K. A pro could consider it for a strong C-camera, or for when a small form factor fits the work.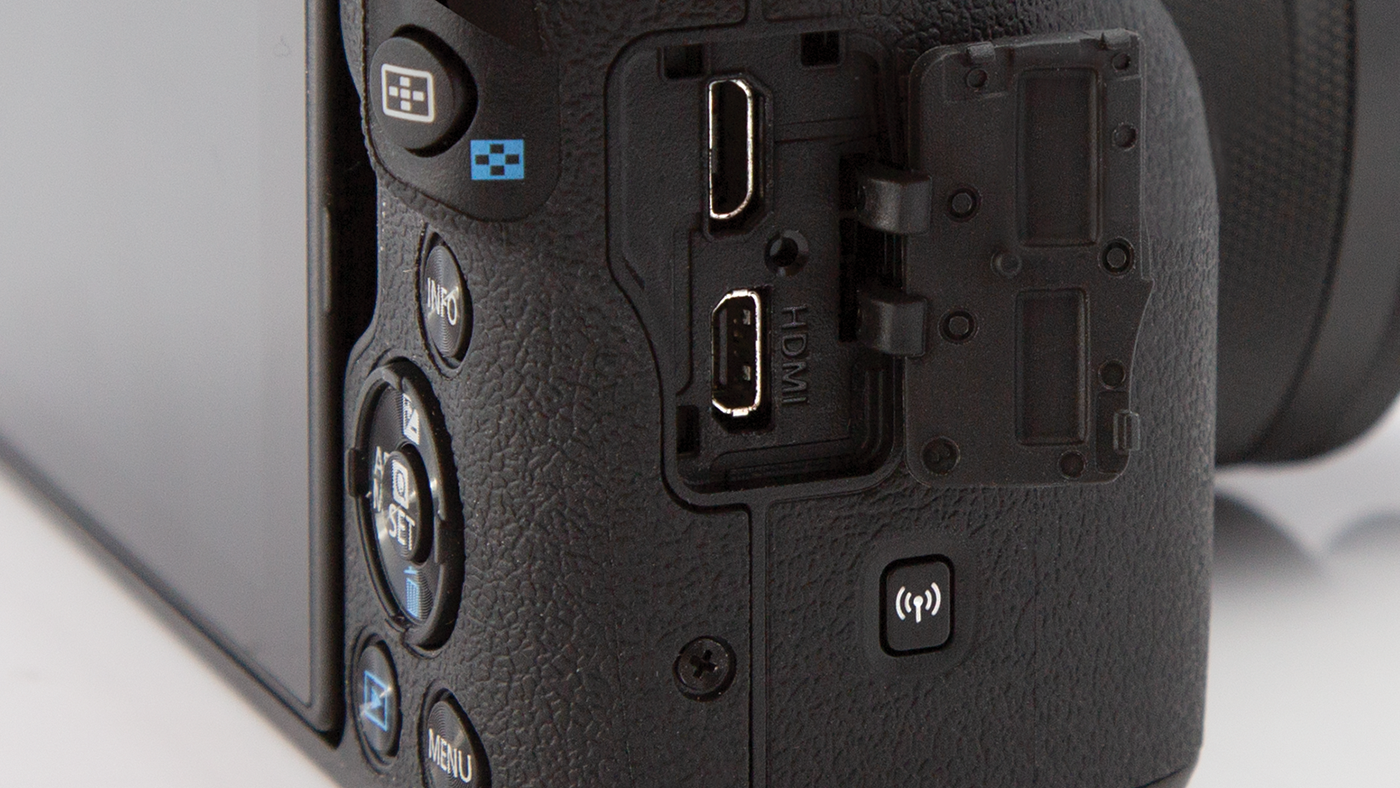 For a beginner looking for a strong first camera, the M50 would be a good pick. Since it is an interchangeable-lens camera, it gives you more flexibility than a typical  point and shoot. It can shoot up to 60fps, so if you want 2.5 times slow mo, it can be achieved shooting HD in 60fps and slowing it down to 24fps. At this price point, a headphone jack is typically not included, and the M50 is no different. A way around this is getting a reference monitor that has audio monitoring via the HDMI, such as the SmallHD Focus. However, that will greatly increase the cost of your setup.
It wasn't difficult getting a great looking image out of the M50. The articulating screen comes in clutch when in full sun. Additionally, if you are a vlogger, the flip out screen is key. The touch function of the screen is equally handy. You can tap on the screen to focus on your face, if shooting a vlog, or use it for an easy executable rack focus.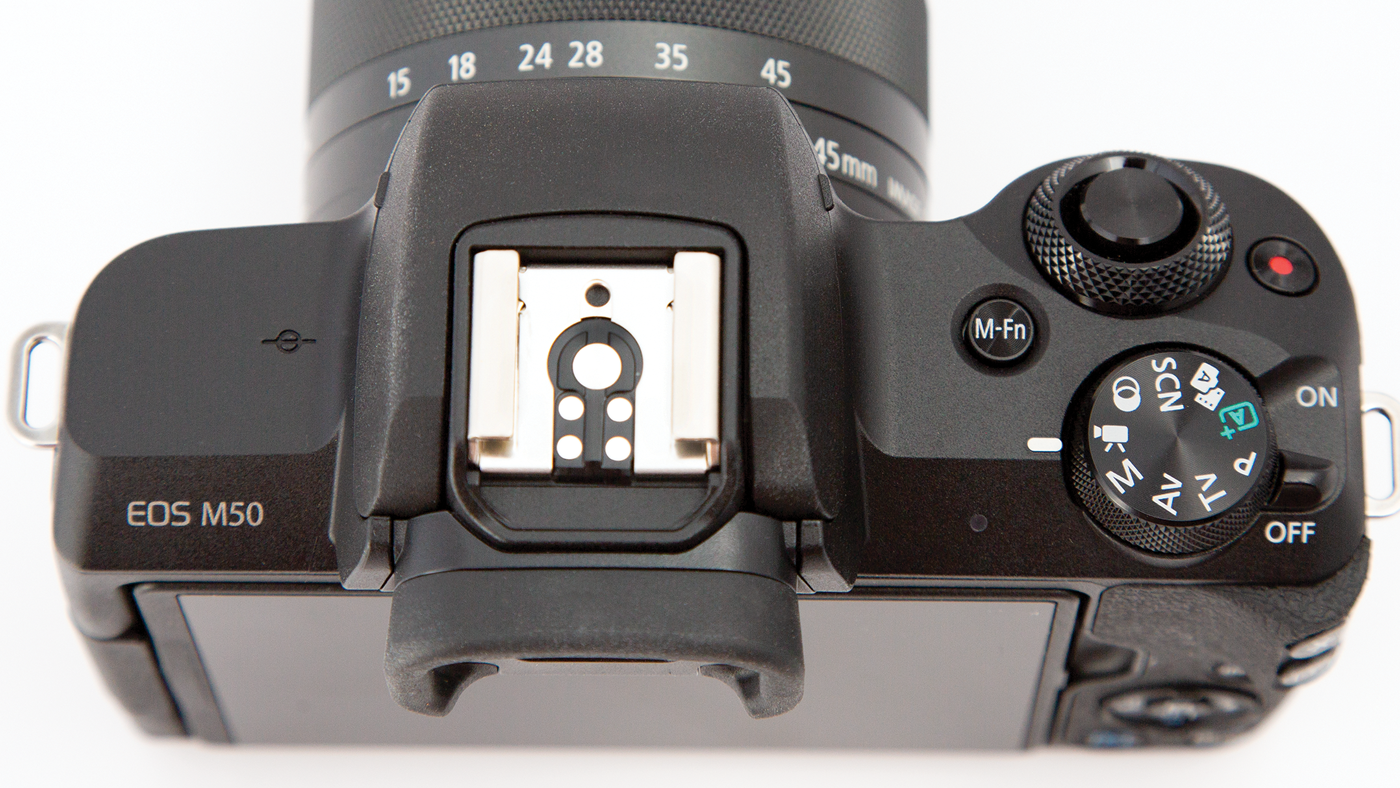 The menu system is targeted at the beginner and is easy to navigate. Within minutes of pulling the camera out of the box, we were ready to shoot. Every menu option we needed was easily found, but not too complex. More advanced shooters might view the menu as limited, but because the camera doesn't have many advanced features, it's just fine.
Once out shooting, it became very apparent that the M50 had a rolling shutter issue. It's bad, the worst this reviewer has seen. If action shooting is your thing, look past the M50 — it will disappoint. Mirrorless cameras have a history of bad rolling shutter; Sony for example had significant rolling shutter in early alpha mirrorless cameras. However, after a few generations, they have been able to reduce the effect. Let's hope that over time Canon will be able to do the same with their mirrorless offerings.
For most of our test shoot, we were outside with either full sun or diffused sun from clouds. To supplement that shooting experience, we needed to see how the camera operated in less than desirable amounts of light. We tested its low light performance by adjusting the ISO and shutter speed to counteract each other so we could keep the same exposure. This allowed us to identify at what ISO noise is introduced into the picture. We started at ISO 100 and doubled it till noise was noticeable. There is a clean signal up to ISO 800, but at ISO 1600 noise became noticeable. At up to ISO 3200, noise in the image can be easily reduced with noise reduction software like Red Giant's Denoiser III. At ISO 6400, sufficient noise reduction would result in a significant loss in sharpness.
When researching the camera, we found reports of the battery life being around two hours. We found those reports to understate the battery life. We saw as much as three hours of battery life with no overheating issues. We were able to shoot for three consecutive hours with the monitor against the body, in a room at 78 degrees fahrenheit while shooting 4K. For such a small battery, we are glad it doesn't overheat like other 4K mirrorless cameras, like the Sony a6300, a6500, a7R II and a7S II.
The biggest issue we have with the battery is that no matter what tripod plate we connected, we could not access the battery or the SD card. This is an issue with smaller cameras with an affordable price tag. If the SD card slot was in a different location, it would be easier to excuse, but because both battery and SD card removal is blocked by even a small mount plate, it should be considered. We found it to be a pain in the butt.
The last test we did was in the studio for moiré. Using a DSC labs SineZone chart, we got sharpest focus and did a pan and tilt. There were no issues with moiré. Although the camera is sharp, it did not show anything to be concerned with when it comes to moiré.
Marketplace
The M50 has a few main features that allow it to be compared to a wide array of other offerings. The first is a flip-out screen. If you require one for vlogging or similar uses, you are unlikely to consider a camera without one. Additionally, the M50 is mirrorless, but it's at a price it competes with entry level DSLRs. Lastly, it shoots 4K, and although it's a very limited, highly cropped 4K, its 4k nonetheless. Considering all this, we are going to look at three offerings: the Canon Rebel T7i, the Sony a6300 and the Fujifilm X-T20.
The Canon Rebel T7i costs 750 dollars. It does not shoot 4K, but is the leader at the price point. It offers a 24.2MP APS-C CMOS sensor with the DIGIC 7 image processor. It has a 3-inch 1.04m-Dot vari-angle touchscreen and will shoot up to 60fps in HD. The monitor offers full articulation for use for vlogs or selfies. It also offers dual pixel AF, Wi-Fi, NFC, Bluetooth and internal time lapse capture.
Next, is the Sony a6300 for 900 bucks. Its 24.2MP APS-C Exmor CMOS sensor is paired with the BIONZ X image processor to shoot UHD 4K. It has a 2.36m-Dot OLED EVF and a 3 inch 921.6k-Dot tilting LCD monitor. However, there's no fully articulating screen on the a6300. It does offer S-log3 Gamma, better than typical low-light performance and can shoot up to 11 fps. Wi-Fi and NFC are also included and it has a weather-sealed body.
Last, is the Fujifilm X-T20, also for 900 dollars. With its 24.3MP APS-C X-Trans CMOS III sensor and X-Processor Pro image processor it captures up to UHD 4K at 30fps. It has a 2.36m-Dot electronic viewfinder and a 3 1.04m-Dot tilting touchscreen LCD; however, the monitor is not fully articulating like that of the M50. It shoots up to 14fps in burst mode and has Wi-Fi.
Final Thoughts and Recommendation
The Canon EOS M50 shoots a beautiful image, but is has a rolling shutter problem. It can shoot 60fps in HD, but both the battery and SD card are inaccessible with a tripod plate mounted. If you need 4K occasionally, the M50 is a good option. If you need to be able to shoot yourself and see the shot on a monitor, the M50 is a good option. Overall, the camera worked quite well and would fit the needs of someone that aspires to do a little bit of everything and has a smaller budget.
Canon
www.Canon.com
STRENGTHS:
Long battery life
Good image quality
Flip out screen
WEAKNESSES:
Significant rolling shutter
2.56 times crop shooting 4K
SUMMARY:
The Canon EOS M50 is a compact mirrorless camera that shoots 4K. It has an affordable price tag, but suffers from significant rolling shutter.
RECOMMENDED USERS:
Enthusiast filmmakers and Home-video shooters
YouTubers and Social media enthusiasts
Travel videographers
Educators
Let's players
TECH SPECS
Lens Mount: Canon EF-M
Camera Format: APS-C (1.6x Crop Factor)
Pixels Actual: 25.8 Megapixel
Effective: 24.1 Megapixel
Max Resolution: 24 MP: 6000 x 4000
Sensor Type / Size: CMOS, 22.3 x 14.9 mm
Still Images: JPEG, RAW
Movies: MP4, MPEG-4 AVC/H.264
Audio: AAC LC
Memory Card Type: SD – SDHC, SDXC
Video Format:
3840 x 2160p at 23.98 fps
1920 x 1080p at 59.94 fps60 Mb/s
1920 x 1080p at 23.98/29.97 fps30 Mb/s
1280 x 720p at 120 fps52 Mb/s
1280 x 720p at 59.94 fps26 Mb/s
Video Clip Length: Up to 29 Min 59 Sec
Built-In Mic: With Video (Stereo)
Autofocus Points:
Contrast Detection: 143
Phase Detection: 99
Viewfinder Type: Electronic
Display Screen: 3″ Rear Touchscreen Swivel LCD (1,040,000)
ISO Sensitivity: Auto, 100-25600 (Extended Mode: 100-51200)
Shutter: 30 – 1/4000 Second
Built-in Flash: Yes
Connectivity: 1/8″ Microphone, HDMI D (Micro), USB 2.0 Micro-B
Wi-Fi Capable: Yes
Battery: 1 x LP-E12 Rechargeable Lithium-Ion Battery Pack, 7.2 VDC, 875 mAh
AC Power Adapter: ACK-E12 (Optional)
Dimensions (W x H x D): 4.6 x 3.5 x 2.3″ / 116.3 x 88.1 x 58.7 mm
Weight: 13.65 oz / 387 g with battery and memory card
Chris Monlux loves a good pastrami sandwich. He is also Videomaker's Multimedia Editor.