The RAVEN is equipped with a 4.5K RED DRAGON sensor and is capable of shooting up to 120 fps in 4.5K or 240 fps in 2K using RED's REDCODE RAW (.R3D) codec. The camera also boasts 16.5 stops of dynamic range.
As Reviewed
The RAVEN used for this review was configured with the Jetpack package. With this set up, the total cost came to $10,750. Designed for handheld gimbals, drones, jibs and cranes, the Jetpack package is one of two ready to use packages. The Jetpack package might not have been the best choice for our use, but it worked. A better fit for our shooting style would have been the Base I/O package, which costs $10,950. The biggest difference is that the Jetpack comes with a battery belt, allowing for the battery to be located wherever you'd please, whereas the Base I/O option offers a v-lock battery mount on the back of the camera.
Advertisement
For this review we used all EF mount lenses starting out with the Ziess CP.2 Cine Primes at 35mm, 50mm and 85mm. Plus, we had the pleasure of using the Zeiss 28-80 Cine Zoom. We also wanted to try out some more affordable options, including a Canon 50mm f/1.2 L and Canon 24-105mm f/4 L. To fully out rig the camera for our use, we used a Redrock Micro matte box, follow focus and rails with a lens support for the long zoom lens. Lastly, for power we used a Anton Bauer Cine 150 battery.
First Impressions
Understandably, the Brain alone is a bit underwhelming. It's simply not functional without a few peripherals. We had to attach the 4.7-inch touch screen, plug in the Jetpack battery cable and load the 128GB RED Mini Mag before getting started.
Our first shoot was designed with the goal of discovery — go out with the camera, never having used it before, and see what issues we might have and find the things we didn't understand so we could learn more about them.
Shooting Experience
On this discovery trip, we headed to a local historical covered bridge nestled in a canyon just outside of Chico, California. Not wanting to venture too far from the car, we shot the bridge, the creek that ran underneath it and a cool 1966 Ford Mustang Fastback.
When shooting, the RAVEN feels like you're behind a turret ready to fire a machine gun. It's a fun experience, and the camera operated very intuitively. All control of the camera was done via its touch screen. With some time, we quickly found the best way to access the ISO, shutter and aperture.
For many cameras, this shooting situation would require a lot of settling on imperfect exposure, but not with the RAVEN. It was quite apparent that it had a great dynamic range. Being that the bridge was covered, the light inside had dark shadows, but when shooting outside with the sky was also in frame, we were able to get detail in the shadows and still expose properly for the sky.
Because we only gave ourselves an hour or so to shoot, and it was just too much fun, we blocked out a whole day for the next shoot. Choosing the Tahoe area as our destination for its beautiful landscapes, we headed out. During the three hour drive from Chico, we stopped just outside of Donner Lake, where the Donner Party met their demise. Again, the dynamic range was just stunning. We took a few shots there and moved on to the small town of Truckee just outside of Lake Tahoe.
By this time, we wanted to start using some of the other bells and whistles the RAVEN has to offer. Setting up near a historic white building with a large front porch, we tested out HDRX. Think of HDRX as bracket shooting for video. It shoots two exposures at the same time and allows you to blend them in post. Oh man — we couldn't wait to get back and play with the footage in the edit bay.
Continuing on to Lake Tahoe, we stopped a few times around the lake. It was a bright, early summer day; the mountains still had white caps on them. The beautiful picture coming from the RAVEN was inspiring. To someone that plays with gear as much as we do, to have this much fun shooting was a real treat. And that's really saying something, as we get easily excited about most gear.
As we swapped in each of our test lenses, we thought the lens mount locking mechanism was a nice touch. When you're using lenses of this value, it's a great peace of mind to know they are on securely.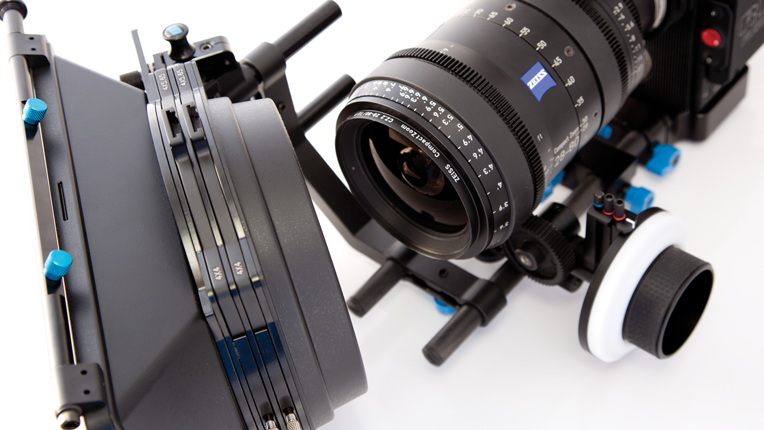 On the other hand, it was also at this time that we experienced one of the notable issues with the camera. The touchscreen LCD suffers from extreme glare when out in the bright sun. This can be easily remedied by bringing a hood or simply using an umbrella to shade yourself.
Our last outing to test the camera was to see how different the shooting experience would be when shooting with photo lenses instead of the high-end Cine lenses. We took the Canon 24-105 f/4 L to our local university, Chico State. From first frame, we missed the Cine Lenses. It's not that the picture wasn't good with the photo lenses, but there is something special about shooting this camera with nice cine lenses. The Canon lens just wasn't as sharp and the bokeh wasn't as pleasing.
If given the option of owning this camera and some photo lenses or not owning one at all, we would choose using photo lenses. However, if your budget allows, having quality cinema glass for your cinema camera is what dreams are made of.
The dynamic range we experienced on location was superb and we were excited to see what we could do with the footage in post.
Overall, the shooting experience was really nice. Outside of the minor issue of glare in the LCD, we enjoyed shooting it. The dynamic range we experienced on location was superb and we were excited to see what we could do with the footage in post.
Post Workflow
We set off to debunk or attest to something we hear often "R3D is the best digital video codec currently in the industry." Let's start off with what's in our edit suite: an iMac i7 running Redcine-X, Final Cut Pro X and Adobe Premiere Pro CC 15.3. We also used a Tangent Ripple Panel to assist in our color grading efforts.
The first thing we did is download and install RED's own program, REDCINE-X PRO. It's free, so if you'd like to play with it, the investment is none. RED also has test footage samples for each of their cameras for you to experiment with on their website.
Throughout our evaluation of the post-production workflow, we'll discuss the same clip in each program. It's a shot that we took while in Truckee, California that shows off a wide dynamic range and provides a great representation of the amount of information that is captured by the RAVEN. What we noticed is that there is nothing clipping in the shot; nothing is over exposed, and there is still plenty of information in the shadows and highlights despite it being shot on a bright sunny day outside.
The shot was done in HDRX. HDRX is so cool. You get to combine two exposures set by the amount of difference between them. This allows more dynamic range by blending the two into one single shot.
Redcine-X
Redcine-X gives you control of color space, gamma curve, white balance, and ISO plus lots more. This means that ISO choice, color balance choices and many other things can be altered during post-production instead of having them baked in during shooting. Plus, if you make changes in Redcine-X, the choices you make are not baked into the file either, but if you grade within Redcine-X, those choices are brought into your editor. This works with both Final Cut Pro X and Premiere Pro CC 15.3.
Final Cut Pro X
Because the grading choices you made with in Redcine-X import with the footage when using FCP X, but are not baked in, those choices can continue to be changed even within FCP X. To use R3D in Final Cut Pro X, you will need to download and install a plug-in, which RED has available on their website.
With the plug-in, you can choose to change the ISO, color space, gamma curve in FCP X as well. That means you don't have to use REDCINE-X at all if you don't want to. Although the controls are simplified by comparison, all of the important tools are there. And if you wish to do more, you can use the typical grading options within FCP X, just like any other color correction job.
Premiere Pro CC 15.3
Unlike FCP X, Premiere will handle your RAVEN footage natively — no needed plug-ins. Throughout all of our testing, although we were in 1/4 or 1/8 resolution, the humble resources our i7 iMac were enough, and everything worked great. Plus, just like with FCP X, any changes you made to the footage with Redcine-X are reflected in the footage you bring in. And it's all still flexible, ready to be manipulated further.
Because Premiere Pro CC will edit R3D natively, there isn't a need to create proxies unless you have to for some other reason. We enjoyed using Premiere Pro best when grading R3D footage. With Lumetri Color, we were able to make all desired adjustments with ease.
Workflow summary
R3D is not hard to use. It's super flexible and doesn't require a lot of time to get working on FCPX or Premiere Pro. The dynamic range is a dream to work with and allows for a huge amount of leeway with your footage.
Value in the Marketplace
There are many cameras in this space, but we are going to focus on just two of them. Lets look at the value of the RED RAVEN when compared to the Blackmagic Design URSA Mini 4.6K EF mount and the Sony FS7. All three cameras have a type of log shooting, can shoot a flavor of RAW and shoot in DCI 4K. The caveat to that is that the FS7 requires a $599 firmware upgrade and an external recorder to be able to shoot 4K RAW.
The URSA Mini 4.6K EF is $5,000, where the FS7 is $9,600 and the RAVEN is $10,750 when similarly configured. The URSA Mini's form factor is a bit awkward, and feels most at home in the studio, whereas the FS7 is a great run-and-gun camera, though it could find a home in the studio as well. With the RAVEN, because of the flexibility of the form factor and that you can build your setup for your use, the RAVEN can do either with possible added accessory costs.
Always consider the added costs of the accessories for your rigs configuration. If you spend all of your budget on the camera, then you might find that it's not beneficially set up for all of your given uses, thereby limiting it. During the review, we had the RAVEN nicely set up with a Redrock Micro mattebox, follow focus, lens mount and rails, and we use the Anton Bauer Cine150 battery, but all of those extras will add to your total investment.
Final Thoughts and Recommendation
We found ourselves using the statement "this camera has dynamic range for days" — it was the major theme of our experience. The latitude you have with R3D combined with the increased dynamic range that HDRX offers make it hard not to love this camera and the RED codec.
The big question is, can you afford what you need to make this camera work the way you want it to? In many cases, you'll spend as much or more for everything that goes with the camera as you will for the camera itself. But as we see it, this camera is awesome and with a loud and resounding "yes," we certainly recommend it to those with the budget.
SUMMARY:
With 16.5 stops of dynamic range, it's hard not to love this camera. We loved shooting with it. We loved grading the footage and the great leeway we got from it. Overall, even though it might be expensive to some, it's a great value when you compare it with what came before it.
STRENGTHS:
R3D codec
Dynamic range
Image quality
WEAKNESSES:
Screen Glare
Camera control is only via its touch screen
RECOMMENDED USERs:
Indy filmmakers
Documentarians
Corporate filmmakers
Commercial producers
PRICE:
Brain with JetPack Package (as reviewed) – $10,750
TECH SPECS:
SENSOR: RED DRAGON 9.9 Megapixel CMOS
EFFECTIVE PIXELS: 4608 × 2160
SENSOR SIZE: 23.0 mm x 10.8 mm (Diagonal: 25.5 mm)
DYNAMIC RANGE: 16.5+ stops
SIGNAL-TO-NOISE-RATIO: 80 dB
MAX DATA RATE: Up to 140 MB/s using RED MINI-MAG
MAX FRAME RATES:
120 fps at 4.5K Full Frame (4608 × 2160), 120 fps at 4.5K 2.4:1 (4608 × 1944)
120 fps at 4K Full Frame (4096 × 2160), 150 fps at 4K 2.4:1 (4096 × 1728)
150 fps at 3K Full Frame (3072 × 1620), 200 fps at 3K 2.4:1 (3072 × 1296)
240 fps at 2K Full Frame (2048 × 1080), 300 fps at 2K 2.4:1 (2048 × 864)
PLAYBACK FRAME RATES: (PROJECT TIMEBASE) 23.98, 24, 25, 29.97, 47.95, 48, 50, 59.94, 60 fps, all resolutions
REDCODE SETTINGS:
RANGE FROM 2:1 UP TO 22:1
3:1 REDCODE for 4.5K Full Frame (4608 × 2160) at 24 fps
8:1 REDCODE for 4.5K Full Frame (4608 × 2160) at 60 fps
3:1 REDCODE for 4K Full Frame (4096 × 2160) at 24 fps
7:1 REDCODE for 4K Full Frame (4096 × 2160) at 60 fps
REDCODE RAW
ACQUISITION FORMATS:
4.5K Full Frame (4608 × 2160), 2.4:1 (4608 × 1944)
4K Full Frame (4096 × 2160), 2:1 (4096 × 2048), 2.4:1 (4096 × 1728), UHD 16:9 (3840 × 2160)
3K Full Frame (3072 × 1620), 2:1 (3072 × 1536), 2.4:1 (3072 × 1296), 16:9 (2880 × 1620), 3:2 (2880 × 1920)
2K Full Frame (2048 × 1080), 2:1 (2048 × 1024), 2.4:1 (2048 × 864), 16:9 (1920 × 1080), 3:2 (1920 × 1280)
APPLE PRORES: 422 HQ, 422 and 422 LT at 2K (2048 × 1080) up to 60 fps
AVID CODECS: DNxHD LB (1920 × 1080) 8-bit up to 60 fps
CONSTRUCTION: Aluminum Alloy
WEIGHT: 3.5 lbs (BRAIN with Integrated Media Bay and Canon Lens Mount)
AUDIO: Integrated dual channel digital stereo microphones, uncompressed, 24-bit 48 kHz
MONITOR OUTPUTS:
3G-SDI (HD-SDI) and HDMI with expander module
1080p RGB or 4:2:2, 720p RGB or 4:2:2
480p RGB or 4:2:2 (HDMI only)
SMPTE Timecode, HANC Metadata, 24-bit 48 kHz Audio
MONITOR OPTIONS: RED Touch 4.7" LCD, RED Touch 7.0" LCD and RED EVF (OLED) with cable-free connection.
RED Touch 9.0" LCD, RED Touch 7.0" LCD, RED Touch 5.0" LCD, RED PRO 7" LCD, BOMB EVF (OLED) and BOMB EVF (LCOS) compatible with LEMO Adaptor A and LCD/EVF cable.
REDCINE-X PRO DELIVERY FORMATS:
4K: DPX, TIFF, OpenEXR (.RED via RRencode plugin)
2K: DPX, TIFF, OpenEXR (.RED via RRencode plugin)
1080p RGB 4:2:2, 720p 4:2:2 : QuickTime, JPEG, AVID AAF, MXF
1080p 4:2:0, 720p 4:2:0 : H.264, .MP4
VIDEO EDITING SOFTWARE COMPATIBILITY: Adobe Premiere Pro, AVID Media Composer, DaVinci Resolve, Edius Pro, Final Cut Pro, Vegas Pro
Chris Monlux is capable of many things. However, if you ask him what he can do, he might exaggerate. He's also Videomaker's Multimedia Editor.