The Panasonic Lumix DC-GH5S has a great looking image with a two-stop improvement in low-light performance over its brother the GH5, but it comes at a cost. On top of costing $500 dollars more than the GH5, the GH5s uses a sensor with half the pixels and loses the sensor stabilization.
The GH5s has a 10.28 megapixel (MP) multi aspect ratio MOS sensor. Fewer, but larger pixels create higher sensitivity. This, in turn, gives better low-light performance. But this decrease in pixels is only half of the GH5s's low-light story.  Adding to that formula is dual native ISO, a technology before only available in Varicam cameras. More on that later.
The GH5s shoots up to 60 frames per second (fps) in DCI 4K and up to 240fps in HD. Just like its brother the GH5, the GH5s is capable of capturing internal 4:2:2 10-Bit footage. Equipped with V-log L out of the box, the GH5s is also capable of shooting hybrid log gamma. It shoots to dual UHS-II SD card slots. The new camera also continues to use the same tried and true form factor, offering a fully articulating touchscreen. The GH5s looks almost identical to the GH5 except for a red ring on the dive dial, a red record button and a red letter s added to the front of the camera with its model identification.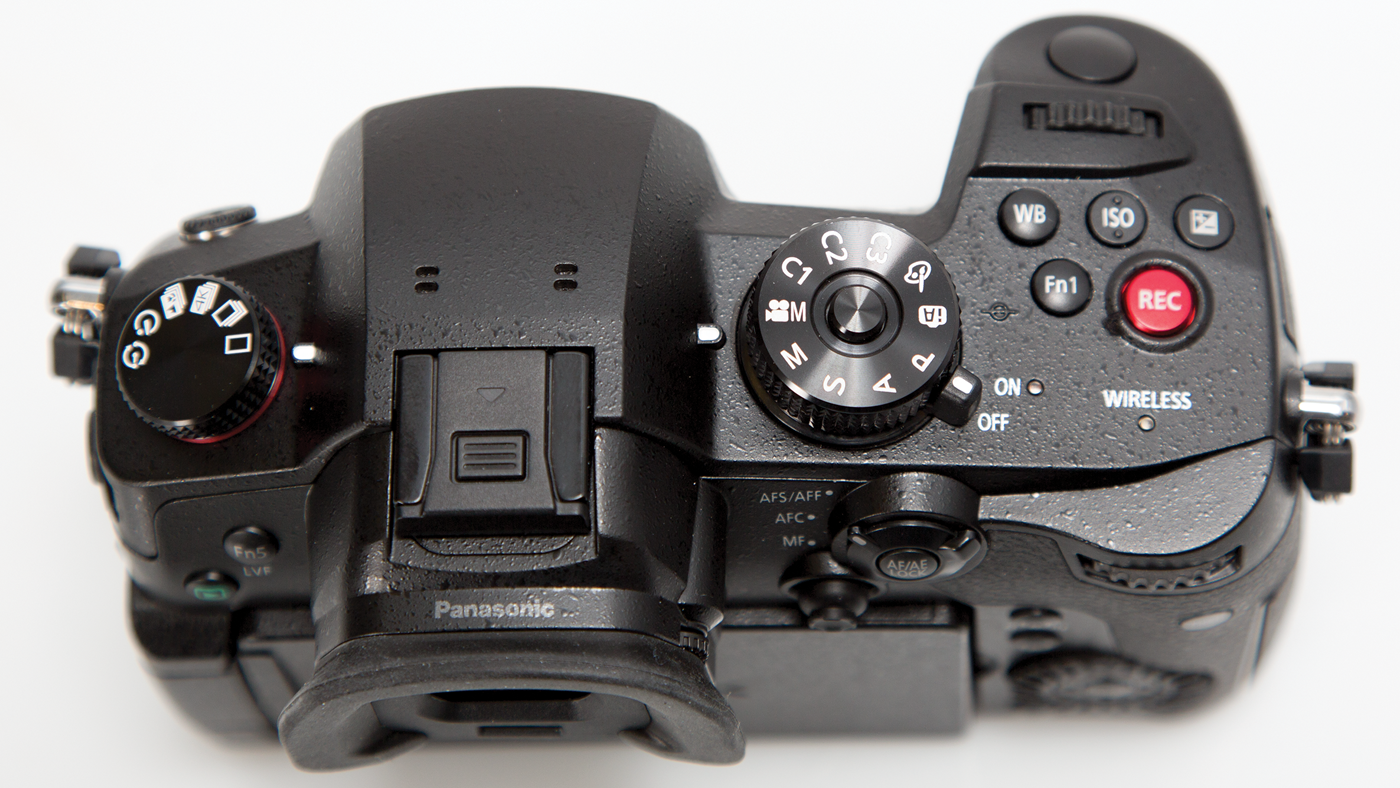 When we first saw the GH5s at CES 2018, we got really excited. The GH5 already had loads of filmmaker features, but with the GH5s, Panasonic doubles down. Most exciting for us is actually the GH5s's lack of photography specs. A 10MP still photo is not going to cut it for photographers, so in our view, the GH5s is a video-first camera. In fact, we were so impressed that we gave it our best camera of CES 2018 award.
Understanding Dual Native ISO
With digital cameras, unlike with film, the ISO is controlled through voltage to the sensor, not the film stock you choose. The more voltage the sensor gets, the more noise is introduced. A Native ISO is considered the point at which circuit's signal to noise ratio is at its least. Dual Native ISO is just as it sounds, two seperate native ISOs. This is achieved through two separate ISO circuits. The two native ISOs are found at ISO 400 and ISO 2,500. This means that when ramping the ISO up, the signal to noise ratio restarts (so to speak) when you get to ISO 2500. With this line of thinking, it would be expected that the GH5s has of one or two stops more of light before noise becomes an issue.
In Use
Our first hands-on use of the GH5s was at CES, the day after it was announced. While we didn't do extensive testing that night, we were able to confirm that it offers better low-light performance than the GH5. Going in, we were primed with hopes that the GH5s was going to have equal or better low-light performance than the Sony a7S II. However that isn't the case. The GH5s has good low-light performance, but it's not void of noise. In fact, unlike most cameras, where noise increases with the ISO, getting worse and worse with every stop increase of ISO, the GH5s doesn't have a significant change in noise until ISO 6,400. That is where it falls off a cliff. At ISO 12,800, just like with the GH5, the footage from the GH5s isn't usable. The big benefit from the GH5s is that the image is great all the way up to ISO 6,400. There isn't a sharpness or image quality loss til after ISO 6,400. By contrast, the GH5 gets worse and worse from ISO 800 on. At ISO 6,400, the GH5s looks like the GH5 at ISO 1,600. This is attributed to the addition of Dual Native ISO.
Our next chance to use the GH5s came at a Panasonic press event in New York City, which was hosted at The McKittrick Hotel – the home of SLEEP NO MORE, an interactive presentation of Shakespeare's classic Scottish tragedy with a film noir lens. With vignettes set up throughout the basement of an old hotel, a group of theater actors from the SLEEP NO MORE cast played out different scenes for all of the press to shoot. The shooting situation was pretty difficult. To get an idea of how low the light was, it was difficult to read the buttons on the camera when not within a scene. There were a few times where I needed to pull out my phone so I could identify which button to press. If there was going to be a situation that would show off what the GH5s can do in low-light, this was it.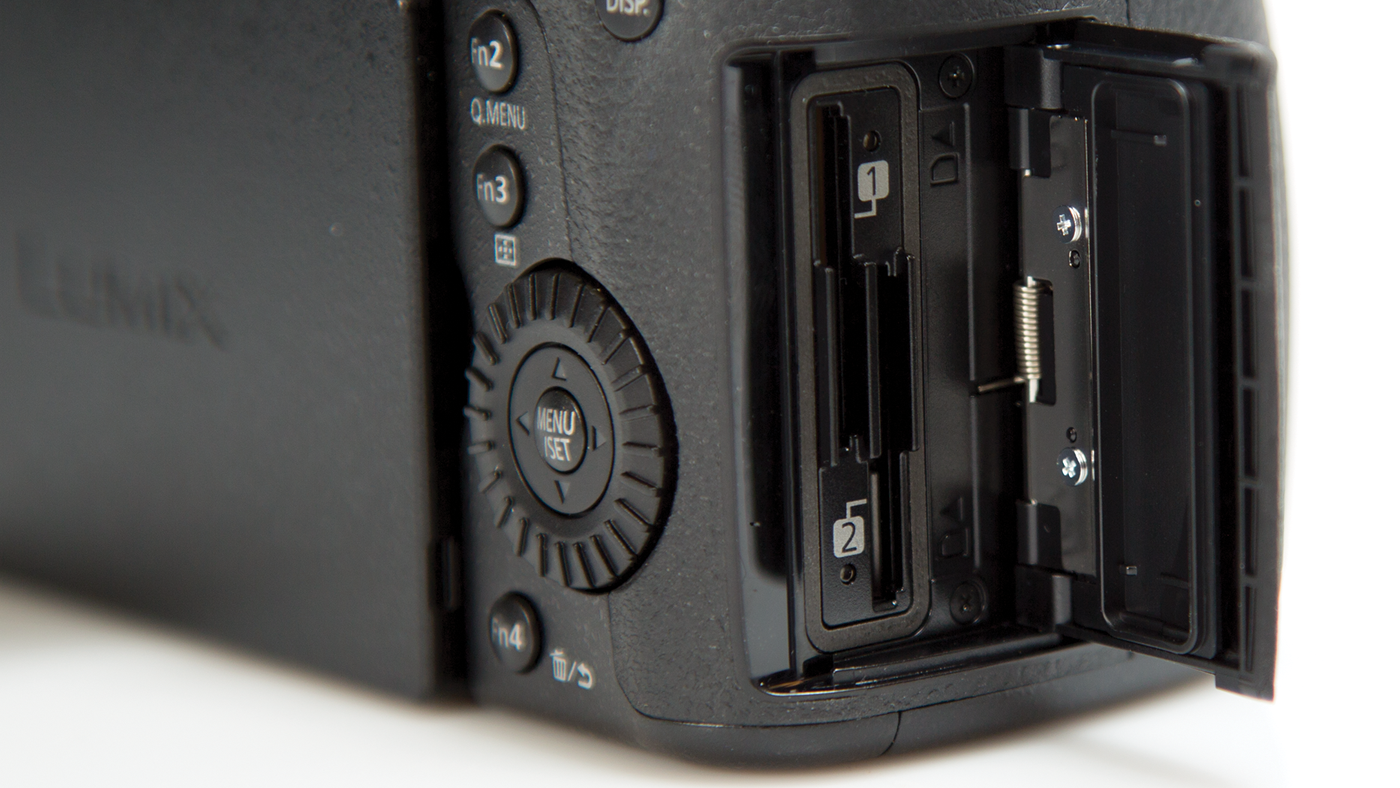 Expecting to have difficult lighting, we brought two wide aperture lenses, the Olympus M.Zuiko Digital ED 25mm f/1.2 PRO and M.Zuiko Digital ED 7-14mm f/2.8 PRO. We started out shooting with the 7-14mm. Like with many cameras, the monitor on the GH5s hides some noise from the user, mostly because of its size. At f/2.8, we still had to crank the ISO, and it was bad enough that were able to see the noise in the monitor. We quickly shifted to the 25mm and were able to get some impressive images at wider aperture settings. Once we were able to stay below ISO 6,400, the image quality was fantastic.
This was our first chance to shoot anamorphic with a Panasonic camera. The main reason for this is the cost of anamorphic lenses. SLR Magic makes anamorphic lenses, starting at $2,600 dollars, and that's a bargain. Panasonic was smart, because they equipped the GH5s with an SLR magic anamorphic lens for the press event. It was a discouraging experience though, because the lens wasn't sharp at all. Even with focus peaking on, we were not able to identify the focal point. If you want the aspect ratio of anamorphic lenses or the light characteristics, it's a fun feature. However, this is not going to be a feature the vast majority of users buying a $2,500 dollar camera need or are looking for.
The big question for anyone trying to choose between a GH5 and a GH5s is if you need sensor stabilization.
The big question for anyone trying to choose between a GH5 and a GH5s is if you need sensor stabilization. It's the biggest trade off to make between the two cameras outside of the difference in cost. If you plan on shooting with a tripod or even a monopod, then you might not need the stabilization. If you plan on shooting handheld often, sensor stabilization is a to-die-for feature. Because we were shooting handheld during the press event, most of our footage was shaky. The GH5s does support lenses with image stabilization, so that's another work-around if the GH5s's benefits outweigh the absence of sensor stabilization.
Testing
After our trip to New York City, Panasonic shipped out a GH5s for us to test under our own controlled shooting situations. We wanted to verify our low-light tests in the field with one in the studio. To test the GH5s, we shot in V-log L, tested out the slow-mo in variable frame mode, and looked for bad rolling shutter and moire issues.
We already talked about the low-light performance topping out at ISO 6,400, but in the studio, we wanted to see if shooting V-log or changing any other settings would alter our experience. We started at its lowest ISO of 100 and doubled it, while also doubling the shutter speed to counteract the increase in light from the ISO. In all shooting modes, we confirmed that the image looks great til ISO 6,400. Even at ISO 12,800 it looks good; the only issue for ISO 12,800 is the noise begins to color shift, and dancing colored noise is much more distracting than dancing black. We were able to tame the noise at 12,800 using Red Giant Denoiser III; however, it significantly affected the sharpness of the image.
Moving on to testing V-log L, we first wanted to know the lowest ISO you can use while shooting in log. Because of the Dual Native ISO, the GH5s can shoot down to ISO 320 — which is pretty low for a log profile. This is super helpful when shooting with an abundance of light, like when outside in the sun. An ND filter would make this a non-issue, but it's nice not to have to bring one out. Shooting in V-log L will give you the most dynamic range. To take advantage of this, shoot at ISO 400 or 2,500; this is where you will experience the most dynamic range benefit from shooting log.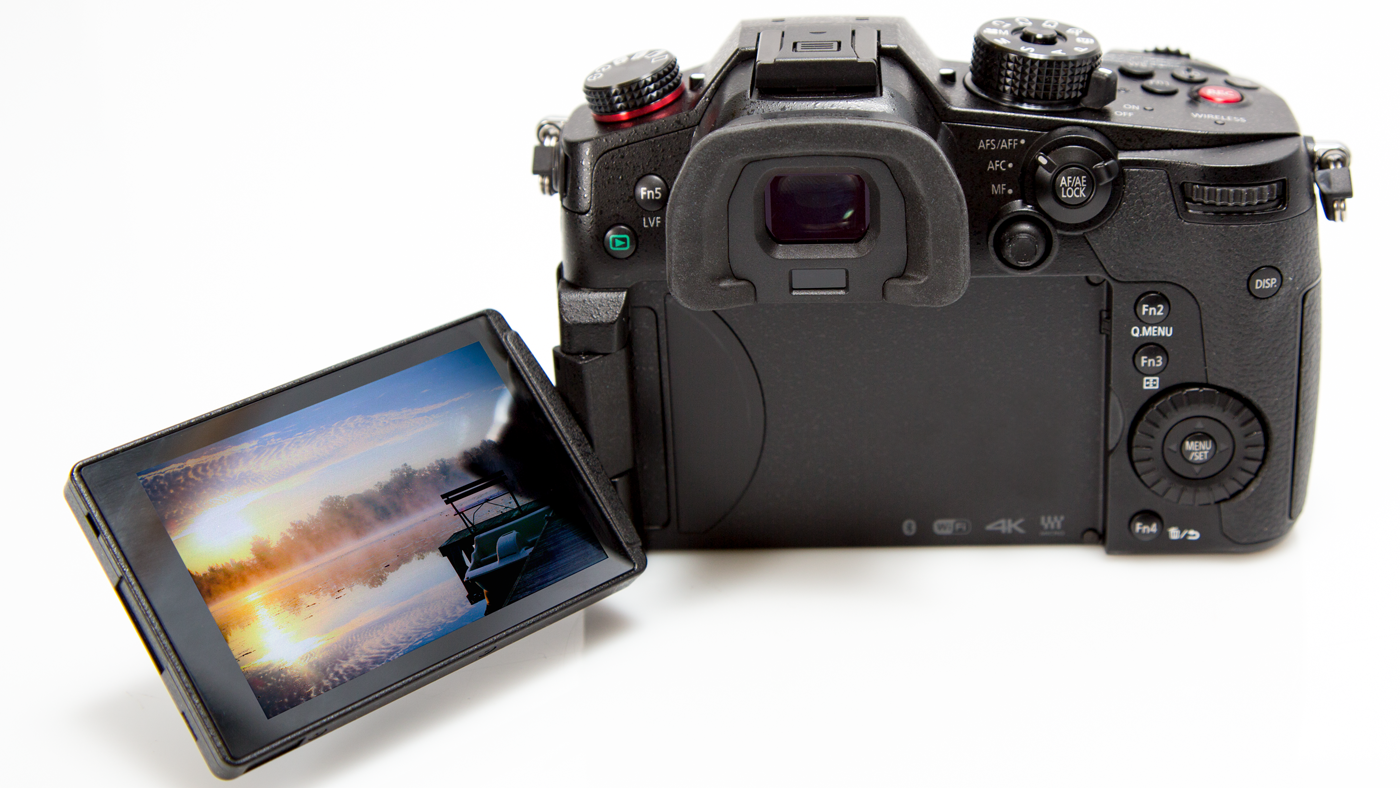 The GH5s can shoot up to 240fps in HD. That's ten-times slow-mo when slowed to 24fps. That's significant, because most cinematic slow-mo is 240fps or less. Consider that one real-time second will playback at ten seconds when shooting 240fps. Many actions will not benefit from this much of a slow down. All the way up to 195fps, the GH5s doesn't crop the image, however from 195 to 240 there is a crop of the sensor. The nice part about the variable frame-rate mode is that although you shoot at up to 240fps, it conforms it to the framerate of your choice. That means it plays back as slow-mo, so you can confirm it looks the way you want to on playback — no computers needed to slow it down.
The last two studio tests we ran are for rolling shutter and for moiré. The rolling shutter is not significant. Though it does show some of the effect, it's not complete Jello. We'd expect it to only be experienced with fast moving objects, and even then it's not as bad as on some cameras. When shooting objects like propellers on a plane or a drummer's drum sticks, we'll see a bit of a bend. Also expect to see a little when doing a whip pan. When it comes to moiré, the GH5s has an anti-aliasing filter to mitigate the effect. When shooting any fine lines at a lens sharpest aperture — typically f/8 or f/11 — expect to see a bit of moiré. It's not terrible, but it's there.
Marketplace
Just a few years ago, the list of mirrorless interchangeable-lens cameras (MILC) that shoot 4K could be listed on one hand. Today — not so much. Just about every MILC can shoot 4K. Because the GH5s is a more sensitive camera, let's look at other cameras with a similar low-light performance. We're going to look at two cameras from Sony and one from Panasonic.
The Sony a7 III was just announced in February 2018. With a price tag of $2,000 dollars, it has a much larger sensor than the GH5s. The 24MP Full frame CMOS sensor can shoot up to 30fps in UHD 4K. Its low-light performance is a bit better than the GH5s, allowing for an ISO of up to 12,800 before significant noise is introduced in the picture. Additionally, the a7 III has sensor stabilization. What the a7 III doesn't have is 10-bit DCI 4K and 240fps in HD. Both cameras offer log shooting and a flavor of HDR. However, the a7 III is HLG, and the GH5s is true HDR.
The low-light king thus far is the Sony a7S II. With a price tag of $2,700 dollars, the a7S II has a full frame 12.2MP CMOS sensor and can shoot up to 30fps in UHD 4K. The a7S II can see in the dark without noise. It's more of a low light specialty camera and — like the GH5s, it offers a lower pixel count for better sensitivity. Just like with the a7 III, the a7S II shoots only 8-bit and is limited to only 120fps in HD.
Last up is the big brother to the GH5s, the EVA1. released after the GH5 and before the GH5s, it was the first non-Varicam offering to have Dual Native ISO. Significantly more expensive at $7,500 dollars, the EVA1's super 35mm 5.7K sensor can capture up to 60fps in DCI 4K and up to 240fps in 2K. It also captures 10-bit video to SD cards. The EVA1 offers more dynamic range than the GH5s, but the low-light capabilities are similar. The GH5 or GH5s are a good choice as a B-Camera to the EVA1.
Final Thoughts and Recommendations
The GH5s has a stunning image, and if you support it well, its downfalls won't be significant. If you want a camera that can also shoot photos, the GH5s isn't a great choice. However, if you are a video-first shooter, the GH5s is for you. The feature list is strong with the GH5s, and it's likely that you could ignore its downfalls and get along quite well.
Panasonic
www.Panasonic.com
STRENGTHS:
Image Quality
Included v-log L
Internal 10-bit 4:2:2 recording
WEAKNESSES:
SUMMARY:
The Panasonic Lumix GH5s is a significant camera for video shooters. Shooting 10-bit video and the incorporation of dual native ISO, the GH5s is a camera you should know about.
RECOMMENDED USERS:
Event Videographers
Documentarians & Indie filmmakers
Corporate and Enthusiast filmmakers
Commercial producers
TECH SPECS:
Lens Mount: Micro Four Thirds
Pixels Actual: 11.93 Megapixel
Effective: 10.28 Megapixel
Max Resolution: 10 MP 3680 x 2760
Sensor Type / Size: MOS, 17.3 x 13 mm (2x Crop Factor)
File Formats Still Images: JPEG, RAW
Movies: AVCHD Ver. 2.0, H.264, MOV, MP4, MPEG-4 AVC/H.264
Audio: AAC, Dolby Digital 2ch, Linear PCM (Stereo)
Memory Card Type: SD, SDHC
Video Format:
4096 x 2160p at 23.98, 24, 25, 29.97, 50, 59.94 fps
3840 x 2160p at 23.98, 24, 25, 29.97, 50, 59.94 fps
3328 x 2496p at 23.98, 24, 25, 29.97, 50, 59.94 fps
1920 x 1080p at 23.98, 24, 25, 29.97, 50, 59.94, 120, 240 fps
Focus Mode: Continuous-Servo AF (C), Flexible (AFF), Manual Focus (M), Single-servo AF (S)
Autofocus Points: Contrast Detection: 225
Viewfinder Pixel Count: 3,686,000
Display Screen: 3.2″ Rear Touchscreen Swivel Touchscreen LCD (1,620,000)
ISO Sensitivity: Auto, 160-51200 (Extended Mode: 80-204800)
Shutter Type: Electronic & Mechanical
Shutter Speed Range:
Stills: 60 – 1/8000 Second
Video: 1/24 – 1/16000 Second
Metering Method: Center-Weighted Average Metering, Multiple, Spot Metering
Exposure Modes Modes: Aperture Priority, Manual, Programmed Auto, Shutter Priority
White Balance Modes: Auto, Cloudy, Color Temperature, Daylight, Flash, Incandescent, Shade, White Set 1, White Set 2, White Set 3, White Set 4
Interval Recording: Yes
Connectivity: 1/8″ Headphone, 1/8″ Microphone, 2.5mm Sub-mini (2-Ring), HDMI A (Full Size), USB 3.0, USB Type-C, Viera Link, X-Sync Socket
Wi-Fi Capable: Yes
Battery: 1 x DMW-BLF19 Rechargeable Lithium-Ion Battery Pack, 7.2 VDC, 1860 mAh
Chris Monlux attempted to write this review from 10,000 feet in the air. He is also Videomaker's Multimedia Editor.