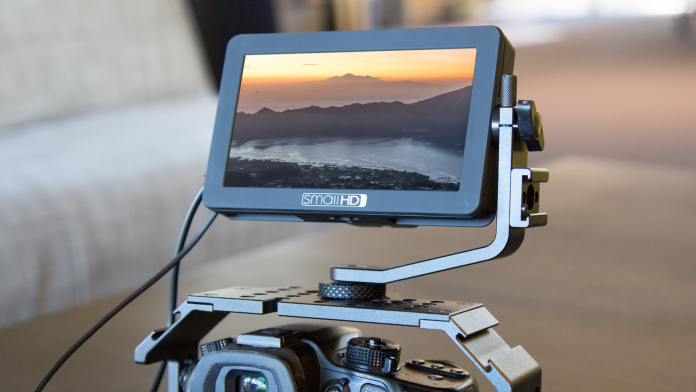 SmallHD has a great origin story; it's what most in this business dream of. The founders of SmallHD built their business off of the success and prize money from winning the Doritos Super Bowl commercial contest, not once, but twice in 2007 and 2009. Now, fast forward to NAB 2017 and SmallHD brings to market their lowest launch price product ever: FOCUS.
Shipping in early June of 2017, The SmallHD FOCUS costs 500 dollars. It's a 5-inch 1280 x 720 touchscreen display with micro-HDMI input. Its claim to fame is its brightness at 800nit. That's 100nit plus brighter than an iPhone. With its 10-Bit IPS LCD Panel, it's powered off a common L-series battery that can even power your camera. It also comes with a custom designed tilt arm that allows for 360 degree rotation. The tilt arm mounts to a cold or hot shoe. Plus, it gives you back the cold shoe you lost with a shoe mount on the side of the arm. It has an SD Card slot for image capture, overlay, loading LUTs and loading firmware updates. Lastly, it has a 3.5mm headphone output and the same operating system as their higher-end monitors.
A Solution to Many Common Problems
Right away, it's apparent that SmallHD was paying attention to the features that camera manufactures were neglecting. The FOCUS solves many issues that many cameras have. Say your cameras suffers from low battery life because of the power an EVF requires; get more life from the charging kit for 100 dollars more. On top of giving you better battery life, the dummy battery used to transfer power should make heat dissipation easier, alleviating overheating problems. The next problem solved is that many cameras can't shoot in "selfie" mode — in other words, you can't view yourself if you are shooting yourself. With the tilt arm, you can shoot a vlog and see yourself at the same time. On top of that, the screen auto flips when you change its orientation. The last thing that the FOCUS cures is the lack of a separate headphone and microphone jack. Many sub 2,000 dollar cameras don't offer anything but a combo jack for your headphones and mic. The FOCUS fixes that through its headphone jack that monitors the audio through HDMI.
Our Set-Up
We mounted the FOCUS onto our Panasonic GH4. When we use cold/hot shoe mounts, we prefer to use a cage instead. The cage we used is the Hugen GH4 cage. It has a more positive mount for shoe mounted accessories. We used a 12-35mm lens with the camera to be able to easily test its vlogging capabilities.
A big concern of ours was if the price would affect the quality of the monitor. The expectations you would have for each price point will necessarily change. The case is hard plastic, but has a nice feel and has a slight grip texture to it. The location of the HDMI input is good, though it does require a proprietary HDMI cable, not because the cable does anything technically different, but because it has a slightly smaller tip to fit into their purposely designed input. The micro HDMI port was designed to better hold the cable in, and it does that well. The drawback is that you need their cable; unless you want to shave down a cable to fit, a typical cable will not work. The overall feel meets the 500 dollar price point.
Being able to charge the camera through the monitor is a great feature.
Being able to charge the camera through the monitor is a great feature. However, the port for charging is on the left side, and most cameras put the battery in the grip, located on the right side of the camera. This makes cabling a bit messy. The power cable will need to go in the opposite direction of the HDMI cable. We would like to have seen the power tap on the other side, where the headphone jack is located. The current location makes you have to tilt the monitor if you have headphones without a 90 degree tip. With that said, it's far better than not having a headphone out at all. Although the connections are in a less than ideal location, that doesn't negate their usefulness.
The touch screen interface is great, as well. Touch is easily recognized, and the interface is very intuitive to use. Using the same operating system as their higher-end monitors, you swipe to access different profiles where you can have completely different settings. We shot in V-log, so we had it set up so that one of our profiles had a REC.709 LUT applied, a histogram and audio meters. Then in another profile, accessed with just one swipe, we had no LUT applied and different metering tools. This allowed us to see how it would look once graded while also having the option to easily view it natively.
It's as bright as an iPhone, although not as bright as its big brother the ULTRA BRIGHT. At 800 nit, it's much easier to see than any on camera monitor. It has a pixel density of 294 PPI — better than the retina display standard for Apple products. The tilt arm is so simple, yet so handy. Because it has a shoe attachment on it, you can use other shoe attachment accessories along with it. We used it to mount a Sennheiser G3 wireless receiver.
The FOCUS has a bunch of shot assist tools built-in, including safe area, zebras, a histogram, waveform, vectorscope, peaking and audio meters. You are able to do an image overlay and image capture, as well. Lastly, it has anamorphic desqueeze preview and offers a two times zoom.
Marketplace
There isn't an apples to apples comparison to the FOCUS. Because of its brightness, size and price, it's the sole option if you need a bright 5-inch monitor for 500 dollars or less. However, with that said, there are some products that come close; let's take a look at those.
Starting off with the least expensive, the Blackmagic Design 5-inch Video Assist and Recorder is 470. It has a 1920 x 1080 Touchscreen LCD, lower than the 720 on the FOCUS. It has no nit rating, so we can't say for sure if it's brighter or darker; however we would assume if it had a bright screen, they would boast about it and publish its specs. The Video Assist is also a recorder, recording up to 1080 at 60fps in either 10-Bit, 4:2:2 ProRes or DNxHD. It offers both HDMI and 6G-SDI inputs, where the FOCUS only has HDMI. It also offers a histogram, focus peaking, audio levels and zebras.
Next is the Atomos Ninja Blade 5 inch at 500 dollars. It's the closest in size and price. However, it's only half as bright at 400 nit. It has a 5-inch IPS 325 DPI touchscreen display and offers same resolution as the FOCUS, but it's also a recorder. It records up to full HD at 30 fps in 10-Bit 4:2:2 ProRes or DNxHD. It also offers waveform, vectorscope, focus peaking and has HDMI input and loop output.
Last is the furthest from the FOCUS, the Atomos Ninja Flame 7-inch 4K. It's an 800 dollar 1920 x 1200 touchscreen display and recorder. Its 1500 nit and has HDMI input and output. It records up to UHD 4K up to 30fps and 1080 up to 120 fps. It records in either 10-bit 4:2:2 ProRes or DNxHR.
Final Thoughts
SmallHD put some very attractive features in the FOCUS. It's bright enough to use in full sun and comes with a great tilt arm. We liked that you can power your camera off it, but would have liked the headphone output and the power tap locations to be swapped. For 500 dollars, SmallHD gives great value and good performance.
SmallHD
www.SmallHD.com
PRICE: $500
STRENGTHS:
Simple to use
Good value
Headphone jack
WEAKNESSES:
HDMI input requires specific cable
Headphone out location
Power Tap Location
SUMMARY:
The SmallHD FOCUS is a 800 nit bright monitor for 500 dollars. It comes with a smartly designed tilt arm and you can power your camera off of its battery. It's a good value for the money.
RECOMMENDED USERS:
TECH SPECS:
Display: 5″ / 12.7 cm IPS LCD
Resolution: 1280 x 720
Pixel Density: 294 PPI
Aspect Ratio: 16:9
Brightness: 800 cd/m²
Bit Depth: 10-bit
Viewing Angle: 160°
Backlight: White LED
Inputs: HDMI Type D (micro-HDMI)
Outputs: 3.5 mm stereo headphone
Other I/O: Micro-USB
Input Signal HDMI: 8/10/12-bit color
1080p 23.98/24/25/30/50/59.94/60
1080i 50/59.94/60 (high-speed: 1080i 100/119.88/120)
720p 50/59.94/60 (high-speed: 720p 100/119.88/120)
576p 50 (high-speed: 576p 100/200)
480p 59.94/60 (high-speed: 480p 100/119.88/120/239.76/240)
NTSC (high-speed: 480i 119.88/120/239.76/240)
PAL (high-speed: 576i 100/200)
HDMI Audio: embedded
Battery Support: 1 x NP-F (Sony L) battery bay
Voltage: 6-8.4 VDC
Storage: SD card slot
Dimensions: 3.3 x 0.75 x 5.25″ / 8.4 x 1.9 x 13.3 cm
Weight: 3.75 oz / 106 g (without battery)
Chris Monlux can't stand wearing a hat with a flat brim. He is also Videomaker's Multimedia Editor.