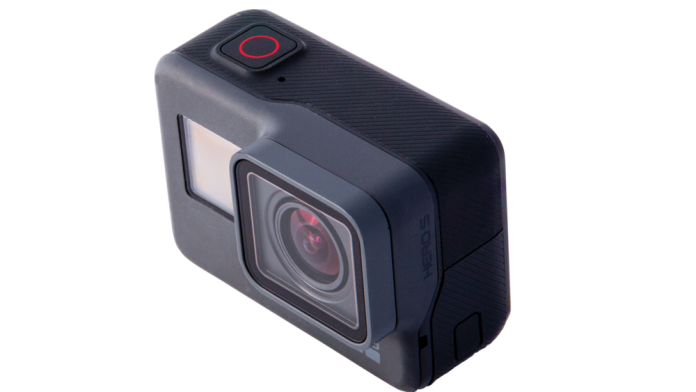 Both the HERO5 Black and Session shoot UHD 4K. There are five major changes to the HERO5 Black from its predecessor, the HERO4 Black: voice control, wind reduction, waterproofing down to 30 feet without an underwater housing, a rear touch screen, and image stabilization. In this review, we're going to answer the question, is the GoPro HERO5 Black worth buying?
Along with the product announcement came a new price. The GoPro HERO4 Black was $499 when released, but the HERO5 Black is now $100 less at $399. GoPro said the price reduction is because they wanted it to be more affordable, but it's more likely that the marketplace will no longer accept the higher price point.
What's new?
The HERO5 Black comes with many new options like image stabilization and wind reduction. The camera no longer needs an underwater housing for underwater use; it's now waterproof down to 30 feet, right out of the box. The caveat to this is that you do need the included cage to connect to the GoPro ecosystem of mounts, and depths below 30 feet require a new underwater housing called the Super Suit, capable of diving down to 196 feet.
Along with no longer needing an underwater housing, the new mic system allows for stereo audio or mono wind reduced audio to be recorded. There are three mics that combine for a stereo image or wind reduction. The mics are self clearing, so getting water in them is not an issue.
With the HERO4 Black, GoPro required you to buy a screen to be able to monitor the camera outside of the GoPro app. Not anymore. You'll find a built-in touch screen on the HERO5 Black. Changing settings and viewing your framing is a breeze now.
The next new feature is image stabilization (IS). Although IS is not available in 4K, it is avaliable for all other resolutions. It is achieved via crop, scale and rotation of the 4K image for stable 1080 footage. This is known as digital image stabilization.
The last notable new option for the HERO5 black is voice control. No longer do you need to press the record button; you can now tell GoPro to start recording, and it will do so. The voice control is done via very specific commands, so don't expect it to do anything it's not pre-programed to do.
Two big things that we hoped would be a part of the new camera are higher bitrates and more framerate options. For us, these would have been the largest and most desired updates, but they are unfortunately missing. All of the framerate and bitrate options that the HERO4 Black offered have gone unchanged in the HERO5.
Our Experience and Tests
We were at the GoPro launch event the morning of September 19th, at beautiful Squaw Valley in Tahoe. Just after the announcement, we immediately got the new cameras in our hands. They gave us pre-production versions of both the HERO5 Black and Session to play with. For the experience, we mounted the Session on our shoulder and tried out all of the different features of the HERO5 Black. We got to do some timelapse in a few different locations, shoot some RC cars in 240 fps, and test out the image stabilization while mounted to an electric mountain bike.
The entire day, we got to try out both of the new HERO5's in many different situations, with a slew of different ecosystem mounts. Overall though, the stand-out enjoyment of the day was the voice control. It's very handy to be able to start and stop recording hands free. It did take a bit of getting used to because the commands are so specific, but once memorized, it was very fun. The highlight of using voice control that day was when we were in the tram traveling up to the top of the mountain. There were 30 to 40 people squeezed into this 20-foot by 10-foot box, and everyone had a HERO5 Black and Session. At one point, someone said quite loudly "GoPro Stop Recording," Immediately dozens of beeps could be heard because there were so many voice controlled cameras in such a small space. Through our experience, voice command worked 90-95% of the time. In the times it didn't work, it just seemed to not hear us because the situation was noisey.
We then took the new cameras back to Videomaker Headquarters, where we began to test them to find out how different the HERO5 Session was from the Black, plus how they compare to the HERO4 Black. Our first trial was putting all three side by side and shooting a dynamically lit shot to see if the new image sensor and optics of the HERO5's would out-perform their predecessor. Shooting outside in full sun, we shot the exterior of Videomaker Headquarters. In the background were large trees, some sky and our building. The building's color is a bold yellow with a section of very light silver metal siding. Some of the building even had dark shadows. When pixel peeping, we didn't see any distinguishing difference between any of the three cameras. Each had the same sharpness and dynamic range, and the picture was identical. On a blind test of each shot from each camera, choosing which camera shot what was impossible.
There are some frame rate options that the HERO5 Session doesn't have that the Black does, but overall the images look indistinguishable. A big difference is the touch screen on the back of the HERO5 Black. The Session does not allow for complete control without the use of the GoPro Capture app and a phone or tablet. The back touch screen is a huge benefit of the Black over the Session. It's paramount to getting the best exposure, framing and settings.
When testing the rolling shutter, we didn't experience anything unusable. While it did have some rolling shutter, it was an acceptable amount. The last thing you'd want is bad rolling shutter on a moving action shot. Luckily, it's not an issue. Another non-issue is its moire. While there was some, it wasn't overly noticeable in shots with fine detail.
We next tested its low light capabilities with an ISO noise test, testing how much noise is introduced while increasing the ISO. The HERO5 Black scored high and offered a surprising result in very little noise all the way up to 6400 ISO. We did however experience some noise when shooting underexposed, in poorly lit areas, outside of the test.
There are five different fields of view (FOV) to choose from: Superview, Wide, Medium, Linear and Narrow. If you choose to shoot in 4K, only Wide and Superview are available. Every other resolution offers all five FOV options. Distortion can be seen in all FOVs except Linear. Linear was designed for shooting with Karma to flatten the horizon. When panning, distortion can still be experienced, but it's a huge improvement over the other FOVs.
The menu has also been updated in the HERO5 Black. GoPro wants the user experience with all of its products to be described as easy. They hit their goal with the new menu system. It's intuitive, and all controls are easy to find and use. A nice addition is a list of voice commands, just in case you forget.
We really liked that you no longer need a housing for underwater use, but there is still a need for a cage around the Black to connect to the GoPro mounting ecosystem. We would have liked the mount to be built into the camera, so all you need is the mount and camera. Although the sound is better now without an underwater housing, the need for the cage makes the sound and waterproofing the only big improvements to not needing the housing.
Lastly, we tested the battery life. Each battery is only $20, so if you need more, they are very affordable. We got a battery life of a hour and a half. That's pretty good, and considering the cost of batteries, a full day shoot is possible. We didn't experience any overheating issues whatsoever.
Value in the Marketplace
Sony now has a new action camera offering with the FDR-X3000R. It costs the same as the HERO5 Black and has optical Image Stabilization — that alone is a huge improvement over the digital IS of the HERO5 Black. As well, Sony offers a higher bitrate. We have not used the new Sony Action Cam yet, so we can't say for certain if it will be better than the HERO5 Black or not, but on paper, it looks to have a few legs up on the GoPro.
The HERO5 Session is $100 less than the Black and has significantly fewer options. Most notable is the lack of setting controls outside of the GoPro Capture app. It shoots UHD 4K but only in 30p, while the Black offers 24 and 30p. It also offers the same digital IS as the Black. The voice control is also the same and just as fun to use. We wish that they had a programmable command or two — it would be fun to be able to talk back to your GoPro when it's not doing as you please.
Lastly, even though GoPro has discontinued the HERO4 Black, outside of the new user options, the image quality, resolution and frame rate options are the same. Because GoPro has stopped selling the HERO4 Black, we'd expect there to be a big price drop from retailers that still have them in stock. They will be a great value as long as they are available.
Summary and Recommendation
The image quality of the HERO5 Black is good. We really enjoyed using the voice control and now that they offer IS and wind reduction, these GoPros are that much more usable. Not needing an underwater housing to submerge in water is a step in the right direction, but we would have loved to not need the cage to connect it to the ecosystem. Because of these new additions and improvements, and the price drop from the HERO4 Black, we would recommend the GoPro HERO5 Black.
GoPro
www.gopro.com
PRICE: $400
Strengths
Built-in screen
No underwater housing needed down to 30 feet
Image stabilization
Weaknesses
No new resolution or bitrate upgrades
No built-in mounting points
Summary
The GoPro HERO5 Black has some new features that are very useful. We would have liked to see a better bit rate and more frame rates than what was already possible with the HERO4 Black. However, we did have a good experience and would recommend the GoPro HERO5 Black.
Recommended Users
Event Videographers
YouTubers
Travel videographers
Action sports enthusiasts
Educators
Let's players
Tech Specs:
Sensor: 1 x 12 Megapixel CMOS Sensor
Recording Media: microSD
Video Format: MP4
3840 x 2160 – 24, 25, 30 fps
2704 x 2028 25, 30 fps
2704 x 1520 – 24, 25, 30, 48, 50, 60 fps
1920 x 1440p – 24, 25, 30, 48, 50, 60, 80 fps
1920 x 1080 – 24, 25, 30, 48, 50, 60, 80, 90, 120 fps
1280 x 960 – 50, 60, 120 fps
1280 x 720 – 25, 30, 50, 60, 100, 120, 240 fps
854 x 480 – 240 fps
Aspect Ratio: 16:9, 4:3
Still Image Resolution:
RAW: 12 Megapixel
JPEG: 12 Megapixel
Channels: 2.0-Channel Stereo
Audio Format: WAV
Display Type: LCD
Touchscreen: Yes
Screen Size: 2"
Burst Photo: 30 photos / 1 sec
Image Stabilization: Digital
Waterproof Depth Rating: 33.0' / 10.0 m (Camera)
Built-in Mic: Yes
Built-in Speaker: Yes
Wi-Fi: Yes
Inputs: 1x 1/8" (3.5 mm) Stereo Mini
Outputs: 1x HDMI D (Micro)
Microphone Input: Yes
Headphone Jack: No
Battery: Rechargeable Lithium-Ion Battery Pack Battery, 1220 mAh
Charging Method: AC Adapter, USB
Chris Monlux is a guy who's dad's name is Guy. He is also Videomaker's Multimedia Editor.