We'll test performance, controls, battery, camera and user friendliness, as well as engineering and real world durability. In the mind of this reviewer, if a product isn't Oscar-proof, it's not worth buying!
Out of the Box
Right out of the box, the Aries X-10 Blackbird impresses with its sleek design and matte, slightly rubberized, finish. Each individual component is packed into its own molded crevice inside a soft foam block. This quadcopter does not ship ready to fly; propellers must be installed and the drone battery and Wi-Fi range extender battery must be fully charged before use. Additionally, the transmitter uses two included AA batteries. The drone battery has a button and an easy to read LCD display indicating the battery charge in three bars — three bars = full charge, one bar = partial charge, etc. — and the drone has alarms and flashing lights indicating a low power state. However, these lights are very difficult to see in full daylight. The Wi-Fi extender comes with an AC wall adapter that plugs into a USB 2.0 cable.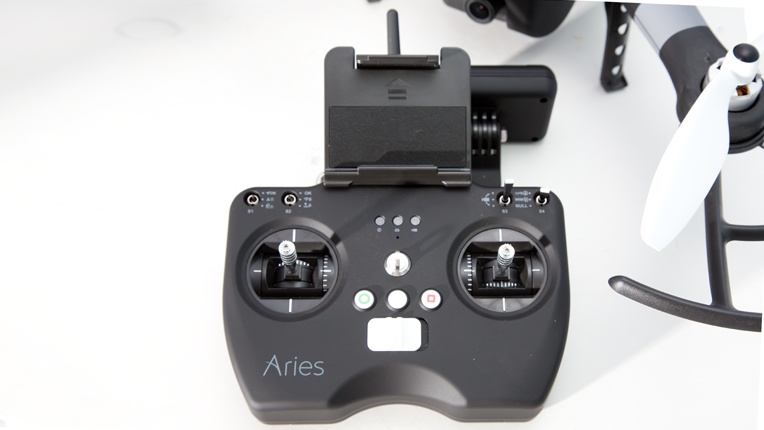 The Aries Blackbird X10's propeller blades must also be installed. There are two propellers that rotate clockwise and two that rotate counter-clockwise. The manufacturer color codes the center of the propeller blades, black and grey, respectively. Although they screw on by hand fairly easily and are self-tightening, there is a small wrench included for proper tightening before use. The Blackbird X10 also comes with propeller guards; however, simple observation of these guards' design and material let us know they would likely break almost instantly in any trouble — and they did. Additionally, the angle and mounting of the propeller guards put them within ½ inch of the propeller blades at all times; so when it hits the ground during rough landing, which it will, they jam up into the propeller. Because of design, the guard does protect the blades from being hit directly in the event of a crash, but in our test, the guard itself struck the blades.
Advertisement
Pre-flight
Once assembled, the Aries Blackbird X10, like most drones, has some pre-flight processes that must be completed. Specifically, the X10 must have its internal compass calibrated. This is done by holding the joysticks in a pre-set position until the lights on the drone flash. Then we had to turn the drone 360 degrees along the X, Y and Z axes. If you do it wrong, the lights keep flashing quickly. This part was confusing because of the shape and size of the drone and we were never quite sure if we did it properly or if the drone just called it good — a bit concerning since the drone will drift wildly if not calibrated properly according to the instructions. Finally, after an hour of charging and about 20 minutes of flight prep, we were ready to fly.
We inserted a micro SD card into the underside of the camera body via a spring-loaded slot with a poorly fitting, tethered, rubber cap that tended to fall out upon landing. The camera shoots by default in 1920 x 1080 .mov file format. Changing the camera settings requires using the Aries Flight Control app for Android or iOS, which connects the drone's camera to a smartphone via its own Wi-Fi hotspot. Connecting was troublesome and time consuming, and the one second lag between the camera and app display is not useful for real-time flying at all. Strictly use this feature to frame your subject and monitor your camera direction. This becomes essential when the drone is more than 50 yards away, because at that distance it's difficult to tell which way the camera is facing.
Lift-off
The X10 comes with four 3 ½-inch legs which puts the propellers about 5 ½ inches off the ground. Due to its narrow stance, I immediately thought to myself, "this thing is going to tip over and whack the ground during every landing," and yes, it does dip and tip at every landing, causing the aforementioned propeller guards to jam up into the spinning rotors, causing visible marks and potential damage to the drone. It lifted off easily with plenty of power, but since there's no throttle lock, we spent a few minutes learning to hover. The manufacturer says it will hover on its own, but it's fickle. Once we got a hang on the throttle, we were able to get the X10 to hover about 20 feet above the ground with no input from us.
Open field testing netted positive results in regards to battery life 20 minutes of flying, speed of ascent, responsiveness to controls and the awe of children.
We also wanted to try some camera moves like panning and dolly left and right, etc. We were able to turn 360 degrees to the left and right without much drift, but it spins hard if you don't feather the joystick. Moving laterally was more difficult; banking left or right, forward or backward, it wants to go fast. It will level off quickly when you release the joystick, but it loses some altitude. Because the camera is part of the body — there's no gimbal — the images are tilted as well. Open field testing netted positive results in regards to battery life 20 minutes of flying, speed of ascent, responsiveness to controls and the awe of children.
Let's talk video.
We were less than satisfied with the camera, which failed to record half our clips, even though we deliberately monitored the record lights. The propellers are also highly visible in footage facing straight ahead. When the camera tilts down 90 degrees and at 45 degrees, propellers aren't visible.
No matter how well it flies or looks or feels; we cannot recommend this drone to anyone who wants to use this drone for video production. The combination of the flimsy propeller blade guards plus the fact that the drone only recorded half the video it was supposed to makes the Blackbird X10 a non-starter.
SUMMARY:
Adorama's Aries Blackbird X10 is a consumer-level drone with some major flaws that make it unsuitable for serious video production.
Aries
www.ariesflight.com
Price: $800
Strengths
Weaknesses
Poor design and construction
Unreliable recording
Tech Specs:
Multicopter
Battery: 5300mAh LiPo
Hover Accuracy: Horizontal: 2m, vertical: 1m
Maximum tilt angle: 35°
Maximum climb/descent speed: Climb: 8m/s; Descend: 5m/s
Maximum flight speed: 20m/s (Not recommended)
Maximum yaw speed: 120°/s
Flight Time: 25 min
Weight: 1.4kg/49.3oz/3.lbs
Dimensions with Propellers: 23.0 X 23.0 X 5.5"-inch
Dimensions without Propellers: 14.5 X 14.5 X 5.5-inch
Camera
Lens view angle: 120°
Lens Aperture: f/2.8
Camera Controllable Tilt Range: 90°-0° (Vertical)
Sensor Size: 1/2.3
Effective Pixels: 16 Megapixels (MP)
Video Resolution: Maximum 1080P / 30fps (NTSC), 1080P / 25fps (PAL)
Recording Formats: .MOV and .JPG
Audio recording: No
Transmitter
Communication distance: 500m / 1640ft
Working Hours: 8h
Battery: 4 AA Batteries
Oscar Magaña Jr. is a native of Biggs, CA. After graduating from high school Oscar attended CSU, Chico and studied Ag-Engineering and Psychology at Butte College; while concurrently playing amateur football. Oscar also spent 4 years as an actor in Hollywood and studied Filmaking, Editing and Visual Effects. Oscar is currently a producer/director for GoCom Digital Media/Action News Now.