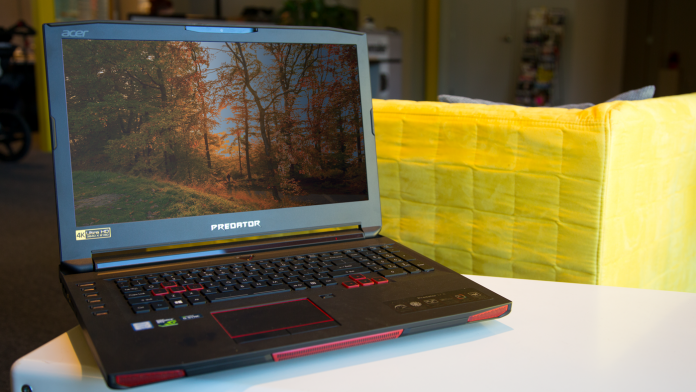 This is obviously a gaming computer, so why are we reviewing it? Here's the situation: you find yourself in need of a mobile workstation for video production, but you also love to game. You absolutely could consider a gaming computer for your production needs and this laptop is a beast.
Since this is a gaming computer first, let's talk about the gamer specific options. It's quite impressive looking with its RGB backlit keyboard and highlighted WASD and arrow keys. Plus, it has a bunch of programmable hotkeys. Its system for overclocking is easy to use and gives you multiple overclocking profiles to choose from. Lastly, the graphics card is powered by the new Pascal architecture and has eight gigabytes(GB) of VRam.
Product Specs
Let's dive a bit deeper into all of the details of this computer. It has the Intel Core i7 7th Generation 2.9 gigahertz(GHz) central processing unit(CPU). The graphics processing unit(GPU) is an NVIDIA GeForce GTX 1080. Along with 32GB of memory, it has two drives: a one terabyte(TB) hard disk drive(HDD) for storage and 512GB solid state drive(SSD) for your operating system(OS). The monitor is big, at 17.3 inches, with a resolution of UHD 4K. Overall, it's pretty heavy weighing 10.3 pounds. Need a connection? It has one displayport, one HDMI, four USB 3.0 and one Thunderbolt 3 type C ports.
A mobile desktop?
With its size, a common first impression goes something like, "Wow, you're going to carry that around?" The quick answer to that is, sure. However, the realistic answer is yeah, you technically could, but if you plan to, this isn't the computer for you. It doesn't fit in most standard size laptop backpacks and bags.
We think that this machine will live most of its life at one designated space — your desk. This is for a couple reasons. First of all, although it has a very slick cooling system, it needs to be placed on a hard surface for best airflow. This is especially true if you are overclocking it. The next is that it's very large and heavy. You will need a significant carrying case for both the computer and its power-supply. This isn't likely to be the new rage at coffee shops and airports; it isn't that kind of laptop. Depending on your personal taste, it's either very good looking and will give you the gamer street cred you've been after, or it's garish and will invite ridicule.
Video Production Capability
Needless to say, this system is fast. It has lots of resources and is configured for gaming first, but with a fast multicore CPU and Pascal architecture GPU with a good amount of VRAM, it fairs well doing production work too. Sure, its optimized for gaming, and it will do that best, first and foremost, but it's no slouch working with video either.
We did a few things to test its video production abilities. First, we installed the Adobe suite and brought in the highest quality footage we had from the RED Raven, Canon C300 Mark II, Canon 1DX Mark II, Sony FS7 II, Blackmagic URSA Mini and Panasonic GH5. In Premiere Pro CC17, the machine's resources could easily handle any of our footage. It all played properly, loaded up quickly and had no issue at all moving around in the timeline, applying effects and transitions.
In Premiere Pro CC17, the machine's resources could easily handle any of our footage.
We next wanted to see what benefit the overclocking would offer for rendering a normal Videomaker project. This project is produced from a mix of 4K footage, has a primary grade on all footage, and uses some motion graphics along with titles. Using PredatorSense, we overclocked the system at its highest settings and compared that to the standard operation speeds to see how much time we saved when overclocking when rendering. Using Media Composer, we found that there was only at best a 5 percent reduction in render time when overclocked. You'll need to settle for great gaming capabilities as the only benefit from its overclockability.
A unique option to the computer is its UHD 4K monitor. With G-sync technology, it offers a wide color gamut and is very close to DCI-P3 cinema standard.
We next moved on to testing the read and write speeds of each of the hard drives. The OS 500GB SSD saw 692 megabits per second (Mbps) write and 1045Mbps read speeds. The 1TB HDD isn't nearly as fast, coming in with a 118Mbps write speed and 125Mbps read speed. Even with this performance, the HDD was still fast enough to edit all of the footage loaded onto it.
Now, we couldn't just get a gaming computer in to review and not play some games on it. Loading up Steam, we installed some classics like Left 4 Dead 2 and Team Fortress 2, along with some newer games like ARK: Survival Evolved and PlayerUnknown's Battlegrounds. With all of the texture and graphic settings at their highest, the system never choked, stuttered or presented any other problems. It's robust and at no time offered any struggle with anything we threw at it.
PCMark Testing
Using PCMARK 10, we tested each overclocking profile to see what type of usage benefits most from the increased performance. Creating a benchmark with the system operating as it does right out of the box, it had an overall PCMARK10 score of 4004. However, at the highest overclock setting, it scored 6789. That's a huge improvement. However, in real-world usage, the benefit is on the top end, and for most users, it won't be experienced when doing video production.
Marketplace
The computer marketplace is vast. There is a specialty computer made for every use. So, for the marketplace, we wanted to see how the big brands do with similar products. We look to Apple, HP and Dell to evaluate the value of this computer.
First, we look at the standard creative professional system, an Apple MacBook Pro. The newest version, the MacBook Pro Touch Bar costs $2,800 dollars. Released in 2016, it's the least competitive system when it comes to resources. It offers an intel i7 2.9GHz CPU with 512GB of SSD Storage and 16GB of memory. The GPU is the weakest we'll look at with the Radeon Pro 560 with 4GB memory.
Next up is the HP ZBook 17 G4. Like all of these computers, it can be configured in many different ways. A system that is similar to the Acer we reviewed costs $3,700 dollars from HP. At that price you get the Intel Core i7-7820HQ CPU and a 17.3-inch DreamColor UHD 4K monitor. The GPU a NVIDIA Quadro P4000 is going to be a better fit for video production. You also get 32GB of memory and both a 500GB SSD and a 1TB HDD.
Last up is the offering from Dell under the Alienware brand. The Alienware 17 costs $2,800 dollars. For that money, you get it configured with the Intel Core i7-7820HK. It also has a 17.3-inch monitor, but its resolution is only QHD. However, like the Acer, it also offers G-sync. The GPU is the same as the Acer and can be equipped with the same amount and type of ram and storage. Overall, the Alienware looks to be a better buy, because it's equipped with the same guts minus the full UHD monitor. However, without having it in hand, we can't attest to the case design over the Acer, so it could be worth $200 dollars less.
Final Thoughts and Recommendation
The Acer Predator 17 X is a monster of a laptop. Its large, but it's also full of all the resources you need. Is it cheap? No; however, it's a good value. It has some unique features and performs great. We would recommend the Acer Predator 17 X to those video editors who also love to game.
Acer
www.acer.com
PRICE: $3,000
STRENGTHS:
Good Value
Ventilation System
Full size keyboard
WEAKNESSES:
Too large to fit in most bags/backpacks
Heavy
SUMMARY:
Built specially for gaming, the Acer Predator X is a formidable production machine. If you game and want to video edit with the same machine, it's a good fit.
RECOMMENDED USERS:
YouTubers
Social media enthusiasts
Journalists & Travel videographers
Post-production specialists
Let's players
TECH SPECS:
Operating System: 64-bit Windows 10 Home
Processor: Quad-core 2.90 GHz Intel® Core™ i7 – i7-7820HK
Memory: 32 GB DDR4 SDRAM
Number of Memory Slots: 4
Memory Card Reader: Yes – SD
Total Hard Drive Capacity: 1 TB
Total Solid State Drive Capacity: 512 GB
Screen Size: 17.3"
Screen Mode: 4K UHD
Screen Resolution: 3840 x 2160
Graphics Controller Model: NVIDIA® GeForce® GTX 1080
Graphics Memory Capacity: 8 GB
Graphics Memory Technology: GDDR5X
Number of Speakers: 4
Wireless LAN: Yes – IEEE 802.11ac
Ethernet Technology: Gigabit Ethernet
Bluetooth: Yes – Bluetooth 4.1
Webcam: Yes
Webcam Resolution: 1280 x 720
Microphone: Yes
HDMI®: Yes
DisplayPort: Yes
USB 3.0 Ports: 4
USB 3.1 (Type-C) Ports: 1
Network (RJ-45): Yes
Battery: 8-cell 6000 mAh Lithium Ion (Li-ion)
Dimensions (Height Width Depth): 1.8" X 16.7" X 12.7"
Weight (Approximate): 10.03 lb
Chris Monlux got his first computer in a trade for a 3 wheeled ATV; it was an Apple IIe. He is also Videomaker's Multimedia Editor.