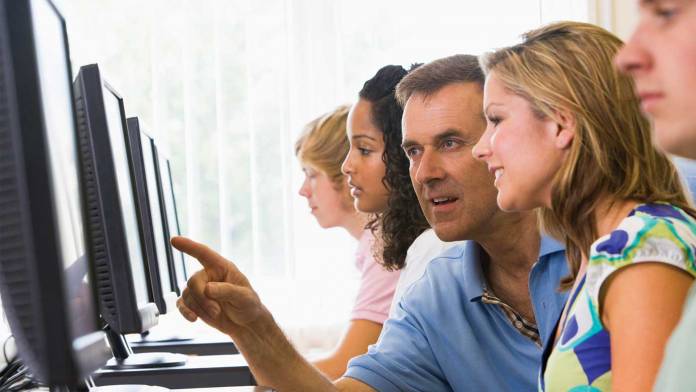 I'm talking about giving back to the next generation of video producers — the students, the kids and the up-and-comers still in school. You may be the one who inspires them to pursue a path in video production. Perhaps, you could be the one who makes sense of concepts they are struggling with or provides them with experience through job shadowing. You may also discover rewards that you too will benefit from when you give back.
How can I give back?
Giving back usually refers to allocating some of your time to help others. With more and more high schools and colleges offering video classes, you should have no problem finding a school where you can volunteer. Start off being a guest speaker. Just about any instructor would love to have you come and speak in front of their class. It lets the teacher off the hook for the day and also gets your foot in the door at the school. Once you build rapport with the instructor, the next step would be to volunteer. You can help out during the editing labs by helping students solve problems they are struggling with or giving them ideas to try out next time they are shooting. Even if you have a full-time job, many classes have an occasional Saturday lab when they have a big block of time to work on their projects. Often times there's only one instructor, which means the kids do not get as much attention as they could. Your help could make up the difference.
With more and more high schools and colleges offering video classes, you should have no problem finding a school where you can volunteer.

Advertisement



You may find yourself in a position where you can offer more than just your time. Perhaps you work for a production company and could offer tours of your studio for classes to come see what a working studio is really like. If your company is not already offering job shadowing and internships, bring up the topic in the next meeting. This is probably the most impactful way to give back. An eager student, like a sponge, will soak up everything they observe and translate it into their workflow. Simply letting them follow you around means you don't even have to take time out of your day, and you get the added benefit of them being a grip for you. Even something such as providing assets for the teacher to use in their curriculum can be a huge help — think of source files and raw footage students can use to practice editing.
Rewards
Giving back is never about what you'll get in return. As you start to give back, you'll find that you too are reaping the benefits; however, these benefits are usually intangible. Giving back to the community can be very fulfilling. I know that I personally enjoysharing a tip or trick with up-and-comers who can then add it to their bag of tricks to be used and shared with others. Seeing their faces light up when a concept finally clicks in their minds reminds me of when I was just starting out.
By giving back, you can take great pride in knowing you helped an aspiring video producer move one step closer to realizing their dreams. If you're giving back regularly, you may find that the students begin to respect you and consider you as a mentor. Especially in this day in age, there's nothing wrong with being a positive influence in a young person's life. Who knows? Maybe one day they will end up being more of a blessing to you than you are to them.
A freelance video producer and director, Devin has produced television advertisements for local and national television markets.