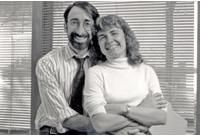 When Matt and Patrice York first conceived of their idea of making a magazine about video, teaching early adopters about the gear, techniques and all aspects of video production, they were in a class by themselves. The two of them plus one other staff member set forth to democratize video production so everyone who wanted to share their dream would be able to achieve that goal. Through 20 years, hundreds of staffers, two children, bi-coastal locations and four office moves, the Yorks still dream, are still eager to share, and are valued in the video making community for their inspiration. We at Videomaker Magazine salute you, and wish you well for the next 20 years.

–The Videomaker staff
Group Photo

Back row: Steve Awe, Heather Minton, Kristi Fudem, Mike Gomez, Susan Schmierer, Charlie Fulton, Brent Holland, Morgan Paar, Brian Peterson. 3rd row: Brian Horvath, Kim Peoples, Samantha Harper, Genevieve Lehrbaum, Jennifer O'Rourke, Dawn Branthaver, Andrew Burke. 2nd row: Remi Lohse, Sandra Hobbs, Melissa Hageman, Terra York. Front row: Matt and Patrice (and Deen). Not pictured: Scott Memmott, Matt Hadidian, Andy Clark, Joseph Ayres.
Advertisement