Gear is always better than another sweater; tech toys are more fun than argyle socks.
Here are 15 gift ideas under $100. Circle or highlight the ones you want and then stick this article to your refrigerator or e-mail it to those family and friends who never know what to get you for the holidays.
1. GOPRO FETCH
For the action camera buff who has everything, see what kind of video your dog will take. This dog harness is an official accessory made by GoPro and will fit any of their Hero cameras. Next shoot, let your dog operate that B-Camera! Retail: $59.99
2. WESTERN DIGITAL 1TB ELEMENT
You can never have enough storage, and if you haven't upgraded to USB 3, now's a great time. USB 3 offers some of the fastest transfer rates available — fast enough even for some editing tasks. Western Digital is one of the most reliable drives on the market, and the Element is small and portable. Retail: $64.99
3. CASE LOGIC CPL-109 BLACK DSLR CAMERA AND IPAD BACKPACK
Perhaps one of their best models, this backpack is designed with a convenient side pouch so when you sling your backpack forward, you can safely remove your camera without having to completely remove the pack. The backpack also features a weather hood that fits snugly over the bag. Retail: $89.99
4. CAM CADDIE SCORPION EX
This professional camera or camcorder action stabilizing handle also has an accessory hot shoe. The Scorpion EX can sit on its feet, or it can be mounted on a tripod when not being used hand-held. It's a great tool for getting low-angle action shots. Retail: $64.95
5. VIVITAR RC 800 8-BUTTON REMOTE CONTROL
When you're setup on a tripod and your lens is zoomed all the way in, even the slightest movement from hitting the record button on your camera can ruin a shot. With the RC 800 remote control for DSLRs and camcorders with A/V R or LANC control jacks, you can access camera functions remotely. Retail: $26.98
6. POLAROID HOT SHOE THREE AXIS TRIPLE BUBBLE SPIRIT LEVEL
By the time you get your camera on your tripod, you often can't see the bubble level. Cheap tripods, which are great for outdoor adventures, often don't even include one which makes this hot shoe mounted camera level a thoughtful — and economical — gift for your photographer and videographer friends. Retail: $10.99
Designed to connect to your GoPro, this floating hand grip features a lifetime warranty and is ideal for shooting water action shots. It even has a wrist strap so you don't have to swim after it if you lose your grip. Retail: $29.99
8. SENNHEISER HD202 HEADPHONES
This is a good pair of all-around headphones for location audio, studio monitoring or just kicking back with some tunes. The large, full-ear coverage design helps block outside noise and is comfortable for hours of use. Sennheiser's HD202 has the sound reproduction you need at a great price. Retail: $34.95
9. PEDCO ULTRACLAMP 360
Offering 360° panning capability, this clamp-style camera mount attaches to round or flat objects 0"–1.5" (0 cm–3.8 cm) thick and fits any device with a ¼-inch threaded tripod socket. This is perfect for mounting a camera to a car window or bicycle handlebars. Retail: $34.99
10. BLUE SNOWBALL MICROPHONE
Who wouldn't want a USB microphone with great studio sound that easily connects to your computer or tablet, including iPads? The Snowball can be adjusted to an omnidirectional or cardioid polar pattern and has a 40 – 18,000Hz frequency response. Retail: $50
11. KINGSTON MOBILELITE WIRELESS G2
This device is cool beyond words. It acts as a wireless router and allows you to connect up to eight devices to share and stream files. It has an on-board SD card reader and USB port for flash drives allowing you to read, write and stream files over a network or locally to a computer. The MobileLite Wireless G2 can connect to the internet either wirelessly or hard-wired. It also can function as a backup battery to charge your phone or wireless device. Retail: $60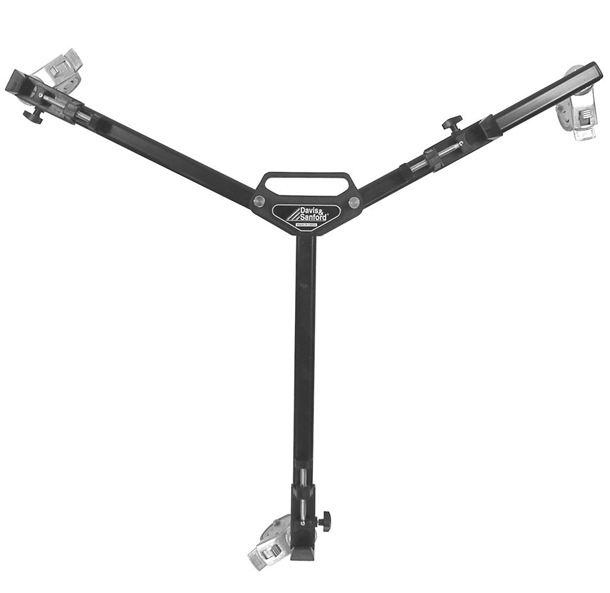 12. DAVIS AND SANFORD W3 UNIVERSAL TRIPOD DOLLY WITH HANDLE
For videographers who want to add dolly movement to their shots, this folding, adjustable set of three-inch ball bearing rubber and metal wheels with step-on brakes will fit almost any tripod. Retail: $70
13. ADOBE PREMIERE ELEMENTS 13
Great for the videographer or blogger wanting to expand his or her editing skills and have more flexibility and options than in iMovie or Movie Maker, Premiere Elements has the same render engine as the full version of Adobe Premiere. Retail: $99.99
14. M-AUDIO STUDIOPHILE AV 30 COMPACT MONITOR SPEAKERS
Producing the great sound that you would expect from M-Audio, the AV 30s are magnetically shielded, so they can coexist with other equipment, such as your desktop monitor, without causing interference. Retail: $89
15. MANFROTTO ML240 MINI LED LIGHT
A great compact 24 LED light that is daylight balanced at 5600°K with a variable dimmer, Manfrotto's ML240 will fit on your DSLR hot shoe or a ¼-inch threaded support. The ML240 has a CRI of 80, output is 220 LUX at 1 meter, and it is fully dimmable. Retail: $94.99
NOTHING BETTER THAN A SALE
Many of these items can be found much cheaper than the list price at local stores or online retailers such as amazon.com, frys.com, macmall.com, newegg.com and tigerdirect.com. Share your list early so your holiday shoppers can get the best deals, and provide a big enough list so they still can surprise you. Finally, remember to thank them not just for the gift but for supporting your passion.
W. H. Bourne is an award-winning director whose last film screened at more than 40 film festivals; she also happens to love shopping.
GOPRO FETCH[/caption]