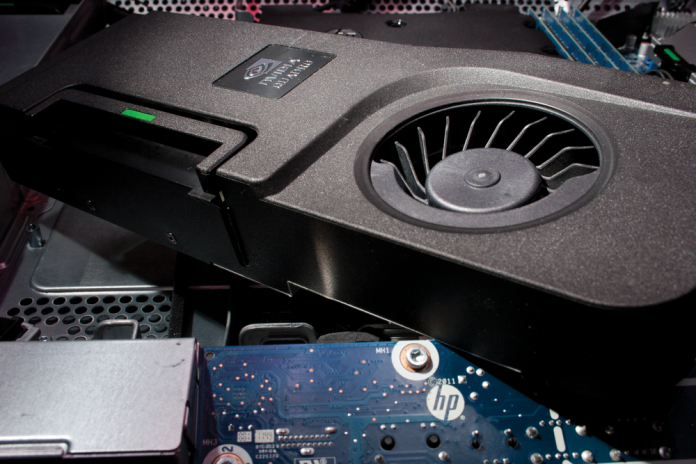 You may have the latest eight-core-or-more computer sitting on your desk, with massive amounts of RAM and the fastest solid-state drives available, but if your graphics card isn't up to snuff, your gaming or editing endeavors will eventually hit a snag and leave you hanging. Graphics cards used to be little more than devices for putting text and images on a screen where you could see them, and were given little consideration. Given their importance in today's computing, however, they are definitely worth a closer look.
At the heart of the graphics or video card is the graphics processing unit, or GPU, a specialized processor dedicated and optimized for accelerating graphics. It performs complex floating-point calculations, essential to rendering 3D graphics and drawing 2D images. The process produces a great deal of heat, requiring a cooling fan and heat sink assembly to keep the temperatures tolerable. Check the manufacturer's specifications and be certain that the power supply is up to the task, as that higher performing card is going to suck up additional juice – maybe a lot more. Higher-end cards will also require dedicated connections to the power supply. Be sure your power supply has the proper cables needed to get the job done.
Advertisement
Another important consideration is the number and type of output ports your card has. If you intend to output to an HDTV or similar device, for example, you'll want to be sure the card has an HDMI port included. It may have a DisplayPort or Mini DisplayPort for large display support and it will probably have a DVI port as well.
The most important consideration when selecting a graphics card is, of course, the way in which it will be used. What exactly will you be asking your video card to do? Display text, photos and occasionally play a little solitaire? Or will you be beating the heck out of it with the craziest, most extreme gaming applications,
video editing
and 3D modeling on the planet? It should be obvious that these two extremes will require a dramatically different card. So let's take a look at several categories of usage and a few of the cards that will meet their requirements just fine.
Consumer
This would include the usual tasks such as word processing, email, surfing the Internet, listening to iTunes or watching a DVD. No special requirements here; the card that came with your computer should work just fine.
Gaming and Wider Use
Casual users
are those that only occasionally require graphics acceleration or won't need their GPU (graphics processing unit) to render and encode video. These users will be happy with a more budget-minded graphics card that fully supports DirectX 11, Microsoft's latest collection of APIs (Application Programming Interfaces) provide various communications between card and computer. The card should have a minimum of 1GB of high-speed video memory. The Sapphire Radeon HD 6770 handles resolutions up to 2560×1600 very well and features one DisplayPort, one HDMI and one Dual-link DVI output connector. For a few dollars more, NVIDIA's GeForce GTX 560 can be superclocked to push the performance levels up nicely. Resolutions such as 1920×1080 shouldn't be a problem for this card. Outputs include two Dual-link DVI and one Mini HDMI port.
Serious, hard-core modelers and gamers, are going to want a bit more punch. Their graphics card will have to support all the current 3D games and applications on the market and achieve high frame rates with the finest detail possible. The cards must fully support DirectX 11, with a minimum of 2GB of GDDR5 video memory. If you want to join a couple of cards together for some crazy performance gains, the NVIDIA GeForce GTX 570 is a good candidate. Each card has 1280MB of memory and together they will easily run multiple displays or one hi-def display, with all the features on full, while maintaining high frame rates. Plan on bumping up the power, though, as you'll need 550W minimum and PCI Express 2.0×16 connectors to run these babies. The Sapphire Radeon HD 6990 crams two graphics cores and 4GB of memory onto a single card for amazing results. Especially cool is the Eyefinity feature, which can spread a game across as many as six displays. You're going to need at least 750W of power to make it go though. For a single core, single card solution, the NVIDIA GeForce GTX 680 2048MB is the current high standard. The new Kepler architecture has improved efficiency, resulting in a lower power requirement and greater performance. With plenty of overclocking headroom, the GTX 680 utilizes GPU Boost, its auto-overclocking technology, to boost the GPU frequency based on real-time measurements and performance requirements. The user can also select a frame rate target and the GPU will draw additional power as needed and make necessary frequency adjustments to hit the requested target.
Graphic Design
Depending on the particular application, those involved in video editing, visual effects and 3D modeling work may have very specific graphics card requirements. Some nonlinear editors (NLEs) only use the computer's CPU while others boost performance by offloading much of the required high-level mathematics to the GPU. These editing programs require OpenGL support and some require specific cards to utilize all the available features at the highest performance levels possible. While many 3D gaming cards will work fine for the average designer, those seeking the absolute highest results will want to take advantage of cards designed and tested for this kind of work.
The NVIDIA Quadro 4000 is a professional graphics card with PC and Mac versions. With 2GB of memory, 256 CUDA cores and the ability to process 890 million triangles per second, the Quadro 4000 delivers amazing performance. For extreme graphics processing, the Quadro 6000 has 6GB of memory, 448 CUDA cores and processes a ridiculous 1.3 billion triangles per second.
For specialized capture and playback solutions, Blackmagic Design's DeckLink Studio offers cross platform compatibility and offers inputs and outputs for just about anything, including older formats such as Betacam and VHS. Digitize your
old video tape library
, combine it with uncompressed HD footage, process it in your favorite editor and output to whatever format you like.
If you're working with ultra hi-def 4k material then you'll want to check out Blackmagic's
DeckLink 4K Extreme
. It supports SDI capture and playback of SD, HD, 2k and 4k video, and with broadcast quality conversion in any direction, your work will be fast and efficient.
Sidebar:
Graphics Card I/O Ports