The best consumer video production products of 2007, selected by the editors of Videomaker.

Our Videomaker readers know that video production is more than a task. For you it's a way of life, a way to express yourself and a method for reaching people across the globe. It's a powerful, powerful thing that can free your mind or imprison you within your editor's chair as you pull another all-nighter. Good technique will always be the biggest contributor to success in this field. The tools you choose to use greatly impact the speed at which you work. They will also help open up new creative possibilities and develop skills specialized within this field. In the realm of video production, there are tools for every trick of the trade, so here is our list of the tools (and toys) of 2007 that we felt helped Videomaker readers create magical moments in video.
Advertisement
The Canon HV20 is set apart from the competition by its approachable form factor, resounding image quality and robust manual controls. The Canon HV20 also steps outside the point-and-shoot role, acting as a complementary B cam to Canon's prosumer camcorder line-up. This versatility makes it a great tool that shooters can grow with over the years and get great looking shots with just a little finesse. The Canon HV20 raises the bar for what a compact camcorder can do.
The Hitachi DZHS300A is a pioneer as the first hybrid camcorder. We quickly became fans of the hybrid format and its functionality, enabling shooters to also be in-camera editors, with the benefits of creating DVDs from within the camcorder itself. Additionally, the DZHS300A's standard-definition format is one of the most edit-friendly with video editing software. So, no matter where you plan to take your video, the Hitachi DZHS300A has got you covered. This flexibility and the camcorder's overall ease of use make it a refreshing take on consumer video.
The Sony HVR-V1U is a leader in prosumer camcorder design and layout. It is one of the most well-balanced camcorders, and its controls are very intuitive. For professional shooters working on a camcorder that is smaller than others in its category, this design excellence surely pays off. The HVR-V1U's image quality and audio controls are also terrific. For a high-definition camcorder that can run with the pros, the Sony HVR-V1U is certainly the best of its class.
The Panasonic AG-HSC1U impressed us with its performance for a camcorder that's incredibly compact in size. But, what it lacks in size, it makes up for in image quality and efficiency, using the AVCHD format. The AG-HSC1U breaks new ground, allowing you to use critical manual controls to shoot impressive-looking images in unique points of view, where only a compact camcorder can go. Mix in the cost savings you'll receive with its SD/SDHC memory card recording medium, and the AG-HSC1U is on the cutting edge
of innovative shooting solutions.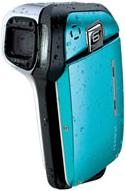 The Sanyo Xacti E1 combines two old but simple ideas: less is more and waterproof-ness is greatness. OK, we made that last one up, but we're not joking when we say that we had more fun shooting with the Sanyo Xacti E1than any other camcorder this year. Its small and waterproof body allowed us to escape the confines of our cubicles and get wet. Perfectly timed in the heat of the summer, the Sanyo Xacti E1 is a terrific camcorder for water sport enthusiast or tropical island vacationer. Although waterproof technology is not a new idea, its application on the Xacti E1 allowed us to approach videography with a unique perspective that no other camcorder allowed. And that is an innovative approach to videography worth a mention.
Best Editing Computer
Apple Mac Pro (starting at $2,499)
The Apple Mac Pro workstation is a video production workhorse with its Intel Dual-Core Xeon processors and ample room for RAM and additional storage. For video editors, its cool and quiet operation make it a real joy to work with in all types of home/studio environments. For those who need a dependable video editing workstation, the Mac Pro's rock-solid stability is a real strength and time-saver. And it can't be ignored that Apple continues to have an aesthetically pleasing design, which coupled with the Mac Pro's stunning performance, makes a hot workstation.
Avid Media Composer's ScriptSync feature knocked our socks off. It gave us a glimmer of hope that digital video editing still has room for improvement. ScriptSync is just the innovation to give the world of video editing professionals a tremendous breakthrough in efficiency. The magic involved with this feature lies in the software's ability to automatically match the audio from your video with the text of your script. The automation of this process can nearly take an editor from importing media to having a rough cut with a few clicks. Now that's a great innovation.
The Apple ProRes 422 codec opens the door for the semi-pro editor who wants to edit high-quality HD sources without the expensive video decks and high-end storage devices. We also found it useful for the HDV audience trying to gain a little more quality out of their source footage. While it's not an end-all be-all codec, its ability to keep video file sizes down to manageable levels while preserving the quality is a well-needed innovation that will hopefully be builtupon in the future.
The Chimera 8005 Video Pro Plus is a high-quality soft-box kit that can be easily added to your existing lighting setup. The light proved to be one of the best in terms of the quality of light that it throws onto your scene. The resulting effect was a soft, even light that had enough intensity to work nicely with a spot or other lights for a variety of setups. This kit comes complete with a sturdy stand and an egg crate grid for extra control over the light.
The Manfrotto 510HDV tripod head and 351MB2 legs are a stable and durable system capable of handling a variety of camcorders. This tripod head is ideal for mid-sized prosumer camcorders, which are typically HDV camcorders, hence its name. Its fluid movements and variable drag make it a real joy to shoot with in the field and in the studio. Bundled with a sturdy set of legs, this system can hold a decent amount of weight. The 501HDV's new counterbalance mechanism on the head of the tripod impressed us with its easy on/off lever. Overall, this system is a continuation of great craftsmanship that we've grown to love and depend on in demanding shooting situations.
The Roland R-4 Pro is a ready-to-go system that is simple to use and yet preserves the highest-quality settings and controls for professional use. It's a well-built, portable audio recorder that rivals competition priced well above the R-4 Pro. In the field, the R-4 has a robust set of features, including time code record/send. In the studio, the recorder can easily be connected to your digital audio workstation, making it a quick and easy way to store and transfer digital audio. For shooters out in the field or studio, the R-4 Pro can help preserve the highest-quality audio capture with the freedom of not needing to use your camcorder as the source.
The Azden 320ULX dual-channel wireless microphone system gives shooters the most bang for their buck. The 320ULX system can easily be integrated into prosumer-level applications and quickly enhance audio production for your next video. We were impressed with the flexibility of the unit, including a slightly different setup from Azden that has two bodypacks. The dual-channel receiver is fairly small and can be easily managed in the field. The Azden 320ULX's performance is excellent and can deliver great-sounding audio without killing your entire budget. That's something we can all appreciate.
Adobe Premiere Elements 4.0 has refined its already stellar performance from early versions, making this latest update a clean and simple editing interface for beginners. There are even enough features and controls underneath it all to give you intermediate users nearly everything you'd want. Its ability to interface directly with YouTube makes it a fun application for the videographers who enjoy sharing their work. We are also very impressed with its new tagging feature, allowing you to sort clips intelligently and search for them more easily. Bundle this with Adobe Photoshop Elements 6.0, and you've got yourself an easy-to-use post-production studio for every aspect of life worth recording.
Sony Vegas Pro 8 is a great tool for editors looking for a professional editing application without a hefty price tag. This latest version adds support for AVCHD, including M2TS import, which greatly simplifies the process of getting AVCHD footage onto your computer. Sony Vegas Pro 8 also includes a great number of audio effects, many of which perform in real time. We are also impressed with its multi-camera function, allowing event videographers to edit together different camera angles quickly. Add in DVD Architect, and you're looking at a powerful post-production tool that won't drain your budget.
For the first time ever, we have a tie. Both video editing suites deserve an award this year, as they have delivered valuable upgrades across the board. We've looked extensively at both these suites to try to find a clear winner. It used to be that editors picked their video editing suites based on their preference of platform: Mac or PC. This year Adobe changed all that, creating a cross-platform suite (well, actually not all of the tools in the suite are Mac-friendly, but most are). Equally, Apple really expanded what Final Cut Studio could do across the board and added a finishing software valued at thousands of dollars. In the end, we felt the best video editing suite really comes down to what kind of work you'll be doing. We feel confident that, whatever you're doing, either of these suites will get the job done.
The Tiffen Dfx video filter software may be one of the best values of this year. Thousands of dollars of optical video filters have been translated to their digital equivalents in this software package. So, the immediate savings are a plus. But, you also get the flexibility of applying these trusted video effects in post production with the bacon-saving Undo button available. We are impressed with Tiffen Dfx's precision controls, with a number of custom settings and a well-rounded group of presets to get you up and running. When it comes to setting your video apart from the rest, this plug-in set has plenty of options to get you noticed.
The LaCie d2 Quadro hard drive is a versatile storage solution with great performance. Its quad-interface (i.e., USB 2.0, FireWire 400, FireWire 800, eSATA) allows users multiple options for connecting this hard drive to a multitude of different computers. Power users will benefit from the eSATA connection, which has a much faster data throughput. LaCie d2 Quadro hard drive also impressed us with its easy setup for both Mac and PC users, making it simple to work with from the get-go.
The Elgato Turbo.264 is a perfect enhancement for anyone compressing H.264 files routinely. It has a simple user interface with presets that helps new users get their files conformed to various devices. Additionally, its hardware dramatically decreases the time that it takes to compress these processor-intensive compression algorithms. So, it is especially useful for people with slower processors or with video files that run a little long (anything over about 10 minutes). The GUI is also fun to look at, with its graphical odometer and frames-per-second readout that lets you can see how fast it's encoding. If anything, it'll make your editing buddies extremely jealous.
Congratulations to this year's winners and their respective product teams that brought these video production tools to life. It has been an amazing year – seeing the continuation of the HD format wars, more AVCHD support trickling in and more emphasis with online video. We are very excited to see what 2008 brings. Make sure you follow along with us and read the latest digital video
production reviews from Videomaker.
Side Bar: Best Products Award Criterion
For a product to qualify for an award, it must have shipped in the 2007 calendar year, and it must have passed through Videomaker headquarters for examination by our editors. From there, we judged products based on the following seven criteria:
Empowerment: how successful the product is at helping videographers be more effective at video production.
Quality: it must be put together well, be durable and show excellence in its category.
Usability: how user-friendly it is.
Innovation: it should have some inventive or original features.
Performance: it must work consistently, be effective and provide a good value for the price.