I've been afraid to call myself a filmmaker. Instead, I say videographer. I've produced thousands of videos in my career. I directed William Shatner while working at State Farm, ran the DIY filmmaking channel Indy Mogul while working at YouTube — yet my videos never met my lofty definition of film.
Cut to Austin, Texas — March 14, 2013. Inside the Alamo Drafthouse theater, I'm becoming increasingly inspired by the films at the South by Southwest Film Festival. My new goal: return next year with a film.
"Make the film that you want to see," suggests Oscar-winning director Luke Matheny. I love watching "short documentaries" — sub-40-minute films at festivals. So driving home from the airport, I listed potential short doc topics of things I love. High on that list was Sriracha, the flavorful hot sauce I eat with half my meals.
I envisioned a silly film starring Sriracha's craziest fans. Maybe a bride and groom cut their Sriracha-flavored wedding cake! But in my research, I found a much more compelling story.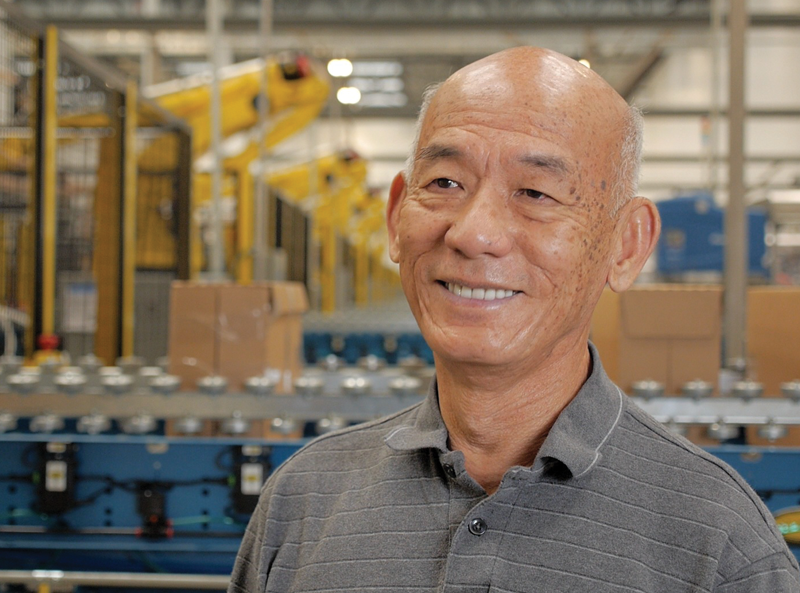 David Tran, a refugee of the Vietnam War, arrived in America with nothing. After 35 years, he's selling more than 20 million bottles of Sriracha a year.
David was relatively shy. His company, Huy Fong Foods, lacked a Facebook or Twitter presence. So I approached the only guy constantly tweeting and blogging about Sriracha—Randy Clemens, author of The Sriracha Cookbook. Over Skype, he confirmed that no, no one else was making this documentary. And yes, he'd like to help. He provided a list of leads, including a contact at Huy Fong Foods.
In my first e-mail to Huy Fong Foods, I carefully explained my background, my love of Sriracha, and the purpose of the film.
"I'm not doing this because I hope to make a profit—it's simply a story I care about, and would love to share with audiences at film festivals."
David said no.
Make the film that you want to see.
Having never advertised his product, I understand — who needs the imposition of a film crew? But I'd told myself a documentary would mean never accepting no. I clarified: "I work with a small crew — just me and my camera, and an assistant — and I would never want to take up too much of your time."
This opened a dialogue about the scope of the film, and within five days, I got a yes. A month later, I'm inside the factory interviewing Director of Operations, Adam Holliday. I joked, I better finish the film quickly, before 20/20 does an in-depth story.
"Oh no, 20/20 asked — so did NBC News," Adam said. "But we said no. We want you to tell our story."
My Gear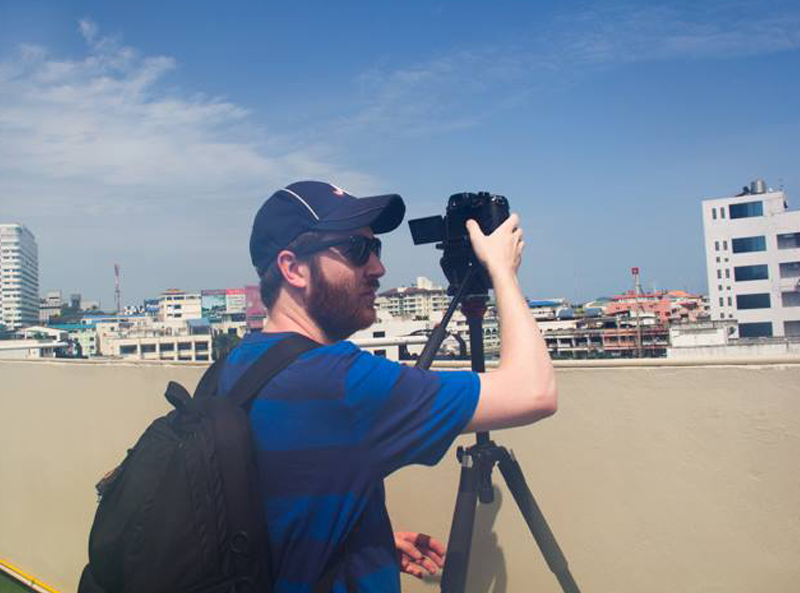 I shot the documentary on my Panasonic GH3, 12-35mm f/2.8 lens — an ideal focal length for interviews and most b-roll, good in low light, features optical image stabilization. Aside from a tripod and shoulder rig, I carried most of my gear in a single camera backpack. During interviews, my friend Nick Bodmer operated the camera, while I asked questions, holding an Azden SGM-1X shotgun mic plugged into a Zoom H4n audio recorder. I mostly used natural light — sunlight and a bounce board — and rented a single Kino Flo 4Bank to light David Tran and Adam Holliday's interviews inside the factory. It was a lightweight, run-and-gun operation.
Garnering Attention
On my first production trip to Los Angeles — Huy Fong Foods is in nearby Irwindale, Calif. — I interviewed Sriracha Cookbook author Randy Clemens.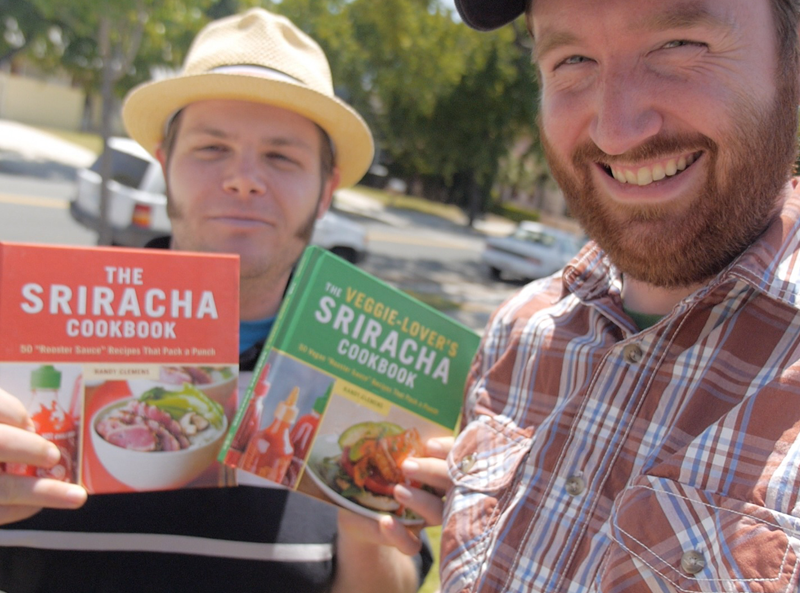 He posted a photo on Facebook, and one of his many writer friends took interest. Michelle Woo penned a short article in OC Weekly titled, "A Sriracha Movie Is Coming!"
Rather than pitching my film directly to journalists – they prefer discovering news – news traveled up the food chain, seeded in smaller publications: LAist picked up the story, then The Huffington Post, with 300x the audience of OC Weekly. A week after my first shoot, I'd already earned 23 media hits, including the Los Angeles Times and Bon Appetit. Surprising, because "Illinois Indie Filmmaker Begins Short Documentary Production" is not a compelling story. But Sriracha clearly is. The San Francisco Chronicle ran this headline: "The Sriracha documentary is a thing that is happening."
Like most indie films, money wasn't the reason to tell this story. Without much crew, and me working for free, the only substantial expenses were travel-related. I was willing to pull $10,000 out of savings to make it happen. But all this press attention proved the film had an audience.
So I turned to Kickstarter, a crowd-funding website, where I asked my future audience to preorder the film for $5 (I also presold posters, Blu-rays, Randy's cookbooks and producer credits). The goal was to raise $5,000 in 31 days. I didn't ask for more, because on Kickstarter, you either hit your goal, or get nothing. I wasn't sure I could reach my goal in one month.
Just eight hours after launching the Kickstarter campaign, I hit $5,000. In 31 days, the project raised $21,009 from 1,315 backers.
Quadrupling my goal meant bigger things—a trip to Thailand to uncover the full origin story of Sriracha. But it doesn't mean the full $21,009 went straight to production. One percent of backers fail to pay — $230 lost to declined credit cards. Kickstarter takes 5%, and Amazon Payments takes 4.3% — $1,936 in fees. While most backers purchased the $5 digital download of the film, the other rewards (posters, Blu-rays) cost me $5,095 to produce. That left $13,748 in the movie-making budget.
Only 43% of Kickstarter projects successfully achieve funding. Too many creators expect their great idea to find an audience for them. If you don't identify and engage your audience in advance, who do you expect will fund your project? I spent two months building an audience for the film — 1,700 Facebook fans before the Kickstarter launch. My excited fanbase landed the project on Kickstarter's Popular page, then Staff Picks. Thirty percent of my backers discovered the project through these featured placements; Kickstarter more than earned their 5% commission. I set myself up for success, by asking for the absolute minimum I'd accept. If I'd asked for $20,000, and "barely squeaked by," the narrative wouldn't have been as positive.
DIY Tricks
I created practical lower third graphics by writing with Sriracha on clear plastic, suspended over a blue screen — not green, because Sriracha bottles have green nozzles.
The trucks that deliver red jalapeños to Huy Fong Foods vary in color, but I edited a sequence that appears to follow one white truck. For continuity, I chroma keyed an orange truck to turn it white.
The final shot of the film is a beautiful crane shot rising over 400,000 barrels of crushed jalapeños — reminiscent of the final shot in Raiders of the Lost Ark. Without a jib, I placed my tripod on a forklift, and applied Adobe's Warp Stabilizer to remove some jitters.
Post Production
After Thailand, New York, Chicago and two trips to Los Angeles, I captured 32 hours of footage — to be edited down to half an hour. My assistant editor Skylar Guimond transcribed the 40 interviews and prepared a preliminary cut. When I finished the edit — seven months after I announced the project — my Final Cut Pro X timeline contained 1,715 items.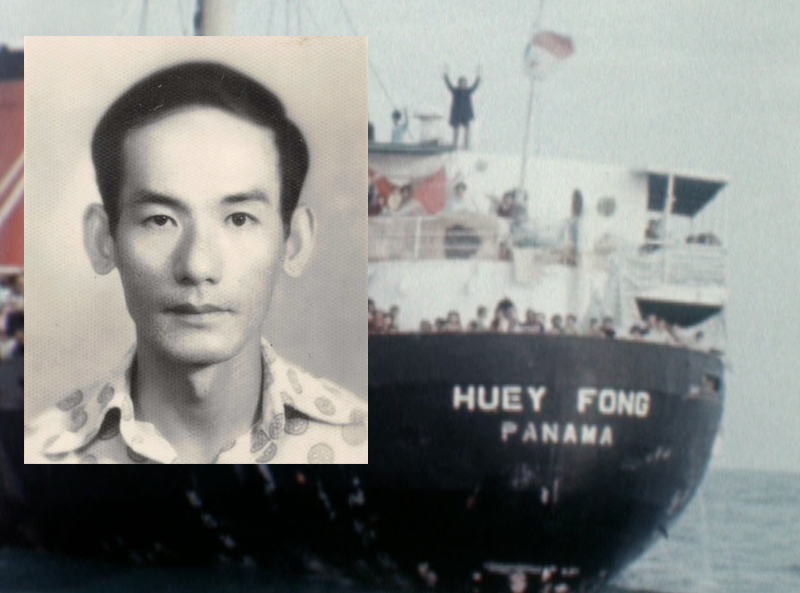 One of those items — newsreel footage from 1978, depicts the ship that covertly transported David Tran and 3,317 other refugees out of Vietnam. The political drama of their unannounced, illegal arrival in Hong Kong drew worldwide news attention. I searched online — AP Archive and ITN Source — and found film documenting their confrontation with the British Navy. Much of the footage is full of helicopter noise, but in the Reuters clip I decided to use (via ITN Source), you can hear the British officials hail the Vietnamese ship: "This is an immigration control area. You must leave immediately. Do you understand?"
Incredible footage, with one big drawback. The usage rights cost $2,551 (license includes one year of film festival screenings, perpetual use online/Blu-rays/DVDs). That 30 seconds of video only comprises 1.5% of the film, yet it's 19% of my production budget. I attempted to negotiate — no luck. But because it completes David's story, and adds credibility to my research, I decided to pay up.
The Festival Circuit
I finished an early cut of Sriracha just in time to hit South by Southwest's last deadline — November 14, 2013. I eventually spent $1,300 on 33 festival submission fees (averaging $39 each). On December 11, I released the film online through Vimeo On Demand. This requires a $200 annual subscription to Vimeo Pro, but Vimeo takes the lowest commission in the industry: 10% per sale, after a small transaction fee. I make $4.46 on every $5 sale of my film. It's a beautiful platform, easy-to-use, and the Vimeo team has been very supportive. They even translated and subtitled my film into Spanish, Portuguese, German, Dutch, Thai and Vietnamese.
Leading up to the film's online premiere, I e-mailed or Tweeted all of the reporters who previously covered the film. An impersonal, wordy press release is easy to dismiss. Instead, with short, personalized messages, I thanked each reporter for the original article, shared the upcoming release date and a link to the press kit for more information.
In the week following the film's release, I picked up 29 media hits — from The Huffington Post to NPR. Quartz wrote, "Sriracha gets the cult documentary it deserves." San Francisco Chronicle called it, "gorgeously shot." The embedded trailer earned 80,000 plays in the first week.
On January 27, a week after Sundance kicked off the 2014 festival circuit, I heard back from South by Southwest (SXSW): "Unfortunately, your film did not make the final program." SXSW received 4,300 short film submissions this year, and only programmed 113 — less than 3%.
SXSW drove me to make this film, and I failed to make the cut. Just like the lead in every romantic comedy, I did all this work to get what I want, but through the journey, realized what I really needed was right in front of me: I completed a film. I can start calling myself a filmmaker.
Sriracha played to sold-out crowds in Atlanta, Indianapolis and San Francisco, earned a 43% film festival acceptance rate, and won Best Short Doc at the DisOrient Asian American Film Festival. Watch Sriracha at srirachamovie.com
Griffin Hammond has produced hundreds of low-budget filmmaking tutorials on YouTube. Former executive producer of Indy Mogul and director of Sriracha. @Griffin on Twitter