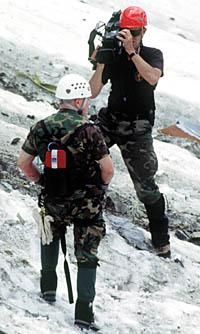 When America goes to war, hundreds of military videographers go along to capture the campaign for history. NATO's battle in the Balkans was no exception. The conflict in Kosovo played every night on the evening news and much of what we see is military video, released to the news media. Combat Camera units are tackling this tough assignment using the latest technology, bringing us up-to-the-minute images like never before. Using classified Internet and satellite technology, images from the battlefield move within hours from the theater of war to dozens of military departments and the network news.
Keeping an Eye Out
The 1st Combat Camera Squadron covered everything there was to shoot for the U.S. Air Force and had about 40 videographers in Albania telling the Air Force story to decision makers. Mike Funk is Chief of Video for the squadron. Funk says the visual impact of refugees and the camps helps those in charge decide how to improve conditions. And conditions in the Balkans are tough. Videographers and their gear have to endure muddy and wet terrain while living in tents.
"Being on the road has an element of excitement," Funk says. "But it's also very difficult." Commanders can see, via video, just how tough it is for service people and refugees.
Advertisement
The conflict in Yugoslavia is putting men, women and equipment to the test and is giving combat camera operators their first chance to put the latest digital video equipment to use. While still shooting with Hi8 units, the squadron is also armed with Sony VX-1000s and Panasonic cameras in the DVCPRO50 format. Video is cut at Aviano Air Base in Italy using Avid systems and PC based editing systems with Adobe Premiere software.
Measuring Up
Air Force cameras endure a special set of trials. The environment inside an aircraft is controlled until cargo doors open for a drop and then rapid changes in temperature and humidity could be a challenge. High altitude flying also puts cameras through pressure changes they never encounter on the ground. So far, there have been no major problems.
Images are sent by satellite to Image Express, a brand new Air Force agency at the Pentagon. Visual information is then sent out to internal departments and the media. Using new compression schemes and the latest satellite technology, images of events half a world away are showing up on our television screens faster than ever before. "For years we've been saying that we're an immediate imagery group," says Lt. John Protz. "Now that's true."
Protz is the Officer-in-Charge of the Fleet Combat Camera Group – Pacific, one of two Navy Combat Camera units, where the move to new digital video gear is putting combat videographers ahead of network superstars.
In the Field
Earlier this year, Protz sent three videographers out to find digital camera gear that would fit in with the group's Avid nonlinear editing systems and increase production capabilities in the field. And when the military says "in the field" it usually doesn't get any rougher. Protz and company had already seen the demise of dozens of Hi8 cameras and, burdened with the weighty Sony Betacams, were looking for a camera that produced high-quality video to satisfy field commanders and network bigshots as well.
The answer came in the form of the Canon XL1 with IEEE 1394 (FireWire). Video moves directly from the camera into portable editing stations. "They take it all into the field and cut video in the middle of nowhere," Protz says. "Then when they get back to headquarters, the video is ready to go."
Recently Videographer Mark Austin put the Mini DV camcorder to the test while on assignment in Vietnam. "The biggest benefit I experienced out there was the size of the XL1," Austin says. The unit's light weight and image stabilizer were a huge improvement over the larger Betacam which is notoriously cumbersome.
"I was able to take two XL1 bodies, all the batteries I needed, two lenses…and put it in a soft camera case," Austin says. Armed with that and a fluid-head tripod, Austin was unstoppable. "I had everything I needed to complete a mission."
Space was a consideration on the journey as Austin traveled through Southeast Asia via helicopter where there was virtually no room for storage. Durability was also tested.
"I was taking this camera through bamboo forests," Austin says. "There were no paths, we were cutting our own." Even the vicious humidity had no effect on the gear or the product.
Choosing Civilian Formats
Most of those cameras are still Sony Betacams because that's the preferred format in the civilian broadcast world, but for the last two years, the military has been making the transition to consumer formats.
Navy and Air Force shooters are still using Sony Professional cameras, switching between dockable Hi8 and DVCAM backs, depending on the assignment. And Elliot says Panasonic decks are used everyday for play back.
"Everything that we use at the Department of Defense is off the shelf," Elliott says. "We no longer have manufacturers build special cameras for combat camera units."
Elliott says consumer gear works well for military use because it's designed with industrial needs in mind. But the best equipment is only as good as the shooter.
Behind the Scenes
Military videographers are the best of the best. Only senior Navy photographers take on video duties. Shooters in Protz' group spend a year at Syracuse University learning to write, edit and narrate the video they shoot. They're more than one-man bands, they're one-man orchestras.
Air Force videographers are trained to become video specialists. Funk says shooters go through a basic training course at the Visual Information Center, learning all aspects of audio and video and how they relate. Videographers must be experienced beyond the apprentice level before being assigned to any type of combat unit.
Whether it's a skirmish with a hostile power or a training exercise, military videographers cover it all. Within the four branches of the service about 2,000 photographers keep daily tabs on the activities of the more than two million American service personnel. And now, with the help of video, Americans can see what's happening on the front lines faster than ever.