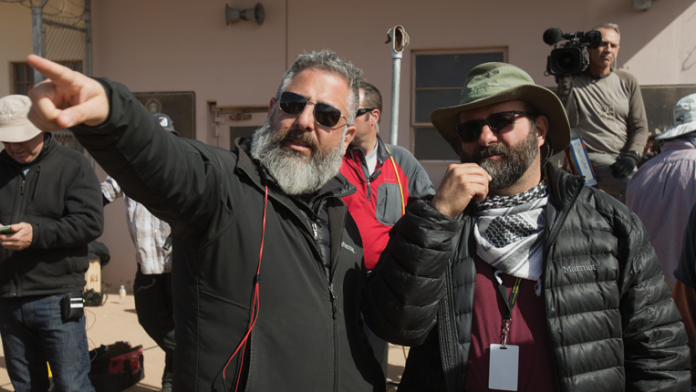 WHISKEY TANGO FOXTROT Left to right: Director Glenn Ficarra and Cinematographer Xavier Grobet on the set of Whiskey Tango Foxtrot from Paramount Pictures and Broadway Video/Little Stranger Productions in theatres March 4, 2016. Photo credit: Frank Masi © 2015 PARAMOUNT PICTURES. ALL RIGHTS RESERVED
Curious about the cinematography behind Tina Fey's new movie with Paramount, Whiskey Tango Foxtrot? Videomaker talks to cinematographer Xavier Grobet, ASC about shooting his most recent film.
Whiskey Tango Foxtrot (military code for the letters WTF), is the latest film shot by Xavier Grobet, the prolific ASC (American Society of Cinematographers) cinematographer and AMPAS (Academy of Motion Picture Arts and Sciences) member who has more than 40 feature films to his credit. The film is directed by Glenn Ficarra and John Requa, from a screenplay by Robert Carlock based on the true adventures of war-reporter-in-the-making Kim Barker and her acclaimed autobiography The Taliban Shuffle: Strange Days in Afghanistan and Pakistan. It marks Grobet's third collaboration with the directing team of John Requa and Glenn Ficarra.
Advertisement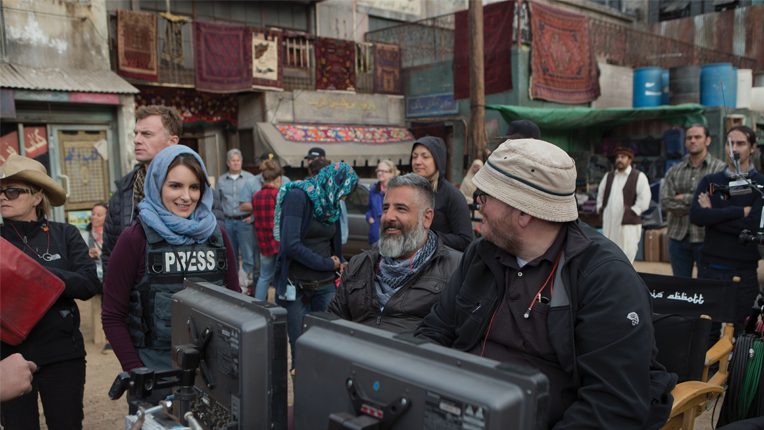 Left to right: Tina Fey, Director Glenn Ficarra and Director John Requa on the set of Whiskey Tango Foxtrot from Paramount Pictures and Broadway Video/Little Stranger Productions in theatres March 4, 2016. Photo credit: Frank Masi © 2015 PARAMOUNT PICTURES. ALL RIGHTS RESERVED.
In Whiskey Tango Foxtrot, Tina Fey portrays Kim Barker in this hilarious and heartfelt portrait of a woman getting her life together in a global hot spot where everything else seems to be falling apart. Joining Fey is a great cast including Margot Robbie, Martin Freeman, Alfred Molina, Christopher Abbott and Billy Bob Thornton. A quick look at the visuals can be seen in Paramount's trailer.
Whiskey Tango Foxtrot's Cameras
"I chose to shoot with the Alexa as my main camera," explains Grobet, "but the nature of this project needed to be flexible. Unfortunately, when we started shooting, the Alexa Mini was not available, and I was in the need of a small camera to do most of our car work because we didn't want to shoot on a process trailer. I found the Black Magic Pocket Cinema Camera for that and was really impressed with the results and what I could accomplish with that little camera. I also used the Sony a7S for some of our night shoots as well as other low-light situations where I was in the need of low-light image capture – including a couple of scenes lit with a full moon."
Grobet continues, "Every project has its own soul and requires different technology. In every movie where I've collaborated with John and Glenn, we always looked for new ways of accomplishing what's needed for the project. Bringing something new each time is kind of what we do. By experimenting with these small cameras, we found non-traditional ways of shooting, opening doors to new possibilities."
Selecting the Main Camera Crew
"I was A Camera Operator because this is a 90% hand-held project," explains Grobet. "I wanted to have the feel of the camera as it becomes an important tool in storytelling. I brought along Stephen Buckingham, whom I had worked with before as my B Camera Operator, and Zach Sieffert as my A Camera Focus Puller. I had previously worked with Zach on Focus and was really pleased with his work. I always ask assistants to pull focus on the knob. I don't believe in using the Preston Remote Focus Pulling System. To me, the communication between the operator and the focus puller has to be physical. We had Gabe Pfeiffer as our B Camera Focus Puller who did a really great job next to Stephen. I've also had the luck to have Patrick Daily as my Key Grip, and Jim Tynes as my Gaffer who were two really experienced and talented collaborators."
The Rigors of Handheld in Whiskey Tango Foxtrot
If Grobet says the hand-held was hard, it must have been really challenging! Some consider him a non-traditional cinematographer because he likes to do his own hand-held camera work. In addition to being a highly regarded cinematographer, Xavier Grobet is one of the most accomplished hand-held camera operators. His camera work in Rodrigo Garcia's Nine Lives is inspirational; the feature is composed of nine shorts each created with single 10-12 minute long, uncut Steadicam shots.
Xavier Grobet is one of the most accomplished hand-held camera operators.
"There was a lot of improvisation on Whiskey Tango Foxtrot," says Grobet. "The challenge for me was to hand-hold the camera for long periods of time. This is the style (directors) John and Glenn prefer in order to get the performances they are looking for."
Grobet recalls, "We used the Ronin System for a few (hand-held) shots in the movie. The dancing scene was one of them. As part of the improvisation process, the dance went on for quite a while. The exhaustion of holding the camera for that amount of time made me collapse and hand it over to Zach (Sieffert), my focus puller, who continued with the shot until they called cut."
Whiskey Tango Foxtrot's Biggest Challenge
"The scene I put the most thought into was the final rescue scene where the lighting is nonexistent," explains Grobet. "I had to make it look like there were no lights on except for a final flashlight. This is one of the scenes I shot using the Sony a7S camera. It was lit with a few LED blocks hidden between pipes and beams."
TV vs. Movies: What's the Difference
While directors John Requa and Glenn Ficarra come from a film background, producers Tina Fey and the legendary Lorne Michaels (Saturday Night Live) come from a strong television background. Cinematographer Xavier Grobet has solid credits that span both worlds. In addition to his feature film work, Grobet has also shot a lot of episodic television and TV movies including Deadwood, Scoundrels, Enlightened, Jane the Virgin, Marco Polo and Looking.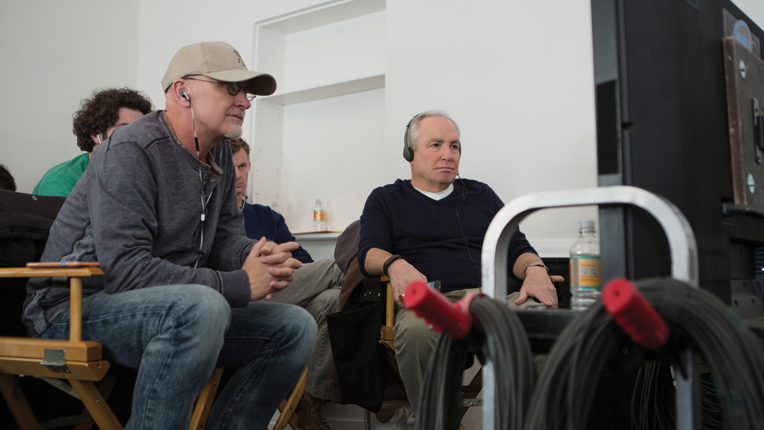 Left to right: Producer Ian Bryce and Producer Lorne Michaels on the set of Whiskey Tango Foxtrot from Paramount Pictures and Broadway Video/Little Stranger Productions in theatres March 4, 2016. Photo credit: Frank Masi © 2015 PARAMOUNT PICTURES. ALL RIGHTS RESERVED.
"Shooting a TV show requires different skills, specifically speed and efficiency. There is much more planning done when shooting a movie and a lot more testing," explains Grobet.
Establishing the Visuals and the Location
"Movies are conceived on the desk," says Grobet who describes his job as, "planning and envisioning the shots and coming up with ideas on how to tell the story with images, not only with words."
"This movie presented many different scenarios, and they all had to be addressed," continues Grobet, "from a Drone P.O.V. to explosions, from Hummers to the streets of Kabul which was shot in New Mexico."
The directors had decided that shooting in a war-torn country was not an option even though they did hire documentary filmmaker Gelareh Kiazand to travel to Kabul to capture 2nd unit footage there. New Mexico was seen as the logical choice as a stand-in for Kabul because New Mexico shares the mountainous terrain and desert beauty of Kabul. The state's generous 25% refundable tax credit rebate on in-state New Mexico production also helped sell the location.
Much time was spent with directors Requa and Ficarra talking about bringing visual scope to Kim Barker's journey. Grobet recalls director John Requa saying, "We spent more time talking about atmospherics on this film, the dust and the smoke and the you-name-it, than all our other movies combined. We went through five tons of dust that we blew in our actors' faces, take after take, literally a flat bed full of bags of dust, and we only had one bag left by the end of production."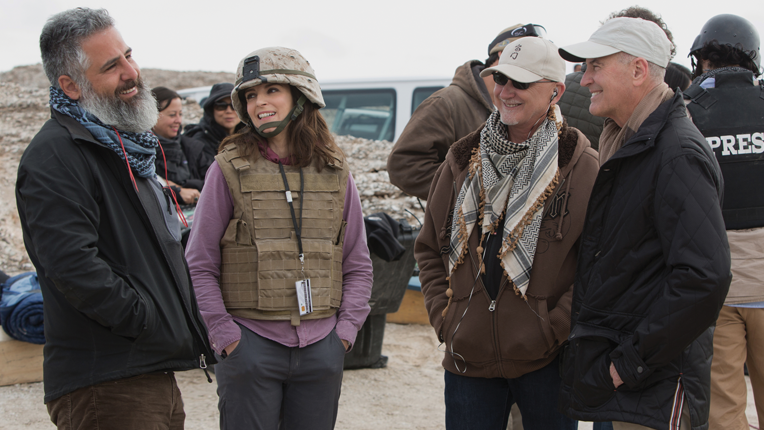 Left to right: Director Glenn Ficarra, Tina Fey, Producer Ian Bryce and Department of Defense Director of Entertainment Media Phil Strub on the set of Whiskey Tango Foxtrot from Paramount Pictures and Broadway Video/Little Stranger Productions in theatres March 4, 2016. Photo credit: Frank Masi © 2015 PARAMOUNT PICTURES. ALL RIGHTS RESERVED.
"The whole look of the movie was dusty and smoky," remembers Grobet. "It was our desire to have atmosphere inside and out. The gear was rugged and withstood it all; of course, we protected it as much as possible, but it was never an issue."
Digital vs. Film
From a man whose first experiences shooting were on a Super 8 camera as a child, Xavier Grobet says on digital video, "I have embraced the technology. I have no issues using what's available now. Digital cameras have given us the chance to create shots otherwise impossible to accomplish. I do miss the texture of film and the quality of the image generated that way, but I believe the tools are there for us to experiment and to get the most out of them. It's great to know that film still exists. There are projects that are required to be shot on film because of a creative decision, and to know that it is still possible makes me happy."
Grobet's Work
Xavier Grobet, ASC, is a Mexican-born cinematographer with a very diverse and impressive career. After the success of Sexo, Pudor y Lágrimas (Sex, Shame & Tears), the third highest grossing Mexican film in 1999, Grobet relocated to Los Angeles. The big break in Grobet's career came after hearing movie plans of the true story of exiled Cuban novelist and poet Reinaldo Arenas. Grobet approached the eccentric director, Julian Schnabel, about working on the project. The resulting release of Before Night Falls in 2000 starring Johnny Depp and Sean Penn garnered numerous awards and nominations including an Oscar nomination for Best Actor (Javier Bardem) and a 2001 Independent Spirit Awards nomination for Best Cinematography for Grobet.
To date, Grobet has earned three Independent Spirit Award nominations and praise from critics nationwide for his work on films such as The Woodsman featuring Kevin Bacon and Rodrigo Garcia's Nine Lives. His work spans genres, platforms, and countries.
Grobet started working on bigger budget pictures with Robert Zemeckis and Steven Spielberg on Monster House. From romance to comedies to drama, Grobet's work includes Marc Lawrence's Music & Lyrics featuring Drew Barrymore and Hugh Grant, writer/director Jared Hess' Nacho Libre starring Jack Black, and Mother and Child by writer/director Rodrigo Garcia with Naomi Watts, Annette Bening and Kerry Washington. Other works include What to Expect When You're Expecting with director Kirk Jones and The Back-up Plan starring Jennifer Lopez.
CW's critically acclaimed pilot for Jane the Virgin was shot by Grobet; this is significant because the pilot usually sets the visual tone for the entire series. On the other end of the spectrum, Grobet recently wrapped on the two hour HBO Looking season finale, and the television movie is slated for a 2016 premiere.
Working with Whiskey Tango Foxtrot's directors, Grobet also shot I Love You Phillip Morris, starring Jim Carrey and Ewan McGregor and 2015's Focus with Will Smith and Margot Robbie.
Advice for Emerging Cinematographers
"Life presents opportunities all the time, and you have two options: either you take them or not. Sometimes it might seem big and challenging, but if you surround yourself with the right people and learn from them, then you'll be a step ahead. Experience comes from practice," explains Grobet. "You build it by testing yourself, learning from others, keeping your eyes open, always looking forward, and overcoming your fears."
Final Thoughts on Whiskey Tango Foxtrot
"The most rewarding moment was accomplishing what I had in my mind," remarks Grobet contemplatively, "and transferring that vision into images."
Whiskey Tango Foxtrot will open nationwide in theaters on March 4, 2016.
Sidebar: Shooting on a Process Trailer
An actor can recite lines or drive a car, but it can be quite dangerous to do both at the same time. A frequent solution to this problem is to use a process trailer, which can also be referred to as a low loader or an insert trailer. The actor only needs to sit in the vehicle and pretend to drive while delivering his lines. A specialized camera truck, which may include cameras, lights, and a boom, does all the work as it tows the process trailer. The trailer, which sits low to the ground, provides a natural, realistic view when shooting a vehicle from the front or the side. The trailer is essentially a shooting platform and can expand in width to accommodate crew. Some process trailers even have safety bars along its sides for added protection.
W. H. Bourne is an author, screenwriter, and award-winning documentary filmmaker.