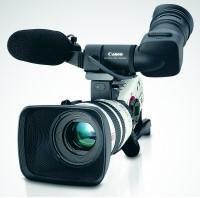 Canon Unveils XL2 Mini DV Camcorder
Canon has unveiled its XL2, which is aimed at independent filmmakers and wedding videographers. With a slated suggested retail price of $4,999, the 3-CCD Mini DV camcorder includes 16:9 and 4:3 aspect ratios along with 24p shooting modes with 2:3:3:2 pulldown. Settings can be exchanged between XL2s with a FireWire cable. A separately purchased software kit will allow programmers to make the XL2's settings accessible to PDAs, computers and other devices. The camcorder will also shoot direct to hard drives (e.g. Focus FireStore, nNovia QuickCapture).
Iomega Ships FireWire REV Drive
Iomega has shipped a bus-powered FireWire version of its REV drive to compliment the USB 2.0 and ATAPI versions of the device. Serial ATA and SCSI versions of the drive should be available by the end of the year.
REV promises read/write speeds of up to 25MB/sec onto the disks, which hold up to 35GB of data.
The FireWire REV drive ships with one Mac-formatted cartridge and includes Dantz' Retrospect Express software. PC users can re-format the included cartridge and use the integrated Iomega Automatic Backup Pro and a REV edition of Symantec's Norton Ghost software.
The FireWire and USB 2.0 versions of the REV drive retail for $400, while the ATAPI version retails for $380.
Ulead Ships DVD Workshop Express, Updates DVD Workshop
Ulead has shipped DVD Workshop Express, a 'lite' version of DVD Workshop suited to intermediate DVD authoring, omitting features like DLT output, dual-layer disc creation, Macrovision flag setting, regional coding and CSS encryption. The Workshop Express will continue to retain the DVD Workshop's menu design and media handling capabilities. The full version will retail for $299, while users of previous versions of DVD Workshop or StudioQuartet can upgrade for $149. Users of MediaStudio Pro 7, VideoStudio 8, PhotoImpact 8.5 or XL, DVD MovieFactory 3 Disc Creator or Cool3D Production Studio can get DVD Workshop Express for $199.
In other DVD Workshop news, Ulead has announced a patch for the full version of DVD Workshop 2. The DVD Workshop 2.2 Update Patch includes 2-pass MPEG-2 encoding and support for dual-layer DVD drives, along with greater support for producing menus with Ulead PhotoImpact. The free patch is downloadable from Ulead's Web site.
Advertisement
Panasonic Releases AG-DVC60
Panasonic's Professional Products Division has released the AG-DVC60, a 3-CCD Mini DV Camcorder that includes a 16x optical zoom lens and a larger body that rests on the shooter's shoulder. The camcorder also features optical image stabilization, 16:9 shooting modes and a 2.5" LCD viewscreen. Like its cousins, the AG-DVC80 and AG-DVX100A, the AG-DVC60 includes scene files, for storing shooting modes used in various settings for quick recall. XLR inputs capable of handling both microphone- and line-level signals round out the $2,795 package. An infrared light source for night shooting is also available for an additional $380.