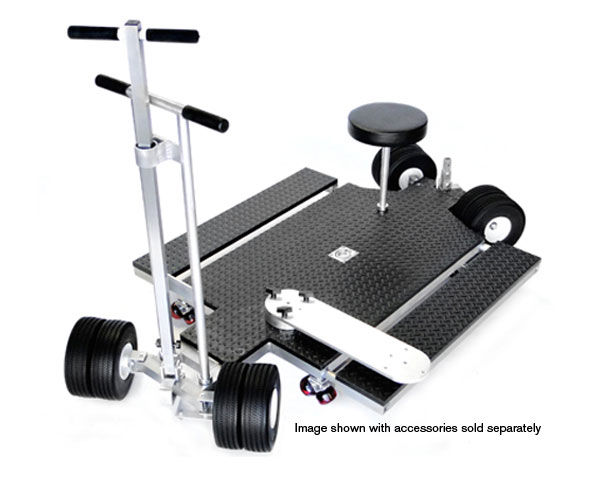 The Black Bear Dolly is both at doorway dolly and track dolly all in one. The absolute ease of use makes this dolly a highly functional much needed piece of equipment for any video shoot requiring the experience of a dolly to get that perfect shot. This hybrid dolly system is one of the easiest and most convenient to use because of the ability to go from track to floor without having to remove the wheels. The operator can leave the floor wheels on while using the standard round track wheels and vice-a-versa. So when on a tight shooting schedule, eliminating set up time is a must, and this dolly will do the trick.
Moves Like a Dream
The Black Bear Dolly offers standard front wheel turning. But in addition to that there are many options to make this piece of equipment truly versatile. With the addition of the roundy round module it will allow the user to obtain 4 wheel steering. The module plugs into the rear and with no tools required. The plug and play design allows changes from two wheel to four wheel steering on the fly. Reinforcing the fact that this dolly is a film producers dream.
Advertisement
Strong, Durable and Stable
This dolly is as strong as they come, with the ability to hold up to 900 pounds, but only weighs 70 pounds itself. The dolly surface is covered with a Diamond Plate Rubber Composite which dampens movement over the roughest of terrain. The Rubber Composite absorbs movement and shock not only in the ground wheels but in the dolly surface itself. Most traditional dollies are covered with carpet which is apt to tear, fray or become moldy after time, but the Black Bear Dolly is different because of it's rubber composite top. With just water and a wet cloth, it can easily be cleaned to restore it to it's original shine.
Available Accessories
The Black Bear Dolly Platform Configuration comes shipped with the following: Seat, t-bar and six ground wheels. There are many accessories to make this a fully customizable and expandable piece of equipment. Some of those accessories include: Sideboards which increase the width by 14″, Roundy Round wheels, low slung mount for ultra low shots, integrated track wheels and pushbar just to name a few.
Product Specifications
Vibration dampening rubber composite on plywood top
Dually rear wheels
Operator seat mounts to six positions on the platform
900 lb load capacity
Weight: 70 pounds
Platform dimension 56″ x 26″; 56″ x 40″ with sideboards
Fully expandable
Price $1,407
Black Bear Studio Systems

www.blackbearstudiosystems.com