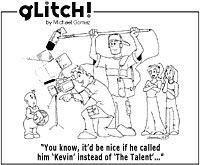 Your Tip

Submitted by a Videomaker reader

Keep it Cool

Having trouble with duplication tapes coming out too dark or having interference on them?

I noticed that at times my duplicated tapes look darker and had more graininess than my master tape. After taking the tapes out of both my source and recording decks, I also noticed that both felt very warm to the touch. When I viewed the duplicated tape, it looked darker than the master. Then I recalled something that I learned in a TV repair course: heat affects numerous sensitive components on a circuit board and will cause all kinds of problems. Realizing that, I set up a 12" desk fan across from my set up and ran it before and during my (re)duplication process. The tapes came out of the decks cool, and my duplicated tape looked more like the master tape. From now on, any work that I do shall be done with my fan running directly on my decks.

Thomas Del Mastro, Sr.

Coventry, RI
Media Cost per Minute

Ever wondered what the most cost-effective way is to get your message from the camcorder to the world? Wonder no more. We surveyed 67 online vendors of media, and recorded the lowest prices for each type of media. Many of the lowest prices are attained by buying larger quantities of media in bulk.



Advertisement



Format
Min.
Price
Cost/Min.

VHS
120
$1.63
$0.01
S-VHS
120
$5.87
$0.05
8mm
120
$3.00
$0.03
Hi8
120
$4.59
$0.04
VHS-C
30
$2.73
$0.09
S-VHS-C
30
$5.68
$0.19
Mini DV
60
$6.08
$0.10
MICROMV
60
$12.83
$0.21
CD-R (burned as VCD)
80
$0.46
$0.01
CD-RW (burned as VCD)
80
$1.17
$0.01
DVD-R, general
135
$3.77
$0.03
DVD-R, camcorder
30
$8.94
$0.30
DVD-RW
135
$6.49
$0.05
DVD+R
135
$3.64
$0.03
DVD+RW
135
$5.76
$0.04
DVD-RAM
135
$11.95
$0.09
DVD-RAM, camcorder
60
$22.61
$0.38
120GB, 7,200 rpm
U100/U133 hard drive, DV
553
$128.14
$0.23