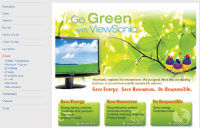 Greener Planet with ViewSonic
ViewSonic, makers of electronics like TVs, monitors and digital signage, has seen the mounting tons of electronic waste filling landfills every year and is working towards being a part of the solution instead of the problem. ViewSonic representatives say that all of their displays released since last summer feature a power-saving mode, which should give the user up to 56% savings in energy costs. The electronic billboards and LCD TVs now use up 40% less power than plasma TVs of the same size.
Besides saving energy cost for the end-user, ViewSonic engineers have designed the electronics using recyclable plastic and a screw-free assembly, meant to reduce the number of parts for future recycling efforts. The company is collaborating with recycling programs to give customers an incentive to recycle or trade. ViewSonic's commitment to being eco-friendly has given them special EPEAT (Electronic Product Environment Assessment Tool) certification for products that "reduce toxic materials and waste, are mercury-free and feature reduced energy consumption." Find out more at: www.ViewSonic.com/Green.
Advertisement
Read our Lips: No More Plastic!
Are you frustrated by overkill plastic packaging that's impossible to open? The annoying plastic casings we're familiar with are designed to stop counterfeiting, tampering and theft, while ensuring visibility of the product and brand. But, besides being so difficult to open, the costs to create and assemble the packaging are often more than those of the product itself.
MeadWestvaco Corporation, www.meadwestvaco.com, has a solution that eliminates a lot of the plastic, freeing the planet of needless waste and freeing our hands from the cuts and scratches as we attempt to open these plastic cocoons. MWV's product, Natralock, is a sustainable alternative to traditional hard-to-open, plastic clamshells and is now being used by many companies like SanDisk. The packaging features a security technology that emits an audible alarm when the package is tampered with or if the ink circuit is broken. Natralock is made from sustainable paperboard and uses 60 percent less plastic on average than clamshells. We applaud MeadWestvaco for their efforts to add a little bit less to the garbage heap every year.
Green Batteries: No Guilt
From wireless mics to battery-powered lights, remotes and some cameras, we use lots of disposable batteries in the video producing world, as well as in other areas of our day-to-day lifestyle. Unfortunately, disposable batteries are bad for the environment, and proper disposal techniques aren't always available, so we guiltily drop the dead batts into the trash with the rest of the garbage. We know about disposal facilities, but not all towns offer them nor make their use very convenient. The Fuji company has come up with FujiEnviroMAX batteries that have no harmful elements, like mercury and cadmium, are landfill safe, and are packaged using recycled materials instead of the PVC plastic many packaging materials carry. Fuji claims that not only do they make their batteries earth-friendly, they practice strict environmentally healthy processing procedures during production. Most of the resources used in the Fuji EnviroMAX manufacturing process are reused and recycled. FujiEnviroMAX batteries come in AAA, AA, C and D sizes. Find out more by going online at: http://www.greenfuji.com. Wall-E would be proud.