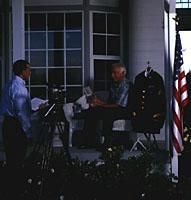 Record the stories of a lifetime for a legacy on
video.
Graying baby boomers, who once thought of the future as a distant event,
are trying to capture some of the past before it's too late. They're asking
family questions. Photo albums are coming out of the closet. Interest in
genealogy and family trees is blooming. This is partly the result of the
popularity of the Internet, which makes it easy to search records of the
past and reach out to far-flung family members.
Our resurgent fascination with the past provides an opportunity for videographers.
You can offer a much-needed service by videotaping the personal histories
of your friends, family or neighbors. Interviews with a personal perspective
are riveting. They can also create important source material for local,
national, and world history archives.
Everyday Interview Subjects

Prime subjects of personal video interviews are the people that columnist
Bob Greene calls the World War II generation. These people saw the Great
Depression, World War II, the Korean War, Vietnam, the advent of television,
the rise and fall of communism and even the rise and fall of disco. Their
personal experiences are meaningful to future generations and your camcorder
can preserve them on videotape.
Family members are a good place to start looking for interview candidates.
Other good contacts are veterans groups, historical societies, retirement
homes, the AARP (American Association of Retired Persons), and local organizations,
such as Rotary, Kiwanis, Lions, or Exchange Club, that have older members
who've been active in the community. Some groups might be interested in
recording the histories of their prominent members. Families often commission
video histories of older relatives. Some individuals even pay for their
own interview tapes.
Don't get caught up in big names and big historical events. It's nice to
have a survivor of Pearl Harbor or the Holocaust recount his or her memories,
but everyday stories contain enough emotion and humor to be interesting
on their own. A story about an average experience gives us context for other
fascinating moments of history.
I once recorded an interview of a retired police officer who had been an
investigator in major drug busts and corruption. The most interesting stories,
however, concerned his time walking the beat as a new police officer. When
he joined the force in 1949 as the youngest officer in the department, he
received his gun, his badge and special training, which consisted of the
statement: "Don't arrest anyone and you'll stay out of trouble."
That anecdote added color to his history and also hinted at the larger social
problem of law enforcement corruption. With the right questions and good
listening skills, you can elicit special moments in anyone's personal history.
A Personal Style

PBS recently broadcast a program about Harry S. Truman. Photographs
and archival film illustrated the documentary. The most special, the most
emotional, the most revealing of the sequences were the personal interviews
from those who served him.
Many people think they have nothing to say, but once an interview gets going,
memories come flooding back. My wife and I once interviewed a friend who
founded a community project called Christmas House. The project provided
Christmas gifts for children whose parents couldn't afford family presents.
We planned to record her thoughts associated with that project but instead
she talked about her childhood, living, riding and shooting on a ranch in
California. She talked about her marriage and missionary work in China.
She talked about conversations with Madam Chiang Kai-shek. It was fascinating.
In amazement she said, "I've told you stories I've never even told
my children."
That's the way it is with personal interviews. Stories come out that were
half-forgotten. Those are stories that would have been lost forever if they
had not been recorded. Videotaped interviews provide a legacy of wisdom
and information.
Interviews can be any length; those commonly produced for profit generally
take about three hours and result in two full hours of recorded videotape.
Three hours usually wears people out, so you wouldn't want to go much beyond
that in a single sitting, although you can always set up several shooting
sessions.
Simple Equipment Bag

The Truman program on PBS had no fancy special effects. There was only
a microphone, lights, the camera and a person telling a story. Recording
personal interviews doesn't require much more than that.
Personal interviews can be videotaped easily with a camcorder and some basic
questions (see sidebar). If you're taping for a fee, it's a good idea to
throw in at least one light and an external microphone for better audio.
For more about equipping the video interview, see "The Technical Side
of Interviewing" on page 103 of the May 1997 issue.
Making It Pay

Personal-history videos offer several money-making opportunities. You
can charge a fee for recording the interview and another fee for editing
it. Make extra copies of the master tape for additional family members or
to give to libraries or historical societies. Funeral homes that make pre-need
arrangements for funeral services could offer personal-history videos as
part of their package.
Transcribe a videotaped interview for an additional fee. Stenographers can
do this for you, but volunteers are cheaper. Transcriptions let the interviewee
quickly review the conversation and cut out any comments that might hurt
someone or incur legal problems. Transcribed interviews also make nice keepsake
books for family members.
Work gradually into personal interviews by adding them to your current video
services or offering them to friends. For a fiftieth wedding anniversary
party a friend had us transfer 40 family photographs of his parents and
siblings to video and add special effects and music. We then attended the
anniversary party and projected the video on a large screen for the guests.
We also shot footage of the friends and relatives who attended the party.
Several weeks later we interviewed the parents on video. On the master tape,
we combined the original photo production, added a montage of party shots
and followed that with the edited personal interview. The length of the
final version was just under an hour. The family trusted our judgement on
the editing and didn't want to see the video until it was completed.
Everyone loved the portion shown at the party. Brothers and sisters, relatives
and friends all came up to us and told us how much they enjoyed the video.
The word we received back from the immediate family on the final video was
equally glowing. Both parents and children loved the personal stories captured
in the interview. And, yes, the children heard stories they had never heard
before. Personal interviews can have really happy endings, especially for
videographers.
---
Personal History Interview Questions


What stories did your grandparents tell you?

What was life like for your parents when they
were children?

What was your life like as a child? What's the
first thing you can recall?

What kind of child were you? Did you ever get
into trouble? What did you wear? What did you look like? What did you like
to do? What was your fondest memory? Your saddest?

What shaped or influenced you?

How did you meet your spouse? How old were you?
What did you do on dates? How long did you date? When did you know that
you were in love? What did you do in the early years of your marriage?

Where have you lived? What was a typical day
like in that place?

What did you try to teach your children?