Some serious consideration must go into making the move to 4K video production, acquisition being the affordable part. Video producers seeking to step up to serious 4K video production need to also think about the editing: workflow, computer processor power and program options, as well as field monitors (see sidebar) capable of providing the real picture.
You have the budget for a move to 4K video production: well, to get that 4K video camera anyway. What are your options? You need to consider how much it will cost and if you can afford the camera, not to mention the inevitable accessories and a 4K monitor. Monitor? 4K video monitor or not, do you need to see every pixel? And storage. Keep in mind 4K video will eat up some serious bytes with a high bitrate, some at 150Mb/s.
Can you get into 4K video production for under a thousand dollars per "K"?
Advertisement
Some solid, affordable 4K video production units are now available at just about any budget. If you want to start working in 4K video production, or at least acquiring ultra-high resolution footage, read on. There's hope for the serious 4K video producer. Most of the major name brands: Canon, Sony, Panasonic, JVC, GoPro, and Blackmagic Design have offerings.
What 4K video production options are out there? What are their strengths, weaknesses? How much do they cost? Can you get into 4K video production for under a thousand dollars per "K", $2,000?
Consumer 4K Video Production Cameras Less Than $1,000
GoPro has offered a 4K option with the HERO3, and now the HERO3+, and it's actually less than $500. But there are limitations. You still can only shoot at most, 15fps in 4K video mode.
The HERO3+ Black Edition ($400) has 3840×2160 at 15fps and 2704×1524 at 30fps enabling, "ultra high resolution, cinema quality capture." It may well be all the 4K video production capabilities you want, especially if you're into the action sports scene, shooting unique points of view.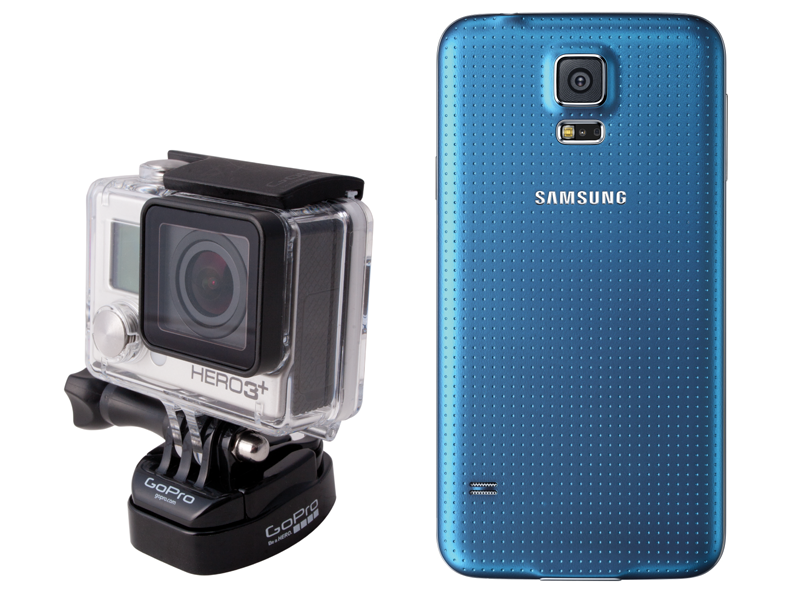 If you can deal with the shakes that make shooting 4K video with a smartphone problematic, you could try the Samsung Galaxy Note 3 whose price will vary between a couple and several hundred dollars, depending on the plan you purchase it with. With stabilization you can shoot some 3840×2160 footage that is usable. It has its limits but hey, you can acquire some 4K video.
Another interesting little 4K video production possibility is the ultra-light Point Grey Flea3 8.8MP ($895) shooting 4K at 21fps but it has to hook up to a Windows PC with a USB cable to record. You wanted to get into 4K video production, right?
Consumer 4K Video Production Cameras Less Than $3,000
Outside Blackmagic Design's Production Camera 4K ($2,995, lens not included) there seems to be few in what might be considered the budget sweet spot for independent video producers looking at 4K video production. It does offer RAW and ProRes 422 format options and multiple frame rates. It offers an EF or ZE lens mount and records to removable SSD drives.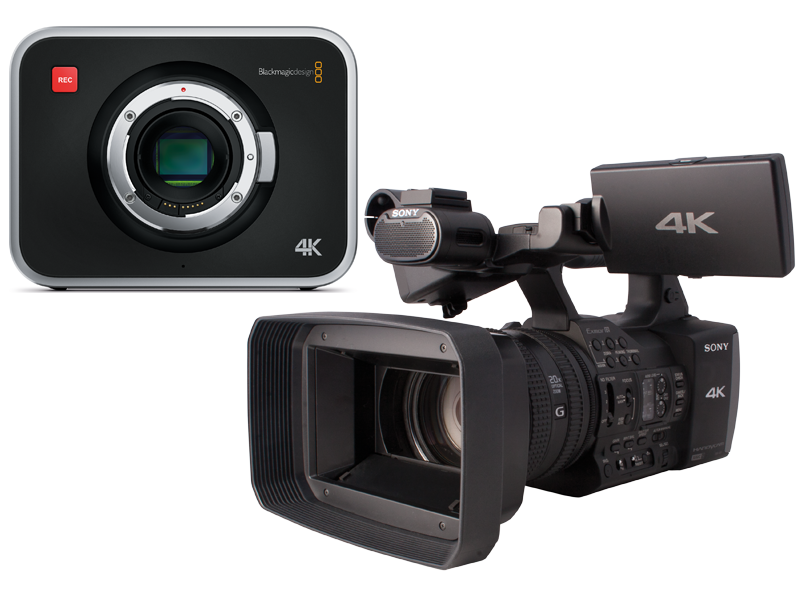 So, if you don't want to purchase a lens for your 4K camera, you may consider the Sony FDR-AX100 at $2,000. It has a fixed lens and small camcorder body with a 1-inch sensor for recording 3840×2160 video at 30 or 24fps. A nice touch is that it will record to the familiar SD cards, but no shipping date is available yet.
At the next level, with professional 4K video production options, the cutting-edge video producer will have no trouble moving up, at least on the acquisition front.
Professional 4K Video Production Cameras
Move your budget beyond the $4,000 bar and there is a host of 4K video production cameras available. The cutting edge video producer that wants to stay in front of the 4K curve, and has no qualms about spending the money, can break the budget stratosphere at $100,000 and more, however, a lot of 4K video production ability can be had for much less.
Sony's FDR-AX1 4K ($4,500) comes with features the professional 4K video producer will want and need: XLR inputs, ND filters and a familiar form-factor. It uses Sony's XAVC S codec, very highly compressed, and may be limited to editing, more easily, with Sony Vegas software.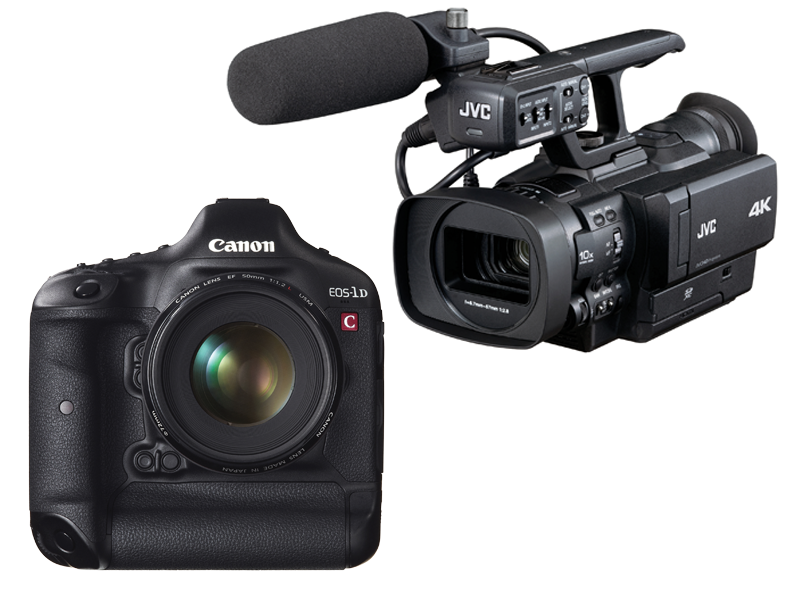 JVC brought 4K video production to the budget-conscious video producer with the GY-HMQ10U ($4,995). What JVC says is "the world's first hand-held" 4K capable camcorder offers a lot of production value for the buck. It comes with a fixed lens with f/2.8 and 10x zoom. The form factor is similar to the company's popular GY-HM150 unit. It provides most of the manual/auto options a 4K video producer wants and expects. It allows for 4K recording at 60p, which not many other cameras can claim.
Again, you'll need some lens solutions if you don't already have some that will work with the RED Scarlet-X ($7,950, body only) but much has been said about this unique 4K video production camera system. This interchangeable lens unit allows 4K up to 30 fps. Investing in other, necessary, accessories and modules is going to seriously uptick your budget requirements, so keep that in mind if you decided to go this route.
REDCINE-X PRO software is available free at the RED.com website. SSD media is used, providing 4K video capacities from 48GB to 512GB, using its REDMAG media. The system offers a lot for your investment and move toward 4K video production.
Canon offers the EOS-1D C ($16,000, street price $12,000) as one 4K video production acquisition option among several. Again, you'll need lenses that will work with this unit, possibly kicking your investment skyward. The "hybrid" DSLR form factor uses DF cards for recording and accepts Canon's compact EF-mount lenses. It offers a PL-Mount version. The 4K footage is recorded as Motion JPEG at 24p. It also provides HD recording options.
Canon also offers the the EOS C500 ($25,000) utilizing the same construction as the EOS C300 but offering 4K, 2K multiple output formats, Cinema RAW capture, slow and fast motion and full manual control.
For those who have appreciated Sony's NEX-FS700, the company offers a 4K upgrade. The camera is $7,500 but the memory recorder, AXS-R5 ($6,300) and interface unit, HXR-IFR5 ($2,500) will more than double your investment budget.
Of course there are more, like the Sony PMW-F5 CineAlta 4K ($19,400) and FOR-A's FT-ONE ($135,000) if you have a no-limit budget, or are thinking to rent a high-end camera. Vision Research has the Phantom Flex4K, starting at $99,000, which you'll also probably only consider renting, if you're able to make use of its special capabilities.
What's in the 4K video future?
Panasonic has the DMC-GH4 with 4K video capabilities, with an announcement due in March. It certainly got the Videomaker crew all jazzed up. Almost certainly Canon, Sony, JVC and others will continue to focus on 4K video production camcorders in this pricing sweet spot. Though, like Philip Bloom notes, 4K video monitors (televisions) remain best suited for 4K production, with little or no offerings to consumers. Prices are coming down to what Bloom refers to as "dirt cheap" but content is yet to come.
For the video producer with an eye on acquiring 4K video production capabilities, from experimenting to serious commercial production options and wanting awesome resolution regardless of the price or necessary editing upgrades, 4K video production is now within reach of most any budget.
Sidebar
4K monitors, do you have to see every pixel?
Yes, it would be great to view your 4K video footage on a 4K video monitor but do you have to see every pixel or spend $40,000 for a Samsung 85-inch S9 Ultra HD TV to edit or watch it? There are options and prices that might be a bit more palpable rather than causing palpitations. Dell is providing options such as the 24- and 32-inch UltraSharp monitors ($1,300 and $3,000) respectively) which feature PremierColor for 99 percent AdobeRGB and 100 percent sRGB color. The Dell 28 UltraSharp monitor dips down to $700, but doesn't include the PremierColor. Now each of these thus far is not really designed for a video shoot, and 4K monitors have yet to be perfected for the studio and field. Here's some great monitors that aren't 4K, since 4K monitors are not essential to such productions. Producer Philip Bloom says "resolution is not the be all and end all."
There are many options and yes, monitors can be expensive, but affordable good quality units are available if you shop around and check the specs.
Contributing editor Earl Chessher is a veteran career journalist, independent video producer and author of video marketing and production books.