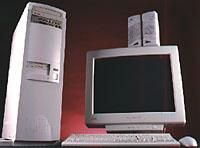 Good to the Core

PhEnix X2 Turnkey Nonlinear Editing System

($5765)

Core Microsystems

96 Bonaventura Drive

San Jose, CA 95134

(800) 886-2752

www.coremicro.com
The best way for anyone to get into nonlinear editing is to buy a turnkey nonlinear editing system. With one, you can start editing video on your new system without having to be a computer whiz. The Core Microsystems PhEnix X2 turnkey nonlinear editing system is built with parts that would impress the more advanced editor, but is priced within range of beginning videographers.
Inside the Core

The Core Microsystems PhEnix X2 is built with name brand parts inside. They start with a dual-processor capable SuperMicro motherboard with on-board SCSI, and a single Intel Pentium III 450MHz chip. It also has 128MB of RAM, a 6.4GB IDE system drive and a pair of 10GB IDE capture drives configured into a RAID (Redundant Array of Independent Discs) with a Promise Technology FastTrack RAID controller. There is also a 16MB Nvidia TNT AGP video card, a 32x SCSI CD-ROM, and a Creative Labs SoundBlaster 64 AWE. All of this hardware surrounds the Canopus DVRex-M1 capture card (reviewed in the June 1998 issue of Videomaker).
The DVRex-M1 includes a breakout box that is nicely mounted in one of the full-size drive bays on the front of the system. Besides this awesome feature that makes plugging in equipment easy, the DVRex-M1 is a full-featured analog and digital video and audio capture card.
To edit the video once you've captured it, the PhEnix X2 we tested came bundled with Ulead MediaStudio 5.2. Since then, Core Microsystems has changed their bundle and the system now ships with Adobe Premiere 5.1 (which was reviewed in the June 1999 issue of Videomaker. Keep in mind that we didn't test the PhEnix with Premiere). In addition, it also includes Canopus' RexEdit software and Artel Software Boris FX (reviewed in the July 1999 issue of Videomaker).
Doing the Video Thing

After cabling the tower to the monitor, keyboard and mouse the system was ready to go. All we had to do was plug it in and edit. No software installations necessary. Capturing is a snap using the DVRex-M1. It can capture from Mini DV camcorders using the FireWire jack, or analog camcorders with the S-video and RCA jacks. We tested the unit with a Sony DCR-TRV900 using FireWire for digital capture and S-video for analog capture. The system worked well, and the hard drives were able to keep up with the capture card with no trouble. The result was some well-captured video that didn't have any dropped frames.
Although there are reports on the Canopus Web site about problems using the DVRex-M1 with MediaStudio Pro, Core Microsystems seemed to have taken the issue to heart. The PhEnix X2 was properly configured to handle the issues between the DVRex and MediaStudio Pro (although, now the PhEnix is shipping with Adobe Premiere making any potential issues with MediaStudio Pro moot).
Who Needs a Core

The Core Microsystems PhEnix X2 turnkey nonlinear editing system worked better than many higher priced systems. It worked right out of the box, with no unsettling error messages popping into the screen. It captured analog and digital video without dropping frames.
At $5765, the Core Microsystems PhEnix X2 is priced in the same range as the Apple Final Cut Pro Bundle that was reviewed in October 1999 issue of Videomaker. Although comparing the systems head-to-head would be akin to comparing apples and oranges. This nonlinear editing system is one of the best the Windows platform can offer, without going over $10,000.
With the top-line capture, video and sound cards, this system doesn't skimp on the gravy. The ability to capture analog and digital video also makes this system perfect for the more-advanced videographer who still uses Hi8 or S-VHS equipment, but has plans to also get a digital camcorder equipped with FireWire. -LL
Tech Specs: Core Microsystems PhEnix X2 Turnkey NLE System
Processor: Intel Pentium III 450MHz (single CPU on dual-CPU motherboard)

RAM: 128MB

Drives: 6.4GB IDE system, 2x 10GB IDE capture drives in RAID, 32x SCSI CD-ROM

Sound: Creative Labs SoundBlaster 64 AWE

Input/Outputs: on Sound Card mini mike, headphone, line-in, line-out, joystick

Video Card: 16MB Nvidia TNT AGP

Input/Outputs: on Video Card VGA, S-Video, RCA

Capture Card: Canopus DVRex-M1

Input/Outputs: 3x IEEE 1394, S-video (1 input, 1 output), RCA video (1 input, 1 output), RCA audio (2x input, 1 output), digital audio (1 input, 1 output)

Other Input/Outputs: 2x USB, Ultra 2 SCSI, parallel port, 2x serial port, 2x PS/2

Included Accessories: 21-inch Iiyama monitor, breakout box for DVRex-M1, Logitech MouseMan with scroll wheel, Promise Technology FastTrak IDE RAID controller, speakers, Ulead MediaStudio Pro 5.2*, RexEdit 2.1, Artel Software Boris FX

*Although we tested the system with Ulead MediaStudio, this system is now shipping with Adobe Premiere.
strengths



breakout box

quality parts in system

low cost

weaknesses



many systems cost less

has SCSI on-board, but uses IDE hard drives

summary

A well-configured turnkey nonlinear editing system at a great price.