Video shooters and independent filmmakers are always on the lookout for the newest cameras with which to capture beautiful images — without emptying the bank account. In recent years, DSLRs and mirrorless cameras with interchangeable lenses and large sensors have been all the rage. However, all-in-one style camcorders remain a favorite for professional run-and-gun video shooters because of their versatility and ease of use.
Sony continues their long tradition of quality camcorders with the PXW-X180, a handheld solid-state memory camcorder and the latest addition to the XDCAM Series. The Sony PXW-X180 has many hardware upgrades and more recording options, plus added wireless functions that take advantage of the latest mobile technologies.
3 Chip Goodness
What really sets the PXW-X180 apart from most camcorders are the three ?-inch full HD Exmor CMOS image sensors. It shoots beautiful full HD (1920 × 1080) without any pixel interpolation thanks to two million effective pixels from each CMOS sensor.
Are three chips better than one? When comparing ?-inch size chips, absolutely. By recording primary colors of red, green, and blue to separate chips, the three-sensor design produces the highest quality and most precise color reproduction possible. Single chip cameras capture all three primary colors on one sensor, interpolating missing RGB color information and reducing the color accuracy. Three-chip cameras also have increased dynamic range due to larger individual photosites than a single-chip CMOS sensor of the same size.
What makes Sony's Exmor CMOS image sensors special? Exmor is the name of a technology developed by Sony, combining the speed of a CMOS sensor with the advanced sensor technologies Sony has accumulated through years of developing CCD (charge-coupled device) image sensors. Exmor performs on-chip analog/digital signal conversion and two-step noise reduction, resulting in enhanced detail with lower noise.
The PXW-X180 doesn't shoot 4K, but it's not meant to play in that category. Instead, it's a 1080p powerhouse. The three 2MP image sensors provide crisp, accurate images, and its many recording options enable a smooth workflow from recording to editing to distribution.
What really sets the PXW-X180 apart from most camcorders are the three 1/3-inch full HD Exmor CMOS image sensors.
Action shooters will be delighted with the X180's slow motion capabilities. It can record up to 60 frames per second at 1080p. It can also record 120 frames per second at 720p. To shoot the higher frame rate, the camera samples the center of the image sensor, resulting in a narrower field of view.
Behind the Lens
The PXW-X180 comes equipped with a G Series fixed zoom lens that delivers a crisp, clean image even at its highest magnifications. Focus, zoom and iris can be manually controlled with three independent control rings with end-stops. The switchable focus ring allows you to either lock the focus control to the indexed ring or let it to rotate freely by pushing or pulling the grip. As an added benefit, the focus indicator can be displayed even when focusing manually.
Run-and-gun shooters will also appreciate the optical image stabilizer, which works by using a floating lens element to offset horizontal and vertical vibrations. Those needing additional image stabilization can use Active SteadyShot, which digitally stabilizes the shot in camera by punching in on the electronic image and shifting the pixels frame by frame.
The coolest feature of the Sony G Series lens is its amazing 25x Optical Zoom. Aided by the X180's ?-inch sensor size, the 25x zoom lens goes from a 235mm (the 35mm sensor equivalent of a 26mm lens) for nice wide angles all the way to a 650mm equivalent for telephoto shots. Turn the zoom ring for quick manual adjustments, or use either the zoom lever or the handle zoom for smooth fine adjustments.
ENG shooters and live event videographers will appreciate the PXW-X180's large depth of field, but indie filmmakers seeking the shallow focus "film like" look aren't out of luck. Experienced camera operators can easily obtain a shallow depth of field with a long lens settings and open aperture. To allow shooters to keep the aperture open even in bright situations, the PXW-X180 features a Neutral Density (ND) filter with four mechanical positions. But it doesn't stop there.
The PXW-X180 is Sony's first professional camcorder to feature a variable ND filter controlled with a simple dial operation. How variable? Choose anywhere from 1/4ND to 1/128ND… that's 12 f-stops! We found this feature incredibly useful when shooting outside under changing light conditions.
A Brighter View
The PXW-X180 is equipped with a 3.5-type QHD LCD panel (960 x 540 xRGB, 16:9) that provides easy viewing in a wide range of lighting conditions. In addition, the 0.5-inch OLED (Organic Light Emitting Diode) viewfinder offers brightness, contrast and clarity in 1024 × 768 High Definition. The high resolution and dynamic range aid in precise manual focusing.
You can put the screens to work with the usual on-screen meters and scopes using Sony's efficient button layout. Zebra patterns and focus assist are accessible with the touch of dedicated buttons, and you can switch between the Vectorscope, Waveform or Histogram with a press of the video signal monitor button. The wide array of external control dials, switches, rings and buttons lets you see the image you're adjusting rather than having to wade through on-screen menus. This is especially useful for quick adjustments in the field.
Get Connected
Although the PXW-X180 excels in field videography, it's also at home in the studio. Its many connection options let you hook up a wide variety of production monitors, media recorders and more. Connection options include:
• 3G HD-SDI (BNC connector)
• HDMI, Type A
• USB 2.0, one mini-B and one type A (for Wireless LAN module)
• composite output (BNC connector)
• timecode input/output (BNC connector)
• genlock input (BNC connector)
In addition to all these cabled connection options, the PXW-X180 has many wireless capabilities. Functions such as zoom, focus and record can be controlled remotely with the Lens Remote (LANC) interface. The included infrared Wireless Remote Commander provides basic recording and playback functionality, and you can get more control through the WiFi/NFC controls.
A IFU-WLM3 dongle is supplied with the PXW-X180 and when attached, the camera can be controlled remotely through a WiFi connection with a smartphone or tablet. You can also download proxy MPEG-4 files to your mobile device for shot playback or quick field edits.
A WiFi connection requires you to type in 12-digit IP addresses and a password, but fortunately NFC (near-field communication) capabilities allow easy one-touch setup of a compatible smartphone or tablet. Version 2.0 firmware update for the PXW-X180 now allows wireless streaming of content live from the field through a wireless network such as 3G, 4G, LTE and Wi-Fi.
A laptop or a Teradek can function as the receiver necessary for the streaming function, and using the Content Browser Mobile app, a smartphone or tablet can be used as a camera remote control to operate start/stop, zoom, focus and iris and also review clips. The Content Browser Mobile app can be downloaded from the App Store or Google Play. Mobile devices need to be iOS 4.3 to 7.0 or Android 2.3 to 4.3 in order to use the app.
News gatherers and metadata junkies will be happy to know that GPS data is recorded in two file locations automatically.
On-camera audio is what you'd expect from a high end camcorder, but the PXW-X180 is equipped with two XLR inputs. On top of the camera, you'll also find the Multi Interface Shoe (MI Shoe), which allows you to connect a Sony wireless microphone or top light without having to use cables. When compatible accessories are attached to the shoe, they can be controlled via the camera.
Memory Card Options
The PXW-X180 features two SxS memory card slots that can record in either "Simul" or "Relay" mode. "Simul" mode permits simultaneous recording to two memory cards, providing immediate file backup. Those who shoot for extended periods of time will appreciate the "Relay" mode, which automatically switches recording from the first card to the second when the first is full.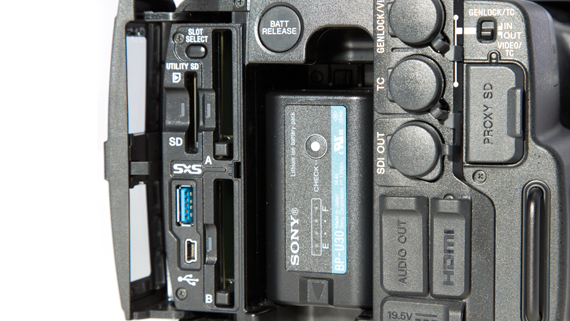 The SxS card slots are compatible with SxS PRO+ and SxS-1 memory cards, which feature tremendous speeds but are pricier than other media. With the appropriate adapters, you can also use XQD Memory Card S Series, Memory Stick PRO-HG Duo™ Media, or SD/SDHC Memory Cards (SD Card Class 10 or higher recommended.)
A separate SD card slot is available for the purpose of recording proxy video. The PXW-X180 records H.264 proxies on the SD card in the MP4 format for wide compatibility with broadcast systems and online sharing. The bitrate and resolution can also be changed to optimize your workflow and to speed up content sharing over low bandwidth mobile networks. Proxy video is recorded separate from main line recording.
Recording Options Galore
Sony offers a plethora of recording options on the PXW-X180 to fit your workflow. These include the XAVC codec for high quality work, plus many MPEG and AVCHD options all the way down to standard definition DV.
The PXW-X180 offers two flavors of XAVC technology. XAVC-I uses intraframe compression, which means that each frame is encoded independent of other frames. With 10-bit 4:2:2 color sampling and Intra-frame compression at up to 112 Mbps, this codec provides superior image quality at the price of larger file sizes. XAVC-L (Long GOP) files are much smaller in size because they use a lower bit rate compared to Intra technology.
The PXW-X180 also creates MPEG HD 422 (50 Mbps) and MPEG HD 420 (35 Mbps) in MTS file format for those seeking backward compatibility with other camcorders, production houses and broadcasters. Lastly, it can record DVCAM at 25 Mbps in MXF file format for those still stuck in the world of standard definition.
Hands On Testing
We tested the PXW-X180 inside and out, recording to a 64GB XQD memory card while proxy recording to an SD card. WiFi controls were tested with a Samsung Galaxy S4 smartphone operating Android 4.2.2. All features performed as advertised, and operating the PXW-X180 was a breeze thanks to the camera's user friendly layout.
The 25x Zoom and variable ND filter allowed for quick on-the-fly adjustments under a variety of lighting conditions. Autumn colors were reproduced beautifully. There was very little image noise until we tried shooting in low light conditions with 9dB gain. Overall, the image quality is much higher than what we expected from a fixed lens camcorder.
Weighing over seven pounds with lens hood and accessories, the PXW-X180 is on the heavy side for a handheld cam. But that extra weight was worth it when you consider all the packed in features normally only found on much larger production cameras.
Conclusion
The Sony PXW-X180 is a superior professional camcorder for run-and-gun shooters. Its versatile all-in-one package provides beautiful images and a multitude of recording options to fit your workflow.
Sony Corporation
www.sony.com
$5,000
Tech Specs
Image Sensors:3 x ?-inch type Exmor CMOS
File Formats: XAVC/MPEG2/AVCHD/DVCAM
Frame Rates: 1920x1080p: Frame rate selectable 1 to 60p (depends on Recording Format)
1280×720: 1 to 120p (depends on Recording Format)
Recording Media: 2 x ExpressCard/34; supports SxS PRO+ and SxS-1 memory cards (for XAVC/MPEG2/AVCHD/DV)
1 x SD/SDHC/SDXC (for Proxy)
1 x SD/SDHC/SDXC (for Utility)
Shutter Speed: 1/32 to 1/2000 sec
Sensitivity: ISO 200-409600 equivalent
Viewfinder: 0.5-inch (1.27 cm) color OLED, 2.36 million dots
LCD Monitor: 3.5-inch (8.89 cm) color LCD, Aspect ratio: 16:9, 1.56 million dots
HDMI Output: 1 x HDMI, Type A
SDI Output: 1 x 3G-SDI, BNC connector
Composite Output / GENLOCK-IN: 1 x BNC connector
USB Terminals: 1 x USB 2.0, mini-B
1 x type A (for Wireless LAN module)
Audio Inputs: 2 x XLR 3-pin, female
Audio formats: LPCM, AC-3 (AVCHD): 2 channel
LPCM (XAVC/MPEG2/AVCHD/DVCAM), Dolby Digital (AVCHD): 2 channel
Power Requirements: 19.5 VDC (AC Adaptor), 14.4 VDC (Lithium Ion battery pack)
Strengths
Crisp and clear color reproduction
25x zoom lens with variable ND filter
Easy to use controls
Many recording options
Weaknesses
Image noise at 9dB gain
SxS memory cards are pricier than other media
Joshua A. Siegel is a filmmaker and visual effects artist.