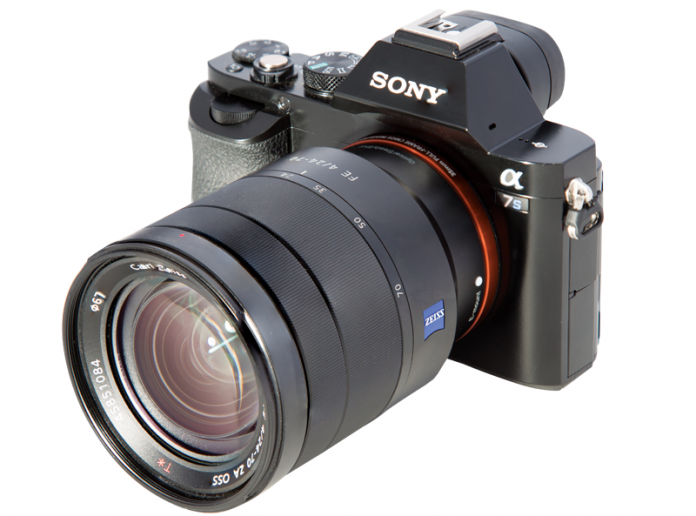 If you are looking for pro features in a compact DSLR package, then the Sony a7S should be on your short list. It features a full-frame 35mm sensor but instead of cramming on more pixels Sony opted to scale back the number of pixels from earlier versions for some important reasons; with only 12.2 megapixels it allowed them to increase the size of each pixel giving the a7S amazing low-light sensitivity and 15.3 stops of dynamic range. It also allowed engineers to avoid the dreaded line skipping. In fact this camera may be worth the asking price of $2500 just for the night-vision and dynamic range alone but you also get uncompressed 4:2:2 full HD and even 4K from a sensor optimized for video. The a7S is an incredibly powerful tool, capable of creating professional documentary, wedding and independent productions all in a package that could almost fit in your pocket.
Good Things in Small Packages
The a7S is small by DSLR standards and could easily be mistaken for the no-so-distant cousin of a vintage Contax film camera or for a tricked-out point and shoot. It can hide behind a standard 3.5 x 5-inch photographic print and is a hair less than two-inches thick. Despite its diminutive size it has a very solid feel and with its right side grip it is easy to hold with smaller lenses, but attach a zoom of any decent size and it will feel very front heavy and you'll be tempted to hold more lens than camera.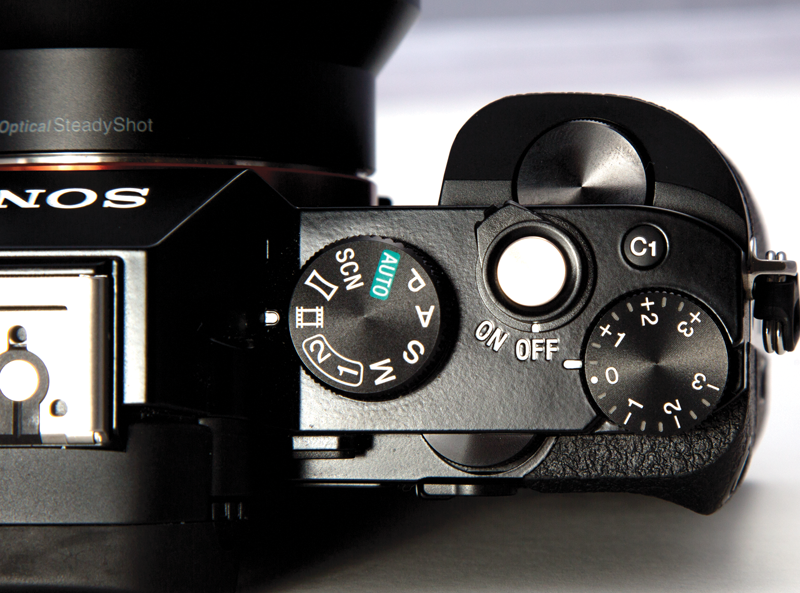 The a7S controls are in nearly all the right places and all but the menu button are on the right half of the camera. Your right thumb and index finger fall naturally over four knurled scroll dials near the top right that control shooting mode selection, exposure compensation, shutter speed and aperture. The on/off switch and two custom function buttons also inhabit this area. We really liked the firm resistance and positive incremental detents of the dials as it makes it easy to select the right setting without overshooting.
Advertisement
The multi-function control wheel on the back is necessarily smaller than cameras in the DSLR category that we've tested, so we needed to pay more attention to where our clumsy thumb wanted to scroll and press. You can program many of the buttons and dials to control other functions. The auto/manual focus lever surrounds the multi-clip/image display button and you can assign one of as many as 30 different custom functions to the Fn button. Play and the customizable delete button are on the bottom right.
This little powerhouse is packed with many pro-level features and a few that even the big boys can't match.
The only control we found awkward was the all-important record button. Sony made it very small, recessed and placed it high on the right rear corner. We did our first camera tests in the dark and it was cold out, so trying to find it with a numb thumb was impossible and we had to move into a lighted area to find it. Even when we could locate it by feel it was hard to start and stop without also recording lots of movement. This makes it difficult to record scenes when forced by lack of time or post production resources to smoothly edit in camera.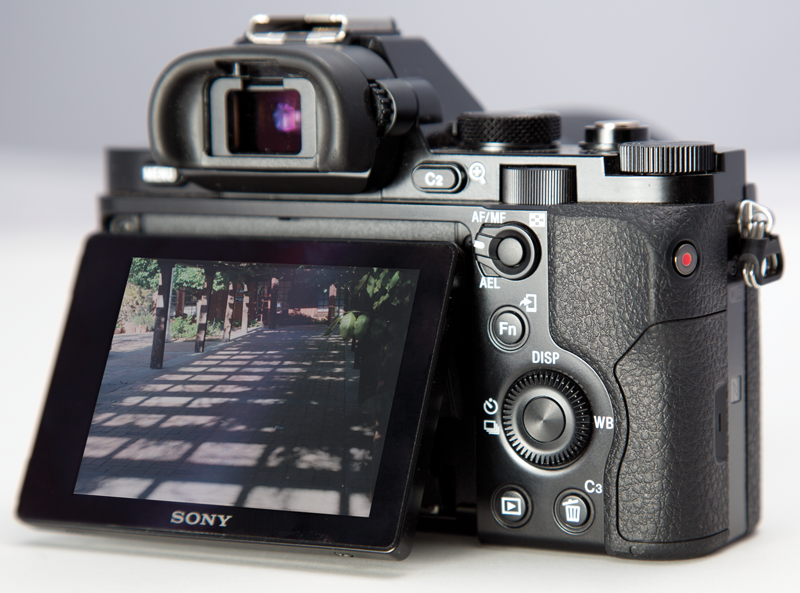 The LCD monitor is very sharp and bright and its tilting action is unique, giving you an 84-degree swing up for low angle shots and about 45-degrees down for those above the crowd angles. It works fine as long as you haven't just slipped it off your tripod that has a mount that extends out the rear. Our Manfrotto mount prevented any downward tilt.
The a7S has a host of recording capabilities both wireless and internal such as an embedded remote control application called Smart Remote that lets you control the camera's key functions using your smartphone. You can also send images to your smartphone, computer or wireless enabled TV.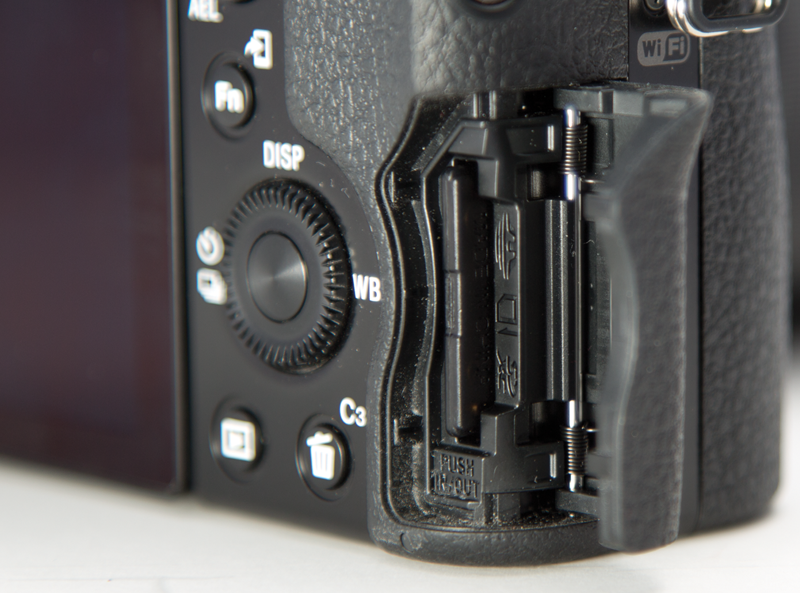 Of course most of your video recording will be to the internal SD cards, Memory Sticks or, if recording 4K, to an external compatible recorder via the HDMI output.
Lenses and Focus
The a7S has a Sony E mount and is natively compatible with their line of six full-frame lenses. Sony is developing more lens options but for now if you want to use A-mount lenses or even those from other manufacturers, you'll need to get adapters that may limit both framing and automated features. We tested the a7S with a Sony/Zeiss Vario-Tessar FE 4.0/24-70mm zoom lens. Zooming with this lens is manual and while very smooth there is a small amount of focusing noise that you can hear if you are using the onboard mic.
The autofocus of the a7S uses a 25-point contrast system to determine what is in focus with an impressive sensitivity range of -4 to +20 EV. For our test, we set the a7S to record in AVCHD 24p with the lens at f4.0, shutter at 1/40 and the ISO at 1250. During our test, we found it worked moderately fast finding focus moving from a near object to a distant one when both target objects had plenty of contrast. When using medium contrast objects the AF took a little more than two seconds to find focus after the camera had stopped on the target object. We also found the AF does not perform quickly on fast moving subjects with any amount of contrast. It does a good job holding focus with slow pans but don't count on this camera being your favorite if you shoot sports video. Unlike other AF systems, this one, while sometimes not the quickest, does not hunt frantically.
To manually focus accurately with HD and 4K on the a7S you need to take advantage of the Peaking and Magnification features. Sony gives you three peaking levels but we found High to be where we left it. Even then, while shooting some outdoor scenes, we had some difficulty gauging sharp focus without shielding the screen. The Focus Magnifier feature helped out here but added a step to the focusing process. Assigning it to a custom function button made it a simple process while hand holding and, depending on the button and height, just a tad more effort when it was on a tripod.
The a7S does not have any built-in electronic image stabilization but it does couple with the Sony E-mount lenses that have it. The lens we used does have Optical SteadyShot so we gave it a run for the money. It did a very good job of stabilizing our handheld shot while standing still on all focal lengths even after consuming a pot of coffee, and this was no small task. It did less well evening out the swagger in our stride when walking and had little effect when running.
Photo of external devices connection ports

Audio to Go
The on board microphone is placed on top of the camera away from where a stray finger or thumb might cover it and does a good job documenting general sound. The headphone jack will let you monitor what you are recording. The mic is sensitive enough to record a normal conversation in a small room but it will also pick up noise when you handle the lens or camera, so don't count on the built-in to save the day. The a7S has a 3.5 mm Stereo mini jack for use with external mics but like all DSLRs, there is no place to hang a wireless receiver. So yes, a rig may be useful to mandatory depending on your needs. Sony did, however, include a cool cable routing protector that clamps securely on to the two open doors. This helps keep cable tension from kinking or straining both the cable and the camera connection. Nice addition, Sony! They also have an optional XLR adapter kit for direct use with standard pro systems.
You can turn audio recording on or off in the menu and you manually adjust audio levels using two LED VU meters but there is no automatic gain control. The a7S records to LPCM (48kHz/16-bit) when shooting in XAVC S format and in MPEG-4 AAC-LC when shooting in MPEG-4. When played back on our editing system the audio signal quality of both file types using our Sennheiser EW 100 wireless system was very good with imperceptible noise. Playback from the camera's small speaker is predictably timid as any tiny speaker will be, but it is adequate to hear what you've got.
A Shot in the Dark
Normally, we discuss how a camera performs in low light near the end of a review but here it is headline news. The a7S is a Night Hawk! As we walked out into the predawn dark with nothing but a porch light and some stars illuminating our path, we set the a7S to manual exposure, the shutter for 1/4 second, the aperture to f4 and then slowly ramped up the ISO to the max of 409600. It was like someone in a low-flying blimp cracked on a 10k flood light, but better, as we could see everywhere! Sure there was a good bit of noise but it was amazing to be able to simply see and record an image with next-to-no light at all and all without being members of Seal Team Six.
When we caught our breath and got some self control we scaled the ISO back to 256000 and a reasonable shutter speed of 1/40th, a combination that seemed to produce an acceptable level of noise. The character of the noise itself does not seem as objectionable as other cameras we've reviewed and we found we could significantly reduce much of it in post. We were also impressed with how little flare we saw around bright lights. [video:18063]
Amazing Images
No matter what file format we recorded, the overall image quality was stunning. We had to first check out the uncompressed 4:2:2 4K recording. We used a Blackmagic external 4K recorder and connected it to the a7S via HDMI. Our test scene was a high-contrast, late morning setting near a pool surrounded by trees and a bright sky. The footage revealed that the a7S does, in fact, have incredible dynamic range as we were able to easily see detail in the deep shadows and pulled every bit of detail out of the bright highlights. Shooting some dense Juniper bushes we could see that fine details are naturally sharp and not at all fake looking. The a7S captures colors faithfully without the usual oversaturation found in many consumer cameras and there was no evidence of any color bleeding or chromatic aberration.
One of the a7S' big features is that the new CMOS sensor does not skip lines to reduce the vertical resolution thus avoiding the moiré and aliasing problems that plague most DSLR cameras. We shot a highly textured pool deck to see how the a7S handled moiré and in reviewing the footage, found it non-existent. We then shot high contrast white blinds slightly off-horizontal to test aliasing and found absolutely no evidence of it. Sony has clearly solved two persistent problems in DSLR videomaking.
They did not, however, elect to use a global shutter in the a7S which means it has the same rolling shutter issue of most vertical focal plane shutter DSLRs. Just to be sure, we panned a series of vertical fence posts and saw the usual wobbling.
Moving inside, we did a custom white balance and shot a friend reading a book illuminated by a low wattage LED table lamp. The a7S renders very natural skin tones but with the many picture profiles available it is easy to either flatten things out or control every aspect of the image from knee and slope to black levels and sharpness.[video:18064]
Conclusion
There are plenty of other reasons to like the Sony a7S, not the least of which is it is a great stills camera too. As in video mode you get a fast 1/8000th shutter, program, aperture and shutter priority modes but for stills you get additional automated scene modes popular among many point and shooters. The Wi-Fi features are also geared more toward making sharing your photos easy.
The Sony a7S produces vivid, sharp professional quality images in a variety of codecs, resolutions and frame rates. Its ability to see in the dark and still produce very usable images is jaw-dropping. Its small size is both a plus and a minus; when you start loading it up with audio, big lenses and secondary monitors then you'll be putting in a rig like most DSLRs. But the real sweet spot here is being able to take it out hand held and create some extraordinary high-quality footage. It is perfect for many types of documentary productions, weddings and marketing videos. The limited selection of lenses may initially make this less attractive, but for only $2500 the a7S remains a superior value.
Sony Corporation
www.sony.com
$2,500
Tech Specs
Sensor Type: Full-Frame Exmor CMOS
Size of Sensor: 35 mm full size (35.6 mm×23.8 mm)
Pixels on Sensor: Approx. 12.2 megapixels
Bit Depth: 14-bit
File Formats (video): MP4,MPEG-4, AVC/h.264
Frame Rates: in XAVC S; (24p/30p/25p/60p/50p/120p/100p). In AVCHD; (60i/50i/24p/25p/60p/50p)
Maximum Resolution: 4K (4240 x 2832 to external recording device, full HD internally)
Maximum Shutter Speed (video): 1/8000th of a second
Minimum Shutter Speed (video): 1/4 second
Sensitivity: ISO 200-409600 equivalent
Lens Mount: Sony E-Mount
Viewfinder: 2.4-million dot XGA OLED EVF
LCD Monitor Size: 7.5 cm
LCD Monitor Resolution: 921.6k dot
Video Out: HDMI Type D Micro jack
USB Terminal: Hi-Speed USB (USB 2.0)
Audio Input(s): 3.5 mm Stereo mini jack
Audio formats: AAC LC, AC3, Dolby Digital 2ch, Linear PCM
Recording Media: SD, SDHC, SDXC, Memory Stick Pro Duo (High Speed), Memory Stick Pro HG-Duo, Memory Stick XC-HG Duo
Battery Type: Lithium-ion (2 – NP-FW50s included)
Strengths
Amazing low light sensitivity and dynamic range
superior gradability
low aliasing/moiré
uncompressed 4:2:2 HD and 4K output
high bit rate recording
120p slow motion
Weaknesses
Low battery life
4K only to an external recorder
sometimes slow AF system
hard to focus in bright light especially when using the flat profile
menu layout could be easier to navigate

Brian Peterson is a commercial video producer and certified Steadicam owner/operator.