Canon's new EOS 70D may just be the perfect DSLR for the budget-minded independent video producer that wants high quality HD footage without the focus hassle. The clear main feature is the 70D's new "Dual Pixel CMOS AF" technology on the DIGIC 5+ image processor. Previous auto focus sensors relied on contrast detection rather than phase detection that is based on using two pixels integrated on the imaging sensor itself. The result is a smooth and reliable AF that is just right for video. Using this AF is as simple and effective as it can get. Just lightly tap on the responsive LCD touch screen and your subject glides (not snaps) into focus without the usual hunting.
Normally, when doing new camera reviews, we look at all the new features and spend approximately an equal amount of time testing each. But we're going to bend the rules a bit here because getting AF for video right is potentially revolutionary. So while we'll introduce everything new that's relative to video production with the 70D, you're going to get an in-depth look at AF for video.
[video:17288]
Out of the Box
The 70D is a little smaller than the popular EOS 5D series, but it remains easy to hold and has a solid feel. Controls have changed for the better over the 60D. The video mode selector has moved from the Mode Dial to a two position selector switch to the right of the viewfinder eyepiece. This Stills/Video switch is placed within easy thumb reach and surrounds a slightly larger start and stop button. And unlike the 60D, it actually says, "start/stop."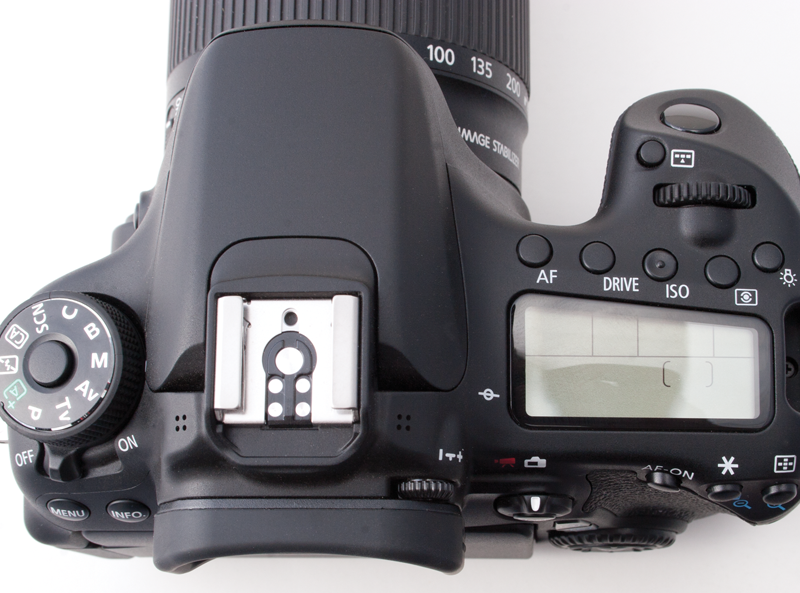 Canon greatly simplified the Mode dial. It now has 10 modes instead of the 15 on the 60D. You'll find several of the Program modes such as macro, landscape, and action grouped under one Special Scene Mode selector that you access in a menu.
Basic exposure control options remain similar. The Mode selector lets you choose between fully Manual, Aperture or Shutter Priority. When in Shutter Priority, however, you can't actually see your shutter speed setting. The same is true for Aperture priority with the aperture setting. You need to be in fully manual mode before you can see these critical exposure settings. Odd, but not a deal breaker.
While you can't use the full range of shutter speeds for video in either Manual or Shutter Priority on this DSLR, what you can use is impressive. When shooting 30, 25 or 24fps, you can select from 1/4000ths to 1/30th of a second. Shoot 60 or 50 FPS and your range is 1/4000th to 1/60th. The video ISO is also lower than that available in stills mode. It is limited to 6400 instead of the 12800 for stills.
The 70D records to SD/SDHC/SDXC memory cards using MPEG-4 AVC/H.264 encoding. You can now choose between recording in the highest quality ALL-I mode or in the more highly compressed IPB codec saving you significant disc space. For example, in IPB mode you would be able to record about 32 minutes on an 8GB card shooting 1920x1080HD at 30, 25 or 24FPS. In ALL-I, you'd get approximately 11 minutes on the same card. Another very welcome feature is the breaking of the 4GB barrier file length. The 70D will automatically split files larger than 4GB so you can keep recording up to the space available on your card.
Even as a video producer, you may need to occasionally shoot stills and now you can remotely control the 70D with a variety of devices such as a smartphone or computer via Wi-Fi as well as upload images to devices or the Internet. Wi-Fi cannot, however, be used while shooting video.
AF in Focus
There are four types of focusing modes available for shooting video; Face Tracking, Flexizone-Multi, Flexizone-Single and Manual. The three AF modes can be quickly turned on or off by deselecting the Movie Servo AF on the touch screen to save on battery power. In our tests, we found that the new Dual Pixel CMOS AF works best when the 70D is paired with a lens that has the new stepping motor (STM) instead of the ultrasonic motor (USM) found in most of Canon's still lenses. Canon sent us a 55-250mm f/4-5.6 IS STM EF-S lens for our review. We used this for all testing except for comparing with our other popular still lenses used for video.
The stepping motor is actually a bit slower at finding focus than the USM motors which is a good thing. This results in less hunting and far more fluid looking changes in focus. USM motors tend to snap into focus, often briefly overshooting the subject. Not generally a good look when shooting video. This lens does not include a distance or depth of field scale common on most still and video lenses.
You control the AF two ways, by pressing the shutter button half way or by lightly tapping the subject on the articulating LCD touch screen. We initially were concerned that tapping on the touch screen could introduce vibrations into the recorded video. We used a Manfrotto 519 head with moderately robust legs and did not notice any movement from the focus tapping even at a 244mm focal length. The LCD screen is very responsive, so you only need a light touch.
We first tested the Dual Pixel AF by placing three different subjects in our studio, spaced five feet apart in a line away from the camera. The subjects had different contrast and detail and both light and dark backgrounds. We staggered each just enough so that they all would fit into the frame. We set the 70D to record 1920×1080 video using the highest quality compression, did a custom white balance, selected Shutter-Priority at 1/40th, enabled Servo AF, selected FlexiZone Single AF then tapped the LCD to focus on the nearest subject. We proceeded to tap on the more distant subjects, going back and forth from nearest to most distant to middle, varying the rate and order of our tapping. The results were stunning. Focusing was fast but smooth, averaging between a half and a full second.
We were concerned that tapping on the touch screen could introduce vibrations, but the LCD screen is very responsive, so you only need a light touch.
Next, we put the 70D on a Steadicam Flyer and walked toward the first subject, a furry stuffed bear. The lens was wide open and we were on a medium telephoto setting so the depth of field was narrow. We kept the bear's head in the focus area and as we approached the 70D's Dual Pixel CMOS AF held focus, adjusting smoothly as we passed to the backside of the bear. It did lose focus once when the bear's head moved outside the focus area but the AF system smoothly reacquired a lock.
We also tried doing a standard camera move that includes zooming and focusing at the same time. Since there is no zoom servo control on EOS still lenses, we did this manually and let the 70D handle the focus. We put the 70D on a tripod close to a 50-foot straight rock wall with lots of detail as our subject and set the camera to the FlexiZone AF Single mode. Starting at full telephoto we tapped the screen to focus on an upper right area of the most distant part of the wall and then slowly zoomed out and panned left to a point close to the lens' minimum focal distance. The resulting video had no hunting or jerky changes of focus. There was less than a second focus lag as we stopped the zoom and pan at the minimum focal distance, but this was not objectionable.
We then put the 70D in Face Detection mode and walked from about 40-feet to just beyond the lens' minimum focal distance of 32-inches moving side to side as we approached. This was a tough test as we had a very high contrast metal fence in the middle of the walking path that could have easily fooled the AF tracking system. When we reviewed the footage and just looked at the subject's face, the focus tracking looked excellent. When we shifted our gaze to the metal fence we saw some obvious stepping. Rather than a fluid change of focus, the AF sensor would achieve focus, pause, and then find a new focus. It did this six times during our 40-foot walk. The 70D initially adjusted focus somewhat coarsely but as the subject approached the camera the 70D got new focus points smoothly with no noticeable hunting.
We also tested how the AF holds up tracking action handheld. We used a fast shutter speed of 1/320th and followed a running dog. When the dog ran briefly behind a tree, the AF barely started to adjust to the tree but did not fully lock on it. Instead it quickly reacquired the dog without any notable hunting. When the dog ran toward us we started at full telephoto and zoomed out as the dog came closer. Here the AF had the most trouble, but it still refocused faster than a human. Impressive!
Excellent Images
Image quality coming from the 70D is very good. It is easily comparable to that of larger CMOS sensor cameras such as the 5D Mark II. The only areas that they notably differ are in overall noise, due to sensor size difference, and moiré. These differences are slight and the substantial difference in cost may balance them out.
We did several tests to assess overall image quality. We first shot a high-contrast scene in a forest during midday to see how the details held up. Trying to get everything exposed just right in this kind of environment is just about impossible. We found we could either expose for the lights holding their detail or favor the blacks, overexposing the lighter tones, thus avoiding having to bring up the shadows in post.
We tested the color reproduction by shooting an evenly lit color chart and creating a custom white balance for that lighting environment. We set the 70D to Shutter Priority at 1/40th, ISO at 200 and exposure compensation to zero. We brought the file into Premiere Pro CC and checked the color saturation and accuracy with the vectorscope and RGB Parade. The colors are slightly desaturated and magenta and blue shift to the cool side a few degrees. Cyan, green, yellow and red are all spot on. And from our earlier Face Detection focus test the skin tones look very natural without that all too common overly saturated look.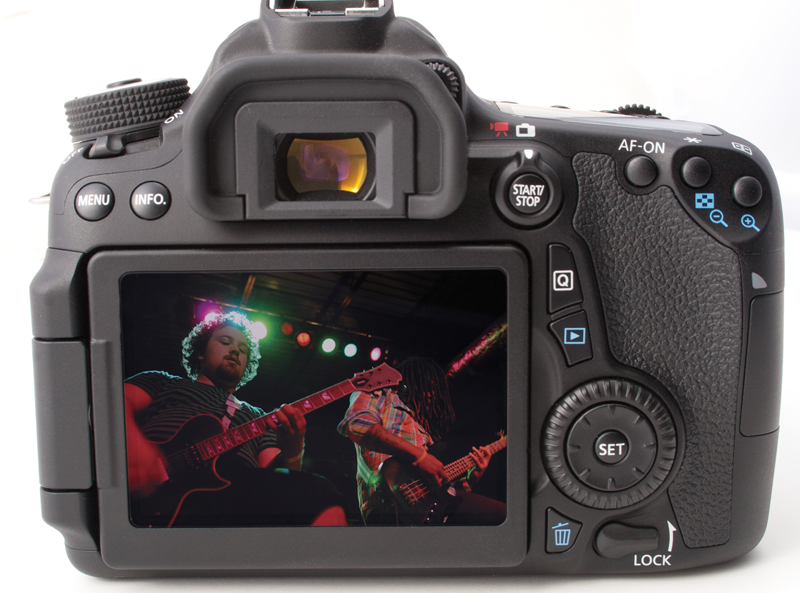 For our low light test we set a color chart on a piano in a dimly lit room and used shutter priority set at 1/40th, and had the AF and image stabilization turned on. We set white balance to tungsten. We handheld this shot and slowly zoomed out revealing some areas of the room that fell into solid blacks. The color noise was obvious but for the scene, passable. We were glad to see that noise in the deepest blacks is largely suppressed, leaving the most noticeable noise in the lower midtones. White balance was a bit on the warm side, but this can easily be adjusted by doing a custom white balance. AF response at these underexposed levels was not good, but then Canon only claims accuracy to EV 0.
To test how the 70D could handle a highly detailed scene, we shot both a rock driveway and the fine hair of a standing dog. The resulting footage from both surprised us for the lack of compression artifacting that is common to the more highly compressed video formats. We did see a small amount of moiré in the fine dog hairs that approached horizontal which we expected, but overall, the image when viewed at 100 percent look really nice. To further test moiré, we shot the horizontal lines of a finely striped black and white shirt. The moiré was pronounced, but it seemed to lack some of the color artifacting we've seen in other cameras. Fine horizontal lines are still something to avoid.
All CMOS sensors use a type of rolling shutter that will produce the unsightly "Jell-O" effect and the sensor on the 70D is no exception. Any medium to fast pan we tried gave us the usual slanting vertical lines. No surprise here.
Sound Control
The 70D has built-in stereo microphones located on either side of the hot shoe. Like most on-camera mics, they are best relied on for only recording reference audio. True for nearly any mic, when we got more than six feet away, the audio sounded lifeless and thin. The STM lenses are much quieter than the USM lenses, so the audio is cleaner during focusing. You can manually control input levels via a menu, but the automatic gain control worked admirably for normal speech. We used the 1/8-inch external mic jack for recording talent with a wireless lavalier, but we were surprised that there was no headphone jack for monitoring. Playback audio comes from a tiny speaker that sounds predictably thin.
Cool Extra Features
The 70D has a 3-10x digital zoom that is very clean. It is usable when shooting full HD but the new Dual Pixel CMOS AF does not work when engaged. Instead the older, but still reliable contrast detection AF kicks in and you use the shutter half-press method to engage. Even at 10x with our lens set at 250mm, the image was very sharp both in terms of focus and image quality though there was noticeable hunting. There was no obvious pixilation so common in some digital zooms and the IS on the 55-250mm STM lens made even a handheld shot at this length very stable.
The Aberration Correction helps correct for light loss near the edges of lenses as well as color fringing (chromatic aberration). This is a nice feature that will help you squeeze the most quality out of some your lenses, but the 70D first needs to recognize the lens data. Among our five test lenses, the 70D only recognized the data from our EF 17-40mm f/4L USM lens. We tested this by shooting a focus chart in bright sun, importing the footage into our editor and zooming in 400 percent and found that the difference was subtle but it certainly improved the image.
The right camera for you?
The 70D new Dual Pixel CMOS AF sensor, technology is amazing. It is a remarkable achievement that fills a real need for many video producers. It produces beautiful images, eliminates some nasty file management issues and some intriguing new production tools for very little money. While it may not be appropriate in all situations where you need full creative control over focus, the 70D will likely be remembered as The AF Camera That Could.
Canon EOS 70D DSLR
Canon U.S.A., Inc.
One Canon Park
Melville, NY 11747
www.canon.com
$1,200
Tech Specs
Sensor Type: APS-C Dual Pixel CMOS AF sensor
Size of Sensor: approx. 22.5mm x 15.0mm
Effective Video Pixels: 20.2 Megapixels still, 1920×1080 video
Lens mount: EF, EF-S
Focus: Dual Pixel CMOS AF Auto/manual
Shutter Speed: Auto/manual
Shutter Speed Range: 30 sec-1/8000 sec
Digital Zoom: 3x-10x
White Balance: Auto/manual
Viewfinder: Yes (Stills only)
LCD Touch Screen Monitor: 3"
Frame Rates: 1920×1080/24/25/30fps; 1280×720/50/60fps; 640×480/30/25fps
Video Out: HDMI (monitor and record)
Audio Recording: Stereo
Microphone In: Yes
Manual Audio Level Controls: Yes
Headphone Jack: No
Speaker: Yes
Recording Media: SD/SDHC/SDXC memory card
Wi-Fi: Yes
Battery Type: Lithium Ion
Accessory Shoe: Yes
Strengths
Reliable and smooth autofocus
Low cost
Great images
Weaknesses
Lack of essential shooting information in video mode
No headphone jack
Brian Peterson is a commercial video producer, consultant and certified Steadicam owner/operator.