Anyone who has watched network television, or been to a major motion picture, has seen the results of Avid Media Composer. Whether you're an Adobe Premiere Pro, Final Cut Pro, or even Vegas Pro user … Avid's top tier dominance is undeniable. As the first of the real mainstream nonlinear editing solutions, Avid set the paradigm for all others to follow. The latest price point ($1,000) brings Media Composer within reach of video producers from wedding videographers to major motion picture studios, and no subscription is required.
What is Avid Media Composer … really?
Unlike packages such as Adobe Premiere Pro and Final Cut Pro; Media Composer is meant as an editing package for standard broadcast and film formats. This means video producers cannot edit in non-broadcast resolutions. This is a major complaint among multimedia professionals (who sometimes edit in strange resolutions for things such as banner ads or cut scenes for mobile apps, matrix displays, etc.).
The Pros
Media Composer 7 brings forth the next phase in the Avid Media Access (AMA) workflow. AMA is Avid's answer to the ability of other packages to read media in their native formats. Other packages allow video producers to import the footage and read the root files while editing. Then, in order to view the video in real-time, you often need to render the clips in your timeline. Traditionally, Avid editors have assistant editors that transcode the footage upon ingest. (This can save studios considerable dollars, as AEs have a lower pay rate per hour than editors.) This generation of AMA not only allows editors to reference clips in their original format, but also transcode in the background. Avid has also introduced a memory-resident transcoder that will enable queued transcoding to happen with Media Composer closed. The theory is that this will allow one person to do everything seamlessly.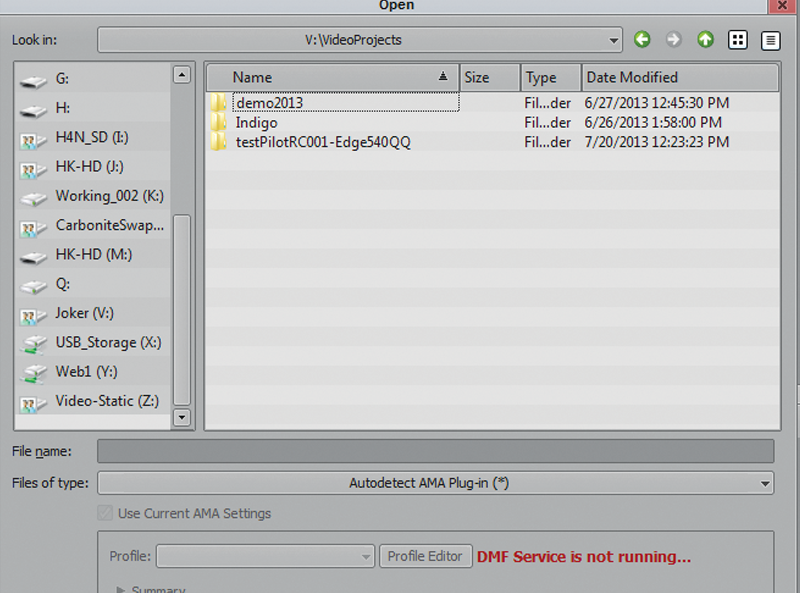 The theory is sound. The practice is still a bit clunky and buggy. Most of these bugs are fixed with the latest patch. However, different formats yield different results. We'd still say that transcoding during ingest is more reliable (especially if you're using a multi-editor SAN such as Archion or the Unity family). Video producers will find that Media Composer is definitely still wicked-fast when used in its traditional workflow. So, that is a major pro.
Finally, the biggest criticism by Adobe Premiere Pro and Final Cut Pro users is also a plus. The standardized formats make Media Composer more stable. It's simple really… the more variants you have in formats, the more trouble you can also have. This is probably why AMA is still rough. Media Composer and Pro Tools are both by Avid, so you can use all of Pro Tools' RTAS plug-ins (from auto-tune to reverb).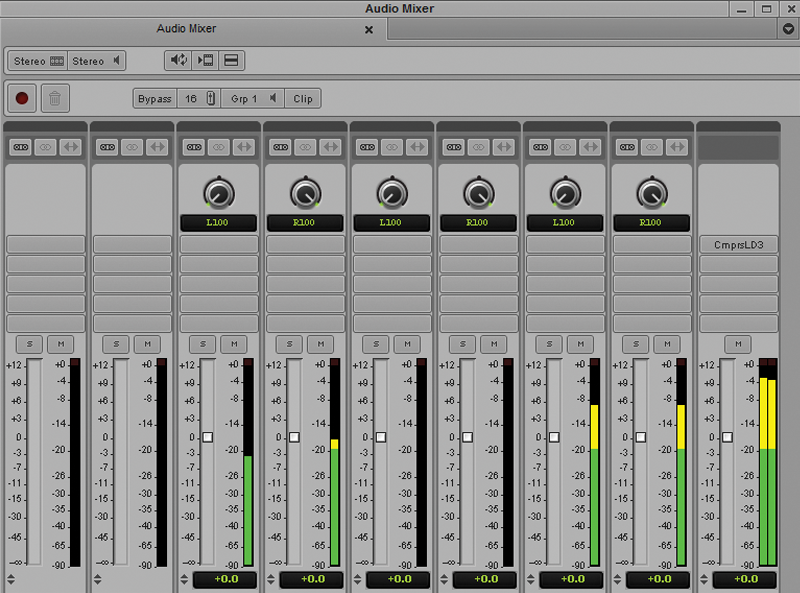 The audio interface is much more Pro Tools-like. They've added a master fader (to which you may also attach finalizing plug-ins such as iZotope Ozone). The only things we would have really liked to see are busses, and the ability to automate levels with the sliders (rather than the time-consuming rubber-band method in the timeline). But overall, this is a major step in the right direction.
You'll also find many of the features you've come to love in version 6. These features include 5.1 audio mixing, a more intuitive timeline, and the ability to edit in much lower bitrates for speed, and re-transcode for final at a higher bitrate (offline/online, or proxy-based editing).
The Cons
As you read in the "pros" section … AMA is still not ready for primetime. It's not very reliable and is mostly useful for roughing out your ideas. We understand the need to address the concerns from video producers in Avid's traditional workflow, but the solution here is not a completely viable answer in practice. Also, keep in mind that users concerns may be addressed in upcoming patches. While listed as a positive for reliability, restricting resolution and frame rates isn't very practical nowadays if Avid is truly interested in competing in other packages' respective markets. Slow-motion footage is not natively interpreted as such. For instance, if something is shot in 240fps and imported to a 30fps project … it throws out seven of every eight frames. We first had to run the footage through After Effects, stretch it, and export it as 30fps so we could use each frame.
As the first of the real mainstream nonlinear editing solutions, Avid set the paradigm for all others to follow.
Media Composer 7 does not include ScriptSync nor PhraseFind, a $1,300 bundle on their own. These features were free in version 4. If this feature weren't another $1,000 to purchase for Media Composer, it would be a major plus. Avid should also consider a rework of their notorious advanced titling tool, Marquee. Some editors resort to Avid's simpler basic title tool.
Summary
Avid is still the industry-standard in video editing in the upper echelons of the trade. With solutions such as Unity ISIS and Symphony, and workflows including Pro Tools, Avid isn't going anywhere anytime soon. Although AMA is still not quite there, the new features hold the promise of easier ingestion and even quicker workflows. Don't mistake our criticism of AMA as a slam on the overall product. It's our opinion that AMA has an abundance of potential. Media Composer 7 is a feature-rich editing package that not only has its roots in the finest traditions of editing … it is the latest generation of those roots. We highly advise you to download and try-out the free 30-day trial at www.avid.com and give it a spin!
Tech Specs
Software Package: Avid Media Composer 7: supports multiple input/output hardware solutions.
Platforms Supported: Windows (7/8), Mac OS X Lion and Mountain Lion
Strengths
Speedy and reliable (using traditional workflows)
Pro Tools-like interface for audio mixing
RTAS support
No compliance issues when editing for major network distribution
Weaknesses
AMA is still not a viable solution for time-sensitive workflows
Only supports standard broadcast resolutions and frame rates
SIDEBAR
R/C with Avid Onboard!
Besides being a video producer and technology consultant, author Ty Adronis is an R/C (radio control) enthusiast. This link takes you to the video he produced for his test of the Avid 7.0 Media Composer.
Avid, Inc.
www.avid.com
$1,000
Ty Audronis is an Avid editor with nearly 20 years experience. His work has been used on national networks, and on the big screen. He also acts as a studio technology consultant setting up intricate workflows and hardware/software solutions.