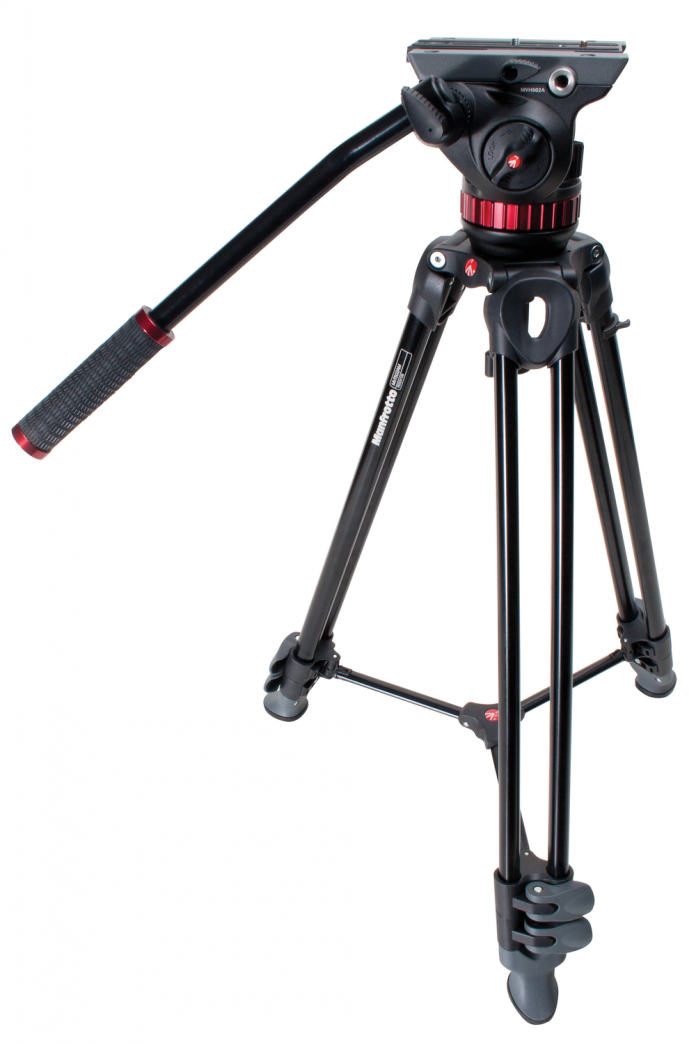 For those who want to take their video production to the next level, a quality tripod system is a necessity. Manfrotto began producing tripods that were innovative, light and versatile. The Manfrotto 502 system is no different. Manfrotto offers a wide range of video production tools, from pocket systems to clamps, pan heads and tripods. The Manfrotto 502 tripod system consists of the MVT502AM leg system, MVH502A fluid head and Manfrotto tote bag. The capacity of the MVH502A fluid head is 8.82lb. supporting small 3-chip cameras to DSLRs and small camcorders.
Setting aside a budget for a nice tripod system isn't always easy and typically isn't on the top of the priority list. If you've ever purchased a tripod before, and went for the cheap option, you might have realized that you are only as strong as your weakest link. Meaning, if you have a budget for a nice camera, you ought to set aside some of that budget for a quality, durable and long lasting set of sticks.
It looks pretty – but how well will it perform?
Advertisement
The best shots are always those that keep you in the scene. A rickety or unstable tilt can take the viewer out of the story; therefore a quality fluid head is essential to achieving a seamless shot. The MVH502A fluid head is smooth, easy to pan and tilt and has infinite drag from 0 – 100 percent for both true "fluid" pan and tilt operation. By far the best value in this system is the quality of the head. You will experience the quality through its ease of use and robust build quality. The spirit level or bubble level, is in the perfect location, and the MVH502A has very easy access to set its level.
One of the first tips I received as a young producer was don't go with the most typical angle: eye level. A great shot is always your goal. Get in there; view the scene from an unseen angle, lowering the tripod from eye level to offer your viewers an angle they weren't born with. This is why shooting with the legs fully extended isn't something we opt to do, when we have the option. When not fully extended, the Manfrotto MVK502AM leg system offers quality stability. However when fully extended, the legs are a bit lightweight, and might require using a sandbag to achieve optimum performance. The legs are made of lightweight aluminum, making it the perfect option for pack and carry shooting needs. Adding to its portability is its size when collapsed completely at 24.8-inches. The quick release legs are made of a hard plastic, tighten securely and offer a full range through their extension.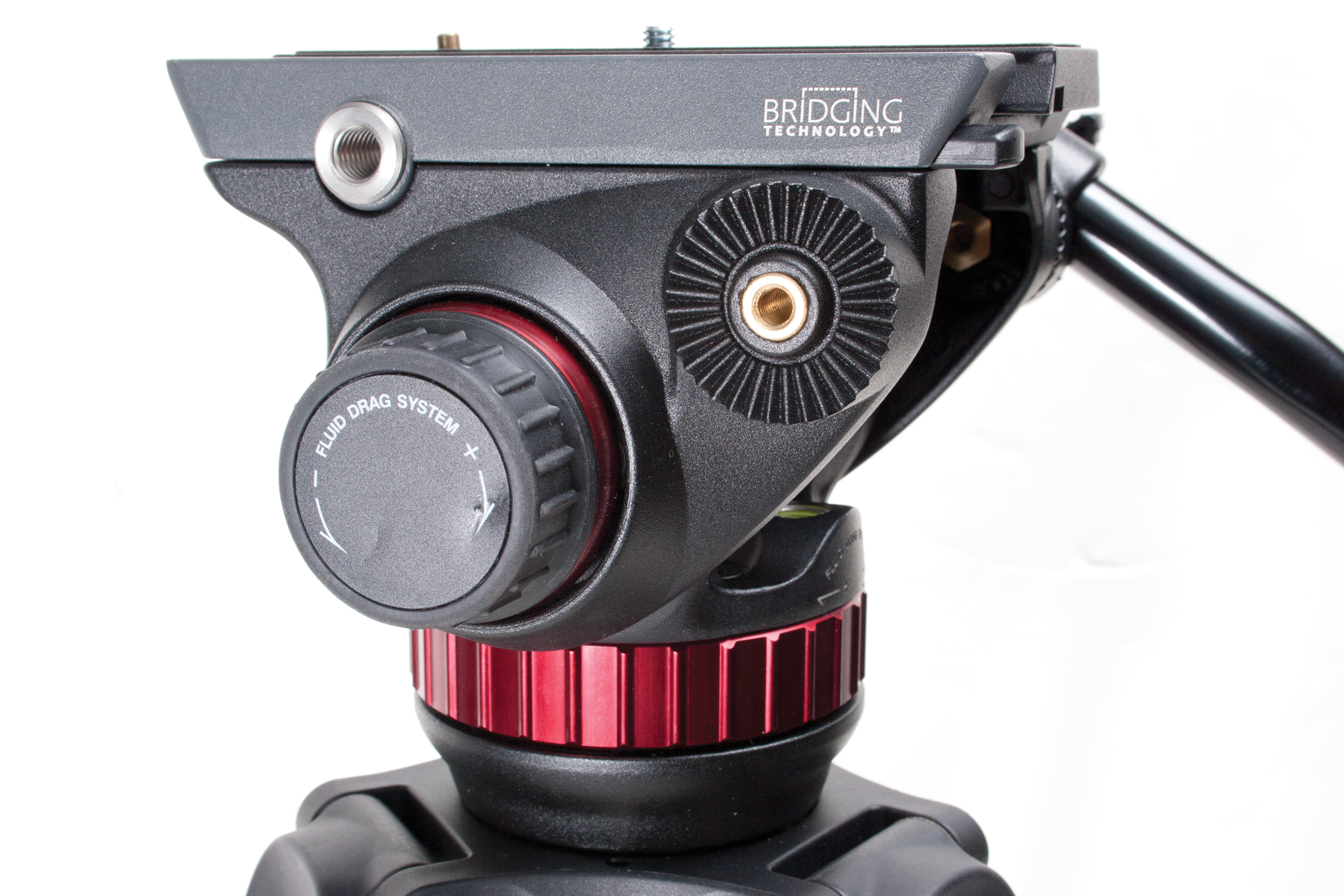 Testing and Results
Through testing, we used both a Panasonic AG-HVX200A and Canon EOS 7D. The head fit both cameras, and performed well with both. The mounting plate was a bit large for the 7D, getting in the way of some operation, but fit the HVX200A perfectly. The difference in weight between the two cameras didn't change the performance of the head; the biggest difference was the stability of the legs. The HVX200A's extra weight allowed less skipping of the legs when panning with the drag set to high. The system is very affordable and we found it performed well for its cost. Manfrotto scored big with this lightweight system, offering an reasonably priced fluid head and legs that will get your next work; a leg ahead …
Let's sum it up folks!
Save up; buy a system that will ensure your next project will be worth the time you put into it. Although this system is a bit unstable when fully extended, the smooth operation of the head and lightweight design are well worth the cost. Don't get caught going cheap, rather, take your budget to the next level and invest in your work.
Chris Monlux is the Commercial Production Director for a broadcast television station.
Manfrotto 502 Tripod System
MSRP $518
Tech Specs
Load Capacity: 8.82lbs (4kg)
Pan/Tilt Drag : 0- 100%
Pan/Tilt Lock : Yes
Bubble Level: Yes
Bowl size: 60mm
Leg Style : Telescope with mid-level spreader
Tripod/pedestal fitting: 60mm
Pan Bar(s): EX Pan bar, LANC optional
Leg Sections: 2
Minimum Height: 24.8'' (63cm)
Maximum Height: 61.8'' (157cm)
Folded Length: 29.7'' (75.7cm)
Weight: 8.4lbs (4kg)
Strengths
Lightweight
Rugged design
Easy transport

Weaknesses
Quick plate too long for some cameras
Legs lack stability when fully extended
Did you find this content helpful?