In a never-ending quest to blend pro performance with prosumer pricing, Panasonic introduces the Lumix DMC-GH3. A digital single lens mirrorless camera by design, the GH3 produces exceptional images, both still and video, with excellent color reproduction, broad dynamic range and much more. With interchangeable lenses, the ability to switch among a wide variety of lens choices increases the creative possibilities available to the discerning video producer.
Unboxing
The camera body comes packaged together with a battery pack, battery charger with AC cable, USB connection cable, shoulder strap, and CD-ROM containing the owner's manual, PHOTOfunSTUDIO 8.5 PE for Windows and SILKYPIX Developer Studio for Windows and Mac.
Advertisement
A Closer Look at the GH3
We tested the GH3 with Panasonic's Lumix G X VARIO 12-35mm and Lumix G VARIO HD 14-140mm lenses. Due to its mirrorless design the GH3 is smaller than the typical DSLR. Built according to the Micro Four Thirds standard, its lenses are also much smaller, making the entire unit very compact and well suited for travel, while maintaining a high level of quality performance throughout.
The 12-35mm lens features a constant f/2.8 throughout the entire zoom range in a moisture and dust sealed metal body. The highly durable metal mount also features a rubber ring for sealing out the elements. Optimized for video, the Power O.I.S. (Optical Image Stabilizer) and focusing system provides near silent stabilization and focusing action.
The 10x optical zoom 14-140 lens is also optimized for video use with smooth, silent auto focusing and Mega O.I.S. Both lens' O.I.S. is activated with a switch located on the side of the lens barrel.
The various buttons are well laid out. Our right thumb rests over the white balance, ISO, exposure, one of several user-programmable buttons and an adjustment dial and it's just a short reach to the record button on the back of the camera, while the right index finger lies naturally on the shutter button. The menu is easy to use, with selections made either through a large wheel or directly on the LCD touch screen.
We found that when the LCD is opened while headphones are plugged in, the cable interferes with the LCD's ability to swivel freely. The external mic port is located a little higher up and is safely out of the way. Also, the highly sensitive eye sensor is a bit annoying at first. It's purpose is to automatically switch viewing away from the LCD when you put your eye up to the viewfinder. It is so sensitive however that moving your hand across it or placing it near your body will turn off the display. Fortunately, it can be adjusted or even shut off altogether.
A level gauge, reminiscent of the "horizon" on an aircraft control panel, aids in leveling the camera during use. The manual focus assist is a very nice feature on the GH3. Turn the focus ring and the image is magnified to your choice of 4x, 5x or 10x for easy focusing. There are no zebras for exposure assistance but it does feature a handy dandy histogram.
Shooting Footage in the Wild
We took the GH3 out for a spin over several days and found numerous reasons to be impressed. First of all, while using the built-in microphone of any camera is not our first choice, the GH3 does do a respectable job in the audio department and should be suitable for most non-professional uses.
While traversing a small mountain stream we were delighted to note the GH3's affinity for fine detail and texture. Small pebbles in and around the stream, tiny bits of sand, fine striations and dimples in the various rocks are readily distinguishable right down to their finest details. In another location we came across a pine tree bored out and stuffed with acorns by hardworking woodpeckers.
The GH3 captured the patterns in the bark, and even tiny scratches on the surface of the acorns, with fantastic clarity.
[video:795]
White water spilling over a small dam provided an opportunity to observe the camera's dynamic range capabilities. While nowhere near the range of film, we can still see details throughout the brightest areas as well as the darkest. The lattice covered walkway of a century plus home, with its alternating areas of light and dark provided yet another test, revealing considerable detail in all but the very darkest of areas.
We were anxious to see how the GH3 performed under conditions that typically produce aliasing ("the jaggies") and moiré (false patterns). Moiré occurs when a sharply focused, high resolution, fine pattern in the subject matches the pattern of the imaging chip. The GH3's sensor has been outfitted with a newly designed low-pass filter in an effort to reduce the effects of moiré while maintaining high resolution. To test it we shot a men's suit coat with a very fine pattern, and while moiré was present, it did appear to be less than what we've seen elsewhere. In another test we panned across an area featuring rooftops with a horizontal lined pattern. Moiré in the rooftops was minimal, even though the shot was very sharp.
Another bane of CMOS based cameras is the rolling shutter or "jello" effect. To test this we panned rapidly back and forth across a telephone pole in the distance. While the effect was present, we have definitely seen far worse.
To test the effectiveness of the O.I.S. we shot a scene handheld, while standing as still as possible, with the stabilizer turned off and using the 14-140mm lens on full zoom. We then switched it on and shot the same scene again. The difference was very impressive and really spoke to the effectiveness of the system. As a further test we repeated the scenario while slowly walking. While the stabilized-while-walking shot had quite a bit of movement it, was markedly less than the non-stabilized shot and with considerably less blurring.
A field of wildflowers gave us the opportunity to test the GH3's ability to handle color.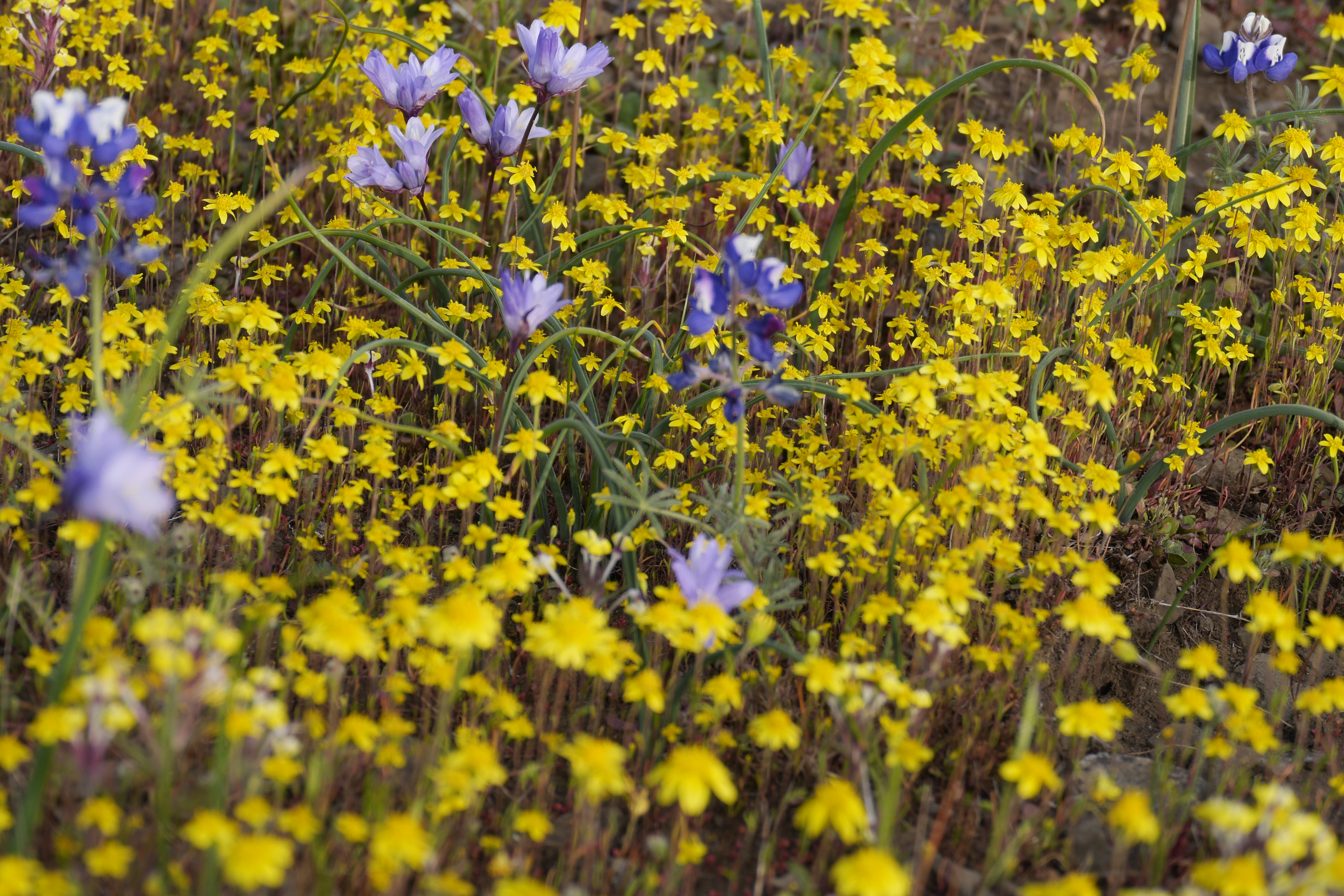 To our delight, the gorgeous array of yellows, greens and purples were beautifully reproduced, while another fabulous flower find enabled us to get some beautifully shallow depth-of-field shots.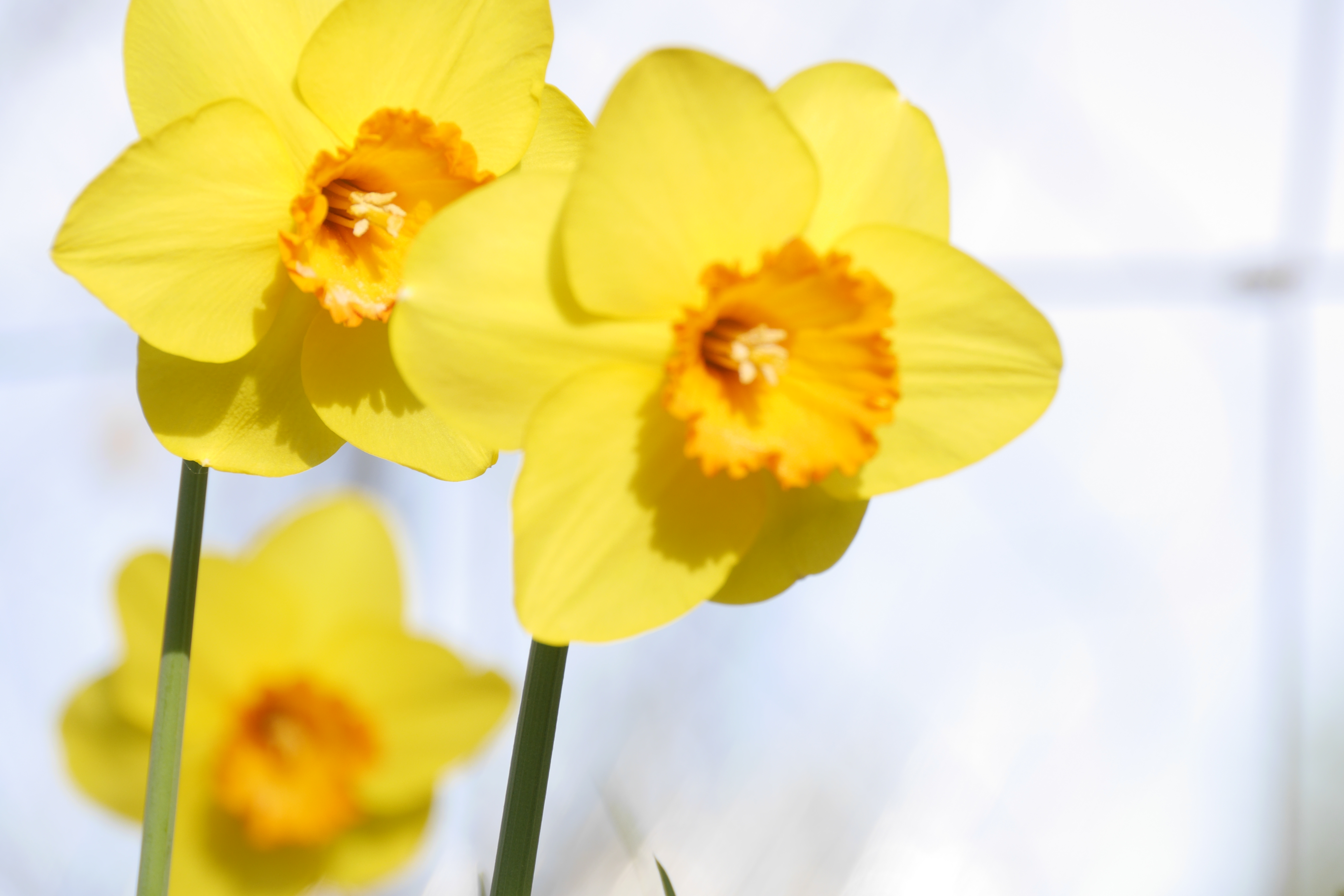 To test the autofocus response time we achieved sharp focus on a close object, pointed the camera away to a distant object and back again. Each time the GH3 responded very quickly in regaining sharp focus.
After sundown we went outside to see how well the GH3 handled low light shooting. Upon panning across a rural landscape in Intelligent Auto mode (iA) we were pleased with the result. Although the sun had set and lights are visible in the distance (we even captured a bat flying through the frame) the scene is surprisingly bright with minimal noise. We then shot a number of stills at various ISO settings (up to 12800 and 25600 extended) with equally pleasing results.
We deliberately shot (that's our story and we're sticking to it) both underexposed and overexposed footage to see how well it responded to post-processing. A too dark shot of a river under cloudy skies was treated to successive passes of RGB curves, levels and the three-way color corrector. An overexposed pan across a garden area required a bit of luminance adjustment to restore contrast and color to the scene. In each case a little bit of processing went a long way with very nice results.
The Panasonic DMC-GH3 is a very capable camera, delivering quality results at a reasonable price. If you desire creative lens options, excellent color reproduction and broad dynamic range in an easy-to-use format (and who wouldn't) then you will want to take a closer look at this camera.
Contributing Editor Mark Holder is a video producer and trainer.
COMPANY INFO & PRICING:
Panasonic
One Panasonic Way
Secaucus, NJ 07094
www.panasonic.com
DMC-GH3 body only: $1,300, LUMIX G VARIO HD 14-140 f/4.0-5.8 lens: $850
Tech Specs
Type: Digital Single Lens Mirrorless camera; interchangeable lens
Lens Mount: Micro Four Thirds mount
Sensor: Live MOS 17.3 x 13.0 mm (in 4:3 aspect ratio)
Pixels on Sensor: 16MP effective pixels (17.2 MP total)
Resolution: Various up to Full HD 1920 x 1080, 60p
Motion Recording Format: AVCHD Progressive, MPEG-AVC (H.264)
Still Image Recording Format: JPEG, RAW, MPO (with 3D lens in MFT standard)
Focus: Contrast AF system; Face detection, AF Tracking, Full area touch
Focus Assist: Magnified view of focus area: 4x, 5x, 10x
Shutter Speed: Still Images: 1/4000-60 and Bulb (approx. 60 mins.); Motion Image: 1/16,000 – 1/30 (NTSC)
Exposure Modes: Program AE, Aperture Priority AE, Shutter Priority AE, Manual
Image Stabilization: Lens-based Power O.I.S.; Mega O.I.S.
White Balance: Auto, Daylight, Cloudy, Shade, Incandescent, Flash, White Set (1,2,3,4), Color temperature setting (2500-10000K in 100K increments)
Viewfinder: OLED Live VF; Field of View approx. 100%
Display: 3", 3:2 aspect, viewing angle (approx. 100%), OLED with static touch control, 614 dots
Level Gauge: Yes
Output: USB, Mini HDMI, A/V, 1/8" (3.5mm) for headphone
Input: 2.5mm port for remote, 1/8" (3.5mm) for external stereo microphone
Speaker: Monaural
Media: SD/SDHC/SDXC card
Flash: Built-in
External Battery Charger Provided: Yes
Battery Type: Li-ion (7.2V, 1860mAh)
Dimensions (WxHxD): 5.2" x 3.7" x 3.2" in. (32.9 x 93.4 x 82.0mm)
Weight: Approx. 19.4oz. (SD card, battery, body); 16.6oz. (body only)
Strengths
>>Good build
>>Interchangeable lenses
>>Beautiful images, both video and still
>>Very effective O.I.S.
>>Focus assist and histogram
Weaknesses
>>Headphone port placement – cable may interfere with display
Did you find this content helpful?