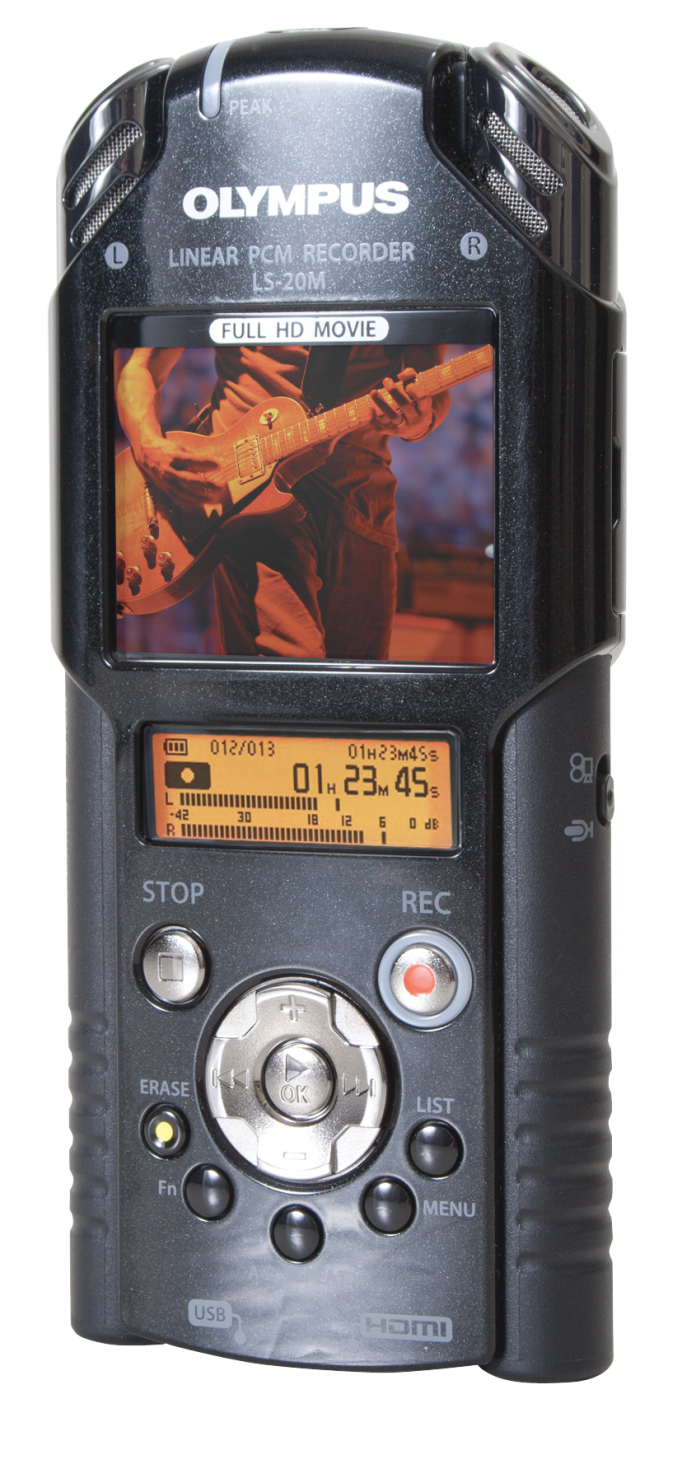 We want to have it all, and it's even better if we can fit it all in our jacket pocket. But if we're going to live with hours of footage, most of which is priceless and unrecoverable, it's important to get it right. The Olympus LS-20M offers superior audio plus HD video and, despite several drawbacks, it delivers.
Micro devices tend to dumb people down. Having such a small footprint tempts users to start shooting before they should. We suggest keeping a few factors in mind when using the LS-20M. Prioritize video or audio. Plan ahead. Consider the convenience of its size for the given use. Weighing these elements before using this little dynamic device will ensure top performance.
Audio With Big Picture
Designed like a stand-alone voice recorder, the LS-20M favors its audio capabilities. When handheld shooting, it balances like a microphone, with a voice-sync feature that stops and starts. Built of durable plastic, it leans slightly toward the dual condenser microphones at the top. And it beautifully lays down uncompressed PCM at 96kHz 24-bit or 44.1kHz 16-bit, with an option to capture MP3 and WAV files at 320kb/s or 256kb/s. With switchable low cut, 100Hz and 300Hz filters, the two mics bring crisp stereo with a well-rounded bass component. An equalizer is provided, and we had satisfying results using both an external mic and line input. It's nice to be able to manually ride levels in real-time using a dedicated LED screen separate from the video monitor. The on-board mics at 45-degree angles away from the camera lens maintain proper stereo panning between picture and audio source.
Sweetly hidden away is the autofocus lens, which transmits to a 1/4-inch, five megapixel CMOS image sensor. The advantage of this placement is that subjects are often unaware of the camera. The whole unit is rectangular and mimics a phone, which is another camouflage. To downplay the attributes of a hidden lens would be to forget that nowadays people are conditioned to perform when they see a camera pointing at them. We were delighted when we quickly transferred the files to the computer via the supplied USB cable and saw how unselfconscious our interviewees were. Even when told that a camera was rolling, the majority of people responded as if it were only a sound recorder.
Olympus has given us true high definition video in flavors of either 1080p or 720p. The options for standard definition and lower quality sound increase storage space and battery power. With an image stabilizer, white balance controls, and exposure compensation indexing, there are many ways to control picture. For extra features, you can get creative with four special video effect filters and, when video is absent, colorful LED displays are fun to watch.
Ease of Use
The learning curve is very short, and the LS-20M is easy to operate. One hand can thumb through the menu to make adjustments on the 2-inch screen while a separate display shows battery life and audio levels, timecode, record time remaining, and file number. The essential buttons and important controls, like power on, hold, and video and audio modes, are solid switches that respond well.
The Problems
Two major disadvantages are that the unit must be used in well-lit situations and mounted on a tripod for best video results. Without support, the monitoring screen forces operators to strain their arms when lining up decent shots over a long period of time. Off tripod, the featherweight unit weighs 5.4 ounces with battery and SD card making video difficult to hold steadily despite the electronic stabilizer. For high shots, Olympus gives the option to record from overhead, but using a tripod will be difficult as the mount is opposite the monitor.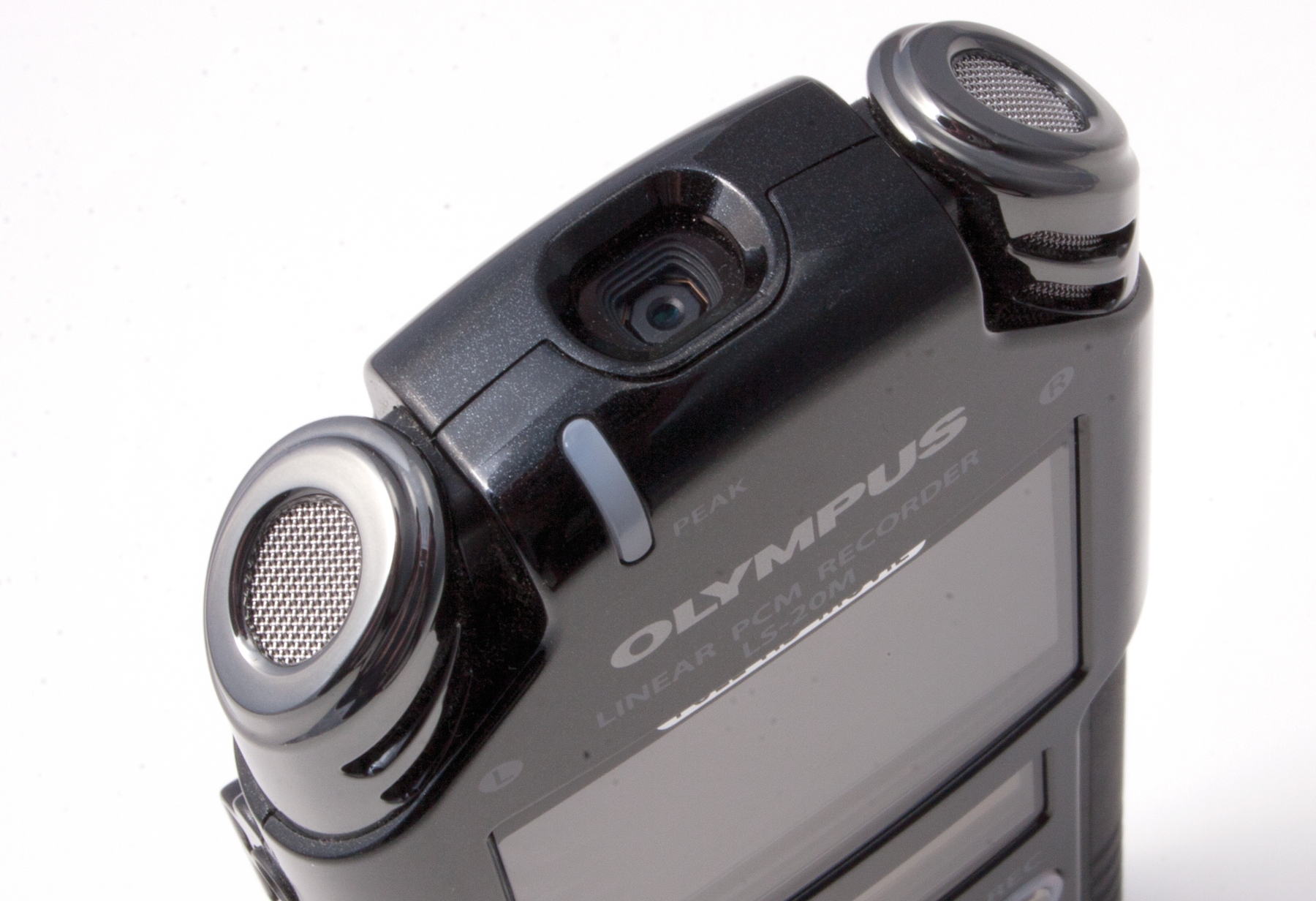 Olympus has not allowed capture of clips with duration greater than 4GB. This means that when recording at 1080p, it stops at 40 minutes regardless of memory size. Vigilance about pausing and restarting is critical. Even so, precious seconds are lost between any unscripted takes.
Our biggest audio concern was the absence of a windscreen or a way to rig a windscreen around the microphones without obscuring the camera. For those expecting quick camcorder recording, note that the LS-20M behaves like many audio recorders in that pressing record once activates recording mode, press it again to actually get the timecode going. Lastly, we got poor images under low-light conditions and aberrations when using the 4x digital zoom.
Summing it up
Clearly, Olympus has designed a recorder that captures acceptable video when used as a secondary source, or great video with much planning. It's up to you to decide if video plus audio should be prioritized, or if one could take a back seat. Go for the challenge of doing both only if you are well-prepared with tripod, lights, and direction. Then it can't be denied that in so many ways, this little device brings incredible realism to the screen. If the LS-20M is recording for audio, video files will help you sync video you simultaneously shot with your other cameras. Uniting top-notch stereo sound with sharp 1080p HD, the LS-20M is a lifesaver when size, invisibility, and quality results are important, but prepare for a few difficulties.
Jeanne Rawlings is an Emmy-award winning producer and audio recordist who has produced films around the world.
Olympus LS-20M
COMPANY & PRICING INFO:
$250
Olympus LS-20M
3500 Corporate Parkway
Center Valley, PA 18034
www.olympusamerica.com
Tech Specs
Stereo Formats: PCM (WAV); 96kHz 24-bit or 44.1kHz 16-bit MP3; 320kb/s or 256kb/s
Video Formats: MOV 1920 x 1080 30fps; 1280 x 720 30fps; 640 x 480 30fps
Image Sensor: 1/4" 5MP CMOS sensor
Lens: Autofocus 4.1mm (16:9 at 49mm, 4:3 at 59mm)
Optical Zoom: 4x
Shooting range: Infinity to 12-inches
Video Monitor: 2" color LED display
Data Monitor: 1.5" LCD display
Image Stabilization: Electronic
Manual White Balance: Yes
Light Meter: Multi-zone and Spot
Exposure: -2 to +2 stops in .3 increments
ISO Mode: Normal and high
Video Output: HDMI mini
Frequency response: PCM Format (20Hz-44kHz); MP3 Format (50Hz to 20kHz)
Manual Audio Level Control: Yes
Equalizer: Rock, Pop, Jazz
Auto Power Off: 5/10/30/60 min.
Microphone In: 1/8"
Line In: Yes
Headphone Jack: Yes
Built-in Speaker: Yes
Audio/Video Output: USB 2.0
Battery Type: Lithium ion
Dimensions: 5.3 x 2.5 x 0.7 inch
Weight: 5.4oz. (including battery and SD card)
External Battery Charger Provided: No
USB cable Provided: Yes
Battery Provided: Yes
SD Card Provided: Yes
Carry Case: No
Strengths
Full HD video
Uncompressed stereo
Pocket size
Weaknesses
Poor video in low-light or with digital zoom
Handheld shooting cumbersome
No continuous recording