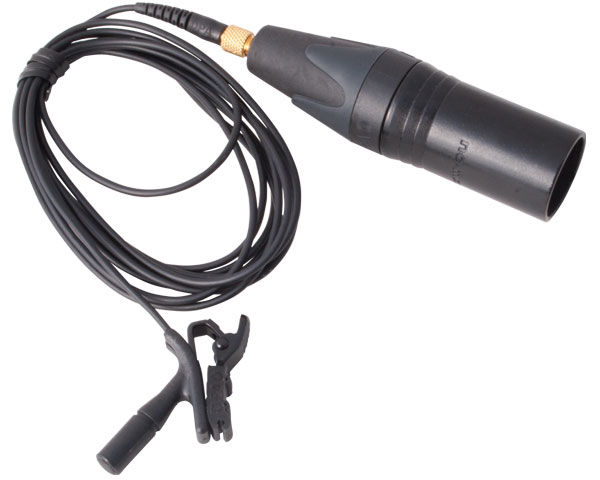 The EMK4071 ENG/EFP microphone kit exudes its manufacturer's characteristic quality. DPA has put together a complete kit, including a lavalier microphone and necessary accessories that are perfect for electronic news gathering and electronic field production applications.
The 4071 miniature mic with lapel clip, cable and MicroDot connector, an XLR adaptor, several mic holders of different styles for various applications, eight foam windscreens – each a different color,- a gray fur windjammer and a miniature mesh cover are all packed neatly in a sturdy, compartmentalized hard case with transparent lid. Additionally, a great many adapters are available to enable use of the 4071 mic with all professional wireless systems having 48V phantom power.
The microphone uses a pre-polarized condenser with vertical diaphragm, is pre-equalized for optimal speech clarity and features a soft presence boost of around 5dB at 4-6 kHz. Combined with the XLR adapter (with midrange attenuation), the pair yield a high level of audio quality with clear, intelligible speech characteristics.
Advertisement
This setup is ideal for news gathering, as with a reporter or interview subject in both the field or in the studio. Measuring less than a quarter-inch in diameter, two-thirds-inch in length and weighing a mere one-third-ounce – with cable and MicroDot connector – it is also quite suitable for film or indie productions where hidden microphones on actors are required.
The 4071 kit is first class in both appearance and performance. In testing, vocal quality was surprisingly clear, while hiss was virtually non-existent. Overall sound quality was very nice. For any production application requiring a microphone to be worn on the body, the 4071 mic is a perfect solution that delivers impressive results.
Tech Specs

Directional characteristics: Omnidirectional

Principle of operation: Pressure

Cartridge type: Pre-polarized condenser element with vertical diaphragm
Frequency range, +/- 2dB: 100Hz to 15kHz with 5dB soft boost at 4-6kHz

Total Harmonic Distortion (THD): <1% up to 123dB SPL peak; <1% up to 120dB SPL sine

Dynamic range: Typ. 97dB

Max. SPL, peak before clipping: 144dB

Power supply: For wireless systems: Min. 5V – max. 50V through DPA adapter; with DAD6001: 48V phantom power (+/- 4V)

Connector: MicroDot

Weight: .3oz. (9g) including cable and MicroDot connector

Capsule diameter: 1/4″ (5.4mm)

Microphone length: 3/4″ (17mm)

Cable length: 6′ (1.8m)
Strengths
Small
Lightweight
brand quality
Several mounting options
Weaknesses
Summary
DPA quality and a variety of mounting options make the EMK4071 ENG/EFP Microphone Kit a very usable first choice for video enthusiasts at all levels.
DPA Microphones, Inc.

www.dpamicrophones.com

$628 kit – $485 mic only
Contributing Editor Mark Holder is a video producer and trainer.