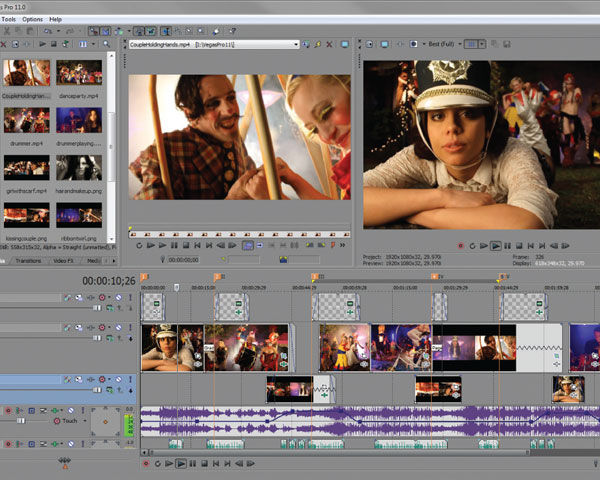 Some software upgrades are about flashy new interfaces and sexy new features, and others have more to do with supercharging the engine under the hood in order to boost the overall performance. This past year, video editing tools have been working on the flashy side with support for working with 3D video, but the real focus has continued to be on the machinery – taking advantage of today's 64-bit architectures to work efficiently with large clips in memory, combined with GPU (graphics processing unit) hardware to significantly speed up video processing.
We've seen this trend in Adobe Premiere Pro CS5, with the GPU-accelerated Mercury Playback Engine introduced last year, and with the application available only for 64-bit systems. Similarly, Vegas Pro 10 from Sony Creative Software was released last year with both 32-bit and 64-bit versions, and with GPU acceleration for rendering to AVC format.
Now Sony has released Vegas Pro 11, with full-up GPU acceleration for video processing, effects, and rendering, for speed ups across editing, playback, and output. Besides the under-the-hood improvements, the new Vegas also enhances editing with features including sync link, adds new technology including advanced video stabilization, and provides deeper support for editing 3D material including 3D Titler Pro.
GPU Acceleration
Integrating GPU acceleration into video editing software involves several trade-offs, balancing the number of video processing operations that are accelerated, the level of optimization for each effect, and the range of GPU processors and board hardware versions supported – all across different manufacturers, widely varying numbers of processors and associated on-board memory, and different functions available for acceleration.
Adobe's answer for Premiere Pro was to optimize for the NVIDIA line of graphics cards, taking advantage of the CUDA programming interface. With Vegas Pro 11, Sony has taken the approach of using the OpenCL (Open Computing Language) standard for parallel programming, to support a variety of GPU cards from both NVIDIA and AMD, with at least 512 MB of GPU memory. Sony's benchmarks show three to four times improvement in playback performance on mixed-format projects during editing compared to Vegas 10, and two to four times improvement in rendering the final output.
For video editing and playback, Sony reports that the Vegas 11 overhaul accelerates a substantial chunk of the built-in video processing, including crossfades, fades, alpha compositing, framerate resampling, time remapping, interlace processing, pan/crop, track motion, opacity, fade-to-color, and multicamera display. Plus it accelerates over 45 effects, transitions, generators and compositors — with effects including gaussian blur, black and white, cookie cutter, bump map, mask generator, sepia, lens flare and chromakeyer, plus transitions such as cross effect, iris, and clock wipe.
Plug-Ins / Stabilization
Another aspect of the Vegas Pro 11 retrofit was rebuilding the underlying architecture for video effects plug-ins based on the Open Effects Association platform. This new suspension provides an enhanced interface to allow third-party developers to more easily develop cool new Vegas plug-ins to better smooth your ride.
Sony also uses this platform for built-in tools, including the new advanced video stabilization plug-in, with high-performance shocks to reduce the jittery or shaky video caused by handheld recorders. The plug-in analyzes the motion within a clip on all three camera axes, so you can build on the presets to independently control the precision for pan smoothing (left/right), tilt (up/down) and zoom. It also provides rolling-shutter correction for the JELL-O/skew/wobble effects caused by some CMOS camcorders.
Sync Link
Within the passenger compartment, Vegas Pro 11 includes other enhancements for a more comfortable ride in your editing workflow, including adding a search box to effects windows (including a new compositors window) along with folders so you can more easily find and group plug-ins, and per-parameter keyframing for some effects and transitions. For audio, Sony also cleaned up the mixing console and simplified the master bus window.
But the major new editing feature in Vegas Pro 11 is sync link, a mechanism for keeping events aligned and synchronized across multiple tracks. Sometimes layered tracks are relatively independent, as with picture-in-picture, but other times you need to have secondary audio and B-roll video clips and titles that are tightly matched to the main track. With sync link, you can manually link one or more events on child tracks so that they automatically move together with the main event on the timeline. Meanwhile, you still can edit and adjust the child events independently.
3D Styling
3D is the flashy new feature for this year's generation of video tools, like a rear spoiler designed to add dimension to the car. Vegas Pro 11 has deepened its support for working with 3D material with stereoscopic 3D alignment and depth adjustment tools, floating window controls, and horizontal offset controls for 2D effects and transitions to adjust the perceived depth of effects. And Vegas Pro 11 supports NVIDIA 3D vision hardware to allow editing on single-display 3D computers, including Sony 3D desktops and laptops.
Then to detail your 3D production, Vegas Pro 11 also adds NewBlue Titler Pro for creating stereoscopic 3D titles with animations, professional-style templates, and effects, controlling text down to character level and on the X, Y, and Z axes.
Titlers
To further enhance your production vehicle, Vegas now supports a total of four different text titling plug-ins. You can use the basic text plug-in for simple text overlays, or move up to the new titles and text plug-in to create 2D animated effects. The improved ProType Titler provides more sophisticated animations, including scrolling and crawling credits, splined curves, and per-word and per-character animation. And there's NewBlue Titler Pro for 3D animated titles.
Rendering
When your trip is done and you are ready to render your project, Vegas Pro 11 has cleaned up the Render As dialog to provide more efficient selection of output format templates, based on the project settings, your favorites, or your own customized settings. Vegas Pro 11 helps with the profusion of formats by marking formats that match your project, providing text search options to match specific devices, and providing more filtering options to match specific video or audio attributes. Plus, you can now upload directly to YouTube.
The render formats now also include AVC/MP4 for Internet distribution, with support for progressive download from streaming servers. And Vegas Pro 11 also adds native import and editing of RAW photo files with the Microsoft Camera Codec Pack for Windows 7 and Windows Vista.
…Stays in Vegas
Sony Vegas Pro 11 is a classic and comfortable vehicle for video editing. Version 11 adds some nice refinements with the same comfortable feel, but the real action is under the hood with a significant turbo-boost from GPU acceleration that makes this a welcome upgrade. So download the trial version to kick the tires, and even download Sony's benchmark projects to see how they perform on your own system. Then put the pedal to the metal, or the mouse to the track.
Tech Specs
Trial Version Available: Yes – No Limitations

Operating System: Windows Vista or Windows 7, 32-bit or 64-bit

Minimum CPU: 2 GHz processor (multicore or multiprocessor CPU recommended for HD or stereoscopic 3D)

Minimum RAM: 2 GB (4 GB recommended)

Minimum Hard Drive Space for Installation: 500 MB

Capture Formats: (DV25, DV50, Analog Capture Cards, MicroMV, DVD Camcorders, HD Ready)

Batch Capture: Yes

Automatic Scene Detection: Yes

User Interface: Customizable, via dockable windows

Number of Video/Audio Tracks: Unlimited

Nesting Tracks: Yes

Audio/Video Level Envelopes: Yes. Volume/Pan/FX

Audio Scrub: Yes

Keyframe Animation: Yes

Number of Video Transitions: More than 200

Number of Video Filters: 58, plus nine via the inclusion of the NewBlue Titler Pro software; More than 390 effects

Background Rendering: Available via multiple instances of Vegas Pro 11 running simultaneously

Realtime Software Previews: Yes

Optimized for Dual Processor/HyperThreading: Yes

Third-party Plug-in Support: OpenFX-based plug-ins [GenArts, Boris FX, Red Giant, NewBlue FX, Imagineer Systems, Re:Vision, and more

Batch Render: Yes, via custom scripting or the Production Assistant 2.0 companion software

DVD Authoring Software Included: Yes, DVD Architect Pro 5.2

System Requirements: OHCI-compatible IEEE-1394DV card (for DV and HDV capture and print-to-tape), USB 2.0 connection (for importing from AVCHD, XDCAM EX, NXCAM, or DVD camcorders), Windows-compatible sound card, DVD-ROM drive (for installation from a DVD only), Supported CD-recordable drive (for CD burning only), Supported DVD-R/-RW/+R/+RW (for DVD burning only), Supported BD-R/-RE drive (for Blu-ray Disc burning only), Microsoft .NET Framework 3.5 SP1 (included on application disc), Apple QuickTime 7.1.6 or later for reading and writing QuickTime files, Internet Connection (for Gracenote MusicID Service), Supported NVIDIA or ATI cards for GPU-acceleration

NVIDIA: Requires a CUDA-enabled GPU and driver 270.xx or later with a GeForce GTX 4xx Series or higher GPU (or driver 285.62 or later with a GeForce GT 2xx Series or higher GPU).

AMD/ATI: Requires an OpenCL-enabled GPU and Catalyst driver 11.7 or later with a Radeon HD 57xx or higher GPU. If using a FirePro GPU, FirePro unified driver 8.85 or later is required.
Supported File Formats

DVD encoding, Video: NTSC 4:3, NTSC Widescreen, PAL 4:3, PAL Widescreen

DVD encoding, Audio: AC-3 5.1 or stereo, PCM

BD encoding, Video: MPEG-2 or AVC, 1080-60i, 1080-50i and 1080-24p

BD encoding, Audio: AC-3 5.1 or stereo, PCM
Strengths
Classic tool with enhanced editing workflow, including sync link and advanced video stabilization
Deep support for professional editing, including pro import and export formats
Broader GPU acceleration support across video processing, effects, and rendering, on both NVIDIA and AMD
Broader support for 3D editing, including stereoscopic alignment and depth adjustment of clips and effects
Weaknesses
Plug-in architecture can cause components to be too loosely integrated, as with multiple different titlers
No integrated batch / background rendering for exporting in multiple formats (but has scripting)
Missing updates for included programs
Summary
Vegas Pro 11 is a welcome upgrade to this classic professional editing tool, with GPU acceleration for video processing, effects, and rendering that supports both NVIDIA and AMD hardware, enhances editing with workflow improvements including Sync Link, and technology upgrades including advanced video stabilization for all three axes of camera motion.
Sony Creative Software

www.sonycreativesoftware.com

Price: $680 (packaged), $600 (download), $190 (upgrade from other Vegas professional version)
Doug Dixon covers digital media at Manifest-Tech.com.