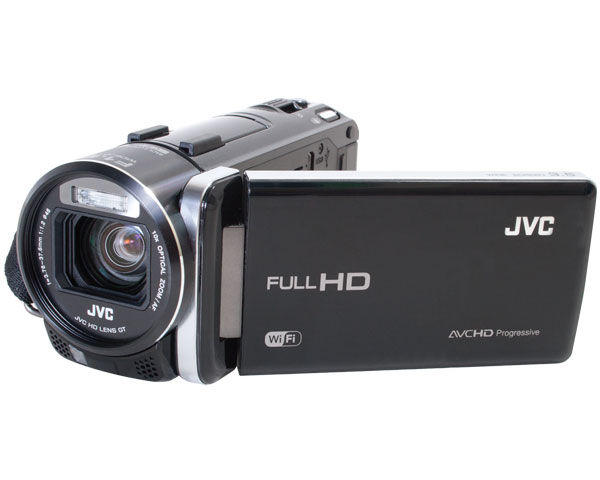 Long known for putting out quality camcorders, JVC strikes another home run with their Everio GZ-GX1. Blessed with more than enough pixels to produce stunning, full high definition images, the GZ-GX1 does exactly that and brings some very cool Wi-Fi features to the table as well.
Form
The GZ-GX1 sports a traditional camcorder design, is well balanced, fits the hand nicely and is well suited for handheld use. Out front is a JVC f/1.2 aperture HD lens, with automatic shutter and video light. A filter thread allows the use of lens converters if desired. Inside is a 1/2.3-inch, 10-megapixel CMOS sensor; more than sufficient to produce beautiful, full HD, 1080, 60p imagery.
The flip-out LCD touch screen measures a healthy 3.5-inches which is great for viewing (fortunately, since there is no viewfinder) and playback. Controls are accessed via a somewhat awkward menu system. There are no external manual controls and the camcorder is sadly lacking any sort of control dial or lens ring. Unfortunately, these are the sorts of compromises that must be made either for cost or space, or possible design reasons.
Opening the screen reveals the USB, HDMI, A/V, headphone and external microphone ports. The rear of the camcorder houses the battery and the video record button. Topside are the Zoom/Playback Volume toggle, Snapshot button, Optical Image Stabilizer button and accessory shoe. On the right side is a flip-out cover hiding the AC charger port. Underneath are the tripod mount, battery release, and covered SD card slot. Unfortunately, this means that the camcorder must be removed from a tripod to swap out cards. On the other hand, pop in a high capacity SDXC card (up to 64GB) and card swapping should be unnecessary for quite a while.
All About Connections
Of course, the primary source of coolness in this camcorder is its Wi-Fi capability. Using Wi-Fi, the GZ-GX1 adds several nifty little tricks to an operator's repertoire beyond simple sharing. With a free app that is available for iPhones and Android phones, a direct connection may be made between the GZ-GX1 and your smartphone to allow real-time monitoring and control from a distance.
For example, in this way, the GZ-GX1 could be used to make sure that the baby sleeping in the adjacent room is okay. With the camera in video record mode, flip the LCD open and press the Menu button. Options appear for Effect Recording, Smile and Wi-Fi.
Wi-Fi options include Wi-Fi Setting, Video Mail and Direct Monitoring. With Direct Monitoring enabled and the correct Wi-Fi settings selected on your phone, open the Everio sync app on your smartphone. The two devices will connect and your phone becomes a remote monitor. Your phone's screen isn't likely to be bigger, but you'll be able to zoom, snap stills, record and pause video. We even used it successfully as a second camera at a performance shoot and was able to control it from across the room.
If you happen to be several states, or even several continents away, you can stay connected and see what's going on via the Internet using an access point. Now, how cool is that?
Another awesome Wi-Fi option is Home Detection Monitoring. A still photo is taken automatically and emailed to your computer or phone anytime someone enters the camera's detection area. What a great way to spy…er, feel safe, about your family's welfare while you're away.
If you like keeping in touch with video email, this camera allows you to record and email a 15-second clip to as many as eight registered addresses simultaneously.
While directly linked to a smartphone, the phone's GPS function can be used to geotag your videos and still images. In other words, location information is embedded into the image's metadata. When played back on a computer using the included Everio MediaBrowser software, the data synchronizes with Google Earth, giving a visual reminder of where the events took place.
Also, using a direct link, images recorded with the GZ-GX1 can be transferred to a smartphone and then uploaded to sharing sites such as YouTube or Facebook.
Parting Thoughts
In addition to some pretty cool Wi-Fi functions, the GZ-GX1 captures beautiful images with excellent color reproduction and contrast. Packing plenty of pixels to produce pretty awesome HD footage, Wi-Fi connectivity and a reasonable price to boot, the JVC Everio GZ-GX1 is certainly worth a serious look-see.
Tech Specs
Image Pickup Device: 1/2.3″ 10,620,000 pixels (BSI CMOS)

Lens: JVC HD GT Lens; F1.2 – 2.8; f=3.76mm to 37.6mm

Illumination: 1 lux (Scene Select: NightAlive); 2 lux (Gain Up: Auto Slow-Shutter); 10 lux (Gain Up: On)

Filter Diameter: 1.8 (46mm)

Zoom (during video recording): Optical up to 10x; Dynamic up to 15x; Digital up to 200x

Zoom (during stills): Optical up to 10x

LCD Monitor: 3.5″; 920,000 pixels; polysilicon color LCD; touch panel

Recording Media: Class 4 or higher media card for video recording – SD up to 2GB; SDHC up to 32 GB; SDXC card up to 64GB

Internal Storage: none

Wi-Fi Function: Yes (IEEE 802.11b/g/n)

Recording/Playback Format: AVCHD Progressive; Video: MPEG-4 AVC/H.264; Audio: Dolby Digital 2 ch

Image Quality: 60p; 1920×1080; 28 Mb/s maximum

Sound Quality: 48 kHz, 256 kb/s

Continuous Still Recording: Yes

High-Speed Video Recording: Yes

Time-Lapse Recording: Yes

Animation Effects: Yes

Still Image: JPEG standard

Bundled PC Software: Everio MediaBrowser 4 BE on CD-ROM

Connectors: HDMI Mini output connector, Mini USB, AV, headphones, microphone

Dimensions (approx.): 2.3″x2.5″x5.1″

Weight: .8lbs (camera only); .9lbs (including supplied battery pack)

Accessories Included: AC adapter, battery pack, remote control
Strengths
Full HD 60p recording
Wi-Fi features add to functionality
Large 3.5″ LCD screen
Filter thread on lens
Weaknesses
No manual control dial or lens ring
Awkward menu system
Summary
Pixels, price and Wi-Fi functionality make the JVC Everio GZ-GX1 a serious contender in today's consumer camcorder marketplace.
JVC

www.jvc.com

$900
Contributing Editor Mark Holder is a video producer and trainer.