View all of the best consumer video production products of 2009, selected by the editors of Videomaker
Panasonic's new AG-HMC40 packs tons of professional features into a small package, and an even smaller price tag. When Panasonic introduced its AVCCAM line of camcorders, it meant that AVCHD was going to be used in more than just consumer cams. The higher-bitrate recording of the HMC40 AVCCAM camcorder offers more color and resolution than other AVCHD flavors. This is a boon for the casual video producer and professional shooter alike. So, following in the tradition of it's older sibling, the AG-HMC150, the AG-HMC40 boasts full-raster 1920 by 1080 and 1280 by 720 line recording modes.
The HMC40's brains are in a 3MOS sensor array; that's Panasonic's implementation of three CMOS sensors working together. The beauty is in the 24p, 30p and 60i framerates available in a small camcorder. And the picture is sharp, really sharp. But the HMC40 does keep one foot in the consumer world by including a consumer-y touch screen and the option for unbalanced audio. Overall, the HMC40 is an extremely well-designed camcorder, created for the Pro or Semi-Pro shooter who wants a small, broadcast-capable camcorder.
First Look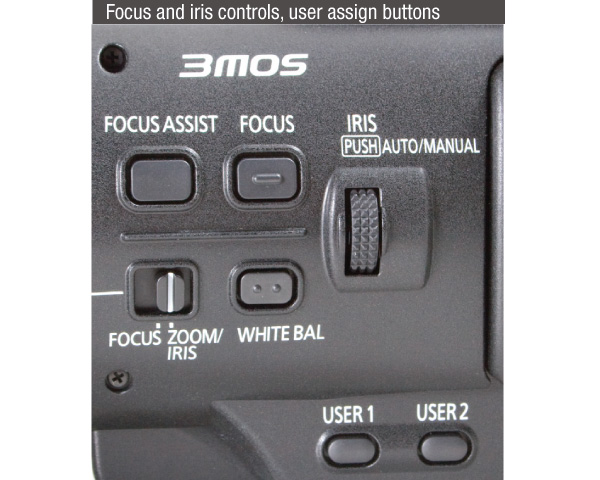 Unboxing the HMC40 is easy and organized, thanks to Panasonic's smart packaging. We didn't misplace any parts or cables (and there are lots of them). Since this is a pro camcorder, some assembly is required. No, we didn't have to use a screwdriver but we do attach the included metal handle, lens hood and rubber eyecup. To attach the handle, we slide it into the accessory shoe and lock it down. But we haven't lost our place to mount our accessories like lights or mic receivers; there's another shoe integrated into the handle itself. We notice right off after picking up the HMC40 is that it looks and feels like a pro camcorder. It's solid and well balanced in-hand. It's all matte black in color. And every cable we'd need to shoot, charge a battery, and transfer footage are included. Especially BNC adapters, which allow the HMC40 to connect to a professional broadcast monitor during recording.
HMC40 Design
With such a small form factor, it should be difficult for a camera manufacturer to decide which features to put on the outside of the HMC40, and which to keep in the menu. Panasonic's placement of buttons and switches on the camcorder is excellent. In fact, many buttons that are typically found under a camcorder's LCD screen, are smartly placed around the closed LCD screen on the HMC40. This way, we don't put as much "wear and tear" on our LCD screen by flipping it open to use the OIS (Optical Image Stabilization), Record Check, or Zebra features. Having these features at our fingertips adds a pro feel, as the HMC40 camcorder is manufactured by Panasonic's Broadcast division. Buttons and metal switches are marked with easy-to-see bold paint along the camcorder's left side. A single thin door clicks open to reveal the SD card slot; the HMC40 records video directly to SDHC media. A special switch near the front allows the large Focus Ring to act as a smooth Zoom Ring or Iris Ring. The lens cap is a rectangular shape that fits neatly in the rubberized lens hood, keeping fingers away from the lens.
And Now For the Main Feature
Right away, the HMC40 offers full high-definition 1080i video, along with variable frame rates. These features aren't usually found in a camcorder this size. When recording video in the highest quality setting (called PH mode), the HMC40 records 1080i video at up to 24Mbps, with an average bitrate of 21Mbps. PH mode delivers the highest bitrate available in a camcorder using the H.264/AVCHD video specification. Other options such as 1080p30 and 1080p24 are available, including native frame recording when shooting 1080p24. Native frame recording means that recording video in 24fps records only 24 frames in one second, without any redundant pulldown frames (though if you eventually have to output a 30fps version of your project, any editing application worth its salt can add the necessary pulldown frames to 24fps footage.) Panasonic included native recording in its P2-based HVX200 camcorder in 2006, at a much higher cost. Along with shooting 1080i, the HMC40 also shoots 720p video at the same high bitrate. Variable framerates include 60p, 30p and 24p (native). The variable framerate modes can be used to make some extremely creative video, including slow motion (in high-definition even, not a lesser resolution), and fast motion. These framerates can be combined with the HMC40's wide array of shutter speeds (as long as 1/2 second) for more creative video. The HMC40 also includes handy exposure features, a spot meter and a histogram. Pros look for these, because the two can be used to accurately judge exposure from the darkest shadows to the brightest highlights.
Using Panasonic's HMC40
To test this camcorder, we really wanted to see how it handled a variety of shooting conditions. We shot outdoors and inside. At sunset and in dimly-lit rooms. We shot action sequences of pro skateboarders along with stationary interviews. The HMC40 performed excellent in every situation. Resolution is very good; averaging 800 lines, especially for a camcorder that utilizes compact 1/4″ CMOS imagers. Panasonic's imagers seem to naturally create nice "latitude" and color. In fact, the HMC40's color looked on par with it's big brothers the HMC150 and HPX170.
One worry with imagers this size is the trade-off of light sensitivity. Typically an imager has to have pixels packed together tightly to get an HD picture. The more pixels have to be crammed, the smaller they are, and the less light they receive. The HMC40 fared normally for a 1/4″ CMOS camcorder; good, but not great, in low light. However, the electronic gain adjustments increased the brightness when shooting in a dark room without visually degrading the picture. A drawback to the HMC40 is a wiggly effect that is created in some shooting situations. We noticed the picture wiggle from time to time, and it was very apparent when we shot handheld or zoomed into the telephoto end of the lens. Wiggle is a byproduct of CMOS imagers, but it's only distracting if you're used to shooting with CCD-based camcorders. Turning on the Optical Image Stabilization (OIS) practically eliminates the effect. To focus our shots, we primarily used the flip-out LCD monitor. We could do this even in bright daylight because of the HMC40's sharp, 16:9 touch screen. We found the menus familiar and easy to understand. Gamma, Color and Detail adjustments are all included, and the HMC40 includes 2 user-settable scene files to store our settings in a group. A sharp LCD screen is a necessary feature for HD shooting. We used the menus to adjust our audio levels. Though XLR audio and hard audio pots are available on an inexpensive audio accessory, we would like to see better audio controls on the HMC40 itself. The total price is still very reasonable, and a great bargain. Considering the HMC40 is a full-raster 1920 x 1080 camcorder with exceptional picture quality and weighs roughly 2 pounds, small compromises must be made. The great performance we encountered with the HMC40 is common when using a $6,000 HD camcorder, but it isn't common when using a camcorder priced under $2,000.
Conclusion
After shooting with the Panasonic AG-HMC40, it's professional features and overall usability made it an obvious value. Event producers will enjoy the low-light performance and long 1080i recording times. Journalists will like the HMC40's compact size and weight. Indie moviemakers should smile at its native 1080/24p recording, along with its variable frame rates and slow shutter speeds.
Tech Specs
Recording Format: AVCHD

Signal Format: 1080/60i, 1080p/24, 1080p/30,
720/60p, 720/24p, 720/30p

Recording Modes:1920 x 1080 and 1280 x 720 High Definition

Recording Media: SDHC memory card

Number of image sensors: 3, Progressive CMOS

Size of image sensors: 1/4″

Pixels on image sensors: 3.05 Million

Lens: Leica Dicomar

Focus: Auto and Manual, Focus Assist Button, Switch to Focus Ring

Shutter Speed: 1/2sec – 1/2000sec

Optical Zoom: 12x

Image Stabilization: Optical

Filter Thread Diameter: 43mm

Manual White Balance: Yes

Viewfinder: Yes, Color, 113,000 pixels

LCD Monitor: Yes; 2.7″, Color, 230,000 pixels

Progressive Scan: Yes, (Native 720/24p and 1080/24p)

Connectors: HDMI, USB2.0, Composite, Component

Mono/Stereo Recording: Stereo

Microphone In: Yes, 1/8″ and balanced 8pin, 48v phantom power

Manual Audio Level Controls: Yes

Headphone Jack: Yes, 1/8″

Speaker: Yes

Flash: No

Wireless Remote: Yes

Onboard Video Light: No

Accessory Shoe: Yes, cold shoe

Battery: Yes, 2640mAh

Dimensions: H 5.2″, L 12″, W 5.3″

Weight: 2.2lbs.
Strengths
High-bitrate AVCHD video
Very sharp picture
Button placement
Weaknesses
Touch screen functionality
No audio hard pots
Summary
A well-balanced camcorder that shines bright with professional features and high-bitrate AVCHD recording to SD media.
Contributing editor Andrew Burke has worked in video production on four continents around the world.
Panasonic Broadcast & Digital Systems

One Panasonic Way

Secaucus, NJ 07094

www.panasonic.com

$2,295