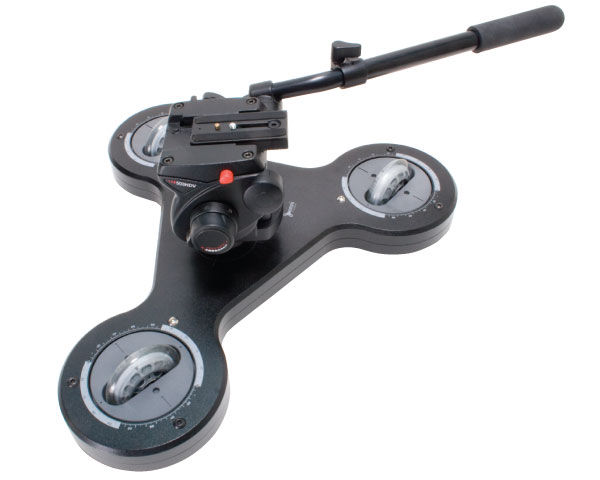 View all of the best consumer video production products of 2009, selected by the editors of Videomaker
Little Dolly Coaster
We have all done crazy things to pull off a dolly shot. We know shopping carts don't hold a candle to the soft tires of a wheelchair, and that shock absorbers allow you to pull off an impossible shot from the back of a motorcycle. The Omni-Tracker offers civilized control if a low budget or equipment and crew constraints tempt you to bust your back.
Overview: Raising the Floor
This little dolly is only three inches high and less than 20 inches across. In essence, it requires that you raise the floor up to your tripod head, with this dolly between them. From the shooting platform, you now have control of the ground and have essentially removed any terrain problems. For the time you can save, this part of the system beats setting up a cumbersome track. You can shoot in areas you would never consider; a real advantage in locations not conducive to wheels.
Ready to go out of the box, the Omni-Tracker arrived with a nifty laser pointer and ingenious puck for sighting the degree of arc between the 3 wheels. The wheels turn like dials, the action is precision-tight, like a clock dial and bezel, and allows accurate positioning of the direction you want to move. This 7 -lb unit can smoothly carry up to 25 lbs., which was plenty for our HDV camera and tripod head.
Features: Smooth without Grooves
The Omni-Tracker glides on rubber wheels. Dialing in virtually any curve becomes intuitive through quick trial and error. The company boasts "no charts". We picked up on the laser-aligned system fast. With a finger twist of the wheels, it was easy to fine-tune a perfect move, especially with critical foreground composition.
In a real sense, rather than coupling tracks, you must build a stable, pre-curved and very smooth surface. Adjustable legs on this platform table are essential. Dolly runs with arc moves or long stretches also demand that the table be narrow enough to physically push the dolly. We found that leaning our weight over the lead wheels helped to steady our shots. All of this can be pre-designed and built ahead of time, with the advantage of not doing it under pressure in the field.
Omni-tracker offers various ways to mount the camera. Half-ball tripod heads bolt on with ease, but full-ball heads, with their preferred greater tilt range, will require you to purchase an adapter. The steady-bag works in a pinch, but we found that refined leveling is better done at the tripod head because it covers for the coarser adjustments of the dolly table legs.
Heads Up on the Downsides
Wheels are everything when choosing a dolly. To keep the low profile, Omni-Tracker sports solid rubber wheels that are 3 inches tall and 1 inch wide. This means they are more sensitive to bumps, without the cushioning of inflatable tires or the radius compensation of larger wheels.
Control becomes extremely important, even in wide shots. We managed to turn a wheel out of alignment to control our moves, but a dampener on a brake would be nice. Ultimately, our work-around for slowing the dolly was partially successful and the wheel began balking and squeaking when we went for slow-slow. Between shots, we found it bothersome that we had to turn a wheel to brake the SL model.
As to the rocking that is inherent at crucial start-up and ending takes, a few practices brought good results when we used our fingertips as brakes. The company has included a position brake on the two advanced models, which are not reviewed in this article.
Another small thing was the foam-lined carry case, which is cardboard. Strengthening with fiber tape is needed if you want to keep the slim-line design of this whole package. Omni-Tracker offers a waterproof, lockable case, but that increases the bulk and weight of your kit, though we recommend it to protect your investment.
Summary
Bottom line, the Omni-Tracker's unique design and small size creates high-end shots at minimal financial cost. A big plus is that once you have built your table, you are free to go where no dolly could go before. We were very pleased with the results we got. While the dolly platform table adds bulk to your equipment load, having it pre-made cuts set-up time in the field. We found that with just a little practice, the lyrical moves of this little gem make it well worth the investment.
TECH SPECS
Size:19.25 inches'by 17.5 inches
(48.90cm by 44.45cm)

Weight:7.4 lb. (3.4kg)

Wheels:80mm urethane with ABEC 7
bearings

Wheel Position:3 Friction-Fit adjustable
wheel housings

Wheel Lock:No

Construction:CNC machined HDF body
with durable epoxy resin
coating

Maximum load:25 lb. (11.34kg)

Other:Includes bolt and wrench to
mount standard tripod head
with 3/8-16 mounts

Not included:Lazerpro Laser pointer and
Laser puck, Steady-bag
Strengths
Lightweight
Ease of use
Work in confined spaces
Weaknesses
No brake
Requires flat platform
Summary
The Omni-Tracker SL is a lightweight dolly that delivers precise, smooth moves, with the added flexibility of working in tight quarters.
Jeanne Rawlings is an Emmy Award winning sound recordist and documentary producer. Her former clients include the National Geographic Society, ABC and Discovery Pictures.
Omni-Tracker

450 N. 4th St.

San Jose, CA 95112

www.omni-tracker.com
$475