Compose Yourself
Avid Media Composer is one of the oldest video-editing programs. It was cutting feature films when Premiere was looking at postage stamp-sized video and Final Cut wasn't even a gleam in the eye of Apple. So what can you do new with a program that's well into its teens? The answer: refine, refine, refine – and that's what Avid has done with Media Composer 3.5.
For most of its run in the professional world of non-linear editing, Avid came with a five-figure price tag, keeping it out of reach for many independent producers. In more recent times, Avid Media Composer has come down to a much more reasonable $2,495, in order to compete with other video application bundles. In addition, if you're a student or educator, you can get the software for a song at $295, and there is now a 14-day free trial at Avid.com, so you can test it out for yourself.
We highly recommend that you download the free trial and give it a try on your own system before purchasing. Avid can be very picky about what versions of Windows or Mac OS X that it installs on, and you'll want to make sure it runs well on your machine before you pull the trigger on a purchase.
Advertisement
New Features in Media Composer 3.5
There are some new additions to Media Composer, and probably the most revolutionary among them is AMA or Avid Media Access. AMA allows you to edit natively in a variety of formats, including XDCAM EX and P2. Native editing means that the software can edit with the footage straight from the camera – there is no re-wrapping or time-consuming transcoding needed. Simply pop your P2 card into your editing computer, and edit away. You have the choice of copying the footage to your local hard drive (recommended), or, if time is of the essence, you can edit right off the card! I tried this out using both P2 and SxS media, and it worked nicely. As of this writing, however, there was a bug in using AMA that would report the media as being offline when it wasn't. However, by the time you read this, Avid will have had a patch out to fix the problem. AMA is a nice addition that finally fulfills the promise of tapeless editing, by removing the time-consuming process of transcoding. Direct to edit is no longer a pipe dream.
For those of you who are starting to dabble in 3D, this release allows stereoscopic editing, which lets you cut and monitor your pictures in 3D. However, you still can't adjust convergence or other 3D properties in Media Composer just yet.
For those of you with shaky hands, there's a new fluid stabilizer to help steady those shots in post. It actually worked very well in practice, seamlessly smoothing out slightly shaky footage. However, if your video is really all over the place, the fluid stabilizer won't save you.
In addition, two long-standing format requests have been included, with Avid Media Composer now having support for Canon's 24F HDV and Sony's Progressive HDV codecs.
Some other refinements have crept into this Media Composer 3.5 release, including keyframe-able color correction, improved realtime performance, support for 32 GB P2 cards and improved ProTools compatibility.
With all the new things added, there's a lot of rejoicing from longtime Avid editors for something that has been left out. In this case, it's the dongle. Avid has decided to drop the dongle as a method of copy protection and moved to a software licensing scheme instead. This eliminates one of the most tragic things that can befall an Avid editor, the loss of a dongle, which used to result in a sympathetic, but ultimately hard-nosed demand to purchase another license of Media Composer. Now you simply enter your serial number and activate your installation online. You can have only one activation at any given time, so be careful to de-activate your software before you wipe your machine or install a new OS (and don't forget to keep a backup!).
It's Still an Avid
The new features alone probably won't convince you to buy an Avid. However, the years and effort that have gone into refining the Media Composer just might. I still believe that Avid is the finest editor you can buy, and all the main editing features that have made Avid the choice of Hollywood features and TV shows are all still here.
The trim tools are excellent, and I always have to bring up the JKL key trimming functionality -once you try it, you will never want to trim any other way again. The interface itself hasn't changed much; it is more about refinements than radical new designs. Open Timeline allows you to mix HD & SD formats on the same timeline without rendering, and Avid's media management tools are hard to beat.
Media Composer 3.5 also realizes that the script is an integral part of the editing process, and it has several features that bring the script into the program. The first, Script Based Editing, imports the script, format and all into the editor, and you can arrange and re-arrange your segments based on the script itself in a visual manner.
Rounding out script support is the very useful Script Sync function. Script Sync allows you to select portions of your script with the mouse and have that piece of footage or even multiple takes of that footage instantly available to edit with. Avid Composer 3.5 uses an advanced algorithm that analyzes the speech from your footage's audio track and matches it to the text script you've input with an eerie accuracy.
Avid's highly-regarded color correction tools are included, with the addition that you can now animate the corrections via keyframes. Match color still works well, allowing you to take an eyedropper and pick out, say, the fleshtones of a character's face, and then select that same character's face in an entirely different shot and have the computer instantly match the colors for you.
SpectraMatte is also included. It is a very capable chromakeyer that brings your footage into 16-bit space to pull the key, and it has a plethora of options to tweak. This is great if you're like me and can't stand the thought of pulling an "acceptable" key, when there's a "perfect" key out there, if you just give me a few more minutes to play with it.
The Extras
While other software packages out there come in formidable editing bundles, including audio, DVD and graphics software, Avid Media Composer is still primarily "just an editor." I happen to think this is a very good thing to focus on. That's not to say that Media Composer exists in a vacuum, of course.
Media Composer 3.5 comes bundled with a decent amount of external software to handle common video and audio tasks.
For your effects needs, Boris Continuum Complete is accessible from within the Avid interface.
Sorenson Squeeze is also included to handle your web or DVD outputs.
And, speaking of DVDs, there's also Sonic's Avid DVD to create full DVD titles (though this is Windows-only), and Avid FX is designed to do your motion graphics and effects work.
There's also an install of one of my favorite applications, SmartSound's SonicFire Pro, for creating soundtracks to your videos.
Conclusion
Media Composer 3.5 builds on an already formidable editing package and is definitely worth the upgrade price, especially if you're using some of the new tapeless formats like P2 and SxS. If you're new to the world of Avid editing, now is a great time to jump in, with the features of Media Composer never being higher and the price never being lower. This release is stable and solid, and it definitely feels like an Avid.
4.0 Update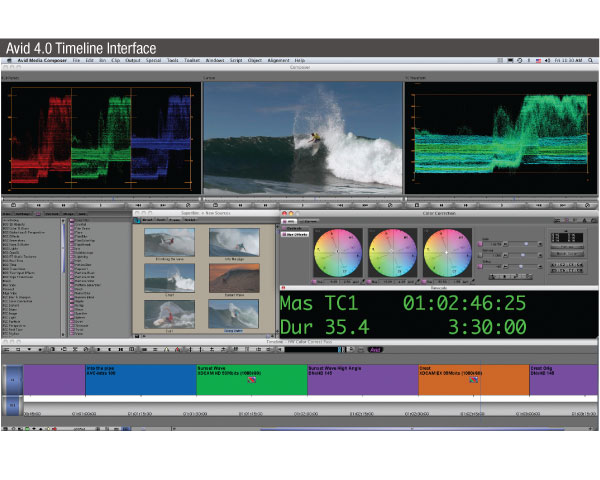 Avid recently announced the release of the 4.0 version of Media Composer, following very quickly on the tail of the 3.5 release. The main new feature that Media Composer 4 brings to the table is a fully open timeline that will allow you to edit any combination of video resolutions, frame rates and formats in the same sequence. Other additions include transition preservation, allowing you to keep your dissolves and other transitions intact when replacing footage from your original clip; more undo levels; and the ability to view all 16 of your audio tracks in the mixer at once.
Tech Specs
Minimum System Requirements for – Windows

Processors: Intel Core 2 Duo 2.33GHz

System Memory: 2GB of RAM

Note 1: With complex sequences (multiple effects/streams) or
compressed HD resolutions, 4GB of RAM is recommended.

Note 2: Vista requires 4GB of RAM.

Graphics Card: NVidia Quadro FX 560 or higher

Note 1: Only NVidia cards are supported.

Note 2: Full-screen playback feature requires a minimum of
128MB of graphics memory.

Internal Hard Drive: 40GB minimum hard disk drive

Note 1: Any media drives need to be 7200RPM or greater

Optical Drive: DVD capable drive required for product installation
Minimum System Requirements for – Mac

Processors: Intel dual, dual core 2.66GHz Xeon, Intel Core 2 Duo 2.33GHz (laptops)

System Memory: 2GB of RAM

Note 1: With complex sequences (multiple effects/streams) or
compressed HD resolutions, 4GB of RAM is recommended.

Graphics Card: NVidia GeForce family

Note 1: Full-screen playback feature requires a minimum of
128MB of graphics memory.

Internal Hard Drive: 40GB minimum hard disk drive

Note 1: Any media drives need to be 7200RPM or greater.

Optical Drive: DVD capable drive required for product
installation
OS: Windows XP Home or Professional (SP2 or later, 32-bit); Windows Vista (SP1 or later, 32-bit or 64-bit)

CPU: Intel or AMD with 3GHz processor or faster (multiple CPUs and/or multi-core CPUs are recommended)

RAM: 1GB (2GB recommended)

Hard Drive Space: 5GB hard disk space required for installation (including third-party software)

Capture Formats: Analog, DV, HDV, DVCPRO HD, DVCPRO 50
Workflow

Batch Capture: Yes

Automatic Scene Detection: Yes

User Interface: Timeline

Number of Video Tracks: Unlimited

Number of Audio Tracks: Unlimited

Nesting Tracks: Yes

Audio/Video Level Envelopes: Yes

Audio Scrub: Yes
Effects/Rendering

Keyframe Animation: Yes

Background Rendering: No

Third-Party Plug-in Support: Yes
Output

MPEG-2 Encoding: Yes

MPEG-4 Encoding: Yes

Audio Output Formats: PCM, Dolby Digital

DVD Authoring Software Included: Corel DVD MovieFactory
Strengths
Great interface, media management and editing tools
Weaknesses
Still an expensive editor, very picky about system requirements
John Burkhart is the production facilitator of NYU's Tisch School of the Arts in Asia, an international film school.

Editor's note: At the time of this writing, Avid Media Composer 4.0 was just announced. We look forward to putting it through its paces soon, but it will include the features included in Media Composer 3.5 and will add even more notable features.
Avid Technology, Inc.

Avid Technology Park

1 Park West

Tewksbury, MA 01876

www.avid.com

$2,495 physical $2,295 download