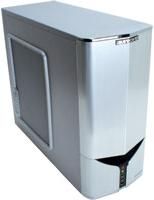 The Professional
The best way we've found to think of iBUYPOWER's Video Pro system is as a well-primed canvas that is ready to accept the paint of your video projects. It's the first 64-bit Windows Vista-based system (this one happens to run Home Premium) to cross our threshold, and it's definitely a quick machine.
The nicest touch? Proof that the system is hand-built of carefully-selected parts, as evidenced by a sheet of performance test results that are provided with each system and filled out with a blue ball-point pen by a technician. It's a really nice touch that says "we're serious about giving you a great system."
A Pre-Boot Look-See
Our unit shipped in a silver Gigabyte Poseidon case (apparently no longer available as of press time, as the system now appears to ship in an Ikonik case by default instead). It includes a door and utilizes a tool-less design, so you don't need a screwdriver to install drives or cards. It also includes a grille on the left side panel that allows you to see a lot of the pretty blue LEDs that grace the inside of the case. The inside of the case is tidy, with all of the cables routed nicely. There are two 120mm case fans to keep air moving through the system quickly, but quietly. The front panel includes lights that make it easy to spot the FireWire and USB ports, as well as the mic and headphone jacks.
Advertisement
There are some great component selections, including an Asus P5N-D motherboard, Intel Core 2 Quad Q9550 processor running at 2.83GHz, 8GB of Corsair PC2-6400 RAM running as dual-channel (four 2GB modules), an 800W power supply by NZXT, a card reader and an ATI Radeon HD4850 video card with 512MB of RAM.
Storage-wise, the system utilizes a stripe set composed of two Hitachi 500GB SATA hard drives (each with 16MB cache) connected to the onboard NVIDIA RAID controller. The computer also includes two optical drives: an Optiarc DVD burner and an LG Blu-ray Disc burner.
Rounding out the peripherals: a Logitech keyboard and mouse combo and a set of somewhat disappointing no-name speakers in a 2.1-channel configuration. If you're serious about your sound, get some nice monitors to go with your system. At the very least, upgrade to one of the Logitech audio systems offered by iBUYPOWER.
Test Drive
The system booted quickly as a result of the many little tweaks in use. We defragged again with the uber-useful freebie JKDefrag to eke out the most performance possible from the disk array. The Windows Experience Index base score was 5.6. The stripe set turned in some strong scores: transfer rates were 90.2MB/sec minimum, 124.5MB/sec maximum, 113.6MB/sec average. Access time was 18.5ms, burst transfer rate was 119.0MB/sec and CPU utilization was a moderate 4.6%.
Strangely, the Optiarc DVD drive did not show up in Windows. We also couldn't find the NVIDIA control panel for seeing more information about the RAID settings. This led us to the conclusion that our chipset drivers needed to be updated. That immediately solved both of those issues: the drive appeared and the NVIDIA control panel made itself visible for the first time.
This machine also adheres to the conservative approach for driver updates, in that pretty much everything worked (well, except for the NVIDIA hardware referred to above), but the drivers weren't the current versions. The BIOS wasn't the bleeding-edge version, and the drivers in use for the video card, NVIDIA chipset and audio controller were all a couple of versions behind. These are easy enough to update, though.
The out-of-the-box configuration is spartan. The only major thing we found preinstalled was a copy of World in Conflict, a game used as part of iBUYPOWER's benchmarking (as mentioned above). Even the copy of Adobe Premiere Elements 4 that ships with the system isn't preinstalled on the system. (There's also a boxed Dazzle DVD recorder in the box, so you're covered all the way around if you need an analog capture solution.)
We find this just a little strange – but we've gotten used to the convenience of having everything pre-installed. Installing it yourself isn't necessarily a bad thing, but, if you need to rip the box open and start right in editing, you will experience some delays before you can leap in. There's a lot of good stuff included on the OEM install CDs for the Blu-ray Disc burner and the motherboard – it just has to be installed.
What A Value!
You can have a Video Pro of your own for $1,799. For everything included, we think that's quite a good deal, especially compared to some of the offerings that are out there (and also considering that it includes a Blu-ray Disc burner). The hardware is solid and the warranty is generous (3 years limited with lifetime support).
iBUYPOWER also offers two other models in its lineup of video PCs: the Video Bot ($1,299) drops down to 4GB of RAM, downgrades to an NVIDIA 9800GT video card and does not offer the Blu-ray Disc drive. The Video Extreme ($4,299) upgrades the Video Pro with an upgrade to an SSD (solid state disk, a.k.a. "very large Flash drive that is connected to a SATA port instead of by USB") boot drive and upgrades to Windows Vista Ultimate 64-bit. However, all of these machines are easily tweakable on the order screen.
TECH SPECS
OS: Microsoft Windows Vista Home Premium, 64-bit

RAM: 8GB, DDR2-800

Processor: Intel Core 2 Quad Q9550 (2.83GHz)

Chipset: NVIDIA nForce 750i SLI

Number of Physical Processors: 1

Hard Drives: Hitachi 1TB, 7200RPM, striped (formatted capacity: 931.5GB)

Video Editing Software Included: Adobe Premiere Elements 4.0

Analog Video Capture Card Included: Dazzle DVD recorder

Disc Burners: LG GGW-H20L Blu-ray Disc; Optiarc AD-7200A DVD

Disc Authoring Software Included: Adobe Premiere Elements 4.0

Multiple Monitor Connections: Yes
Strengths
Great component choices
64-bit Windows Vista is very stable
Weaknesses
Premiere Elements not pre-installed
Driver oddities (easily solved, but still inconvenient)
SUMMARY
A great performer, although the spartan out-of-the box software configuration may be a mixed blessing.
Charles Fulton is Videomaker's Technical Editor.
iBUYPOWER

11581 Federal Dr.

El Monte, CA 91731

www.ibuypower.com


$1,799