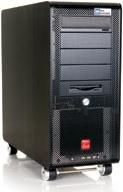 $3,000
NLE Systems, Inc.

434 W. Colorado St., Ste. 102

Glendale, CA 91204

(877) 355-2263

www.nlesystems.com
The Skateboard
Advertisement
NLE Systems has a winner on its hands with the Kanai Avid Liquid Pro Editing Solution. The machine won a Best Products of the Year Award from us (February 2006 Videomaker) for a number of reasons, which we will discuss in detail in the course of this review.
Case Inspired by Tony Hawk?

We lifted the system out of the box and were amused by the skateboard-esque wheels on the sleek black aluminum Lian Li case. (There is a locking lever at the rear of the case if you don't want it moving around.) The wheels could make getting to the system much easier if you're in tight quarters. The case's drilled aluminum grille was somewhat reminiscent of the Apple Power Mac G5.
Peering inside the system from the opposite side compared to how we're used to opening a computer case, we noticed that the Asus motherboard was mounted upside-down, with the power supply mounted underneath the motherboard. A blower fan, mounted near a baffle, provides airflow for the Pentium 4 531 CPU, and the cabling was carefully routed for good looks and peak airflow efficiency.
The machine includes plenty of ports for peripherals–8 USB 2.0 ports (2 front, 6 rear) and 4 FireWire ports (1 front, 3 rear.) There's also a S/PDIF port.
Setting Up

The only oddity we came across is that we couldn't get the provided Logitech wireless keyboard and mouse to connect. Perhaps we weren't quite patient enough with the methodical order needed to connect the devices. Or maybe we got a dead battery somewhere. But no worries–we just happen to have scads of peripherals in the waiting at Videomaker HQ.
Once booted, we saw that the system includes 1.5GB of DDR2 RAM, Realtek HD audio, an NVIDIA GeForce 6600 PCI Express 16-lane video card with 256MB, and a Marvell gigabit LAN adapter. Drive-wise, the system boots from a 36GB WD Raptor SATA boot drive and utilizes two 200GB WD Caviar SE SATA data drives, set up as a stripe. A Pioneer DVR-110D DVD-/+RW is provided for burning optical at 16X (single layer) or 8X (DVD -/+R dual-layer). CD-Rs can burn at 40X.
The system performed great with Avid Liquid Pro 7. While we found the program to have a few somewhat strange aspects to it, it was definitely stable and quick on this system. Boot times were short, allowing you to roll up your sleeves and get editing in short order.
Bundled With What?

The centerpiece of the machine is obviously Avid Liquid Pro 7, which itself is bundled with Pinnacle Hollywood FX 6.0, Pinnacle TitleDeko, and the DivX codec.
Some of the software provided was on the old side, including Adobe Reader 6 and Nero Express 6.3.1.26. Of course, newer versions of those applications can be yours for free in a couple of clicks. Asus DVD (a rebranded version of CyberLink PowerDVD) was also pre-installed, along with InterVideo WinDVD 4, WinDVD Creator and WinRip.
Some of the software we weren't familiar with and was certainly on the unusual side. Not that unusual is a bad thing, though. This was our first exposure to Golden Bow Systems' Vopt disk defragger, WinRAR, and the freely-available Audiograbber CD ripper. We were impressed with the speed and plentiful options provided by Vopt for defragging the machine's disks, and we also found WinRAR and Audiograbber to be quite useful. We asked our contact at NLE Systems why they chose Vopt instead of PerfectDisk or Diskeeper and why they chose WinRAR instead of 7-Zip or WinZip, and he replied that they liked WinRAR's flexibility of compression formats. He also said that they liked Vopt for its ability to shut down after defrag jobs and that they have had good experiences in general with the program. We are happy to acknowledge NLE Systems for finding and implementing some quality, but widely overlooked applications that usually stay nestled in the largely untrod parts of the Internet.
As with many editing systems, this did not come with antivirus software installed. However, the monitor in Windows Security Center was turned off. This still makes us a little nervous, though. We feel that it's safer to be warned at least once that you'll be vulnerable if you go online or access potentially dangerous files, especially if you need to import songs from audio CDs that attempt to install rootkits on your system.
Wrap it Up

We are most impressed with the selection of quality hardware and the great detail used in building the Kanai Avid Liquid Pro Editing Solution. Of course, the beauty of having a custom editing computer built is that you can add any software you want, which is certainly the case with NLE Systems' online configuration tool. Not only can you pick software, but you can also customize nearly every facet of the system, including the motherboard, processor, drives, case, memory and more. It's like building your own machine without lifting a screwdriver–not quite as much fun, but certainly much quicker and easier.
TECH SPECS
Operating System: Microsoft Windows XP Professional

RAM: 1.5GB, DDR2-533

Processor: Intel Pentium 4 531, 3GHz, HyperThreaded, EM64T

Number of Physical Processors: 1

Hard Drive Capacity: 436GB

Hard Drive Interface: SATA

Video Editing Software: Included Avid Liquid 7 Pro

Analog Video Capture Card Included: Pinnacle USB 2.0 BoB

DVD Burner: Pioneer DVR-110D DVD-/+RW

DVD Authoring Software Included: InterVideo WinDVD Creator

Multiple Monitor Connections: Yes
STRENGTHS
High build quality, excellent
component choices
Very stable
Reasonably quiet

WEAKNESSES
None significant

SUMMARY

The machine's very high build quality absolutely speaks for itself.

Charles Fulton is Videomaker's Associate Editor.