It's been about five years since Canon unveiled their popular 7D, and while this update looks and feels very similar to its predecessor, the 7D Mark II packs some surprising and valuable improvements that every wedding, sports and wildlife videographer will appreciate. If you've longed for responsive and reliable autofocus in video mode, uncompressed full HD output and the ability to monitor your audio in camera, all for less than $1,800, then the Mark II may be your next camera of choice.
[video:18208]
The 7D Mark II body looks and feels very similar to its predecessor. It's robust, well-sealed and easy to grip, but there are some differences. On the back, the often-accessed Menu button moved to the premium upper left corner position where it is easier to press and the Quick Control moved to where the light sensor used to be. The Info button replaced the RAW+JPEG button and there is a new Rate button that gives you the option to rate stills from one to five or to protect images from deletion. An AF area selection lever now surrounds the multi-controller, and the Picture Style selection button has a new look as it now also gives you quick access to multi-exposure and HDR features. The LCD remains 3-inches but it's sharper with 1.04 million dots and is bright enough to use outside if not in direct sunlight. However, it remains non-articulating and is not a touch screen.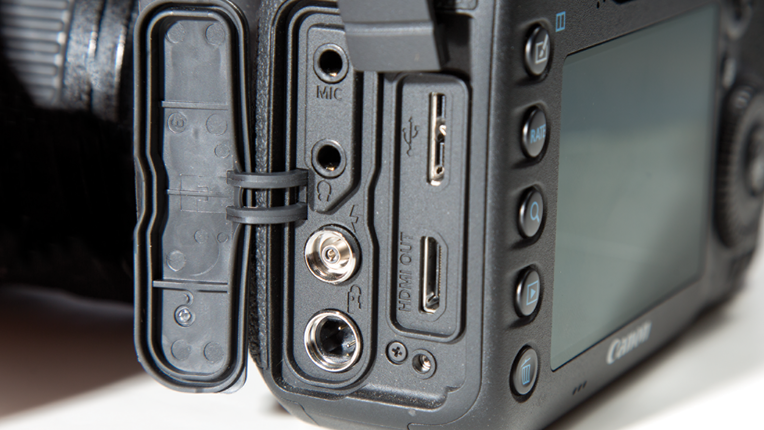 On the left side, Canon added the much-anticipated uncompressed 1920 x 1080p HD via HDMI output along with a previously absent headphone jack. Canon also added a very useful cable protector socket that helps keep you from accidentally yanking out cables. The Digital terminal is now SuperSpeed USB (USB 3.0). The card slots are on the right and the 7D Mark II now sports an extra slot for SD cards. Not much has changed on the front, except that now the depth of field preview button is on the lower left near the lens mount instead of the lower right and is larger and easier to press.
The mode dial retains the three custom shooting modes as well as Bulb, Manual, Av,Tv and Program modes, but the Full Auto and Creative Auto have been combined into one Scene Intelligent Auto mode.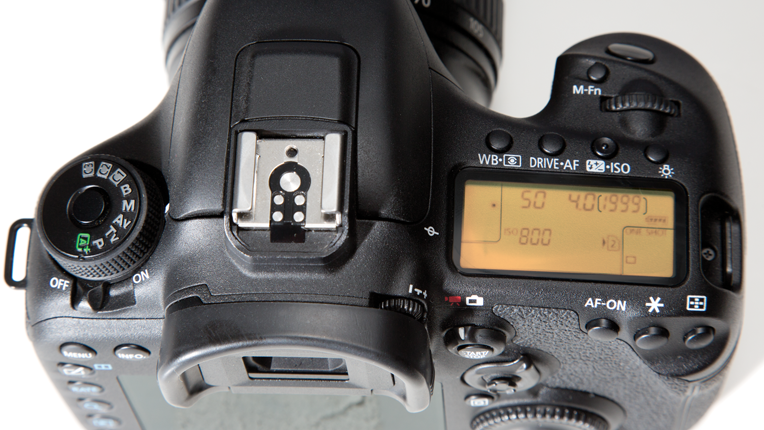 Focus on Focus
The biggest news is the vastly improved AF system. In fact, we'll go so far as to predict that the 7D Mark II will become known as the DSLR that made manual focusing practically obsolete. The Movie Servo focus makes capturing fast moving subjects and tilts and pans with focal changes much easier and far more reliable than most seasoned focus pullers could accomplish. This is especially helpful since most shooters end up using still camera lenses with poor manual focus control. In addition to the two DIGIC 6 sensors aiding the 65-point all cross-type AF, Canon employs what they call Intelligent Subject Analysis to improve the tracking of the intended subject.
What really shines is the amount you can customize the AF settings. Canon gives you control over tracking sensitivity with five levels from "Locked on" to "Responsive." This gives you detailed control over how the AF will respond during panning or when the subject slips out of frame momentarily. You can also adjust the AF transition speed if using a compatible EF or EF-S lens, selecting from among five different settings. You can also have this feature only take effect during shooting rather than always on; a handy feature that saves precious power on unnecessary refocusing. Canon includes six presets that describe the appropriate AF conditions.
We did miss having other focus assists like peaking or false colors, but with AF this good, we really can't complain.
We tested the AF using several different subjects under different lighting conditions and camera moves. To make things even more challenging for the AF system we handheld each of these shots. For the first series, we used the Case 1 Versatile Multi-Purpose preset that puts the tracking sensitivity in the neutral position and the Accelerate/Decelerate tracking and AP point switching to zero. We started outdoors during midday and did a simple pan from a post about three feet away to a pile of rocks about 15 feet away. We used aperture priority so that we could open up the iris to f/4.5 and put our Canon EF-S 18-135 lens to around 100mm for a shallow depth of field. The AF responded moderately fast but very accurately with absolutely no hunting.
We then positioned the camera at the corner of a chain link fence to see how the AF would continuously track a pan from near to far. The results were at least as good, if not better, than we could have done manually with a skilled focus-puller.
To test the face detection and tracking function of the AF, we had a subject walk briskly toward the camera from a distance of 30-feet to about six-feet. The 7D Mark II gives you a green tracking indication of just the face that is incredibly fast responding and accurate. Reviewing the footage we could see that the entire walk was perfectly in focus.
We then went into a dark 1,700 square foot workshop with only some daylight coming through one open door to test the AF response in low light. We set the ISO to the highest native setting of 16,000, opened the lens all the way to f/3.5 and tilted down from the nearly pitch-black rafters to a wall filled with tools. Here, we finally ran into some hunting, but even this was probably better than we could have done manually.
One last test really showed us how far Canon's AF technology has come. Just after sunset, we switched to the Case 3 AF preset that instantly focuses on subjects suddenly entering the AF points. On full zoom and a wide open aperture, we panned from a rose 8-feet away to one about 20-feet away.The AF challenge was that behind the distant rose was a chain link fence about another 30-feet away — a sure-fire temptation for any lesser AF system — but we couldn't fool the 7D Mark II. It focused quickly and accurately.
Of course, with the flip of a switch on the lens you can still focus manually. We really liked the zoom function that made it quick and easy to check our focus. Zooming is not available with certain AF functions. We did miss having other focus assists like peaking or false colors, but with AF this good, we really can't complain.
Video Ready
The 7D Mark II captures video in MOV and MP4, but if you need more pristine image quality you can now output uncompressed 1920 x 1080p HD via HDMI by using an external recorder. The 7D Mark II now gives you 60p recording in full HD. Our tests confirmed that you get smooth 50 percent slow motion without relying on your editing software to interpolate missing frames. Unfortunately, the Movie Servo AF does not function in this 60p mode. You can now use an external monitor at the same time as viewing the 7D Mark II's LCD monitor by selecting the mirroring option in the menu and connecting a monitor to the HDMI port. This is handy for studio sessions where clients need a second monitor or when outputting to your external recorder.
For our image tests, we recorded in MOV at Full HD resolution and reviewed the files in Premiere Pro CC 2014. To test sharpness, we placed a resolution chart in a highly detailed outdoor landscape. The results were very good and the images do not suffer from much, if any, internal sharpening. This gives you what at first appears to be a slightly soft image. However, with just a little sharpening in Premiere Pro, the image snapped to life without any artifacting. In fact, we could push sharpness to 150 percent before noticing any adverse effects. There are some camcorders we've tested that appear to have nearly this much internal sharpening built-in. We actually liked the flexibility of adding the sharpness in post.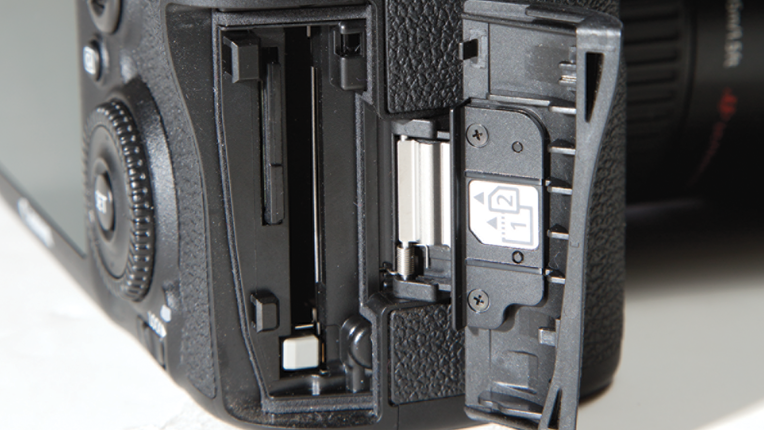 This lack of internal sharpening along with the powerful dual DIGIC 6 processors are likely the reasons we could not perceive any moiré or aliasing. We shot the fine fabric of a screen door just off level, the high contrast lines of some distant solar panels and some finely detailed clothing. A little panning over each found no moiré whatsoever. Aliasing only became perceptible when we cranked the sharpening past 300%.
To test dynamic range, we shot a pool area with plenty of highlights and moderate to deep shade of surrounding trees along with a color calibration chart. We exposed to protect the highlights, but the resulting exposure sacrificed detail in the dark areas. By giving up just a little highlight detail, we found a good average exposure that gave us a pleasing file that could be balanced even further in post. Pulling up the shadows in post, we did notice a small amount of noise in the shadows.
The native ISO 16,000 does a good job at letting you see in very low light environments, and you can expand it to 51,200. We shot the interior of a dimly-lit workshop, and while there is noticeable noise in the deepest shadow areas, colors are represented very well, and the noise seems less objectionable than what we've seen in other DSLRs. We really liked how bright areas of the picture did not bloom excessively. Rolling shutter is inherent in all cameras that use CMOS sensors, but like the noise described above, the effect seems slightly less apparent with images from the 7D Mark II. We did a fast pan across some fence poles and found we really had to move the camera quickly to make the dreaded effect apparent.
There is no built-in image stabilization, but the 7D Mark II will take advantage of any IS lenses. We did several tests with the EF-S 18-135mm with IS and found the resulting images were remarkably stable, smoothing out even some of the more awkward bumps in our handheld shots.
Audio
With both a microphone input and now a headphone jack, you can start getting serious about your sound. We tested the on-camera microphone from a variety of distances and found, like all on-camera mics, it really is only good for basic documenting. The lack of AF noise with the STM lens we were using did make audio a bit more usable. To get the cleanest audio, you'll need to use an off-camera microphone. For our tests we used a Sennheiser EW 100 wireless system. The 7D Mark II gives you full manual or auto gain controls and the resulting audio lacks any perceptible noise when you set your levels correctly.
A Nod to Stills
Of course, the 7D Mark II is designed primarily for still photography, and since many videographers also find work doing stills, some of the notable improvements include: a higher resolution 20.2 megapixel sensor; a motor drive that can shoot as many as 10 continuous frames per second with an improved and quieter shutter; even more AF options; real-time built-in lens aberration correction; a GPS module that embeds location data into images along with a digital compass; a very cool in-camera HDR compositor that could save your average real estate photographer hours in post production and finally, a built-in intervalometer for time-lapse photography.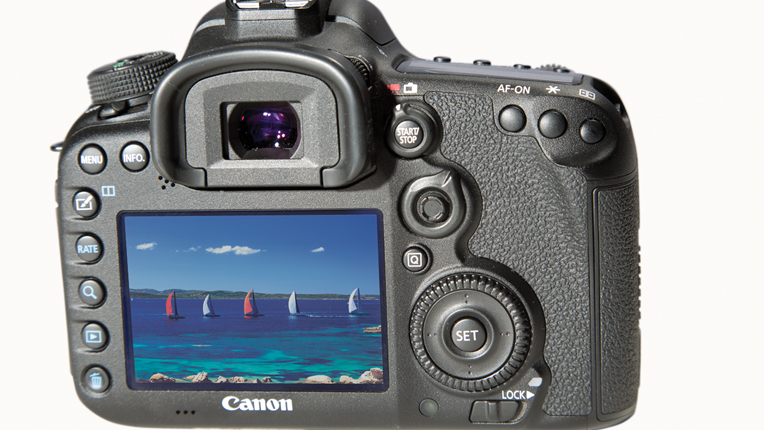 Conclusion
The Canon 7D Mark II may just be the perfect DSLR for videographers that need fast and accurate autofocus. For AF, it is clearly the best in its class. The uncompressed full HD via HDMI is an important new feature that will let you squeeze all you can out of already clean images, and with the ability to now monitor your audio, you have all the makings of a truly professional tool. Plus, it is an exceptional stills camera.
If you can handle a little initial image softness, don't need 4K video and have an extra $1800 or so laying around, then the 7D Mark II should be on the top of your list.
Canon
www.usa.canon.com
$1,800
TECH SPECS
Format: Interchangeable Lens DSLR w/built-in flash
Sensor Type: Full-Frame Exmor CMOS
Size of Sensor: APS-C (22.4 mm x 15.0 mm, 1.6 crop factor)
Pixels on Sensor: Approx. 20.9 megapixels
File Formats (video): MOV, H.264 (audio: Linear PCM), MP4, H.264 (audio: AAC), uncompressed output via HDMI.
Maximum Resolution: 1920 x 1080 full HD (20Megapixel stills)
Focus: 65-point all cross-type AF; manual, auto, continuous servo, single servo.
Shutter Speed: auto/manual
Maximum Shutter Speed (video): 1/4000th of a second
Minimum Shutter Speed (video): 1/30 of a second
Sensitivity: ISO 100-16000 (expandable to 51200)
Program Exposure Modes: Program AE, Aperture Priority, Shutter Priority, Manual
Lens Mount: Canon EF/EF-S
Image Stabilization: Optical, only with compatible lenses
White Balance: Manual/preset/automatic
Viewfinder: TFT color, liquid-crystal monitor
LCD Monitor Size: 3-inch
LCD Monitor Resolution: 1.04 million dot
Frame Rates: MOV: 1920 x 1080, 59.94/29.97/24.00/23.98 fps; 1280 x 720, 59.94fps; 640 x 480, 29.97. MP4: 1920 x 1080, 59.94/29.97/24.00/23.98 fps; 1280 x 720, 59.94/29.97 fps; 640 x 480, 29.97.
Video Out: mini HDMI and NTSC/PAL selectable terminal
USB Terminal: SuperSpeed USB (USB 3.0)
Mono/Stereo Recording: Yes
Audio Input(s): 3.5 mm Stereo mini jack
Audio formats: Mov/Linear PCM, MP4, AAC
VU Meters: Yes
Manual Audio Level Controls: Yes
Headphone Jack: 3.5 mm Stereo mini jack
Speaker: Yes
Recording Media: CF Cards (Type I); Compatible with UDMA CD cards; SD, SDHC, and SDXC Memory CardsStick Pro HG-Duo, Memory Stick XC-HG Duo
Memory Card Included: no
Flash: Yes, built-in
Wireless Remote: No
External Battery Charger Provided: Yes
Battery Type: LP-E6N (or LP-E6)
Onboard Video Light: None
Accessory Shoe: Yes
Strengths
• Fast, accurate and customizable Movie Mode auto focus
• 60p Full HD
• Uncompressed full HD HDMI output
• Audio monitoring via headphone jack
Weaknesses
• Slightly soft initial video footage
• No Movie Servo AF shooting 60p
• Non-articulating/Non-touch LCD screen
Brian Peterson is a commercial video producer and certified Steadicam owner/operator.